25 Modern Cat Furniture Items That Look Great in Your Home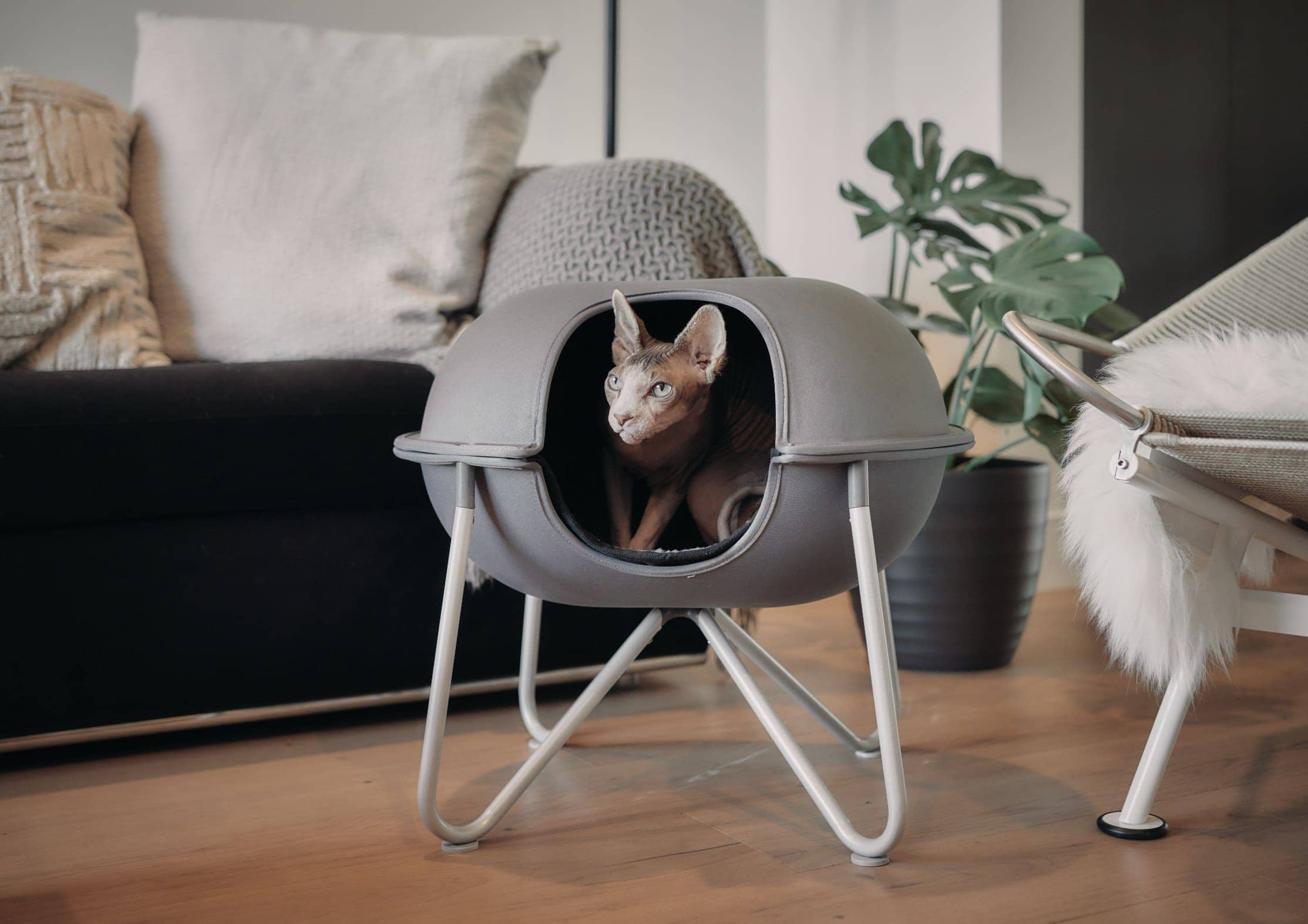 People spend a great deal of time furnishing their homes to meet a modern aesthetic, and you might do the same. Your home is your castle! But within your castle, you have a cat. Naturally, your cat will need a few bits of furniture of its own. However, some cat accessories and furniture are not quite your style. What to do?
This article lists 25 modern cat furniture and accessories that will fit into your home. This list puts together modern and minimalistic items for your feline that will not take away from your home's internal design, from food bowls to litter boxes and everything in between.
Food and Water Dishes
Food and water bowls are often the first items that you want to buy for your cat. These bowls are often items you will keep for several years, so you want to make sure its design is not flashy and makes for a lovely addition to your kitchen or wherever you plan to feed your cat. Here is a list of tastefully designed bowls that have a modern style.
Ceramic bowls are a nice variation away from plastic ones that many cat owners have gotten used to using. CatGuru Ceramic Cat Food Bowl minimalist design with a raised back prevents spills, and the lowered front reduces pressure on your cat's whiskers when they eat.
The bowl comes in white or black, so you can choose which one fits the room's décor you are placing it in. Your cat can only use this bowl for food, not water; the design is not deep enough to be used as a water dish. These bowls are also not raised. You can buy a separate Cat Guru Food Table to lift the bowl, which adds to the overall cost.
---
What you feed your cat does not need to be flashy or bright; this bowl is minimalist and visually pleasing. Because this bowl is designed to reduce whisker strain, the sides of the bowl are shallow. Some cats who are messy eaters might push their dry food off the bowl and onto the floor.
---
The removable stainless-steel bowls are fitted in a durable white base that is also slightly elevated. This design is clean-looking and subtle, which is a good fit for a modern-style furnished home. This bowl set is a bit on the expensive side and is only elevated slightly.
You might have guessed, this is our own product – but we love it so much we just have to share it, and hope you get to own one too!
---
The bowls are deep, preventing spilling if your cat is a messy eater or drink. However, the deepness of the bowls could cause whisker strain. This raised design reduces strain on your cat's neck when they eat and reduces the chance of vomiting from fast eating. Since this cat bowl is on a wood stand, it is not ideal for kittens or munchkin cats.
---
The bowls can be removed to wash. The combination of the stainless steel material and the dark-colored plastic base is a pleasant switch from brightly colored bowls. The durability of the bowls could be improved with slightly better quality materials.
---
Water Fountains
Have you ever caught your cat drinking from the faucet in the bathroom? Some cats like drinking flowing water rather than from a bowl. If you have a cat that prefers flowing water, have a look at these modern-designed water fountains that will make an excellent addition to your home and keep your feline hydrated and healthy.
The fountain can be switched to use innovative technology to shut off automatically if the water level is too low. In addition to the sleek design, the reminder lights that let you know when you need to refill it, change the filter, or replace the batteries are subtle. However, this fountain is a bit on the expensive side, and the pump usually needs replacing after a few months.
---
While this fountain is made from high-quality materials, some pet owners want to avoid plastic accessories in their homes. This fountain also only comes in one color and needs to be plugged into an outlet. This restricts where you can put the fountain.
---
This fountain is expensive, so it is considered a splurge. Since this fountain is also made of ceramic, it must be handled with care and could break when dropped, unlike other fountains made of plastic.
---
When the water is flowing, you can hear a gentle flowing sound that is both relaxing and encourages your cat to get hydrated. This fountain is a bit harder to clean, and because the sides of the base are low, dust and hair can get into the water.
---
Automatic Feeders
If you spend a lot of time outside your home for work or school, you want to make sure your cat gets fed. Instead of asking a friend or neighbor to come over, more cat owners use automatic cat feeders. Here are two top recommendations that are modern, both in style and technology.
Did you forget to schedule food to be dispensed? Not a problem! You can feed your cat via the PETKIT app on your smartphone. This feeder can be pricey and does go through batteries quickly, so it is recommended that the feeder is plugged into a power source.
---
Some cat owners who use automatic feeders might want a more minimalist front design. You schedule your cat's meals on the keypad in front of the feeder, which some people might not want on their feeder.
Cat Scratchers and Trees
If you have an indoor cat, you want to make sure they have a place to scratch. You would also greatly prefer it if that was not your sofa or lounge chair. But scratching posts and cat trees are needed for indoor cats because it helps them stretch out their muscles, get some exercise, and relieve mild stress. Here is a compilation of some of the most aesthetically pleasing scratching posts and modern cat tree furniture pieces on the market.
One disadvantage of this cat scratcher is because it is made of cardboard, you might find bits of cardboard on the floor after your cat has used it extensively.
You might have guessed, this is our own product – but we love it so much we just have to share it, and hope you get to own one too!
---
Having an all-in-one cat tree helps keep a minimalist modern room clean as well. There is no need for a scratching post, a cat bed, and cat toys all over your home. One consideration with this cat tree is that it will need some space. It is harder to incorporate this cat tree into a smaller room.
---
This cat scratcher also serves as a lounge, meaning you can save space and money by not having to buy an additional lounge for your cat to rest. However, due to the length and shape of this scratcher lounge, it is harder to find the right place to put it in your home, so it does not distract from the rest of the décor.
---
This tower is heavy (72 pounds) and requires assembly, which might be a hassle for some people. The price of the tower is also on the expensive side when it comes to cat towers. Consider this cat tree a splurge!
---
This cat tree is also shorter than other cat tree and condo combinations, making it easier to fit into your home. However, the rope around the posts is made of seagrass, which can become loose. The quality of seagrass will make the cat condo less attractive sitting among your other furniture.
---
Beds and lounges
Some people do not mind sharing their beds or sofas with their cat buddy. However, if you want to keep your furniture clean of cat hair and prevent issues with scratching, it's a good idea to get your cat a bed or lounge. While a bright pink one with your cat's name spelled out on the side in plastic rhinestones sounds tempting, here is a list of modern-style cat beds and lounges that will compliment your home.
Cat owners prefer wall hammocks because of the chic design, and it keeps your home clutter-free. The simplistic yet modern hammock is also easy to clean. However, since this hammock needs to be attached to the wall, this might not be an option for people who are renting and have restrictions on adding fixtures to their rooms. Also, it is a hassle to remove from the wall and put it in another location in your home if you change your mind about the placement.
---
Cat owners like the flexibility of this cat nest because you can move it anywhere around your home. If you want to change around the set-up of your furniture, putting the Hepper Cat Nest in another place is easy. One consideration with this cat nest is that it is suitable for single adult cats. If you have multiple cats, you will need to buy two or more of these cat nests, which can end up being costly.
You might have guessed, this is our own product – but we love it so much we just have to share it, and hope you get to own one too!
---
The inside of the pod is lined with a removable fleece covering that can be machine washed. The design has a modern feel and can easily be moved to any part of your home. Since this cat pod is raised up, some cat owners feel it stands out slightly too much if you want to keep your home minimalistic.
You might have guessed, this is our own product – but we love it so much we just have to share it, and hope you get to own one too!
---
The style of this hammock allows your cat to get air circulation during the summer months. The mesh-type lining is easily removed to be washed and comes in a color choice of grey or pink. But since this is a hammock on legs, you are limited to where you can place this in your home.
---
This lounger is also long enough for two cats to stretch out. If you decide on getting this lounger, ensure that you have adequate space to place this lounger, like under a window or next to your sofa or bed.
---
Litter Boxes and Litter Box Enclosures
Often, cat owners do not give litter boxes too much thought about buying things for your pet. Litter boxes are often kept out of sight. However, if your house does not have a private place to keep the litter box, you want to look at more aesthetically pleasing litter box options that you do not want to hide in bathrooms or hallways. Here are some selected choices for modern-looking litter boxes and enclosures.
When it is time to clean the litter box, the litter scooper and waste bags are attached inside the box itself. This also ensures that your room remains clutter-free. Some cat owners might not like the plastic material and want something more natural.
---
It is enclosed, sleek-designed, and compatible with many litters (clay, plant-based, or mixed blend). This litter box is expensive, and it is also a larger size, so you would need to measure space to see if it is the right fit for your home.
---
The enclosure completely covers your cat's litter box, giving your cat privacy. This enclosed litter box is a little bit pricey. Some cat owners will need to be more conscious about cleaning the litter box, though. When something is out of sight, it might be out of mind!
---
However, because this is an open litter box, your cat's waste will be exposed, causing an odor. Think about using scented or odor-absorbing litter with this pan to reduce any smells during the day.
Modern Cat Furniture Items
This list should give you an idea of the kind of modern-styled cat accessories on the market. When deciding which food dish, water fountain, cat bed, or litter tray to buy, think about the following three things: your home style, budget, and, of course, your cat. Finding the right accessories for your cat and your home may be a challenge, but the results will help enhance your home's décor and your cat's life.
---
Featured Image Credit: Switlana Sonyashna, Shutterstock