25 Modern Cat Furniture Items That Look Great in Your Home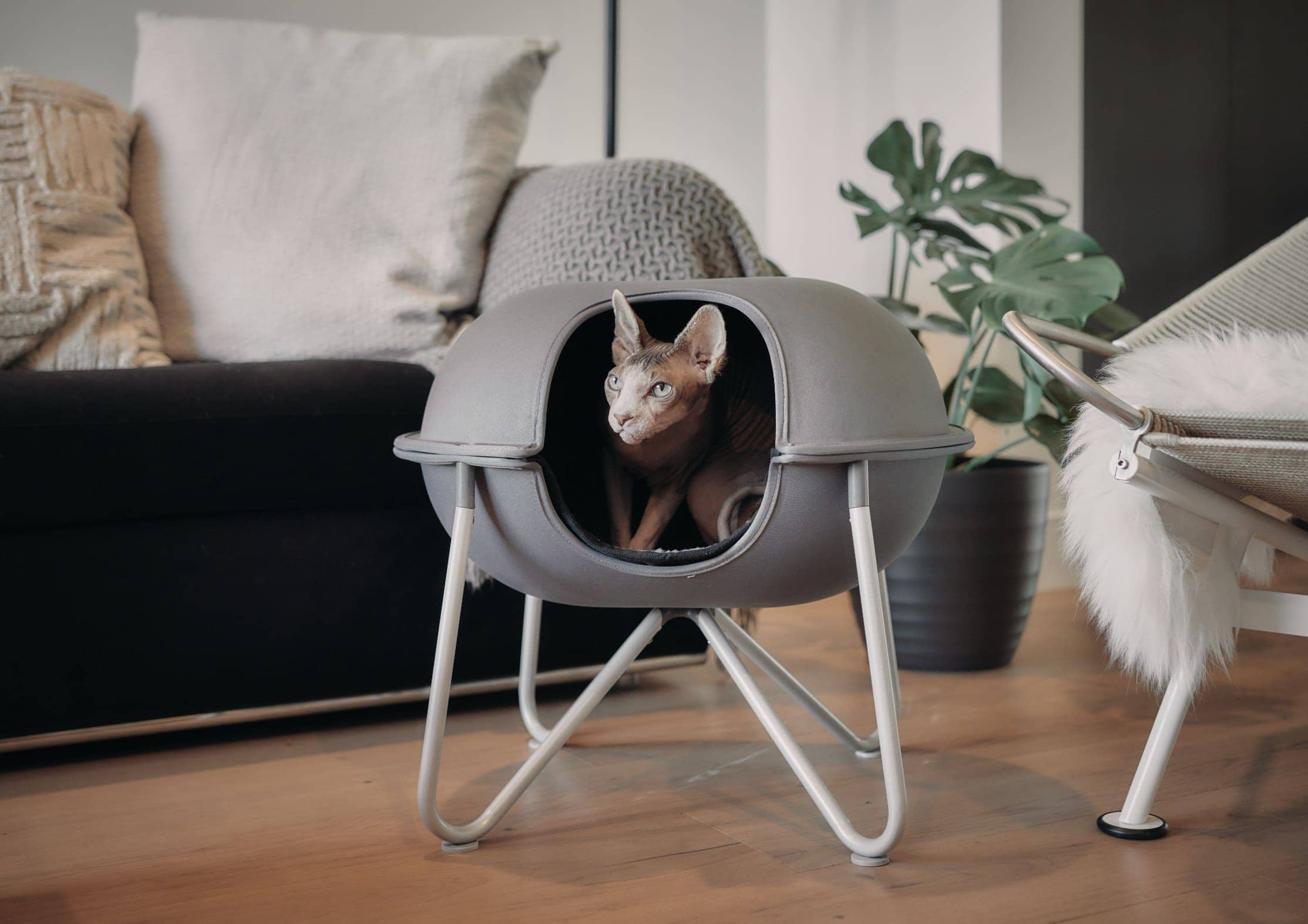 People spend a great deal of time furnishing their homes to meet a modern aesthetic, and you might do the same. Your home is your castle! But within your castle, you have a cat. Naturally, your cat will need a few bits of furniture of its own. However, some cat accessories and furniture are not quite your style. What to do?
This article lists 25 modern cat furniture and accessories that will fit into your home. This list puts together modern and minimalistic items for your feline that will not take away from your home's internal design, from food bowls to litter boxes and everything in between.
Food and Water Dishes
Food and water bowls are often the first items that you want to buy for your cat. These bowls are often items you will keep for several years, so you want to make sure its design is not flashy and makes for a lovely addition to your kitchen or wherever you plan to feed your cat. Here is a list of tastefully designed bowls that have a modern style.
1.

CatGuru Ceramic Cat Food Bowl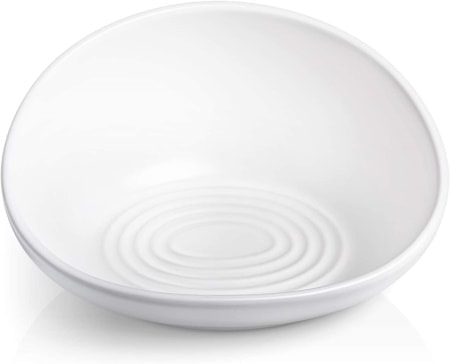 Ceramic bowls are a nice variation away from plastic ones that many cat owners have gotten used to using. CatGuru Ceramic Cat Food Bowl minimalist design with a raised back prevents spills, and the lowered front reduces pressure on your cat's whiskers when they eat.
The bowl comes in white or black, so you can choose which one fits the room's décor you are placing it in. Your cat can only use this bowl for food, not water; the design is not deep enough to be used as a water dish. These bowls are also not raised. You can buy a separate Cat Guru Food Table to lift the bowl, which adds to the overall cost.
---
2.

Dr. Catsby's Food Bowl for Whisker Relief
Dr. Catsby's Food Bowl for Whisker Relief is a stylish and functional food dish designed to allow your cat to eat without having their whiskers strained or bent by deeper-sided bowls. The bowl is stainless steel with a matte-finishing and comes with a silicone mat to prevent skidding.
What you feed your cat does not need to be flashy or bright; this bowl is minimalist and visually pleasing. Because this bowl is designed to reduce whisker strain, the sides of the bowl are shallow. Some cats who are messy eaters might push their dry food off the bowl and onto the floor.
---
3.

Hepper NomNom Spill Proof Elevated Cat Bowls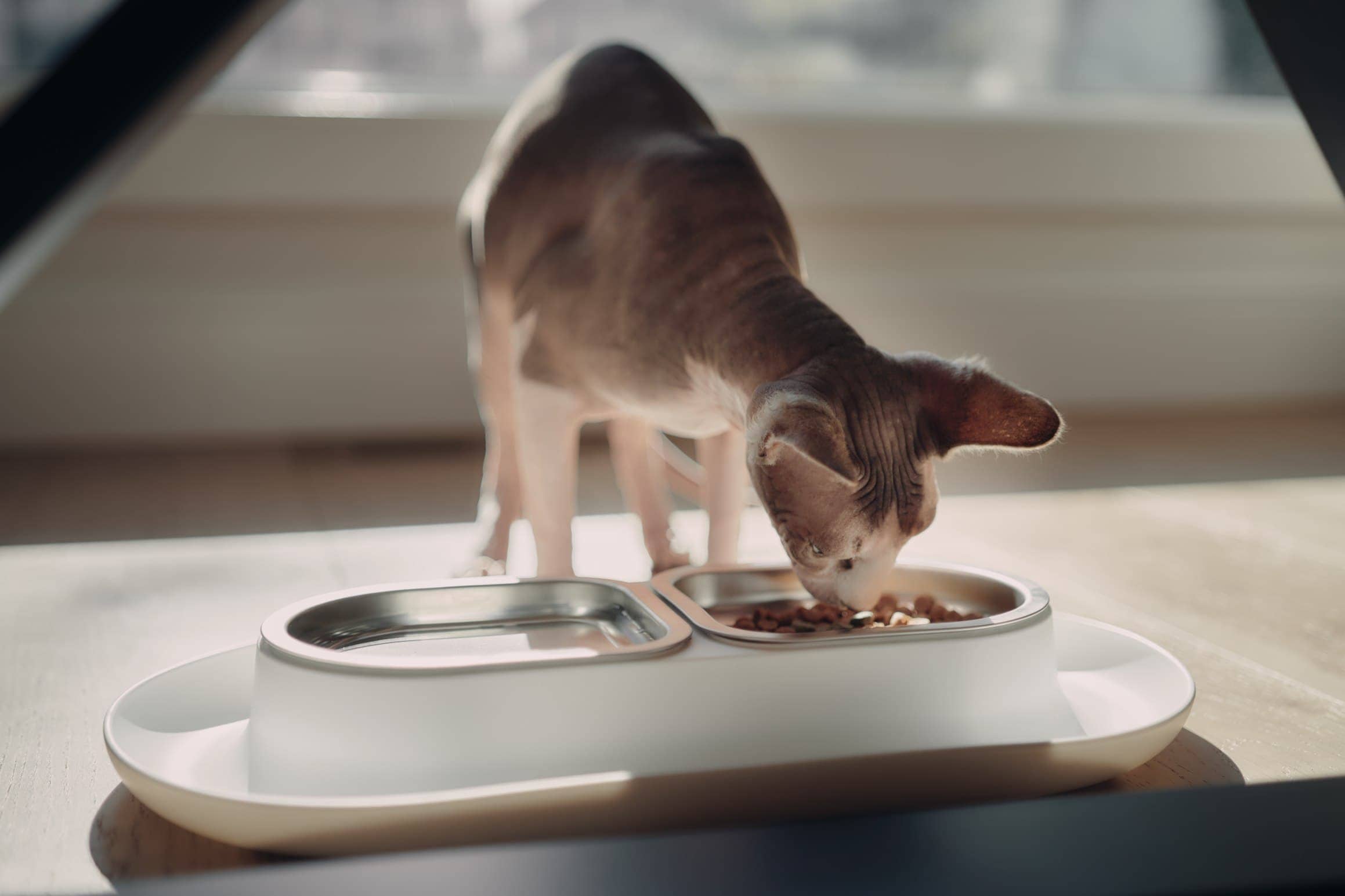 Is your cat a messy eater? The Hepper NomNom Spill Proof Elevated Cat Bowl is the solution! Instead of having a mat or towel under your cat's dishes that can make the eating area look unkempt, this bowl has curved sides to catch any bits of food and splashes of water that your cat might drop when eating or drinking.
The removable stainless-steel bowls are fitted in a durable white base that is also slightly elevated. This design is clean-looking and subtle, which is a good fit for a modern-style furnished home. This bowl set is a bit on the expensive side and is only elevated slightly.
You might have guessed, this is our own product – but we love it so much we just have to share it, and hope you get to own one too!
---
4.

LIONWEI LIONWELI Ceramic Elevated Raised Cat Bowl with Wood Stand
LIONWEI LIONWELI Ceramic Elevated Raised Cat Bowl with Wood Stand combines a porcelain ceramic set on a wooden stand for natural yet modern food or water bowl for your feline. You have your choice of green, grey, pink, yellow, or white for the bowl, allowing you to choose which color that best suits your home.
The bowls are deep, preventing spilling if your cat is a messy eater or drink. However, the deepness of the bowls could cause whisker strain. This raised design reduces strain on your cat's neck when they eat and reduces the chance of vomiting from fast eating. Since this cat bowl is on a wood stand, it is not ideal for kittens or munchkin cats.
---
5.

PETKIT CYBERTAIL Elevated Cat Bowls
Raised cat food and water bowls are being used more because it reduces pressure on the cats' stomach and spine when they are eating or drinking. PETKIT Cybertail Elevated Cat Bowls are both functional and modern. The two stainless steel bowls are propped on a smooth charcoal-colored base and are tilted at a 15° angle that makes mealtime easier for flat-faced cats especially.
The bowls can be removed to wash. The combination of the stainless steel material and the dark-colored plastic base is a pleasant switch from brightly colored bowls. The durability of the bowls could be improved with slightly better quality materials.
---
Water Fountains
Have you ever caught your cat drinking from the faucet in the bathroom? Some cats like drinking flowing water rather than from a bowl. If you have a cat that prefers flowing water, have a look at these modern-designed water fountains that will make an excellent addition to your home and keep your feline hydrated and healthy.
6.

PETKIT Stainless Steel Ultra-Quiet Pet Water Fountain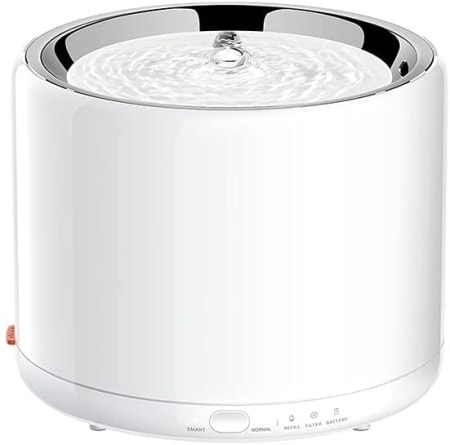 The PETKIT Stainless Steel Water Fountain is elegantly designed and is battery-powered, so you can easily place it anywhere in your home. You decide where this fountain best fits your home's décor and style. It also comes with a USB cable. It holds about 46 ounces of water, suitable for a single cat household. When flowing, it is much quieter than some other fountains on the market.
The fountain can be switched to use innovative technology to shut off automatically if the water level is too low. In addition to the sleek design, the reminder lights that let you know when you need to refill it, change the filter, or replace the batteries are subtle. However, this fountain is a bit on the expensive side, and the pump usually needs replacing after a few months.
---
7.

PETLIBRO Cat Water Fountain, Ultra Quiet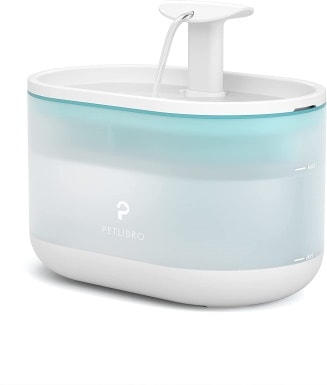 The simple yet stylish PETLIBRO Cat Water Fountain is made with high-quality ABS material and is BPA-free. It is designed to be ultra-quiet, and the water runs through a 5-level filtration system, ensuring that your cat will have clean water to drink. The capacity of this fountain is about 72 ounces, which is perfect if you have multiple cats. You can also change the flow setting to attract your cat to come and drink.
While this fountain is made from high-quality materials, some pet owners want to avoid plastic accessories in their homes. This fountain also only comes in one color and needs to be plugged into an outlet. This restricts where you can put the fountain.
---
8.

Drinkwell Seascape Ceramic Cat Fountain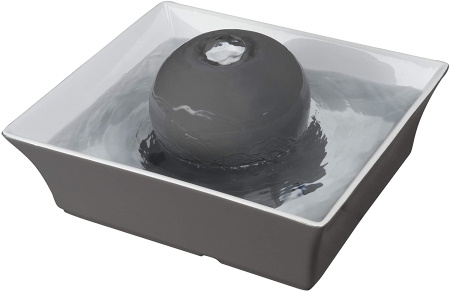 If you are looking for a more natural water fountain for your cats, the Drinkwell Seascape Ceramic Cat Fountain is an excellent choice. Made out of ceramic, this whisper-quiet fountain is designed to let the filtered water flow over an ash grey globe in the center, giving this fountain a unique and modern look. With a water capacity of 70 ounces, this is a good option for a home with multiple cats.
This fountain is expensive, so it is considered a splurge. Since this fountain is also made of ceramic, it must be handled with care and could break when dropped, unlike other fountains made of plastic.
---
9.

PetSafe Seaside Stainless Cat Fountain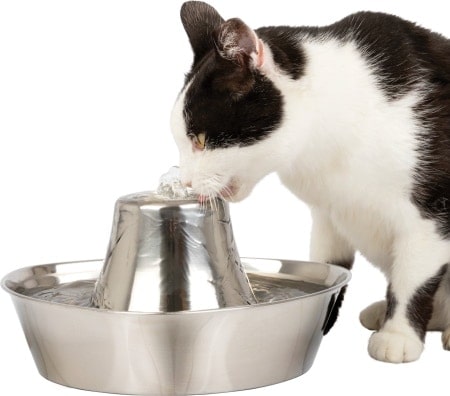 Many fountains often have a plastic exterior, and this might not be enticing for some cat owners. The PetSafe Seaside Stainless Cat Fountain is an excellent alternative. The design of this fountain is sleek and modern, with water flowing from all sides of the tower, making it easy for your cat to drink from any angle.
When the water is flowing, you can hear a gentle flowing sound that is both relaxing and encourages your cat to get hydrated. This fountain is a bit harder to clean, and because the sides of the base are low, dust and hair can get into the water.
---
Automatic Feeders
If you spend a lot of time outside your home for work or school, you want to make sure your cat gets fed. Instead of asking a friend or neighbor to come over, more cat owners use automatic cat feeders. Here are two top recommendations that are modern, both in style and technology.
10.

PETKIT Automatic Cat Feeder with Stainless Steel Bowl
PETKIT is known for its modern cat and pet accessories design, making its Automatic Cat Feeder with Stainless Steel Bowl an excellent choice for a smart feeder for your feline. This feeder has a matte-white casing, hiding the dry food. The smooth stainless-steel bowl sits seamlessly in a detachable section for easy cleaning. This feeder also uses batteries, allowing you to place the feeder in any location of your home without worrying about it being near a power source.
Did you forget to schedule food to be dispensed? Not a problem! You can feed your cat via the PETKIT app on your smartphone. This feeder can be pricey and does go through batteries quickly, so it is recommended that the feeder is plugged into a power source.
---
11.

PETLIBRO Automatic Cat Feeder, 4L
Available in black and white, the PETLIBRO Automatic Cat Feeder is another great choice for a modern feeder accessory. This feeder is programmed directly on the front and allows you to record a 10-second message calling your cat to come and eat. This adds a personal touch even when you are not personally able to feed your pet. While this feeder needs to be plugged in, it has backup battery power.
Some cat owners who use automatic feeders might want a more minimalist front design. You schedule your cat's meals on the keypad in front of the feeder, which some people might not want on their feeder.
Cat Scratchers and Trees
If you have an indoor cat, you want to make sure they have a place to scratch. You would also greatly prefer it if that was not your sofa or lounge chair. But scratching posts and cat trees are needed for indoor cats because it helps them stretch out their muscles, get some exercise, and relieve mild stress. Here is a compilation of some of the most aesthetically pleasing scratching posts and modern cat tree furniture pieces on the market.
12.

Hepper Hi-lo Cat Scratcher
What makes the Hepper Hi-Lo Cat Scratcher unique is the shape. It can be put in 5 different positions, making this an excellent option for a bored cat but also a stylish addition to your home. Some cat scratchers are pretty large and harder to incorporate into your home. With the Hepper Hi-Lo, you can change its angle, so it works with your furnished room. This also means it can be moved around without much hassle if you need to sweep or vacuum.
One disadvantage of this cat scratcher is because it is made of cardboard, you might find bits of cardboard on the floor after your cat has used it extensively.
You might have guessed, this is our own product – but we love it so much we just have to share it, and hope you get to own one too!
---
13.

Made4Pets Cat Tree 5 Levels Modern Cat Tower
The Made4Pets Cat Tree 5 Levels is a wonderful gift for any single cat or multiple cat home. The natural build of the cat tree will help it visually blend into a modern furnished room in your home. This cat tree has several scratching posts incorporated into it, along with a dangling ball for your cat to bat around. The benefit of this cat tree is that it also has two cubby holes and a lounger for your cat to rest in.
Having an all-in-one cat tree helps keep a minimalist modern room clean as well. There is no need for a scratching post, a cat bed, and cat toys all over your home. One consideration with this cat tree is that it will need some space. It is harder to incorporate this cat tree into a smaller room.
---
14.

PetFusion Ultimate Cat Scratcher Lounge
The PetFusion Ultimate Cat Scratcher Lounge style catches people's eyes because of its unique shape, which is almost like a figure 8. There are a few curved cat scratchers on the market, but the combination of the style and color choice (cloud white, walnut brown, or slate gray) make this an excellent accessory.
This cat scratcher also serves as a lounge, meaning you can save space and money by not having to buy an additional lounge for your cat to rest. However, due to the length and shape of this scratcher lounge, it is harder to find the right place to put it in your home, so it does not distract from the rest of the décor.
---
15.

The Refined Feline Lotus 69-in Microfiber Cat Tree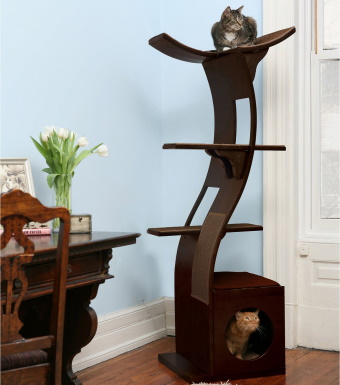 The name says it all! If you have a refined cat that shares your refined tastes in furniture, the Lotus 69-inch Microfiber Cat Tree will be an excellent fit. This wooden cat tree with suede cushions comes in three color choices: espresso, mahogany, or smoke. That will make it easier to find a color that matches the rest of the room.
This tower is heavy (72 pounds) and requires assembly, which might be a hassle for some people. The price of the tower is also on the expensive side when it comes to cat towers. Consider this cat tree a splurge!
---
16.

Vesper Base 32 inch Modern Cat Tree & Condo
Cat trees do not need to be very tall to be functional, fun, and well-designed. The Vesper Base 32-inch Modern Cat Tree & Condo is an excellent combination of style but full of features that will entice your cat to play and exercise. The cat tree comes in a color choice of walnut or oak, has scratchable posts, an enclosed cubby hole, a dangling toy, and a padded lounge.
This cat tree is also shorter than other cat tree and condo combinations, making it easier to fit into your home. However, the rope around the posts is made of seagrass, which can become loose. The quality of seagrass will make the cat condo less attractive sitting among your other furniture.
---
Beds and lounges
Some people do not mind sharing their beds or sofas with their cat buddy. However, if you want to keep your furniture clean of cat hair and prevent issues with scratching, it's a good idea to get your cat a bed or lounge. While a bright pink one with your cat's name spelled out on the side in plastic rhinestones sounds tempting, here is a list of modern-style cat beds and lounges that will compliment your home.
17.

7 Ruby Road Cat Hammock Wall Mounted Cat Shelf with Two Steps
If you have some empty wall space and the courage to drill some holes, the 7 Ruby Road Cat Hammock Wall Mounted Cat Shelf with Two Steps is a stylish lounge for your cat. Cats love to be higher up to feel safe and observe the world around them, which is why wall hammocks are becoming more popular. This particular wall hammock has a cream-colored 100% cotton lounge with natural wooden steps wrapped with jute rope, making it easy and fun for your cat to climb up and into the hammock.
Cat owners prefer wall hammocks because of the chic design, and it keeps your home clutter-free. The simplistic yet modern hammock is also easy to clean. However, since this hammock needs to be attached to the wall, this might not be an option for people who are renting and have restrictions on adding fixtures to their rooms. Also, it is a hassle to remove from the wall and put it in another location in your home if you change your mind about the placement.
---
18.

Hepper Cat Nest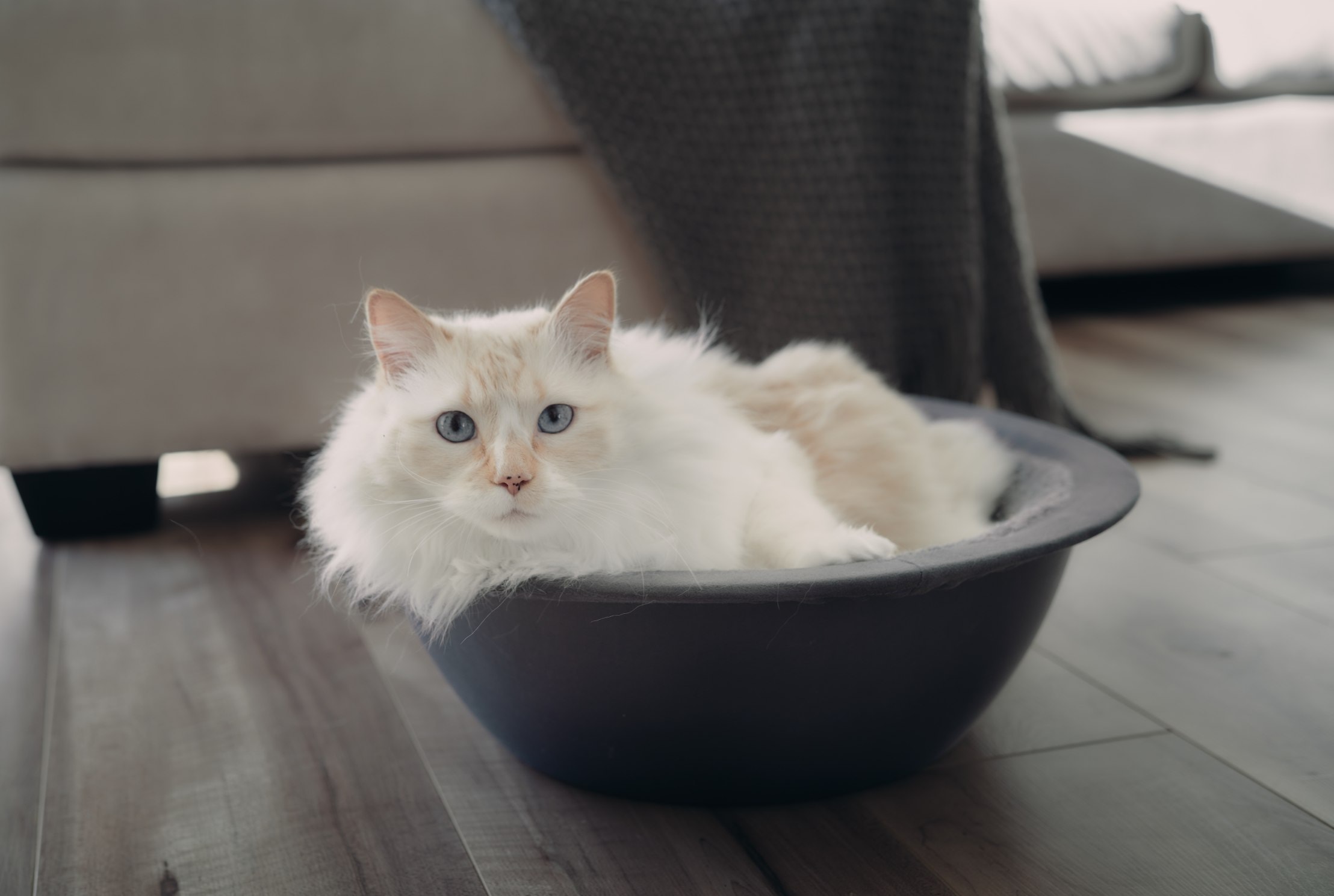 The Hepper Cat Nest is a wonderful option for a single cat to curl up and keep warm while sleeping. This cat nest comes in a dark grey color, which can neutrally blend into most rooms in a house with a modern set-up. The fleece liner inside is excellent at trapping loose fur while keeping the rest of your furniture and floor cleaner. You can also remove the liner for washing.
Cat owners like the flexibility of this cat nest because you can move it anywhere around your home. If you want to change around the set-up of your furniture, putting the Hepper Cat Nest in another place is easy. One consideration with this cat nest is that it is suitable for single adult cats. If you have multiple cats, you will need to buy two or more of these cat nests, which can end up being costly.
You might have guessed, this is our own product – but we love it so much we just have to share it, and hope you get to own one too!
---
19.

Hepper Pod – Cat Tower and Enclosed Cat Bed Cave
Cats love places to hide, but many cat owners would prefer it if their cat did not hide in their laundry basket or under the sheets on your bed due to the fur they could leave behind. The Hepper Pod can provide a warm place for your cat to curl up in and give them some privacy while they rest. This dark grey cat pod is enclosed and raised off the ground, giving your cat the ultimate hidey-hole.
The inside of the pod is lined with a removable fleece covering that can be machine washed. The design has a modern feel and can easily be moved to any part of your home. Since this cat pod is raised up, some cat owners feel it stands out slightly too much if you want to keep your home minimalistic.
You might have guessed, this is our own product – but we love it so much we just have to share it, and hope you get to own one too!
---
20.

JUNSPOW Cat Bed Pet Hammock
It is important for cats to have their own places to curl up and sleep, but they do not want to get overheated. The JUNSPOW Cat Bed Pet Hammock is a sophisticated solution. This hammock is made with breathable material and is suspended slightly off your floor.
The style of this hammock allows your cat to get air circulation during the summer months. The mesh-type lining is easily removed to be washed and comes in a color choice of grey or pink. But since this is a hammock on legs, you are limited to where you can place this in your home.
---
21.

Penn-Plax Luxury Lounger Cat Bed
Some cat owners want their cat furniture to resemble their own to match the décor in their home. The Penn-Plax Luxury Lounger Cat Bed is an excellent choice because this lounger looks like a side table that you would place in your living room or bedroom. The color combination of the cream-colored cushion on the dark lacquered wooden base with legs is a tastefully modern accessory for your cat to rest on top.
This lounger is also long enough for two cats to stretch out. If you decide on getting this lounger, ensure that you have adequate space to place this lounger, like under a window or next to your sofa or bed.
---
Litter Boxes and Litter Box Enclosures
Often, cat owners do not give litter boxes too much thought about buying things for your pet. Litter boxes are often kept out of sight. However, if your house does not have a private place to keep the litter box, you want to look at more aesthetically pleasing litter box options that you do not want to hide in bathrooms or hallways. Here are some selected choices for modern-looking litter boxes and enclosures.
22.

MS Cat Litter Box
The MS Cat Litter Box offers a retro-modern design for your cat to relieve themselves. This enclosed litter box comes in your choice of color (sweet pink, classic white, moss green, or Tiffany blue), so you can find the one that best suits the style of your home. The design of this litter box also helps reduce odors and keeps pet waste hidden. Cats like having privacy when nature calls!
When it is time to clean the litter box, the litter scooper and waste bags are attached inside the box itself. This also ensures that your room remains clutter-free. Some cat owners might not like the plastic material and want something more natural.
---
23.

PETKIT Pura X Self-Cleaning Cat Litter Box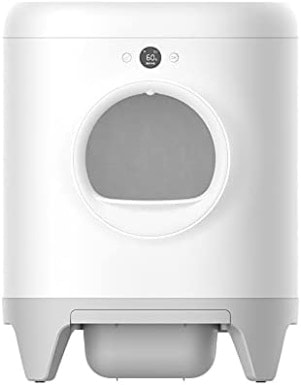 Welcome to the not-so-distant future! Self-cleaning litter boxes are becoming more popular for cat owners who are busy during the day or work outside of the home. Some self-cleaning litter boxes are uncovered, which many pet owners do not like to display publicly. Therefore, the PETKIT Pura X Self-Cleaning Cat Litter Box is a good solution.
It is enclosed, sleek-designed, and compatible with many litters (clay, plant-based, or mixed blend). This litter box is expensive, and it is also a larger size, so you would need to measure space to see if it is the right fit for your home.
---
24.

Staart Decorative Dyad Wooden Cat Litter Box
Your cat might already have an open-style litter pan that they prefer using, but it is a bit worn out and old. Instead of risking getting a new litter box that your cat might not use, consider getting the Staart Decorative Dyad Wooden Cat Litter Box. This classic yet modern is designed to look like a small nightstand that comes in three color schemes. You can place books, small statues, or plants on the top of this box to help match the décor of your room.
The enclosure completely covers your cat's litter box, giving your cat privacy. This enclosed litter box is a little bit pricey. Some cat owners will need to be more conscious about cleaning the litter box, though. When something is out of sight, it might be out of mind!
---
25.

Yangbaga Stainless Steel Litter Box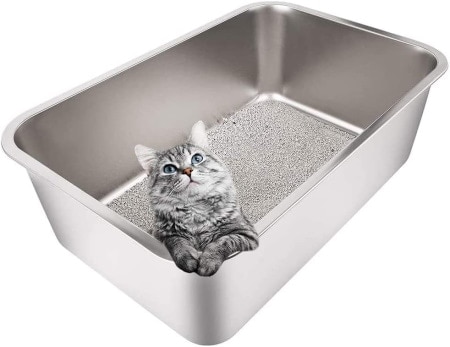 Simple designs are often the best. This idea can be applied to litter pans. If you want a non-plastic modern option for your cat, the Yangbaga Stainless Steel Litter Box is an excellent fit. Stainless steel does not absorb odors like plastic does, making this litter box easier to clean over the years. Stainless steel is also a neutral style choice because it looks sleeker and more sophisticated.
However, because this is an open litter box, your cat's waste will be exposed, causing an odor. Think about using scented or odor-absorbing litter with this pan to reduce any smells during the day.
Modern Cat Furniture Items
This list should give you an idea of the kind of modern-styled cat accessories on the market. When deciding which food dish, water fountain, cat bed, or litter tray to buy, think about the following three things: your home style, budget, and, of course, your cat. Finding the right accessories for your cat and your home may be a challenge, but the results will help enhance your home's décor and your cat's life.
---
Featured Image Credit: Switlana Sonyashna, Shutterstock