13 DIY Cat Hammocks You Can Make Today (With Pictures)

If you're a cat owner, you already know that your furry friend's favorite thing to do is sleep. You probably already have different places scattered around your home where he lounges all day, but do you have any cat hammocks?
If you've been considering a cat hammock, you've probably seen the exorbitant prices they want to charge for the premade version. We're here to tell you, you don't have to pay those prices. Instead, you can do it DIY style with the cat hammock plans we'll give you in this listicle.
From simple to build hammocks that can be completed in an hour to the more complicated and stylish, there's sure to be a hammock plan on our list that will fit your cat's lounging needs to a tee.
Top 13 DIY Cat Hammocks
1.

Small and Simple Cat Hammock by Instructables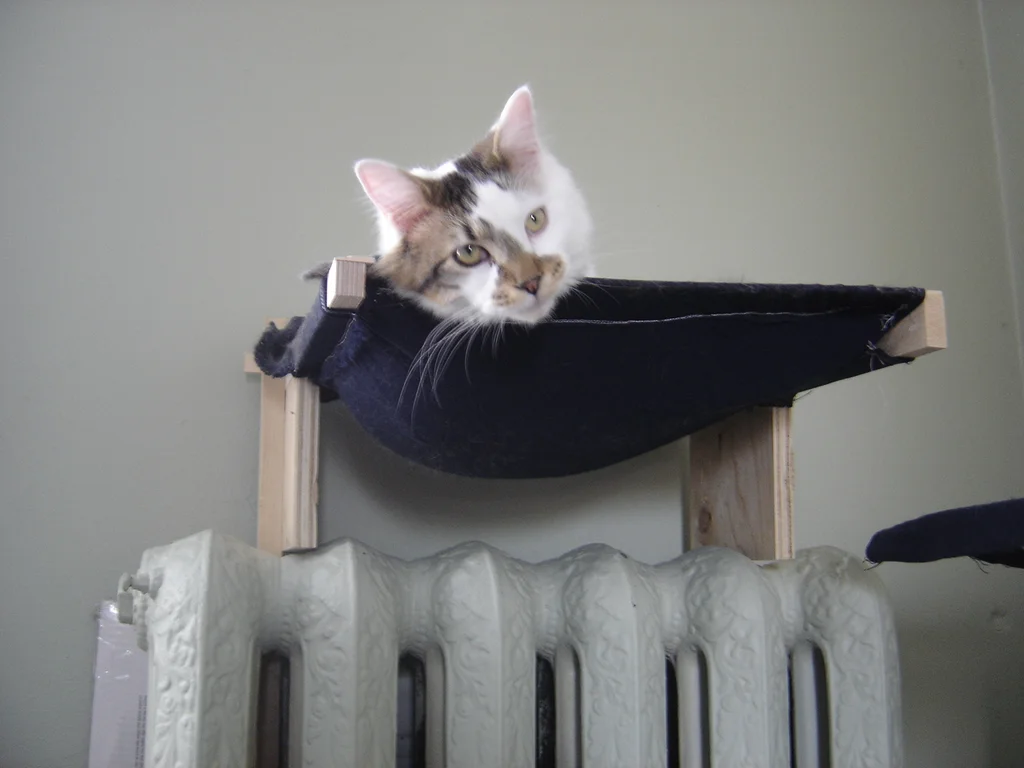 | | |
| --- | --- |
| Materials: | Wooden sticks or blocks, fabric, wood glue, nails |
| Tools: | Clamp, sewing materials, hammer |
| Difficulty: | Easy |
This simple and easy DIY cat hammock can be wall mounted or hung over the window, which your cat will love! It involves a few small pieces of wood and a piece of cloth or fabric that is sewn to fit between the wood. The sewing part is also fairly straightforward, but it helps to sew pockets to slide on and off the wood pieces so that they can be removed easily or washed.
---
2.

Side Table Hammock from HGTV
| | |
| --- | --- |
| Materials: | Metal framed side table with lower lateral supports, jute rope, grommet kit, hand towel, faux fur |
| Tools: | Scissors, measuring tape |
| Difficulty: | Easy |
This DIY cat hammock is so attractive that it should blend in with your other furniture. It uses materials you may already have, requires minimal tools, and is quick and easy but looks amazing! It is essentially an upside-down table with a towel as a hammock, but it looks like chic cat furniture you bought from the pet store!
---
3.

Easy Sew Cat Hammock by Hello Sewing
| | |
| --- | --- |
| Materials: | Fabric, swivel hooks |
| Tools: | Sewing machine, scissors, pins, and clips |
| Difficulty: | Easy |
You can sew this DIY cat hammock in just half an hour! And you can easily modify the measurements if you need something bigger or smaller. The hammock is easy to install and shouldn't take long to complete if you have experience using a sewing machine. It's lightweight, portable, and machine-washable so that your kitty always has a clean spot to sleep.
---
4.

Cardboard Box Hammock by Cuteness
| | |
| --- | --- |
| Materials: | Large box, fabric, painters tape, craft paint, craft glue |
| Tools: | Box cutter, tape measure, scissors |
| Difficulty: | Easy |
You can make an amazing cat hammock with a heavy-duty cardboard box and some of your creative flair using this easy-to-follow tutorial. The materials are inexpensive, but you will never be able to tell with the impressive results. The hammock will provide your kitty with a small perch and small canopy, and your cat will love it!
---
5.

DIY Cat Bunkbed Hammock by Makezine
| | |
| --- | --- |
| Materials: | Pine wood, blankets, rope |
| Tools: | Drill, jigsaw |
| Difficulty: | Easy |
If you have two cats, this DIY bunked hammock is the perfect plan! It is constructed from pine, and the hammock comprises blankets folded over multiple times for extra strength and comfort. You can design this hammock with the colors you prefer, but your cats will love it no matter what color scheme you choose.
---
6.

Upcycled Cat Hammock by Giveaway Bandit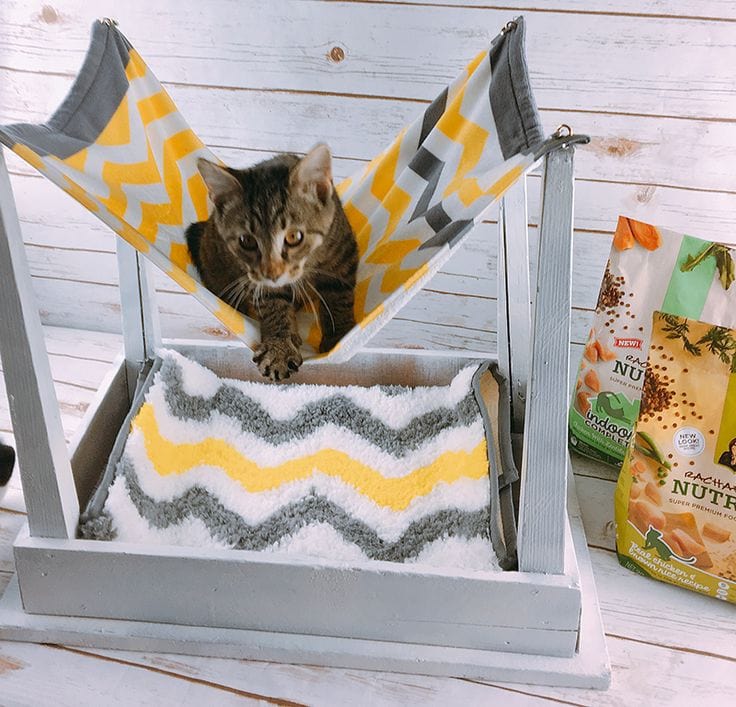 | | |
| --- | --- |
| Materials: | Old table, rug or blanket, hand towel, 4 cup hooks, 4 large eyelets, paint |
| Tools: | Grommet punch |
| Difficulty: | Easy |
The tutorial shows you how to DIY a cat hammock by upcycling items you already have at home. All you need is an old table painted in the color of your choice and an old, or even new, if you prefer, hand towel. You will only need the cup hooks and eyelets to attach the hammock to the table. This project can be quickly done in under an hour and is inexpensive.
---
7.

Modern Cat Hammock by Hunker
| | |
| --- | --- |
| Material: | Wood, dowels, cabinet knobs, two different fabrics, wood glue, sandpaper, screws, elastics, catnip (optional) |
| Tools: | Drill, handsaw, screwdriver, sewing machine, fabric scissors. |
| Difficulty: | Easy |
This tutorial is for those who wish to provide your cat with a comfortable spot to hang out that complements the design of your house. Because the hammock is reversible, you can give your cat either a warm, fluffy surface to cuddle in or a cool, cotton surface to relax on, depending on the season. Even better, the reversible cover is simple to take off and wash. If your cat needs a little enticing, you can pop in some sneaky catnip between the fabric before sewing it closed.
---
8.

Ikea Hack Hammock by Enter my Attic
| | |
| --- | --- |
| Materials: | Table with horizontal dowels, fabric |
| Tools: | Measuring tape, fabric scissors, sewing machine |
| Difficulty: | Easy |
Ikea furniture is ideal for DIY projects, and you can easily turn your Ikea table or any other table that is similar to create this great cat hammock. All you need is a strong fabric of your choice, and you can sew it over the two horizontal legs under the table! It will look great in your living room, and your cat will likely enjoy it much more.
---
9.

Crochet Hammock by Crochet with Patterns
| | |
| --- | --- |
| Materials: | Wool of choice |
| Tools: | Crotchet hooks |
| Difficulty: | Intermediate |
This tutorial is for those with keen crotchet skills or novices looking for the perfect project. What's great about constructing a DIY cat hammock is that you can choose the size and the colors, and it adds a cute aesthetic to your home. The materials are also soft, making it the coziest hammock for your tired kitty.
---
10.

Hanging Basket Hammock by by Hymns and Verses
| | |
| --- | --- |
| Materials: | Basket try, thin plywood, two shelf brackets, rope, zip ties |
| Tools: | Drill, handsaw |
| Difficulty: | Easy to intermediate |
This hammock is not a classic hammock design, but it has the same benefits that a classic hammock provides. In addition, the design is more modern and stable, and your cat won't leave its spot! It is easy to make and can work well with your existing décor, and the best part is that its modern and chic look is achieved at a fraction of the price of commercial products.
---
11.

Macrame Hammock and Cushion by Hymns and Verses
| | |
| --- | --- |
| Materials: | Macrame twine, masking tape, drapery rod |
| Tools: | Scissors, measuring tape |
| Difficulty: | Easy to intermediate |
Beginner macrame artists can easily take on this guide for a macrame cat hammock, and the outcome is just adorable! It is made of all square knots, so experience is not the primary need, but you're going to need patience! Once you're done, add a soft and comfy pillow to the hammock and watch your cat enter dreamland.
---
12.

Magic Carpet Cat Hammock by Settle Down Slinki
| | |
| --- | --- |
| Materials: | Old towel, Spaghetti yarn, Crochet hook, Elastic bands |
| Tools: | Hooks, Scissors |
| Difficulty: | Medium |
If you love to crochet, then this magic carpet cat hammock will be something you can enjoy making and that your cat will love sleeping in afterward. All you need is a coffee table and an old towel, and soon your cat will be lounging in his new hammock in style.
If you know how to crochet and are handy with scissors, then these DIY cat hammock plans are perfect for you and your feline pal.
---
13.

Macramé Cat Hammock by Cuckoo4design
| | |
| --- | --- |
| Materials: | Macrame cord, two 18-inch metal hoops, Wood Beads (optional), Round Pillow, Plant Hook |
| Tools: | Measuring Tape |
| Difficulty: | Advanced |
If you are an expert at Macrame, then this Macrame Cat Hammock will not only be a comfortable place for your lounging cat, but it'll look stunning with whatever décor you have as well. The fun with this hammock is that you can choose whatever color, design, and type of pillow you want, so you can match your décor or go seasonal. The skies are the limit with this DIY cat hammock.

Are Cat Hammocks Safe?
Now that you have a few DIY plans to choose from, you're probably wondering if these hammocks are indeed safe for your feline friend. The answer to that question is yes if you build it the right way.
First, you want to ensure that the hammock can support your cat's weight and that it's not hard for him to get in and out of. This is especially true if you're hanging the cat hammock from the wall or even if you have a window hammock instead.
While hammocks are safe for your cat, you still need to keep an eye on him when he's playing around it, just like you do with anything else to do with your furry friend.
If you're concerned, you can always opt for a comfortable traditional bed for your favorite cat.
Final Thoughts
This concludes our top 10 DIY cat hammock plans that you can build for your feline pal. Remember, keep it safe, and your cat will be lounging in his own deluxe hammock in no time at all. He'll love you for it!
---