6 DIY Dog Toy Boxes You Can Make Today (with Pictures)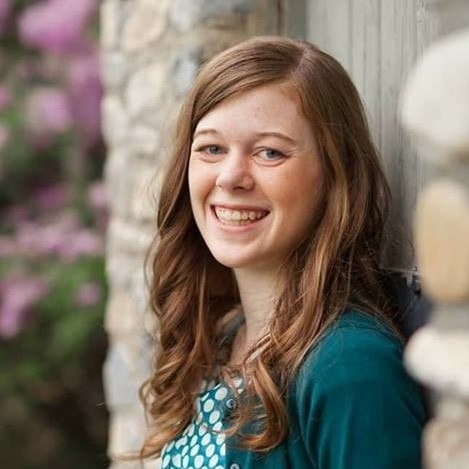 Dogs go through a lot of toys, and you likely have tons hanging around the house. But if you've got them stored in an old cardboard box or an ugly plastic bin, you don't need to spend a ton of money to make your space look a little classier.
These 10 tutorials give you a range of options for dog toy boxes that you can make yourself, ranging from an easy afternoon DIY to major woodworking plans so that you can choose a project that matches your skills and vision.

The Top 6 DIY Dog Toy Boxes You Can Make Today
1.

Upcycled Wooden Crate to Dog Box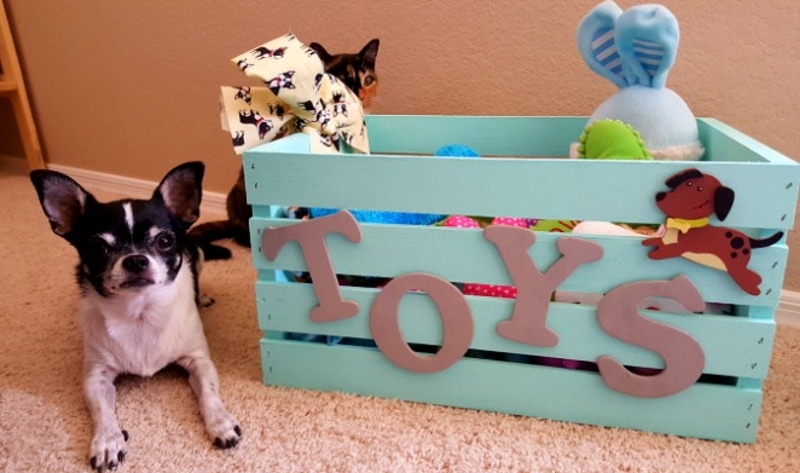 | | |
| --- | --- |
| Materials: | Wooden crate, wooden letters or embellishments, wood glue, acrylic paint |
| Tools: | Paint brushes, sandpaper |
| Difficulty: | Easy |
A wooden crate can make a simple and attractive storage container, and this DIY tutorial helps you make the crate stand out. Bright paint and wooden letters turn the crate from something ordinary to something fun and beautiful. This DIY is super easy as well—no need to deal with woodworking tools or complex painting techniques, just a few simple materials and a sturdy crate to get you started.
---
2.

Simple Rope Storage Bin from Cardboard Box
| | |
| --- | --- |
| Materials: | Cardboard box, rope, hot glue, spray paint, peel-and-stick paper (optional) |
| Tools: | Hot glue gun, scissors |
| Difficulty: | Easy |
If a rope basket is more your style, what could be cheaper and easier than turning a cardboard box into this beautiful storage bin? Cardboard boxes are easy to find in all shapes and sizes, so if you have a tight space to fit your toys into this tutorial might be for you. The secret to making this bin is to find a sturdy box that will stand the test of time. From there, it's easy to transform your box with paint, rope, and peel-and-stick paper into something that looks chic and expensive.
---
3.

Wine Crate Toy Box
| | |
| --- | --- |
| Materials: | Wine crate, wood rounds, wood glue, four screws, wood stain |
| Tools: | Jigsaw, sandpaper, screwdriver, paintbrush |
| Difficulty: | Moderate |
If you want a toy box that's classy and gives your dog easy access to the toys, try making a wine crate toy box. Recycled wine crates can often be found free by asking at restaurants or liquor stores or else bought cheaply. They make a great candidate for a toy box because they are sturdy and generally high-quality. This tutorial shows you how to cut a rounded opening on one side of the crate so it can corral your dog's toys but still make it easy for your dog to pick out the perfect choice. It's raised slightly off the floor by feet made from small wood rounds. It does require a jigsaw and some elementary woodworking, but if you're willing to put in a little work, it will make a beautiful piece.
---
4.

Dog Bone Basket
| | |
| --- | --- |
| Materials: | Dowels, glue, wooden beads, twine, yarn, sisal rope, MDF scrap, door pulls, permanent marker, acrylic paint |
| Tools: | Drill, paintbrushes, jigsaw |
| Difficulty: | Moderate |
This super cute basket is way easier than it looks. The bottom of the basket is made from a scrap of MDF, although you could easily substitute it for something similar instead. Aside from a little bit of woodworking when making the bone-shaped base, the rest of the basket comes together super easily by weaving a mixture of twine and yarn to make the basket walls. If a dog bone isn't your style, you could also switch up the shape and have a totally different look.
---
5.

Fancy Dog Toy Box from Nightstand Drawer
| | |
| --- | --- |
| Materials: | Old drawer, pencil, corbels (optional), wood glue, paint, stencils (optional) |
| Tools: | Jigsaw, sandpaper, staple gun, paintbrushes |
| Difficulty: | Moderate |
If you've got beat-up old furniture hanging around, why not give it a refresh? This tutorial shows how to take a nightstand drawer or something similar to make a dog toy box. Some fancy corbels and beautiful stenciling transforms this box from basic to beautiful, making it the perfect project for your little princess to store her treasures. It's hard to be cheaper than a drawer from an old piece of furniture, but the results definitely scream glam!
---
6.

Rustic Dog Box DIY From Scratch
| | |
| --- | --- |
| Materials: | 3/4″ birch plywood panel, 96″ 1×4 whiteboard, 5 pieces of poplar trim, 2 handles, wood stain, and glue |
| Tools: | Drill, circular saw, planar |
| Difficulty: | Advanced |
Do you want the perfect piece and have some woodworking skills under your belt? This YouTube video can walk you through the process of making a custom wooden box for your dog's toys. All steps, including dimensions for cutting the wood. The finished box has an open top and two sturdy handles for easy stowing. It would be beautiful in a rustic home or a farmhouse-style living area.
Related Reads:

Conclusion
These DIY projects will not only be fun and engaging, but they will also help you save a few bucks in the process. Plus, dog toy boxes will help keep the clutter out from under your feet. Even though your dog cannot speak in a human language, they would probably thank you for making one of these DIY toy boxes.
---
Featured Image Credit: Kevin Toney, Shutterstock