9 DIY Dog Treadmills You Can Build Today (With Pictures)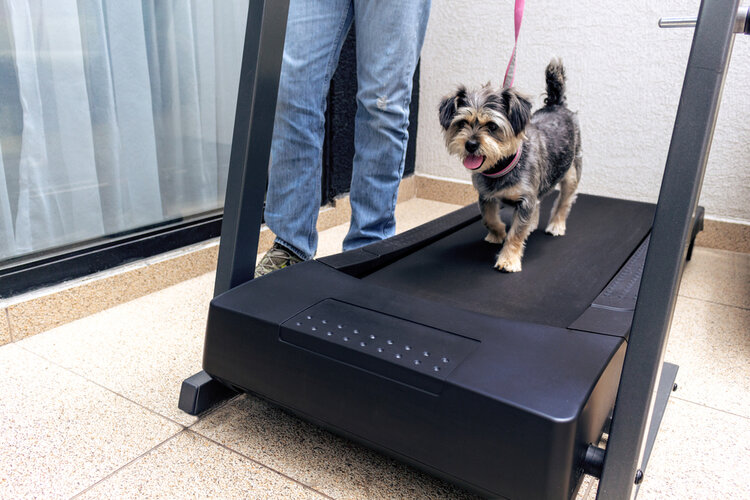 Just like people, dogs will get fat and unhealthy if they don't get enough exercise. Unfortunately, many dogs are stuffed into apartments that aren't surrounded by grassy fields where they can run free. If your dog is in a similar position, then building your own dog treadmill can be a simple and inexpensive solution so that your canine companion can start to get the exercise they need. If learning how to build a treadmill for your dog sounds like a daunting task, relax! It's not as difficult as you may think.
The following 10 dog treadmills can be built in an afternoon with just a little bit of DIY know-how and a few tools. If you're lucky, you may even have the materials you need lying around somewhere so you can repurpose them and save even more.

The 9 DIY Dog Treadmills
1.

How to Build a Carpet Mill / Dog Treadmill by Molan Labe
This is a very simple DIY Carpet Mill / Dog Treadmill design that's framed out of scrap 2×4 lumber. Large PVC pipes were used for rollers and a length of carpet was stretched around the rollers as the running surface. A plywood base beneath the carpet gives plenty of support for a dog to run on. The metal pole across the front is perfect for attaching your dog's harness to, so that when they run the carpet will spin beneath their feet.
---
2.

How to Build Your Own Dog Treadmill by Exercise With Dogs
If you're wondering How to Build Your Own Dog Treadmill, this page has very thorough step-by-step instructions. You'll start by measuring your dog to make sure that you build a treadmill that's adequately sized for them. Though the design is simple, it's also very effective. It's strong enough to hold your dog while they're at a dead sprint so you can really give them the exercise they need, even when confined to a small space.
---
3.

DIY Carpet Mill Made Easy by Guard Haus Kennels
This DIY Carpet Mill Made Easy is something that you could build in an afternoon. It's a simple design made from 2x4s with large PVC pipe rollers. They've used a chain to attach the dog to the treadmill, but you could use whatever type of harness or attachment makes you feel most comfortable. Make sure you adjust it to fit your dog since this one was made too short for the dog it was intended for.
---
4.

How to Build a Carpet Mill/Tread Mill for Your Dog! By Thomas Lopez
You can follow this video step by step to learn How to Build a Carpet Mill/Tread Mill for your dog. You'll need some lumber, PVC, and several power tools to complete this build. The end result is sturdy and looks good. Make sure you adjust the sizing to fit your dog. This build seems to roll very well and operate much smoother than some of the other DIY dog treadmills, but the build is also more involved and will require a bit more skill.
---
5.

Dogge Runner Treadmill Plans by Make and Build Dog Stuff
The Dogge Runner Treadmill Plans will help you build a professional-level DIY dog treadmill in your own home. It's a unique design that gives you multiple mounting options to accommodate dogs of varying sizes. It's a bit more complicated to build and will require some working knowledge of power tools, but it's one of the best-looking DIY dog treadmills we've seen yet.
---
6.

How to Design a Treadmill for Dogs by Cuteness
This article will walk you through the steps of How to Design a Treadmill for Dogs. Though it doesn't go into great detail, it outlines each part of the process and gives you several ideas for how to build each part of the treadmill. If you like a challenge and want some versatility in how you build your dog's treadmill, then this is a great outline for you to follow.
---
7.

DIY Dog Carpet Mill by Be Still 46 10
This very sturdy DIY Dog Carpet Mill is well-built but still simple enough for you to duplicate. It's capable of allowing a dog to run at full speed and the machine doesn't move or shake, attesting to how strongly it's built. The track is carpet, but anti-slip tape and duct tape were used to give the dog a better grip and help it last longer. You'll need some wood and power tools to learn how to build a dog treadmill, but the end result looks great and functions even better. Plus, it's sure to hold up for years of use.
---
8.

Professional Wooden Treadmill by ccoulterDIY
This DIY treadmill is easy to build with the right materials but getting it to work just right could be tricky. This treadmill is best tackled by someone with some construction or carpentry knowledge. The key is getting all of the individual planks to fit properly and attaching the planks to the rubber ring that goes around the rollers. If you don't hit that part with absolute precision, this project will not turn out the way you imagine.
However, if you are confident in your ability to cut and drill numerous similar pieces with pinpoint accuracy, then this treadmill is one of a kind. It is extremely cool, it is safe, and it looks professional. And best of all, it works.
---
9.

Train Your Dog to Use a Human Treadmill by AKC
One thing you can do is train your dog to use a human treadmill. Some experts caution against putting a dog on a human treadmill because the safety features are not aimed at dogs. However, dogs can be trained to walk on a human treadmill which can save you a lot of hassle, time, and money. It can take some coaxing and some practice to get your dog to walk on a human treadmill, but once they catch on, they can fall in love with it.
Always be sure to physically hold the ripcord on the treadmill so you can pull it in case something goes wrong. Do not let your dog walk on a human treadmill (or any powered treadmill) without supervision.
---
Featured Image Credit: Fabian Ponce Garcia, Shutterstock