Do Cats Enjoy the Smell of Bleach? What You Need to Know!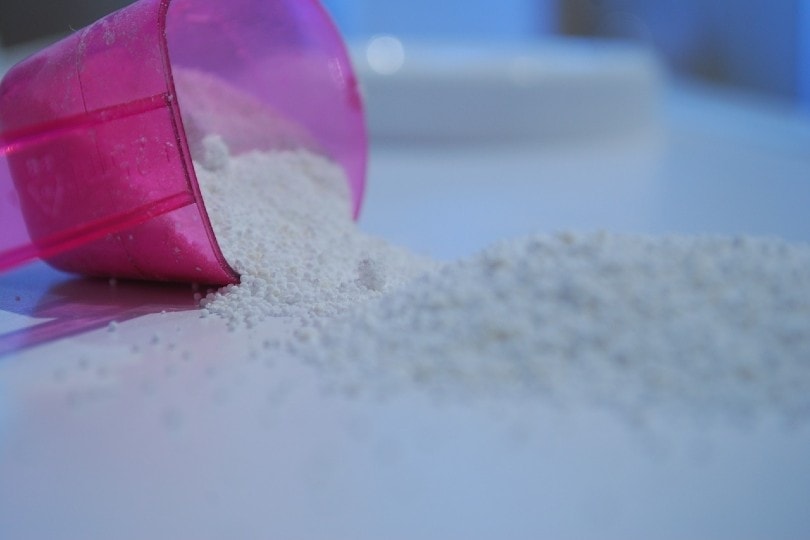 Your cat may be attracted to your toilet after you've just cleaned it, leaving pet parents wondering if cats like the smell of bleach products. Thankfully, cats don't come with a deeply ingrained interest in bleach. Instead, the scent of bleach mimics smells they're familiar with, so they're so interested in checking it out. Curious to learn more? Read on!
Bleach Smells Like Cats…Wait…What?
According to cats, bleach smells a lot like cats in a very roundabout way. Some of the connections are rather obvious since cat urine releases ammonia as it decomposes, but according to cats, bleach smells like many different smells associated with cats.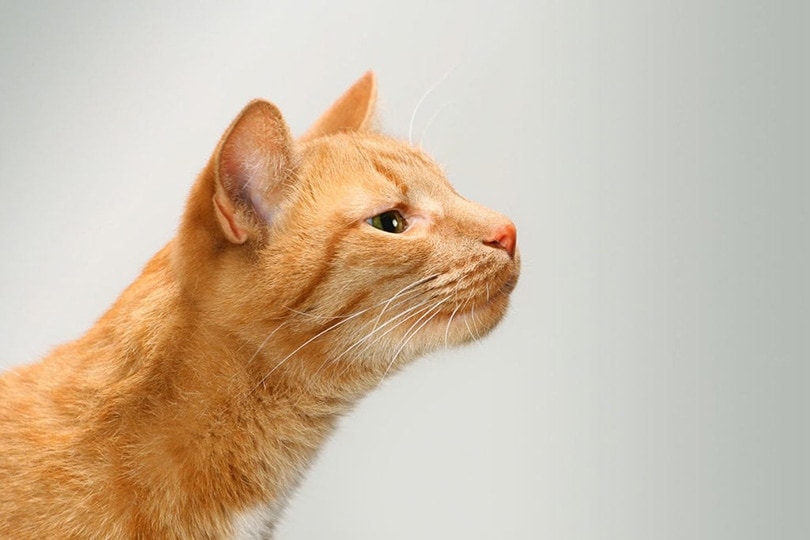 Bleach Smells Like Cat Urine
Cat urine has been known to contain ammonia. For humans, the smell becomes most noticeable when bacteria break down the chemical components of cat urine and release the ammonia into the air. However, cats can smell much fainter smells than humans.
Bleach also contains ammonia. So, it's no wonder that cats are curious about the compound. It smells very strongly like the presence of an unknown cat who has invaded their territory.
Bleach Smells Like Catnip
Before we can really delve into this topic, we have to understand the inner workings of the catnip response. This response has been documented and studied by scientists before and is a response to nepetalactone, a compound present in catnip.
Cat owners who have given catnip before will be familiar with the catnip response. Cats may become vocal, playful, and affectionate when given catnip and the reason for that is because nepetalactone mimics the smell of cat sex hormones. This mimicry repels insects and protects the catnip plant from its primary predators even if it attracts an ornery tomcat or two.
Further, we've found some chemical similarities between nepetalactone and chlorine. This may be why cats are so attracted to bleach compounds that include chlorine; bleach may smell like cat sex hormones.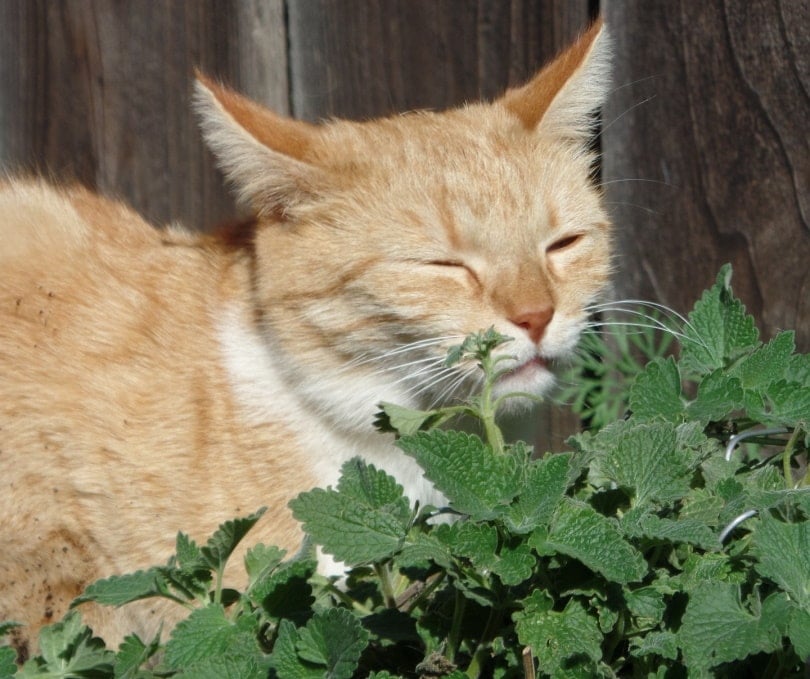 Is Sniffing Bleach Safe for Cats?
A passing whiff of bleach won't harm your cat any more than it would hurt you. However, if your cat is consistently interested in your bathroom cleaner, you may have a problem; your cat should not be huffing bleach.
Additionally, cats often satisfy their curiosity by attempting to eat the subject of their interest. Your cat should not be eating bleach as this is a highly toxic compound that could result in fatal poisoning if your cat ingests it.
How to Keep Your Cat Safe from Bleach
Unfortunately, bleach and similar compounds are necessary for cleaning up tough messes like those in our bathrooms. Luckily, there are some small things that you can do to keep your cat safe while they roam their territory looking for intruders.
Keep the Toilet Lid Closed
One of the easiest ways to protect your cat from bleach after cleaning your toilet is to keep the lid closed. They'll still be able to smell the bleach and will likely still be curious about it, but with the cover closed, they won't be able to get to the source of their curiosity and lick it.
Never Leave Bleach Solutions Laying Around
This one may sound like a "duh" moment, but it's not uncommon for people to leave their cleaning supplies out while working. Never leave a bleach solution unattended when you have cats. If you have to leave the room, bring the solution with you or dump it out and make a new solution when you come back.
Always Dilute Your Bleach
It goes without saying that you should always dilute your bleach, but you should be especially vigilant about your dilution if you have cats. Household bleaches generally have a 5–6% hypochlorite content, which is a dangerously high amount of hypochlorite if undiluted.
An excellent middle ground of being tough on pathogens but safest for your family members is a 1:32 ratio of bleach to solvent. You will need to properly rinse and dry any surfaces that your cat may be in contact with after being treated with the bleach solution.
If you're in a situation where you need a more powerful bleach solution, such as during a pathogen outbreak, you can use a 1:10 dilution system. However, you must rinse the surface and allow it to dry for 30 minutes before your cat is allowed in contact with it again.
Rinse Bleach Crystals Away Properly
The cleaning agent of bleach, Sodium Hypochlorite, is a solid that gets dissolved in water to create a cleaning solution. However, when the water evaporates, it leaves behind the sodium hypochlorite as crystals. This can be present as dust left behind on a bleached surface.
It's essential no dust is left behind when your cat comes back in contact with the bleached surface. This dust is highly toxic and can be dangerous for cats.
Keep Your Cats Out of the Room
It would be best to keep your cats out of the room when you're treating anything with bleach. The compound can be dangerous for them if they inhale or ingest it. So, it's best to simply minimize the risk by not allowing them near the solution at all.
You'll even want to limit their contact with the solution after rinsing and drying the surface, as the solution can hang around on surfaces in crystal form even after the water dissolved in it evaporates.
Signs of Bleach Toxicity In Cats
If you think your cat has ingested bleach, take them to an emergency veterinarian right away. Bleach toxicity is hazardous for any creature, and a trained veterinarian should oversee them while they recover for the best outcome. Here are some common symptoms of bleach toxicity in cats.
Ingestion of Diluted Bleach
Nausea
Hypersalivation/drooling
Inappetence
Vomiting (may contain blood)
Ulceration of the tongue/mouth
Difficulty eating (dysphagia)
Bad breath (halitosis)
Abdominal pain
Diarrhea
Ingestion of Concentrated Bleach
Uncoordinated gait (ataxia)
Difficulty breathing (dyspnoea)
Low body temperature (hypothermia)
Seizures
Collapse
Coma
Final Thoughts
The idea of our cats getting poisoned is one of the most frightening things a cat owner can contend with, especially since cats seem to want to be poisoned so badly! Bleach poisoning can be very dangerous for cats. So, cat owners need to do what they can to keep their cats safe from the compound.
---
Featured Image Credit: kropekk_pl, Pixabay