10 Amazing Dog-Friendly Beaches in Ontario in 2023: Off & On Leash Options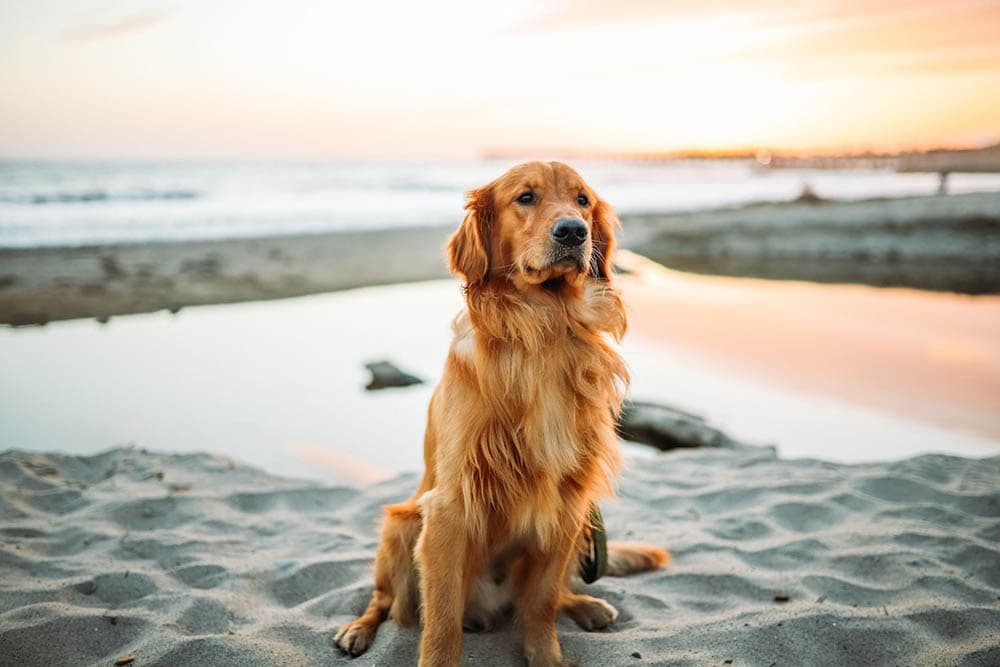 If you love dogs and the beach, you'll love dog-friendly beaches. These are great places to take your pooch for a swim or just a stroll on the sand. The best dog-friendly beaches in Ontario not only allow your furry friend to come along but also have ample space for them to run around and explore safely. Most of these beautiful spots are all within an hour's drive from Toronto and are perfect day trips with your well-behaved pups!

Top 10 Dog-Friendly Beaches in Ontario
1.

Port Burwell
This is a gorgeous family beach located on the north shore of Lake Erie.
Dogs can roam off-leash at the east end of the beach.
It's accessible from the easternmost access of Parking Lot 1.
It also has a pet exercise area, though dogs must be leashed when playing.
Be sure to clean up after your pooch and dispose of your trash properly.
---
2.

Wasaga Beach Provincial Park
It boasts one of the longest freshwater beaches in the world.
The soft sand and calm waters are perfect for families with young children and energetic pups.
Dogs are only allowed in Beach Area 3.
There's a spectacular view of the Blue Mountains in the distance.
The deep blue waters are ideal for a quick doggy paddle.
---
3.

Sandbanks Provincial Park
| | |
| --- | --- |
| 🗺️ Address: | 📍 West Lake, ON, Canada |
| 🕐 Open Times: | 9 a.m. to 5 p.m. from April to October |
| 💲 Cost: | Around $20 for the day |
| 🐕 Off-Leash: | No |
It's among Ontario's best sandy beaches.
It's only one of the three golden sand beaches that accept dogs, and they must be kept on a leash at all times.
Book your spot in advance, as it is crowded in summer.
Make sure your furry friend is well-socialized and friendly before bringing them in.
There's a possibility of camping in the picturesque dunes after a long beach day with your pup!
---
4.

Pinery Provincial Park
This is a breathtakingly beautiful provincial park with coastal dunes that provide remarkable biodiversity.
It boasts 10 km of sand and pebble beach on the shores of majestic Lake Huron.
Two areas (Pinery Day Use 1 and 2) welcome dogs on a leash.
These beaches can get crowded, so it's best if your pooch doesn't have trouble making friends.
---
5.

Cherry Beach Clarke
There's an off-leash dog area with panoramic views of Toronto's skyline.
It's a superb place to admire the sunsets and is accessible year-round.
Parking is free but limited — around 45 spots only.
There are multiple shallow entrances to Lake Ontario for your pooch to explore and play in the water.
It's a fine, soft sand beach for little paws.
---
6.

Balmy Beach Park
It's a busy but gorgeous spot near Toronto for a day at the beach in the Great Lakes region.
There is a new fenced area along the shore, allowing your dog to roam off-leash.
Bring good shoes, as there are thick rock sections on the shore.
Enjoy fabulous panoramic views of Lake Ontario as you stroll along the beach with your furry friend!
---
7.

Rock Point Provincial Park
Rock Point Provincial Park is a small park along Lake Erie that has a mile-long sand and cobble beach.
The dog-friendly area is located at the western end of the beach.
Keep an eye out: You might find fossils along the shore!
Be careful if you venture into the water with your pup, as there are no lifeguards on duty.
---
8.

Long Point Provincial Park
Long Point Provincial Park features one of Ontario's oldest beaches.
You will find ample parking, picnic tables, and most importantly, two off-leash dog areas.
The calm, shallow waters of Lake Erie allow your pup to swim safely.
It's a popular destination for water sports enthusiasts.
You can also go hiking in the forest with your dog to observe many species of migratory birds!
---
9.

Sibbald Point Provincial Park
https://www.instagram.com/p/CuDtJhmrnb_/?img_index=1
It's a beautiful provincial park located on Lake Simcoe, just an hour's drive from Toronto.
Two sandy beach areas allow dogs on a leash.
The calm waters are perfect for your pup's first beach adventures.
It is possible to hike with your four-legged friend on the surrounding trails.
---
10.

Fifty Point Conservation Area
It's a popular scenic spot located on Lake Ontario at Stoney Creek.
It's a small separate beach where your dog can splash around.
There are plenty of canine companions to play with and friendly people.
Your dog must be kept on a leash unless they are in the water.
There are many picnic and play areas for a perfect family day out!

Conclusion
Having a dog makes life more enjoyable but also sometimes more complicated. Indeed, when it comes to taking your pooch to the beach, few places can accommodate them safely and comfortably. But with a bit of research and preparation, you can ensure that your dog has a great time splashing around and making new furry friends on the beach.
Just be sure to check the rules before you go, and have fun exploring the best dog-friendly beaches in Ontario with your four-legged friend!
---