10 Dog-Friendly Hiking Trails in Wisconsin You Can Visit in 2023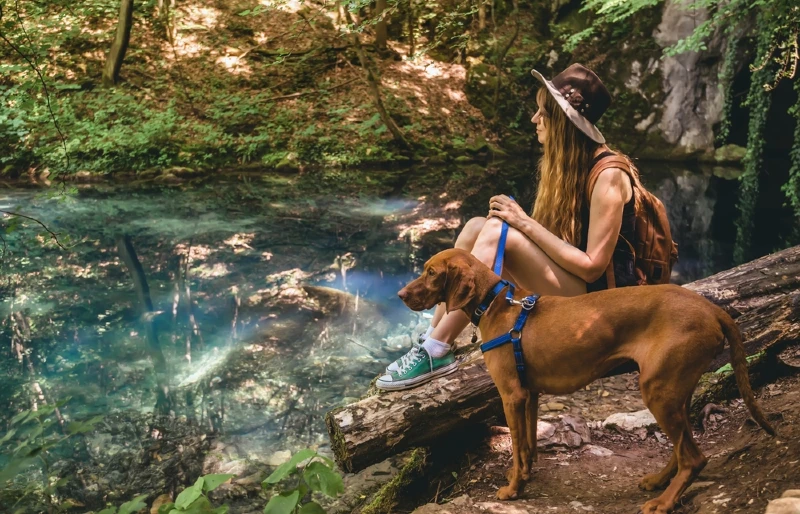 isconsin is a hidden gem for nature lovers in the Midwest. It's a beautiful state with many activities for outdoor adventurers, including hiking. Fortunately, you can find many different kinds of dog-friendly hiking trails all throughout the state. Here are some of the best hiking trails that you can explore with your dog in Wisconsin.


The 10 Dog-Friendly Hiking Trails in Wisconsin
1.

Bugline Recreation Trail
Total length of the trail is 16.5 miles
Easy, family-friendly hike with paved trails
Trail is a popular biking and horseback riding spot, so be mindful of bikers and horses
---
2.

Cave Point Lakeside Trail
Trail is known for its dolomite and limestone ledges and underwater caves
A popular location for water activities
Admission is free, but you have to purchase a park sticker if you want to go to Whitefish Dunes State Park
---
3.

Chapel Gorge Trail
A shorter trail that leads to a secluded beach
Trail winds through a peaceful trail in the forest
Beach can get crowded in the summer
---
4.

Gibraltar Rock State Natural Area
Park is about 68 acres and has trails with scenic landscape views
Located near the Ice Age Trail
Trail can be busy during summer weekends
No amenities along the trail, so make sure to plan accordingly
---
5.

Glacier Hills County Park
Hiking trail runs through 140 acres of forestland and has a pathway to Friess Lake
Trail includes views of the lake, ponds, and glacier-formed kettles
Make sure to download the map beforehand because the trail path can be unclear at times
---
6.

Ice Age Trail: Monches
Trail leads through forest and along the Oconomowoc River
Popular location for backpacking, birding, and camping
Be mindful of ticks during the spring tick season
Not all areas of the park allow dogs
---
7.

Lion's Den Gorge Nature Preserve
Over 73 acres with beautiful views along Lake Michigan
Popular location for birding, fishing, hiking, and picnicking
You can choose to walk along the bluffs or an easier forest trail
Wooden stairs lead down to a beach
---
8.

Lost Creek Falls
---
9.

Osaugie Trail
Easy but long trail that takes a little over 3 hours to complete
It's a multi-use trail, so be mindful of bikers
Restrooms and pit stops are located along the trail
Beautiful views of Superior Bay
---
10.

Quarry Lake and Harrington Beach Loop
| | |
| --- | --- |
| 🗺️ Address: | 📍 531 Co Rd D, Belgium, WI |
| 🕐 Open Times: | Year-round 6:00 AM – 11:00 PM |
| 💲 Cost: | $13-$38 vehicle sticker fee |
| 🐕 Off-Leash: | Only in designated pet areas |
A popular location for camping, birding, and hiking
Dogs must be leashed at all times on the trail
Designated pet swim area at the south beach
Best times to visit are between April through October
Park entry requires a vehicle sticker

Conclusion
Wisconsin is home to many different kinds of trails with scenic views. Most trails are beginner-friendly and enjoyable for families with young children. If you plan to go on a hike with your dog, be mindful of ticks and mosquitoes, and make sure to keep your dog leashed at all times. Following trail rules will protect the natural environment and ensure that you and your dog can continue to hike these trails safely for many more years to come.
---