100+ Dog Walking Business Names: Creative, Innovative & Clever Ideas

Are you passionate about man's best friend, and thinking of opening your very own business in the doggie realm? We couldn't think of a better industry to dive into even if we tried!  Dogs are incredibly beautiful and loving creatures, so who wouldn't want to spend every single day ensuring they have the happiest and most full filling of lives?!  Earning a living doing what you love is truly the key to happiness! 
One of the most important decisions when thinking of starting a business is coming up with an appropriate and accurate business name. What you need to remember is that this will be your calling card until you are established with a long list of doggo clientele.  Something catchy that not only tells your story but gives your potential clients a quick peek into your business model is ideal. 
Before we dive into names, consider the purpose and tone of your business. We have gathered and created a few of the greatest names and filtered them into categories. We have formal, catchy, and cute suggestions for dog walking businesses, ideas for grooming services, and names suitable for those looking for a career in dog sitting. 
We are paws-itive if you don't love one of the names we have, we will spark your creativity and inspire you to design your own. Get ready for some good dog-walking business names!
Click Here to Jump Ahead:

Formal Dog Walking Business Names
If you want a neat and orderly business – one that is by the books and strictly professional – this first list of business names would be great ideas for your walking biz:
Dog Outing 

Travel Circuits 

Paws Express

Helping Hand 

Prestige Pet Patrolling

Lucky Leashes 

The Dog Walkers 

Walks and Wags 

Dogs in Motion

Leash & Lead Dog Walking 

Regular Rounds 

Follow the Leader 

Petwalk Co. 

Out of the Kennel 

Paws to Pavement 

Walking Without Worries 

Just Bow

To and From Dog Walkers 

Pet Patrol 

Paws in Motion

Walk My Dog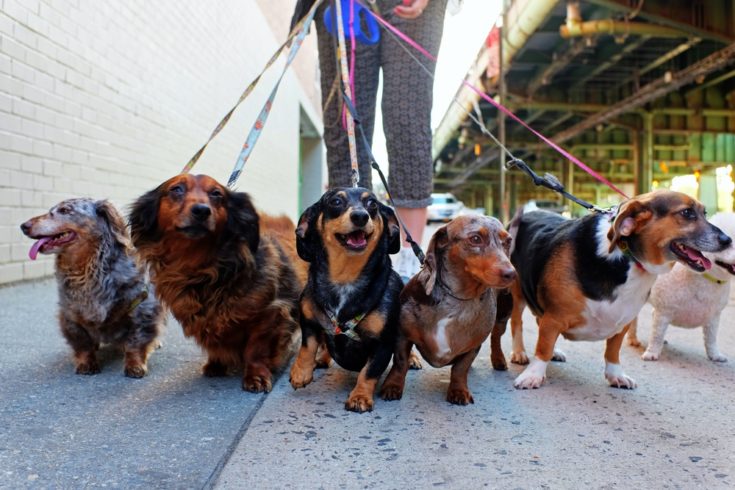 Catchy Dog Walking Business Names
These names are sure to stick in your head. They are catchy, fun, and most importantly, memorable! Cn you imagine having one of these on your calling card? 
Wagging Walkers 

Take a Hike – Dog Walkers 

Ruff Routes 

Mutt Marchers 

The Woof Pack 

Potty Time Pets 

Fetch Pets

Pup Strutters 

Adventure Trails for Wagging Tails 

The Mutt Strut 

Canine to Five Walks

Hound Hikes – Dog Walking Services 

Canine Convoy Dog Walking 

Dogs Unleashed 

Let's Walk About it 

Fetchmates

The Mutt Movement 

Gimme a Bone 

The Crate Escape 
Cute Dog Walking Business Names
We're sure that you come across adorable dogs on the regular, so naturally, a cute business name would be an obvious choice. Here are a few of our favorites:
Darting Dog Walking 

Pass on the Pound Dog Walking 

The Play Pen 

Walking Whiskers

Moochy Poochy 

Im-Paw-Sters

Paw-Sitive Strides 

Barking Bone Brigade 

Doggie Styles

Puppy Paraders 

Muddy Paws

Bone Adventures

Pup Culture

Fetching Fido

Tail Travels 

The Escape Route 

Playful Paws

For Pets Sake

Metro-Paw-lis Walks 
Dog Grooming Business Names 
If you have a passion for dog spas, trimming hair and nails, and preparing pups so they look the best they can, well you might benefit from having your own grooming business. Below have noted a few of our favorite names. Feel free to give one of them a personal makeover so your business name is uniquely yours! 
Pawber Shop 

Canine Cuts 

Pampered Paws

Groom Room 

Good Boy Grooming 

Puptopia

The Pawfessionals 

The Groomery 

Shedding Shack 

Brush & Bark 

Comb My Canine 

Deja Spaw 

Hair of the Dog 

Dapper Dogs 

The LaundroMutt 

Well Groomed

Scruff to Fluff

Dirty Dogs 

Flying Fur 

Pet Paradise 

Pampered Pooch 

Diva Dogs 

Common Scents 

Nada Paw

Fetching Furs 

Animal House 

Canine Casa 

Whiskered Wonders 
Dog Sitting Business Names 
Trusting someone with your pup for the day, overnight, or in some cases even longer, is likely stressful for pup owners. Choose a name that assures them their dog is in great hands and will be well taken care of.
Watch My Wags 

Bark Bureau 

Mongrel Motel 

Pooch Patroller 

Canine Companion Care 

Dog Sitting Society 

House of Paws

Sidekick Sitting

Cuddles for your Canine 

Mutt Motels 

Bark Inn 

Wagzone 

Canine Cabin 

A Bed & Biscuit 

Paw Sitter

Canine Care 

Tips to the Perfect Business Name
Be intentional.

If you want to have a wild and fun business, have a wacky name that reflects that. If you would prefer to keep it all business, stick with a formal name. Whatever you choose, be intentional. You want your business model to match your name, so choose wisely! 

Keep it short and to the point.

Long-winded names are difficult for new clients to remember. 

Have fun!

You will be the face of your business, so just  know that your personality and passion will be the true star of your business and the key to your success.
Finding the Right Name for Your Dog Business 
If you're feeling a bit of pressure when it comes to finding a great name that stands out above the rest, we are here to help and support you along the way. We hope that you were able to find the inspiration you needed to get the ball rolling on the new biz, so those tails can start wagging. Good luck with your new venture! 
If you happen to also be on the hunt for a pup name, read on to find a few of our top posts! 
---
Feature Image Credit: Africa Studio, Shutterstock