15 Dream Jobs for Cat Lovers: Choose the Perfect Career
There's no need to hide your love for cats. If you find that you have a big heart for cats, you may even be able to find a job that enables you to work with them more frequently. Finding a job that works with cats can also be a viable option if you're in a place where you can't live with a cat currently. 
These days, you can find all sorts of interesting and unique jobs. Here are some opportunities that involve working with cats that just might end up becoming your dream job. 
The 15 Dream Jobs for Cat Lovers
1.

Cat Behaviorist
Cat behaviorists help people to understand their cats and build a strong bond with them. There are several different approaches and methods that cat behaviorists use to correct behavioral issues. Some cat behaviorists will even specialize in building cat-friendly environments and give consultations on how to optimize room setups to meet a cat's needs. 
Some people will study animal behavior in university and work their way to become a cat behaviorist. However, if you don't have a degree in animal sciences, you can take courses from a reputable cat behaviorist training program to get you started on your career.
---
2.

Cat Adoption Coordinator
Thousands of cats come into animal shelters and rescues every year, and many are ready to be rehomed and find their forever families. Cat adoption coordinators help cats find families that will be a good match for their temperament and lifestyle preferences. They also often help cats find foster homes. 
Cat adoption coordinators advocate for cats by helping them find homes where they'll receive the love and attention that they deserve. It often ends up being a very rewarding job for cat lovers.
---
3.

Veterinary Care
Veterinarians are essential to a cat's well-being. So, if you're inclined to biology and the sciences, you may want to consider becoming a veterinarian. You can also find veterinary care practices that specialize in feline care and only work with cats. 
Keep in mind that you don't have to be a veterinarian to be involved in veterinary care. You can consider being a veterinary technician or help with office management if you have administration and operations skills.
---
4.

Cat Sitter
Cat sitters are extremely popular because many cats prefer being at home rather than staying at a boarding facility while their families are away. There are different ways to go about becoming a cat sitter. You can start gaining experience by taking care of your friends' cats and then expand your network by referral. There are several different pet care websites that you can use to post your cat-sitting services and attract more clients. 
Another way you can become a cat sitter is to get a job with a pet care business. Some pet boarding or daycare businesses employ pet sitters. Once you secure a job, these businesses will connect you to cat-sitting opportunities so that you don't have to search for your own clients.
---
5.

Professional Cat Cuddler
Believe it or not, a professional cat cuddler is a real job. Cat adoption centers can employ cat cuddlers to help care for kittens that are too young to be put up for adoption. Cat cuddlers often help with feeding the cats and setting up play sessions. They'll also work on socializing the kittens so that they become comfortable with human touch and interacting with other kittens.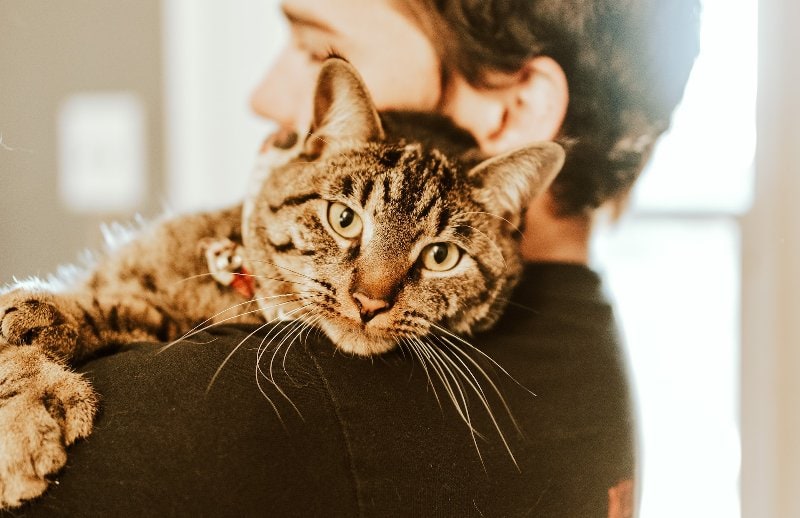 ---
6.

Therapy Cat Handler
Therapy cats are specially trained cats that go to public places and visit people in need of pet therapy services. They often have a social and outgoing temperament, and they're trained to be used to meeting new people. 
Cats can provide significant therapeutic benefits for people. Petting cats can reduce stress, boost people's moods, and reduce loneliness. A 2018 study also saw positive benefits from the strong bond that can be formed between therapy cats and children with autism.1
---
7.

Cat Café Owner
If you have a background in the food service and love cats, you might be able to combine your two interests and open a cat café. It might take extra work to ensure you're following food safety protocols with cats, but it's a rewarding endeavor. Many cat cafes are often temporary homes for cats that are ready for adoption. So, you can support a good cause and help cats find good homes while spending all day with adorable cats in your café.
---
8.

Cat Photographer
Pet photography is becoming more and more popular, so there's a market for cat photography. You can get really creative by making fun photography sets and backgrounds. Cat owners will also appreciate having a selection of clothing and props that they can use for their cats. 
Cat photography can be challenging because cats may not want to sit still for a photo. So, if you're an artist, you may want to consider being a pet portrait artist. Then, you'd be able to draw and paint with a reference photo of a cat.
---
9.

Cat Toy Maker
Pet owners are always looking for new and novel toys for their pets. So, if you enjoy arts and crafts, you may want to look into making cat toys or accessories. Crocheting, knitting, braiding, and felting are all skills that you can use to make cat toys. Making toys is a great way to stretch and challenge your creativity while providing tons of fun and entertainment for cats. 
---
10.

Cat Boutique Store Worker
Cat boutique stores provide special spaces for cat owners to find unique cat food, treats, toys, and other supplies. They can be really fun to work in because you get to curate special selections of products. 
If you're interested in starting your own boutique, you have the option of setting up a brick-and-mortar store or an online store. So, if you don't have the time or resources to invest in a brick-and-mortar store, you can still start your business by creating an online store and sell products without a physical location.
---
11.

Cat Blogger
If you have a knack for writing, consider starting a cat blog. Pet parents are often looking for the latest trends and research on their pets. Since the pet industry is projected to keep growing, there's always something new to write about. 
If you're feeling really creative, you can use social media to create cat content and post fun photos. You can also post informative videos that help people take good care of their cats.
---
12.

Cat Massage Therapist
Giving massages to pets isn't just a means of pampering them. Massages provide therapeutic benefits and can help cats with certain health issues, like arthritis and joint stiffness. It can also help reduce anxiety in cats. 
You can receive training and certification to become a professional cat massage therapist. Pet massage therapists are often employed by holistic veterinary practices and pet wellness centers.
---
13.

Catnip Merchant
If you have a green thumb and love gardening, you can look into growing and selling your own catnip. Fortunately, catnip is a hardy plant that's fairly easy to grow. So, as long as you have the space, you can start growing it. 
Keep in mind that there are different types of catnip that have varying quality. So, make sure to find vendors that sell high-quality catnip seeds.
---
14.

Pet Detective
Pet detectives work to find lost and missing cats. They're trained to understand animal habits and behaviors so that they can have better judgment when finding and tracking lost pets. You can find some training programs and earn a certificate through them. 
Pet care businesses may be open to expanding their services, and they'll be more willing to employ someone who has the skills to find lost pets. So, getting a pet detective certification can increase your chances of finding a job.
---
15.

Cat Breeder
If you have years of experience with cats and love a particular breed, you may want to look into becoming a cat breeder. Just keep in mind that starting a cattery is a significant investment, and it takes a lot of time and attention to detail to ensure your cats are safe and your kittens grow up in a healthy environment. 
You can start by familiarizing yourself with cat breed associations. Some associations offer assistance for new cat breeders, and you may be able to connect with a reputable breeder and learn from them.
Conclusion
There are many different ways for you to work with cats. Different job opportunities require varying skill sets. So, you don't have to just resort to traditional jobs, like animal behavioral studies or veterinary practices, to work with cats. With a little creativity, you can find something that matches your skills and experiences. Be open to what's out there, and you just might find a fun and fulfilling dream job that involves lots and lots of cats.
---