23 Essential Boston Terrier Supplies & Products for Your New Pup
The wait for your new Boston Terrier puppy can seem excruciatingly long. But you can use the time to prepare your home and yourself by getting all the supplies that your pup will need. That way, instead of running to the pet store when your pup arrives, you can focus on the new member of your family!
Here, we rounded up a list of essential Boston Terrier supplies and products (and a few suggested ones) to help you get ready for your new puppy!

Essential Boston Terrier Supplies & Products
1.

Crate
Special Considerations: The crate should be big enough for your dog to stand up and turn around but not so big that they can create a designated bathroom area.
Product Recommendation: Frisco Fold & Carry Double Door Collapsible Wire Dog Crate & Mat Kit
A crate is an important item for house training your Boston Terrier in the easiest way possible. It also gives your puppy a safe space to hang out and keeps them contained when you cannot supervise them.
We recommend a crate that has two entry and exit doors and collapses easily for storage. The Frisco Fold & Carry Crate also comes with a crate mat to keep your pup comfortable.
Keeps dog contained
Hones natural den instincts
Aids with potty training
The crate must be properly assembled for safety
It can cause emotional distress if used inappropriately
---
2.

Puppy Pads
Special Considerations: These are best for apartment dwellers or those with long working hours.
Product Recommendation: Frisco Dog Training & Potty Pads
Puppy training pads are great to use for housetraining, particularly with small dogs like Boston Terriers. If you live in a house with easy access to the backyard, you may not need to use puppy pads. However, they are necessary if you live in an apartment complex or need to be away from home for long periods.
Even when puppies are getting the hang of potty training, they often don't indicate that they need to go until it's an emergency. If you can pick up your dog and just run out the door, that's no problem. But if getting outside requires an elevator ride or several flights of stairs, you might not make it. That's where the puppy pads come in. You can maintain your dog's housetraining and give them a designated bathroom space without wrecking your floors.
For owners who have a balcony or deck that's easily accessible, you can also use a portable potty patch, like the Portable Pee Turf Patch, that gives your dog a patch of grass for pottying without requiring an entire outdoor yard space.
Soak up urine
Can be thrown in the trash
Save your floors
Inexpensive
Your dog may never be fully housetrained
They can become a crutch
Pups may think that any "square" on the floor is their potty (bathroom mats, board games, rugs, etc.)
---
3.

Dog Bed
Special Considerations: Young puppies may chew up the bed.
Product Recommendation: Happy Hounds Otis Orthopedic Pillow Dog Bed w/ Removable Cover
If you are crate training your pup, you may not need a bed for them right away. Some owners choose to use the crate as a bed until their puppy is more reliable and can be trusted around the house. Others choose not to crate train their dogs and will use a bed right from the start. There isn't a right or wrong answer, but your dog will need a bed of their own at some point.
An orthopedic foam bed provides cushioning for your dog's joints. While Boston Terriers aren't prone to bone and joint issues like many large dogs are, they will still appreciate a bed that supports their body.
A removable cover is recommended, so you can machine wash your dog's bed as needed.
Orthopedic memory foam supports joints
Removable, washable cover
Young pups may chew up their bed
---
4.

Toys
Special Considerations: Puppies need durable toys that they can chew on.
Product Recommendation: KONG Puppy Goodie Bone With Rope Dog Toy
Young puppies love to chew and play, so they need durable toys that will keep them busy and soothe sore gums when they are teething. KONG puppy toys are great choices. They are designed to help burn off excess energy by keeping your pup busy. The soft rubber and texture are also great for teething gums.
Combination of play and chew toy
Durable for active puppies
---
5.

Behavioral Aids
Special Considerations: This is an option for reducing anxiety in young puppies.
Product Recommendation: Smart Pet Love Snuggle Puppy Behavioral Aid Dog Toy
Behavioral aid toys can help reduce anxiety by capitalizing on a dog's natural instincts. The idea of these toys is to create warmth and physical contact, which in turn, decreases barking, whining, crying, and separation anxiety.
The Smart Pet Love Snuggle Puppy has a simulated heartbeat and warming pack to soothe lonely puppies. It is machine washable for easy cleaning and lasts up to 2 weeks on a set of AAA batteries.
Helps decrease anxiety in puppies
Can become a crutch if used inappropriately
---
6.

Puppy Cam
Special Considerations: This may provide a sense of comfort for owners while they are away from home.
Product Recommendation: Wyze Cam v3 Pet Camera
A puppy cam can be a valuable commodity for owners who want to see what their dog is up to while they're away, but it can be a double-edged sword. While the camera does enable you to talk to your pup to praise them for good behavior, you can't intervene if your dog doesn't hear you (or ignores you).
Whether a puppy cam is worth the investment will depend on individual owner preferences. Some owners love the peace of mind that it provides them, while others find it anxiety-provoking.
Watch your pup remotely
Has two-way audio communication
You can praise your pup for good behavior while away from home
No ability to follow up on commands that your pup ignores
Can cause anxiety for some owners
---
7.

Treats
Special Considerations: Treats should be considered in your dog's daily caloric intake.
Product Recommendation: Canine Cravers Farm Fresh Chicken Dehydrated Dog Treats
It's a sure bet that you will need treats to train your pup. Ideally, you will have tiny training treats that are healthy and low calorie. Make sure they don't make up more than 10% of your dog's overall diet, and if you've fed them extra, adjust their meal portions accordingly to avoid overfeeding them.
Small, healthy training treats
Overfeeding can cause weight issues
Treat training can be difficult to wean dogs off of
Other Supplies & Products Worth Consideration
8.

Training Tools
Special Considerations: There is no single right training tool for your dog, but it's important to be consistent once you choose one.
Product Recommendation: Mighty Paw Dog Training Clicker
---
9.

Stain and Urine Cleaner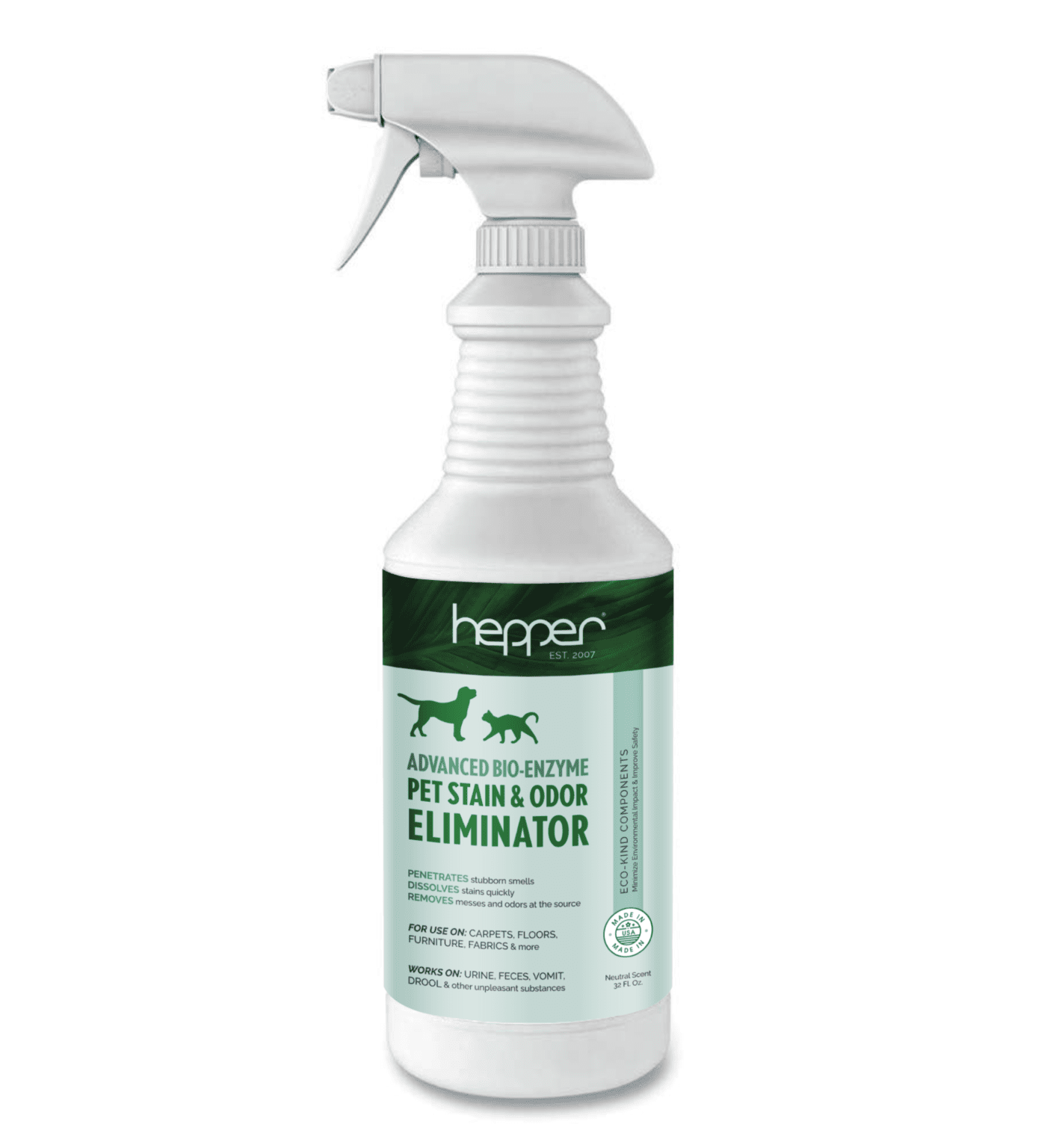 Special Considerations: Puppies have accidents. Having something on hand to easily clean up the mess makes these accidents less stressful.
Product Recommendation: Hepper Advanced Bio-Enzyme Pet Stain & Odor Eliminator Spray
---
10.

Poop Bags
Special Considerations: You must pick up your dog's poop, but these biodegradable poop bags can make you feel better about it.
Product Recommendation: Earth Rated Dog Poop Bags
---
12.

Bowls
Special Considerations: Stainless steel bowls don't stain like plastic bowls; they are also chew-proof.
Product Recommendation: Frisco Double Stainless Steel Dog Bowl with Silicone Mat
---
13.

Bowl Mat
Special Considerations: Placing a silicone mat under your dog's bowls makes it harder for them to drag the bowls across the floor.
Product Recommendation: Drymate Leopard & Zebra Border Pet Bowl Place Mat
---
14.

Blanket
Special Considerations: Blankets offer comfort to dogs at bedtime; they also give them something to burrow under for warmth.
Product Recommendation: Pet Parents Pawtect Blanket Premium Waterproof Dog Blanket
---
15.

Puppy Carrier or Backpack
Special Considerations: Puppies can have trouble keeping up on long-distance walks or hikes. A backpack carrier is a great way to take your Boston Terrier puppy with you on your adventures without putting too much strain on their tiny legs.
Product Recommendation: Ibiyaya New Denim Fun Lightweight Pet Backpack Dog Carrier
---
16.

Puppy Gate
Special Considerations: Pet gates can help keep your pup contained in one or two rooms.
Product Recommendation: Internet's Best Traditional Pet Gate
---
17.

Soft Crate or Travel Crate
Special Considerations: For road trips (or vet trips), you may want an easy-to-carry, collapsible soft crate to carry your dog.
Product Recommendation: Guardian Gear Single Door Collapsible Soft-Sided Dog Crate
---
18.

Dog Collar
Special Considerations: Even if you choose to walk your dog with a harness, you will need a collar to attach identification and registration tags.
Product Recommendation: Necoichi Daruma Charm Cotton Breakaway Bow Tie Dog Collar
---
19.

Dog Leash
Special Considerations: Dog leashes should be lightweight and about 6 feet long. Retractable leashes should only be used for dogs that walk well on a leash.
Product Recommendation: Frisco Reflective Rope Slip Lead Dog Leash
---
20.

Puppy Brush
Special Considerations: Make grooming time pleasant for your dog by using a brush that feels good! Boston Terriers are short-haired dogs, so don't use a brush that could irritate or cut their skin.
Product Recommendation: KONG Dog ZoomGroom Multi-Use Brush
---
21.

Dog Harness
Special Considerations: Many owners find that walking is easier in a harness as opposed to attaching the leash to the collar. The harness reduces strain on your dog's neck and throat.
Product Recommendation: Voyager Padded Fleece Dog Harness
---
22.

Dog Shampoo
Special Considerations: A mild shampoo that doesn't irritate your dog's skin will make bath time more pleasant for you.
Product Recommendation: Earthbath Ultra-Mild Wild Cherry Puppy Shampoo
---
23.

Dog Clothing
Special Considerations: If you live in a cold climate, you may want to invest in a sweater or jacket for your dog to keep them warm on winter walks.
Product Recommendation: Frisco Marled Chevron Dog Sweater
Conclusion
Bringing home a puppy is one of the most exciting times in your life! By being prepared for your new pup, you can focus on bonding time rather than all the things that you need. Hopefully, this list has helped you get an idea of the supplies and products available so you can make your home ready for your new Boston Terrier.
---
Featured Image Credit: Lenka N, Shutterstock