300+ Fat Cat Names: Our Top Picks For Your Big And Bold Cat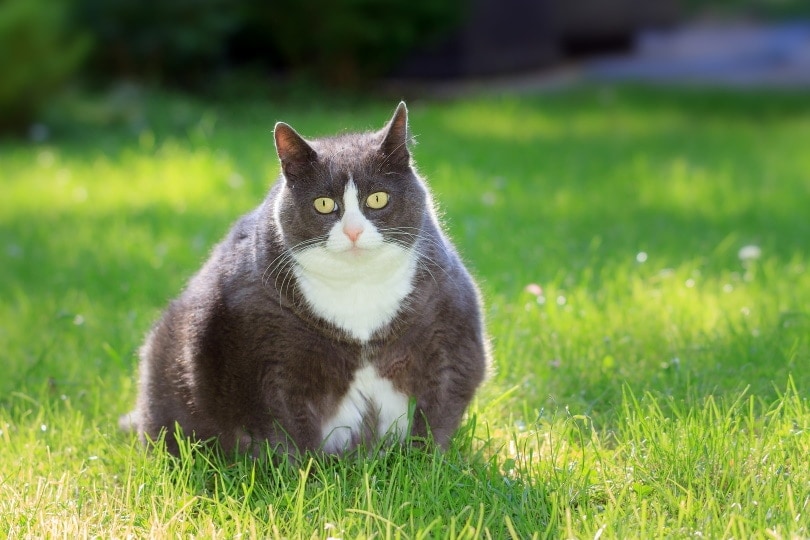 For whatever reason, many cat lovers just can't resist the charm of a tubby kitty. Maybe it's their chubby belly or the fact that they tend to be content just to snuggle on the couch with you, thanks to the amount of energy it takes to move their bulk around!
If you're bringing a fat cat into your home, you'll need just the right name for your portly new pal. We've got you covered with over 300 options to choose from for your big, bold kitty. Check out our picks, inspired by everything from a Thanksgiving turkey to a big green superhero (don't make him angry).
Note: While fat cats may be cute, they are far from healthy and likely very uncomfortable in their bodies. We encourage all those with overweight pets to speak to their veterinarian about putting their animals on healthy food regimens that can increase their comfort and lifespan.
How To Name Your Fat Cat
If you're naming any cat, you want to be inspired not only by their looks but their personality as well. This is especially true when naming a fat cat because chances are your vet will put them on a diet for health reasons and they won't be overweight forever! Spend a little time getting to know your cat before you decide on just the right name.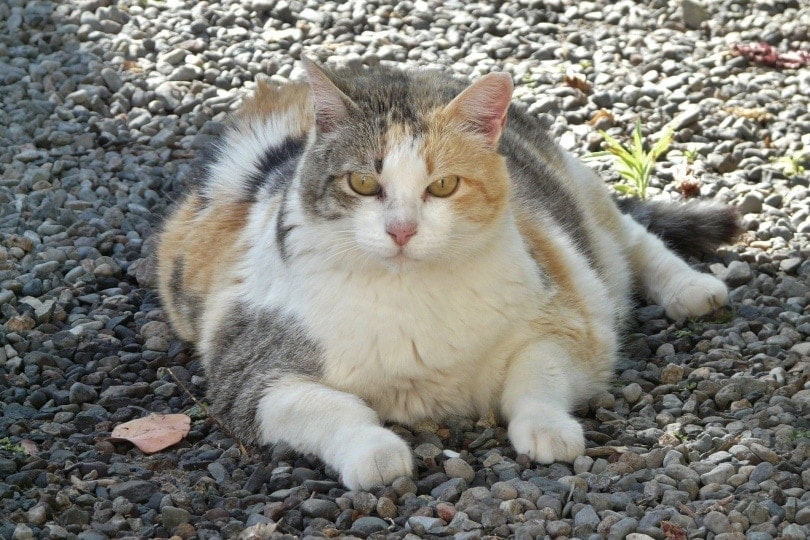 Female Fat Cat Names
If your new cat is a fat and sassy lady, here are some cute, funny, and unique names for you to choose from. While these are labeled as female names, some of them could work for either gender so if you see one you like for your male cat, go for it!
Fluffy
Wobbles
Bertha
Curvy
Dumpling
Fat Mama
Juicy
Heffalump
Ursula
Orca
Pig
Rhino
Sloth
BonBon
Butter
Butterfinger
Buttersworth
Cookie
Croissant
Gouda
Margarine (Marge?)
Taba (Filipino word for fat)
Fitu (the Icelandic word for fat)
Taffy
Butterball
Tummy
Gnocchi
Roly
Vaca
Twinkie
Pudgie
Miss Piggy
Jelly Roll
Matzo Ball
Beulah
Jiggles
Lane
Lipoma
Stuffy
Poe
Poofy
Eggo
Dulce
Teletubby
Reeses
Lollipop
Tootsie Roll
Snack
Duchess
Queenie
Lady
Hefty
Mega
Mighty
Quake
Uber
Waddles
Blob
Lump
Pudgers
Bug
Tiny
Eiffel
Giza
Sphinx
Nala
Burrito
Taquito
Squiggle
Pookie
Crisco
Olive (Oil)
Donut
Beans
Marshmallow
Poof
Chubalub
Hurley
Potluck
Foodar
Chunkalunk
Chubz
Meatloaf
Pillsbury
Flopsy
Sleepy
Ellie (short for elephant)
Amazon
Belly
Blimpy
Epic
Mass
Mighty
Ant
Atom
Baby
Thumbelina
Tinkerbell
Poly
Flabby
Hammy
Jumbo
Hippo
Doughy
Cake
Cupcake
Snickers
Snowball
Wisp
Slim
Itty Bitty
Cream
Cheddar
Cheese
Feta
Moz (Mozzarella)
Nacho
Dorito
Cocoa
Peanut
Lightning
Swiftie
Aretha
Tabitha
Grace
Feather
Cotton
Breezy
Nanny
Swirl
Grizzly
Koala
Beluga
Blue
Dino
Wooly
Mammoth
Paddy
Boots
Pizza
Delores
Doris
Gretchen
Stick
String
Victoria
LouAnn
Georgia
Slip
Flower
Light
She-hulk
Snowflake
Inch
Polka Dot
Snug
Male Fat Cat Names
Somehow male fat cats are either thought of as exceedingly lazy and always hungry or as big, tough bodybuilders. No matter where your boy falls on the cat spectrum, there's bound to be a name on this list that fits!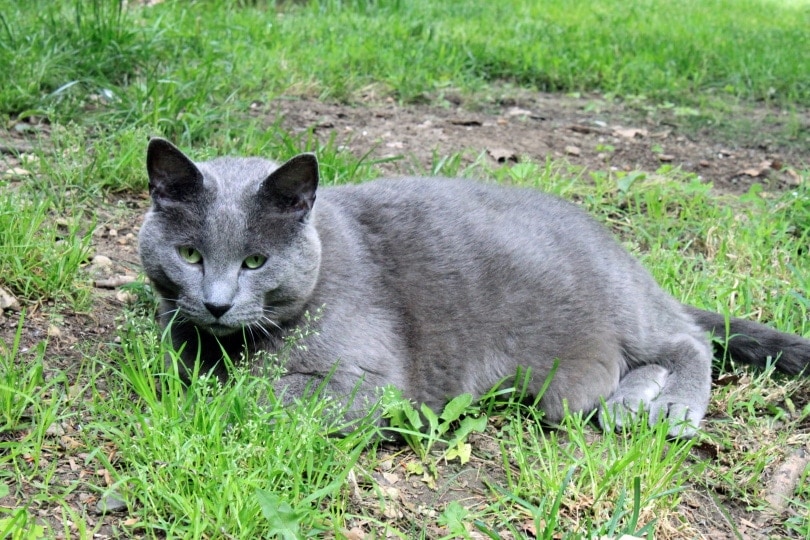 Jabba
Jean-Claude
Biggie Smalls
Buddha
Husky
Jumbo
Pugsley
Stocky
Beefcake
Belly
Big Boi
Bubba
Chunk Norris
Doughboy
Fat Daddy
Fat Tony
Flabby
Spud
Tank
Barney
Bluto
Chef
Fat Albert
Fatty Arbuckle
Garfield
Homer
Hoss
Norm
Pumba
Shrek
Stimpy
Winnie The Pooh
Bear
Moose
Bacon
Beast
Big Mac
Chalupa
Cheeseburger
Hot Dog
Jello
Meatloaf
Pepperoni
Pillsbury
Porkchop
Sausage
Turkey
Brawny
Bruiser
Bull
Burly
Diesel
Goliath
Godzilla
Hulk
Kong
Monster
Rambo
T-rex
Thor
Thunder
Barn
Wallop
Wheezer
Hereford
Tyson
Fridge
Tower
Bounty
Rocky
Dozer
Max
Planet
Jupiter
Capone
Luccio
Gordo
Gordy
Grande
Burly
Angus
Axel
Ram
Butcher
Phat Daddy
Porky Pig
Fat Louie
Mondo
Norm
Spare
Tire
Zarathustra
Truck
Boeing
Ali
Achilles
Apollo
Conan
Arnold
King
Magnum
Behemoth
Bigfoot
Captain
Major
Prez
Stocky
Titanic
Emperor
Shark
Pinch
Slab
Slice
Spoon
Scoop
Milkshake
Tacoma
Tundra
Silverado
Semi
Hemi
Ogre
Cliff
Storm
Pillow
Gino
Taj
Saturn
Anaconda
Boa
Gorilla
Croc
Darth
Crookshanks
Tiger
Prometheus
Jurassic
BFG
Balrog
Optimus
Godzilla
Rushmore
Yosemite
Big Ben
Ball
Ro-tund
Orb
Andre
Weenie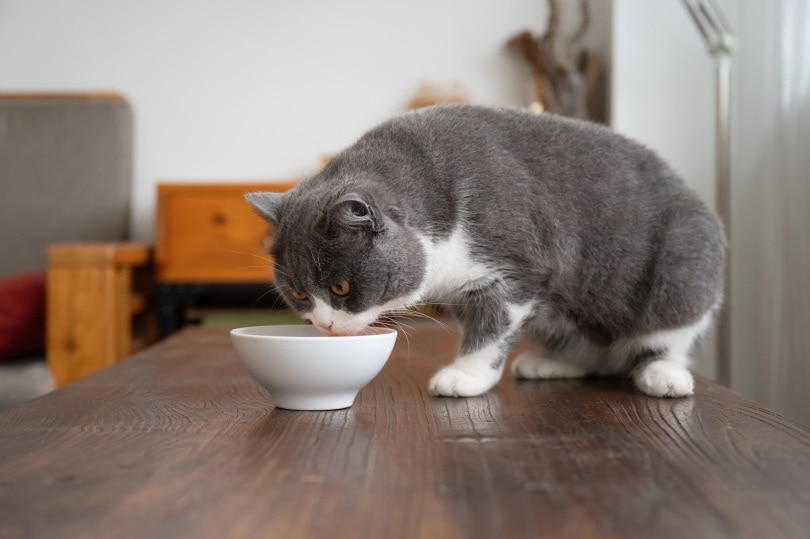 Conclusion
There you have it! Over 300 possible names for your fat cat. Just remember while it's fun to be creative with a name for your overweight cat, obesity can actually lead to serious health concerns.
Speak to your vet about getting your cat on an appropriate weight loss program. The best part of choosing fat cat names is that they can always be used ironically once your cat slims down to a healthy weight.
Related Reads:
---
Featured Image Credit: Dennis van de Water, Shutterstock