Febreze Pet Odor Eliminator Review
Review Summary
Editor Rating:
Scent:
Effectiveness:
Pet safety:
Price:
Our Final Verdict
We give Febreze Pet Odor Eliminator a rating of 4.7 out of 5 stars.


Much as we love our cats, dogs, and other fluffies, let's face facts—sometimes, they get a little too smelly for comfort. Litter boxes and the infamous "doggy smell" are usually the main culprits and these smells can be pretty stubborn, so every pet-loving home could benefit from an effective, pet-safe odor eliminator.
Febreze is a brand that has been around since 1996 and is famous for trapping odor molecules rather than simply masking bad smells. The brand has a line that tackles pet odors specifically, and this includes a pet odor eliminator air freshener. Febreze is also safe to use around cats and dogs when used as directed, so it has become a staple in many pet-loving households.
In this post, we're going to do a full review of Febreze's pet odor eliminator, answer all your burning questions, and share what consumers have to say about its effectiveness.
Febreze Pet Odor Eliminator – A Quick Look
Fresh scent
Neutralizes odors instead of masking
Tackles litter box odors
Reasonably priced
Safe to use (as directed) around cats and dogs
The scent doesn't last long
Not suitable for use around birds and small mammals (as with any aerosol)
Specifications
| | |
| --- | --- |
| Scent | Floral, fruity |
| Product type | Aerosol |
| Formula type | Water-based |
| Volume (per item) | 8.8 oz |
| Dimensions (per item) | 24.5 x 3.3 x 4.3 cm; 390 Grams |
Neutralizes Odors
While some air fresheners simply mask odors which can make matters even worse, Febreze works a little differently. Though it can't get rid of the odor molecule in itself—only thorough cleaning can achieve this—it uses chemical compounds called cyclodextrins derived from corn to trap them so that you can't smell them.
Reasonably Priced
Though at first glance the Febreze pet odor eliminator spray may seem a little more pricey than some brands, if you factor in that it actually traps odors rather than just masking them, the price is actually quite reasonable. This is a matter of perspective, of course, but we consider the odor eliminator fairly priced for what it does.
Pet Safe
When picking a pet odor eliminator, the main consideration should be how pet-safe it is. When used as directed, Febreze is safe to use around your pets like cats and dogs, though this doesn't apply to birds and possibly small mammals—their respiratory systems just aren't built to handle being around products like air fresheners. For this reason, we recommend not using any kind of air freshener around birds and small mammals to be on the safe side.
Of course, as with any kind of aerosol, we need to use common sense and avoid letting pets ingest Febreze, spraying them with Febreze, spraying it close to their faces, or letting them come into contact with fabrics or surfaces sprayed with Febreze until they have dried. This will reduce the risk of irritation to your pet's skin or respiratory system.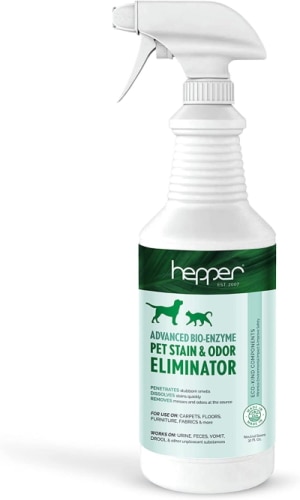 If you're looking for an enzyme cleaner that does it all, we highly recommend the Hepper Advanced Bio-Enzyme Pet Stain & Odor Eliminator Spray. Yes, it's our product, but we love it so much, we have to share! Not only does it permanently remove the very worst smells and stains (yes, everything you can imagine!), but we offer a 100% satisfaction guarantee! Click here to get yourself a bottle.
FAQ
Is Febreze's Pet Odor Eliminator Stronger Than Regular Air Fresheners?
Febreze's pet odor eliminator is marketed as having double-strength odor-eliminating power. It also traps odor molecules so that you can no longer smell them, whereas some brands just cover up odors with a pleasant scent.
Does Febreze's Pet Odor Eliminator Actually Work?
According to an overwhelming number of user reviews on a variety of platforms, yes, it works.
Is Febreze Pet Odor Eliminator Safe to Use Around Pets?
It's safe to use around cats and dogs, but not around birds as their respiratory systems are more sensitive. It's also not a good idea to use aerosols around small mammals, as they also have smaller and weaker respiratory systems than larger pets.
What Does Febreze Pet Odor Eliminator Smell Like?
According to the product description, it's "fruity" and "floral", and some users have mentioned that it has a melon scent.
Can I Spray Febreze on My Dog's Fur to Get Rid of the Doggy Smell?
No. Just because Febreze is safe to use around cats and dogs, you should never spray it on them. This could cause skin irritation. The product is designed to freshen up the air, not your pet.
https://www.instagram.com/p/Ca6j4Mkq0cP/
What the Users Say
User reviews for Febreze's pet odor eliminator are overwhelmingly positive. Many users were impressed by the pleasant, fresh scent that's not too overwhelming and how quickly it made odors disappear.
Other positive points mentioned include that this spray can be used for a variety of purposes around the home as well as pet odor elimination—some users have been using it as a bathroom spray and some have found it useful for getting rid of cigarette smoke smells (quick note—avoid smoking around your pets as it can be harmful to their respiratory systems).
In terms of downsides, some users wished that the scent would last a little longer and a few users mentioned that they had issues getting the spray nozzle to work.
Conclusion
To conclude, we've awarded the Febreze pet odor eliminator 4.7/5 stars. It appears that this air freshener is effective at neutralizing unpleasant litter box and general "pet" smells, is nicely scented and is safe to use around cats and dogs when used correctly.
A few points were knocked off because some users weren't happy with the spray nozzle and some would prefer a longer-lasting scent, though the reviews were glowing for the most part. For this reason, we're happy to recommend Febreze's pet odor eliminator.