100+ Food Names for Dogs: Delicious Ideas for Foodie Parents

Calling all foodies, farmers, gardeners, and anyone else who is as passionate about food as they are their pets. Inspiration for our furry friend's names can be sparked by the simplest of concepts, and food, or any derivative thereof, is no exception! A source of energy, nourishment, comfort, and excitement – our relationship with cuisine can often be synonymous with the bond we've created with our loyal dogs. Maybe not in the literal sense, but surely when it comes to a much-needed mood booster or pick-me-up, our pets can fill our hearts the way a wonderful meal fills our bellies. Maybe you're even someone who loves to share a little soul food with your canine soul mate. 
Whatever your reasoning, we have compiled a fairly comprehensive list of all food-inspired names for you to consider for your new addition. Below you find the top-rated male and female ideas, suggestions based on the most popular cuisines, clever and spicy names, and finally a few based on classic fruits and veggies. Grab a snack as the next bit of reading may make you hungry! 

Female Food Dog Names
Candy 

Olive 

Honey 

Pudding 

Nectar

Waffles

Nutella 

Lavender 

Brulee

Truffle 

Tuna 

Chutney 

Chai 

Sugar 

Acai 

Ginger 

Flan 
Male Food Dog Names
Italian Food Inspired Dog Names
Italian food reaches far beyond the traditional spaghetti and meatballs. These dishes offer up some of the most adorable names for our pets! 
Ragu
Pesto
Calzone
Tiramisu
Tortellini
Gnocchi
Vino
Machiato
Cannoli
Gelato
Asiago
Scampi
Biscotti
Orzo
Caprese
Panna Cotta
Ravioli
Prosciutto
Meatball
Stomboli
Ciabatta
Ricotta
Fettuccine
Risotto
Pandoro
Pita
Linguini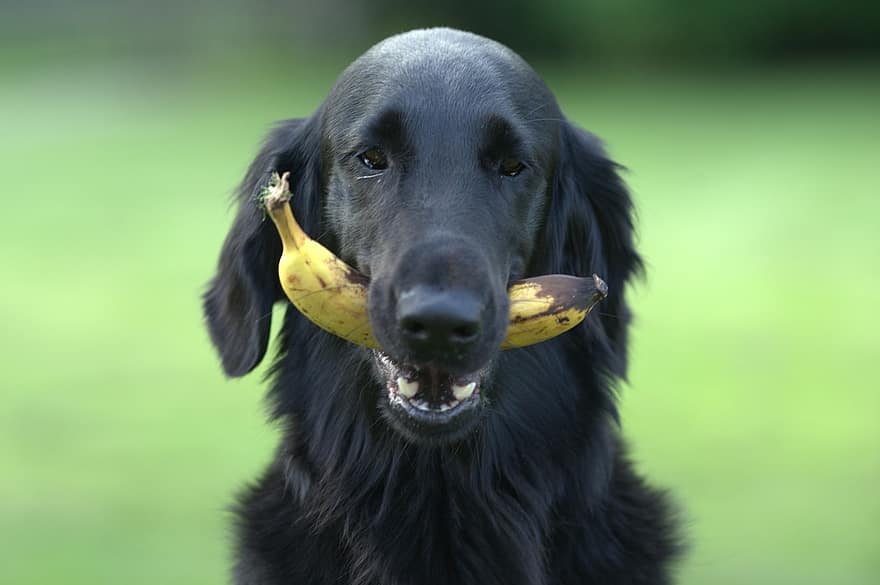 Mexican Food Inspired Dog Names
We welcome Mexican food into our home every week for Taco Tuesday – why not choose a name that will remind of this great country and cuisine on a daily basis? Here are our favorite names inspired by Mexican food.
Tequila 

Taco 

Nacho 

Tamale 

Posole

Queso 

Taquito 

Burrito 

Guacamole

Fajita

Migas

Enchilada

Verde

Salsa 

Tostada

Fresca 

Pico de Gallo

Chalupa 

Dos Equis 

Gordita 

Quesadilla

Churro 
Japanese Food Inspired Dog Names
You may be inspired by the unique dishes of Japan. This cuisine provides some fairly cool and trendy names suitable for any dog! Here are the best Japanese food-inspired dog names:
Sushi 

Tempura 

Unagi 

Miso 

Pocky

Sake

Wasabi

Sashimi 

Kakuni

Matcha

Tataki

Soba 

Bento

Ramen 

Somen 

Soki 

Yakitori 

Kimchi 

Imoni 
Chinese Food Inspired Dog Names
Delicious, comforting, and oh so addicting. Chinese food is another cuisine that is loved by a vast group of people. Any of these names would also be great for a breed originating from China!
Sichuan 

Dumpling 

Chow Mein 

Popiah

Hotpot 

Vermicelli

Egg Roll

Kung Pao 

Peri Peri

Dim Sum 

Peking 

Taro

Shitake

Wok

Springroll

Pot Sticker 

Mapo

Wonton 

Bao 

Szechwuan

Sachima 

Congee 

Youtiao
Funny Food Dog Names
Although all food inspired dog names are quite humorous, the following set takes the cake. Perfect for any pooch with a wonderful sense of humor, goofy personality, or silly appearance, here are our favorite funny food inspired dog names.
Catnip 

Bolognese

Aioli 

Bologne

Sausage 

Gravlax 

Scrapple 

Gyro 

Calamari

Croissant 

Hotdog 

Borscht 

Pu Pu Platter 
Spice Inspired Dog Names
Where would the world be without a little spice? One of these might be the ultimate match for the sassy, sweet, or sourest of pup personalities. Just as they keep our food interesting, these also double as fun and intriguing options for our pets' names.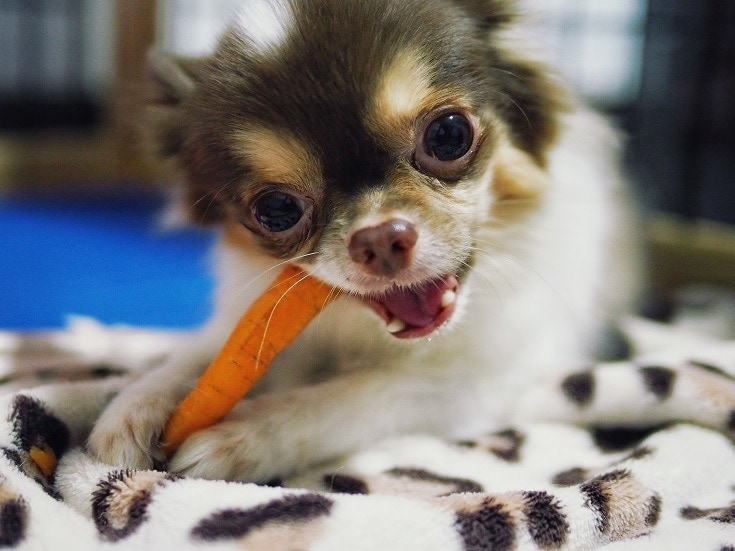 Fruit and Vegetable Inspired Dog Names
For dogs with an appetite resembling that of a rabbit, you might be better off pairing them with an earthy and homegrown fruit or veggie name. 

Finding the Right Food-Inspired Name for Your Dog
We know that adopting a new puppy is a fun and rewarding experience so we want to ensure finding them the perfect name is just as wonderful! You might be feeling the pressure to get it right, but rest assured, your pooch will love whatever name you choose. Why not pick from our list of great food dog names?
Whether you've chosen something based on their saucy personality, or endless appetite, we are sure that you will be able to find a match for your puppy on our list of 100+ food dog names. 
If not, take a peek at one of our additional dog name posts for some more inspiration:
---
Feature Image Credit: Shutterstock | Kseniya Resphoto