100+ Greyhound Names: Ideas for Speedy & Sleek Dogs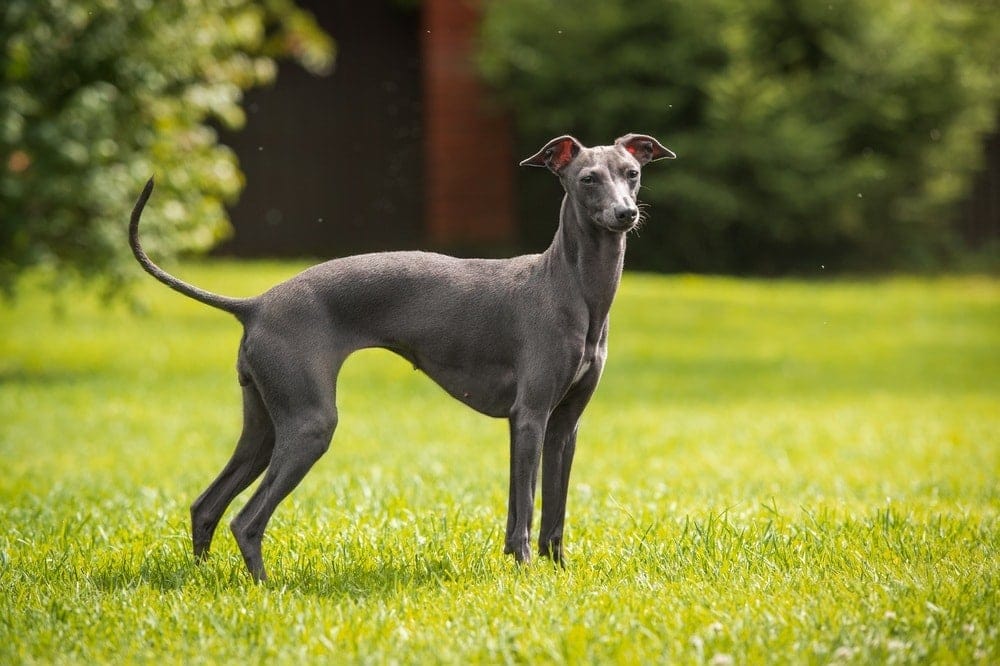 Slender, long, and sleek – these incredible dogs are a highly recognizable breed! The Greyhound is one of the fastest dogs on the planet and has its unique and streamlined build to thank for that. In addition to their impeccable speed and agility, this breed is intelligent, quiet, and oh so affectionate and because of these qualities, is highly sought after by all types of families. Their gentle and calm demeanor makes them excellent companions for children and other pets! 
Now that you have adopted a Greyhound, the list thing to check off is finding your new addition a name! Here you will read about the most popular names among female and male Greyhounds, a few suggestions inspired by Italy and historically famous racers, speedy ideas, and finally, grey options – these will always be foolproof! 

Female Greyhound Dog Names
Gracie 

Molly

Daisy 

Cleo 

Demi 

Ella 

Penny 

Viva 

Rosie 

Olive

Elsa 

Piper

Lexi

Bliss 

Zoey 

Millie

Mittens

Stella

Jinx

Luna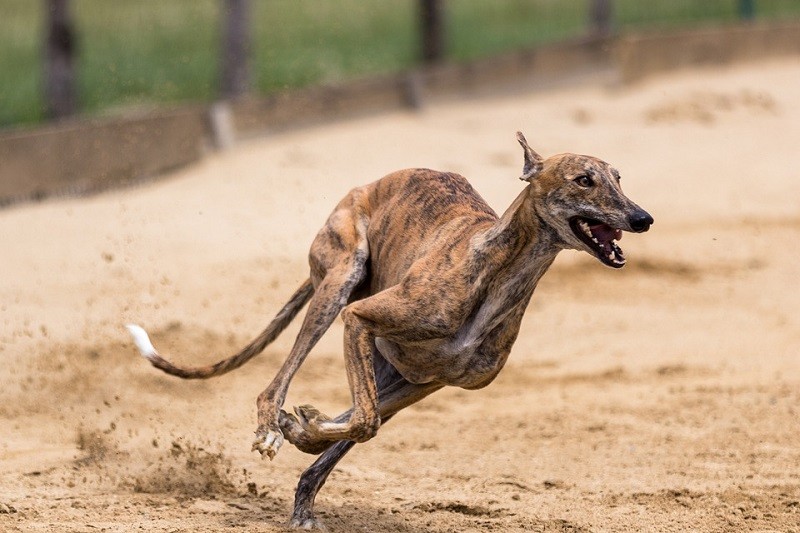 Male Greyhound Dog Names 
Juno 

Gideon 

Toby

Chaos 

Winston 

Barney 

Jagger 

Gizmo 

Pax

Harvey 

Elliot

Archie 

Jasper 

Finn 

Coop

Duke 

Gus 

Felix 

Remy 

Louie
Italian Greyhound Dog Names
Charmed not only by their stunning appearance but also by their Italian heritage. Some may know this breed as the Italian Sighthound, who was fairly popular among the royals! They are also the smallest of their kind, topping the scales at a whopping 11 pounds! One of these Italian inspired names would be an excellent choice for a Bellissimo dog!
Bella – Beautiful 

Alto – Wolf 

Pompeii – Italian Town 

Pesto 

Raphael 

Amore – Love 

Cesar 

Dolce – Sweet 

Cannoli

Vino 

Nero 

Bravo – Good Boy 

Vita – Life 

Primo – First 

Donatello 

Biscotti 

Milan  – Italian City 

Galileo 
Famous Greyhound Dog Names
Infamous for their aerodynamic bodies, record speed paces, and springboard legs, these mighty Greyhounds have certainly put their stamp on-track racing. Each significant and remarkable in their own way. You may not have a champion racer, but Greyhound is sure to be number one in your heart. 
Ravage Again – known as the king of the sprinters

Patricias Hope – wons races in English, Welsh, and Scottish derbies 

Tims Crow – broke many records for fastest greyhound 

Rapid Ranger – back to back winner of the English Derby 

Mick the Miller – won 51 of the 68 races he entered 

Entry Badge – known as the first great track racing greyhound 

Westmead Hawk – held an unbeaten record for two years 

Ballyregan Bob – won 32 consecutive races 
Racing Greyhound Dog Names
Even if your pup has no desire to be a track star, they will always possess these quick and sporty qualities. For that, we have suggestions inspired by all things racy – any of these would be great for your Greyhound! 
Speedy 

Sleek 

Arrow 

Zippy 

Bullet 

Fox 

Zoom

Hustle 

Taz

Jiffy 

Rocket

Jett 

Bolt 

Wheels 

Dart 

Blitz 

Flare 

Sprint

Wiz

Scooter 

Ziggy 

Sniper 

Nitro 

Flash 

Dash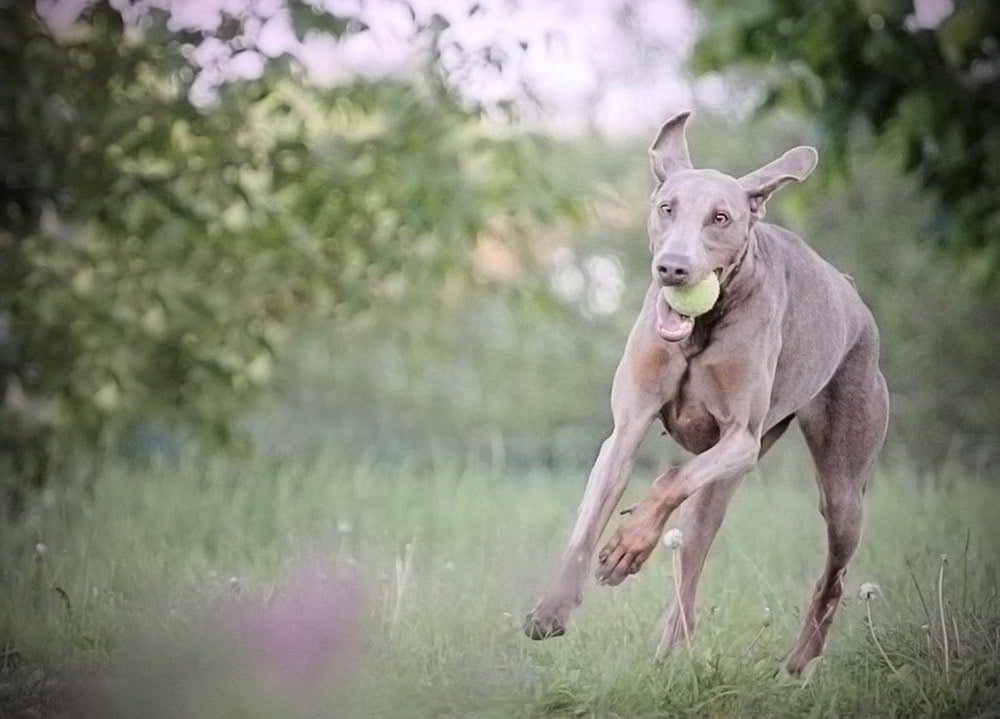 Grey Greyhound Dog Names
In an apparent yet adorable nod to their name, you might be interested in a name inspired by the wonderful and vast shades of grey! Even if your hound doesn't happen to have the stone-colored coat, I think most will understand the logic behind your choice. Here are our favorite picks for grey inspired Greyhound names. 
Pluto 

Bones 

Slater 

Hazel 

Atlas

Boo 

Sage 

Milton 

Sully 

Cosmo

Sterling

Melody

Gunnar 

Venus 

Skye 

Astra 

Levi 

Lunar 

Griffon 

Horace 

Axel 

Nova

Comet 

Finding the Right Name for Your Greyhound
Trying to find the perfect name can have you re-running over options like an endless track superstar, leaving even the speediest of readers tired and often overwhelmed. Don't let that be the case for you and your pup!  Below are a few helpful tips, that are sure to lead you to the right pooch name pairing. 
Compare your favorite choices to your pup's personality. It may take a few days but once your new dog settles in, you can bet that their true persona will shine! If you are able to wait it out, you won't believe how much easier choosing a name becomes! 
Test them out. Say them aloud – to yourself, your pup, maybe even your closest friends or the family. A little feedback can go a long way! 
Keep it short and sweet. Simple single or two syllable names are the most beneficial for a pup. Training and communication will be much easier and quicker if you don't need to spend too much time teaching your pup a long-winded name! 
At the end of the day, you should love the name you picked, as you will be the one using it daily! Hopefully, you found a great name for your greyhound among our list. If not, you could always take a peep at one of our other posts for some additional inspiration! 
---
Feature Image Credit: Alexandra Morrison Photo, Shutterstock