100+ Havanese Dog Names: Fluffy, White, & Cuban Ideas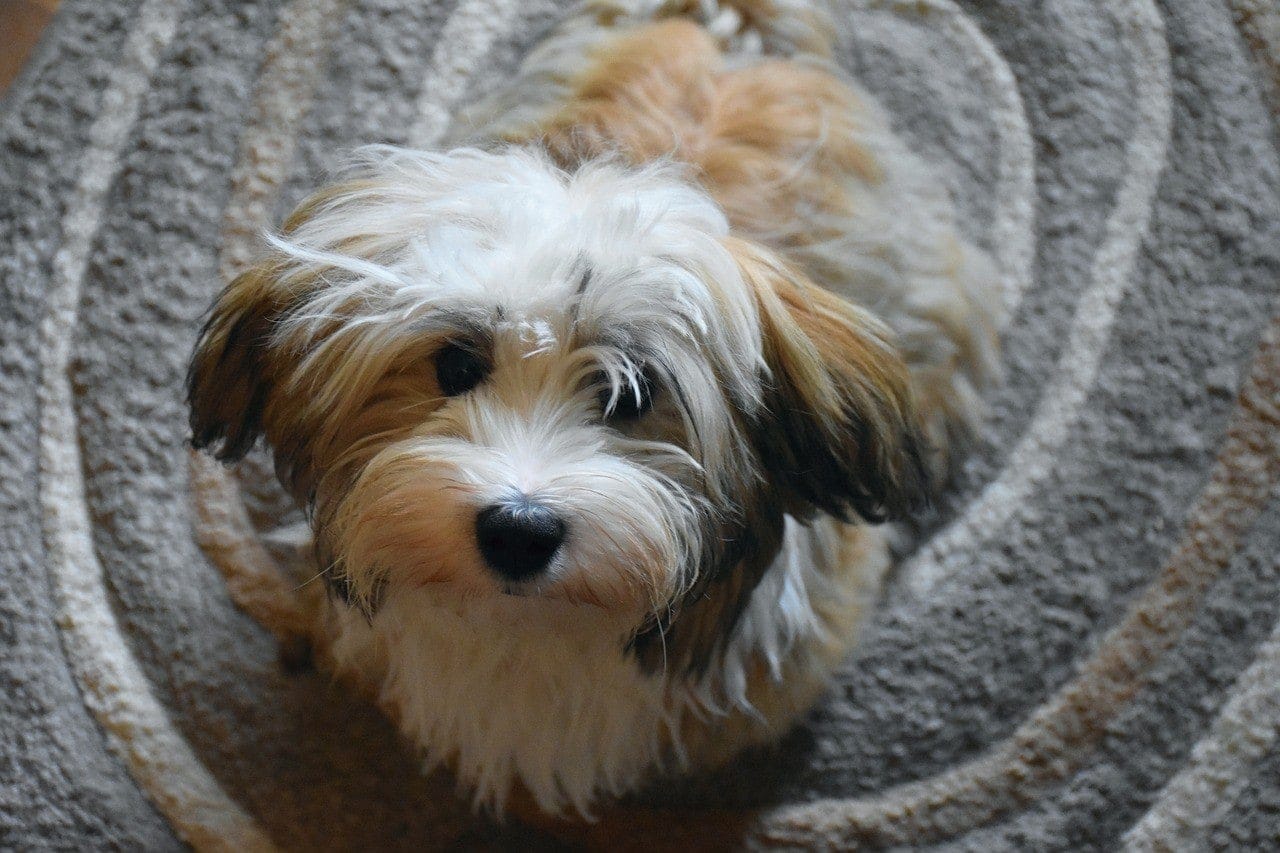 Small but mighty, the affectionate Havanese breed has a Bichon ancestry, originating from Cuba. With a silky double coat capable of growing to the floor, and available in a wide range of colors, this dog happens to be quite versatile and chic in the style department. Havanese dogs are also social butterflies and thrive in environments that include people and other pets. Naturally, they are wonderful family pets as they enjoy the company of children who want to play at the drop of a hat or curl up at the end of the day. 
You've adopted a Havanese of your very own and have started your journey to the perfect name. Below we have gathered the top-rated and most popular names for the Havanese breed, including a Cuban inspired section to honor their heritage, puppy names for those brand new to the world, and finally a few fluffy names. 
We're sure your bright new dog will be curious about what you're doing so keep them close by to test out a few as you go! 

Female Havanese Dog Names
Bambi 

Chloe 

Tinks 

Birdie 

Posy 

Kissy

Princess 

Coco

Leisel 

Roxy 

Lily 

Dolce 

Betty 

Chacha

Sadie 

Flora 

Mimi 

Lady 

Gracie 

Rosa 
Male Havanese Dog Names 
Songo 

Oliver 

Lou 

Barkey 

Elf 

Ezra 

Tucker 

Pluto 

Bruiser 

Dino 

Gidget 

Zero 

Bane 

Riley 

Morsel 

Toby 

Bear 

Tito 

Buttons 

Rascal 
Havanese Cuban Dog Names
Being the national dog of Cuba, it would be fitting to pair your pooch with a name inspired by this country's culture and language. Here are a few favorite Havanese names with Cuban flair. 
Chumo

Bayamo – City 

Arlo 

Melli – Town 

Lola 

Loma – Mountain 

Charo

Neo 

Novia

Havana – City 

Elon 

Pico – Mountain 

Estell 

Minas – Town 

Cheena 

Mendo 

Maestro – Mountain 

Cedro

Zapata – Mountain 

Coro 

Tunas – City 

Tomas 
Havanese Puppy Dog Names
It might be tough to imagine your new addition as a mature adult as your puppy is just soo new. Although you want to consider that your Havanese will eventually grow up, there's no harm in wanting a name that's equal parts youthful and adorable! 
Buddy 

Sprout 

Daisy 

Ollie 

Minnie 

Zip 

Turk

Juno  

Tiny

Alfie 

Paisley

Boomer

Peanut 

Izzy 

Chip 

Basil 

Finn 

Maya 

Yoshi 

Leo 

Gus 

Chewy 

Olive 

Clover 

Millie 
Fluffy Havanese Dog Names
Whether you keep your dog's coat trimmed into the infamous Puppy Cut or let it grow lavishly – a fluffy name would be the perfect complement to their fur-do versatility. 
Woolly 

Scruffy 

Wookie 

Ewok 

Fluffy 

Tumble 

Spirit 

 Fuzzy 

Beast 

Cozy 

Bunny 

Panda 

Grizzly 

Curly 

Paddington 

Bear 

Puff

Shaggy 

Silky 
White Havanese Dog Names
Although the Havanese coat may come in a vast array of colors, the most common is white! Crisp and clean and a beautiful trait to accompany their stoking dark brown eyes. 
Comet 

Aspen 

Nova 

Casper 

Winta 

Yuki 

Boo 

Ice 

Frost 

Polar 

Ghost 

Mojito 

Dove 

Snowy 

Mayo 

Ivory 

Cotton 

Blondie 

Tofu 

Arctic

Sugar 

Finding the Right Name for Your Havanese Dog
Choosing your Cuban dog's name is an exciting part of adoption, and once you spot it, you're sure it will be the one. Unfortunately, with so many spectacular ideas, it may be difficult to narrow it down to just one. If this rings true for you, read on for a few final tips to help you make a final decision.
Keep it simple. A long name might be fun, but it's not very practical. If you insist on a name that's longer, we recommend finding a cute nickname that you can use on the daily. 
Get your pet's opinion. You might be surprised yo learn that your pup could in fact love or dislike one of your choices. Say each contender aloud and wait for a reaction from your pup. They may just point you in the right direction. 
Forgot names that could be associated with commands. Mo, Bess, or Shay are all cute, but could easily be confused with the command words, no, yes, and stay.
Above all else, don't overthink it, have fun, and rest assured that your pup will love whatever you choose! Hopefully, you found that name for your Havanese among our suggestions. If not, you can always get a bit of inspiration from one of these dog name posts:
---
Feature Image Credit: Nicole Denker, Pixabay