4 Homemade Cat Cake Recipes (Vet Approved)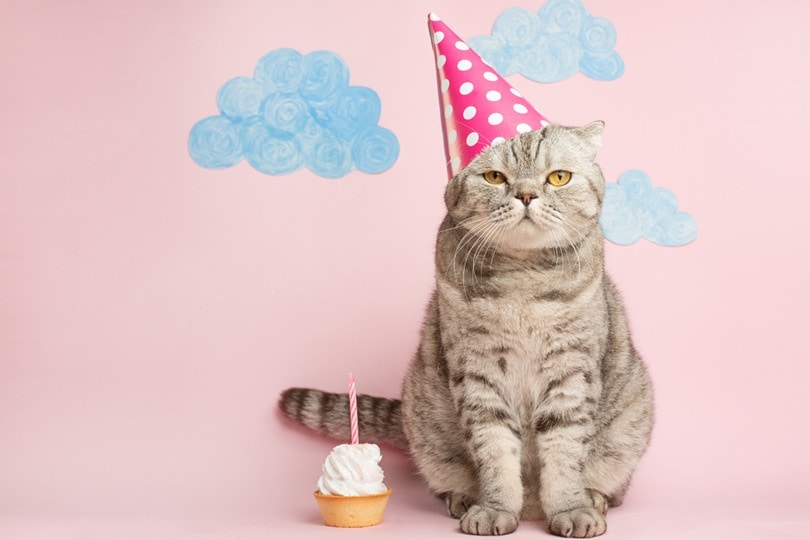 As a pet parent, you already know the importance of your cat's health. Every cat requires a balanced diet to stay healthy, not only physically, but also cognitively, emotionally, and socially.
If you're unsure about the best diet for your feline pal, it's best to contact your vet for a consultation. Most cat owners want to treat their cats on occasion, but you need to be careful what type of treats you provide, as there are foods that are toxic to felines.
We'll provide you with some homemade cat cake recipes to treat your furry friend in this listicle. Whether it's a cat birthday cake recipe or a scrumptious seafood cake just because you love him, your cat will love these treats. We have made a few changes to the original recipes to use more cat-friendly ingredients. While the ingredients in all of these recipes are safe for cats, it is very important to understand that these treats can only be served occasionally as are they are not a complete and balanced diet, and they should be taken into consideration to account for the number of calories your cat ingests during a week.
The Top 4 Homemade Cat Cake Recipes
1.

Cat's Birthday Cake Recipe
Cat's Birthday Cake Recipe
If it's your cat's birthday, then you want to do something special, and this cat's birthday cake recipe might be just the ticket. This cake serves two, so you can invite a friend or share the cake with your feline pal.
Ingredients  
2

tsp

coconut flour

Cooking spray

1

five-ounce can of tuna in water (low sodium)

A single egg white

1/8

teaspoon

of shredded cheese

cheddar

4

medium cooked shrimp

peeled
Instructions 
Step One: Preheat your oven to 350 degrees. While waiting, spray your muffin tin cups with cooking spray.

Step Two: Mix your tuna, egg white, cheese, and coconut flour in a mixing bowl. Spoon the mixture into the tin cups, getting them as even as possible.

Step Three: Bake for 15 minutes. Cool for five minutes, then invert pans onto wire racks to cool the rest of the way.

Step Four: Garnish with shrimp and watch your cat enjoy his birthday treat. This is the perfect treat for any cat's birthday, no matter what age he is!
Notes
Image Credit: ChameleonsEye, Shutterstock
Nutrition
Calories:
143
kcal
Protein:
21
g
---
2.

Seafood Cake
There are very few cats, if any, out there that don't love seafood. However, cats also need plenty of protein to grow strong and healthy. This seafood cake recipe will not only give them a tasty treat but keep them healthy as well.
| | |
| --- | --- |
| Servings: | 1 |
| Calories: | Not specified |
| Protein: | Not specified |
What You Need:
Mussels
Peeled shrimp
Squid
Grated cheddar cheese
3 eggs (raw)
1 + 1/2 tablespoons of coconut flour
Directions:
Step One: Preheat oven to 350 degrees Fahrenheit.
Step Two: Combine your mussels, peeled shrimp, and squid in a bowl. Add your cheese, then stir in the coconut flour.
Step Three: Beat your eggs in a separate bowl, then add them to the mixture. Pour everything into a pan and bake at 350 degrees Fahrenheit for 15 minutes.
Step Four: When the cake is done, pull it out of the oven and let it cool. Once it's completely cooled, give it to your cat for a treat.
---
3.

Cheesy Tuna Cake
Every cat loves tuna; at least ours do. So, this cheesy tuna cake was a big hit for our two cats. We'll give you the recipe below.
| | |
| --- | --- |
| Servings: | 2 |
| Calories: | 76 |
| Protein: | 9.4 gr |
What You Need:
½ teaspoon of coconut flour
1 large egg (Just the white)
A scoop of shredded cheddar or lactose free cheese
½ can of tuna fish in water (low sodium)
Directions:
Step One: Preheat your oven to 350 degrees Fahrenheit.
Step Two: While the oven is preheating, mix your egg white, coconut flour, shredded cheese, and tuna fish in a mixing bowl.
Step Three: Spray your muffin pan with cooking spray. Since this makes two servings, it's best to use the two middle spots in your muffin pan.
Step Four: Place in the oven and bake for 15 minutes.
Step Five: Remove from the oven and cool completely. Garnish the cake with a pretty round of tuna, and let your cat enjoy. Make sure that you don't give your cat too much of the cheesy tuna cake for the best results. It's a treat, not a full meal.
---
4.

Pink Salmon Cake
Salmon is another food that cats go wild for. It has quite a bit of calories, so you want to reserve this for special occasions. The pretty pink color of the salmon cake will please your cat as well. So, here's the recipe.
| | |
| --- | --- |
| Servings: | 2 |
| Calories: | 176 |
| Protein: | 15gr |
What You Need:
75 gr of salmon
1 tablespoons of coconut flour
1 tablespoons of parmesan cheese (shredded cheddar can be used)
1 egg
Directions:
Step One: Preheat your oven to 350 degrees Fahrenheit.
Step Two: Shred your salmon into bite-sized pieces. Add your egg, and then slowly add the coconut flour since you don't want clumps in your cake. Mix as you go.
Step Three: Mix in your cheese, pour in the pan, and bake for 20 minutes until done. Remove from oven, cool, and serve to your eager feline pal. If it's your cat's birthday, don't forget to add the candle for a nice touch.
Final Thoughts
This concludes our take on our kitchen's best homemade cat cake recipes. It's important to note that while all the ingredients in these cat cakes are said to be safe for cats, you need to make sure that your cat isn't allergic or has a sensitivity to any of them.
These cakes are also meant to be a treat, not something that you replace your cat's food with daily. So, whether it's your cat's birthday or you just feel like treating him to something special, these cat cakes will certainly fit the bill. Your cat will thank you for them, and they're healthy for him also.
Other recipes that you can try at home:
---
Featured Image Credit: Anton27, Shutterstock