How Much DNA Do Humans Share With Cats?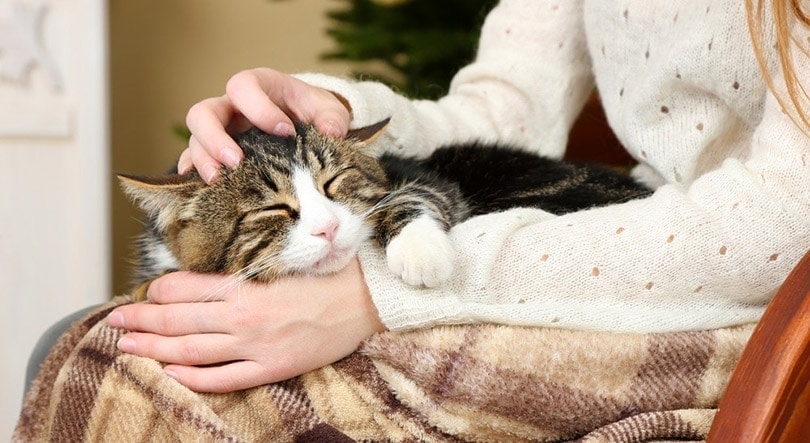 We each have our unique qualities such as looks, personality traits, and even fingerprints. Individuality is something that cannot be argued, even when it comes to our pets. It's strange to think that as unique as each of us are, we are so very similar.
We have a lot in common with our animal friends we share this beautiful planet with. We know that as humans, we share shockingly similar DNA with chimpanzees, but what about cats?1 Is it too far-fetched to think we share a decent amount of DNA with those we share our homes with and relate to so very much?
Well, it's not. Humans share a shocking 90 percent of DNA with felines. In this article, we will go over the genetic similarities and differences for a better understanding of how this is possible.
Humans and Cats
Cats and humans go way back, more than 10,000 years to be specific. Cats have been human companions since the beginning of human civilization, what started as a relationship built around agriculture has grown and evolved over the years.
While most domesticated animals were bred for specific purposes such as hunting, food, herding, and protection, most domesticated cat breeds were developed within the last 200 years for aesthetic and companionship purposes. The Felidae family is made up of 37 species that are distributed all over the world. You may be shocked to know how much DNA you share with magnificent carnivores.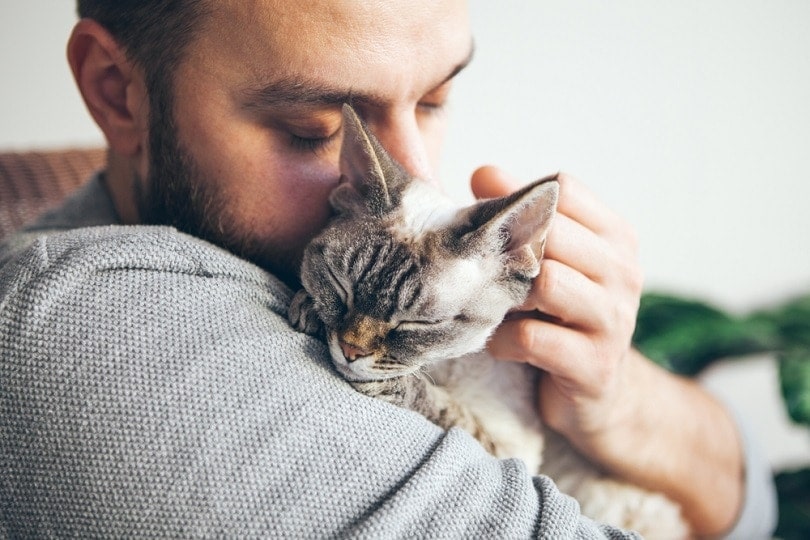 It's All in the DNA
As mentioned above, humans share a whopping 90 percent of DNA with cats. More specifically, this means that cats share 90 percent of homologous genes with us. Homologous genes are inherited in two separate species that can be traced from a single common ancestor. Hard to believe, isn't it?
Facts About Human and Cat DNA
A study in the early 2000's revealed the genome sequence of an inbred Abyssinian domestic cat named Cinnamon revealed the genetic similarities between cats and humans.
Both cat and human genomes contain approximately 2.5-3 billion base pairs.
Cats and humans share greater chromosomal organization similarity than both humans compared to rodents and cats compared to rodents. Meaning that in most cases, genes found next to each other in human chromosomes are also found next to each other in feline chromosomes.
Human and cat genomes each have about 20,000 protein-encoding genes, of which nearly 16,000 are nearly identical between us. This shows descent from a shared mammalian ancestor from which all cats and humans diverged approximately 65 million years ago.
Humans have 23 pairs of chromosomes, with 22 autosomal pairs and 1 pair of sex chromosomes.
Cats have 19 pairs of chromosomes with 18 autosomal pairs and 1 pair of sex chromosomes.
Studying a domestic cat's genome can help with medical advancements and more information for diseases in humans.
Humans are 99.9 percent similar to every other person. The small, remaining percentage of genes are what determine our individual traits. We are so closely "related" to other species because genomes perform similar functions. Let's look at how we compare to some other species:
Conclusion
Even though the last common ancestor between cats and humans lived many millions of years ago, the genetic similarities gathered in scientific studies have proven that cats and humans share 90 percent of DNA. In addition, humans share a shocking amount of DNA with other species as well. The science behind genetics is truly incredible and we only learn more as time goes on.
Related Read: Can Cats Be Genetically Modified? Is It True There Are Glow in the Dark Cats?
---
Featured Image Credit: Africa Studio, Shutterstock