How Much Does Dog Food Weigh? What You Need to Know!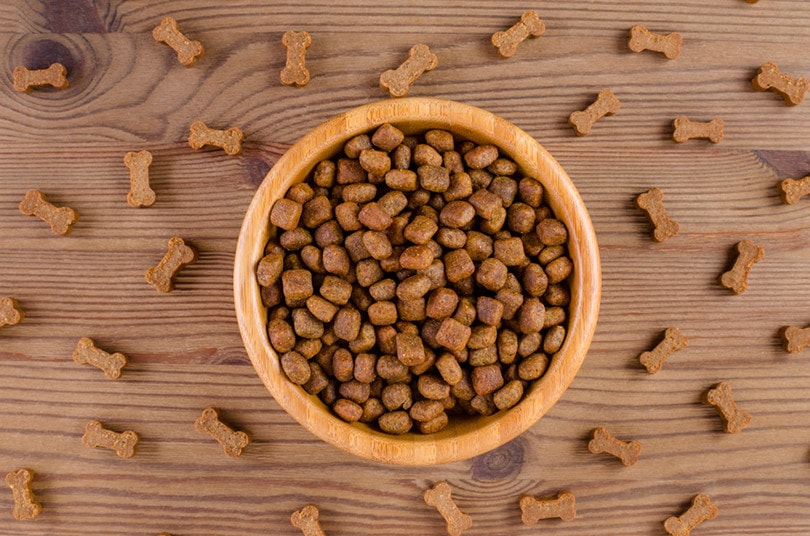 Feeding your dog the right amount of food each day is the best way to keep them healthy. The best way to do this is to find out the recommended number of calories that they should be consuming and then figure out how much of their food they need to meet that number. Measuring your dog's food inaccurately or not measuring it at all can lead to malnourishment or obesity. To keep your dog at their optimal weight, feeding them correctly is important.
It's easy to say that your dog needs 1 cup of food, but how many calories are in that cup? Not all dog food is the same. It gets even more confusing when you know that 8 ounces are in a cup, but the dry dog food that fills that cup does not weigh 8 ounces.

The Weight of Dog Food
If you fill a cup with dry dog food, the amount of kibble inside is going to weigh approximately 3.5–4 ounces. The best way to find out how much your actual cup of dog food weighs is to measure it yourself. You'll need a food scale.
First, measure your cup so you have that measurement to tare. Then, fill the cup with your dog's food, and you'll know how many ounces of food you're giving your dog at one time.
However there can be some day to day variation in how much fits in the cup so we advise you to weigh the food daily if you need to be accurate.
How many calories to feed
This varies by the age, health, activity levels, and neutering status of your dog. Their current weight and if they need to gain or lose weight also need to be taken into account. Your vet can help you to determine how much to feed your dog but online calculators that give a guideline are also available.
Calories in Dog Food
When you know how many calories your dog needs to eat per day, you can figure out exactly how much food to feed them. The dog food label should list how many calories are in a cup or kilogram. To figure out how many calories are in an ounce, you have to do a bit of math.
There are 35.27 ounces in a kilogram. If your dog food label shows that there are 3,000 kcal/kg, it means there are 3,000 calories per kilogram. Simply divide 3,000 by 35.27 to see that there are 85.06 calories per ounce.
Depending on how many calories your dog needs each day, you can measure the kibble out in ounces with your food scale and know exactly how much food to feed your dog.
If you're measuring in cups, multiply 85.06 by the number of ounces each cup of dry kibble weighs on your scale. That's how many calories your dog is getting in each cup of dry food. If you are unsure of how many calories your dog should be eating each day, ask your vet for this number. You can divide that number by 2 to make two perfectly portioned meals for your dog each day.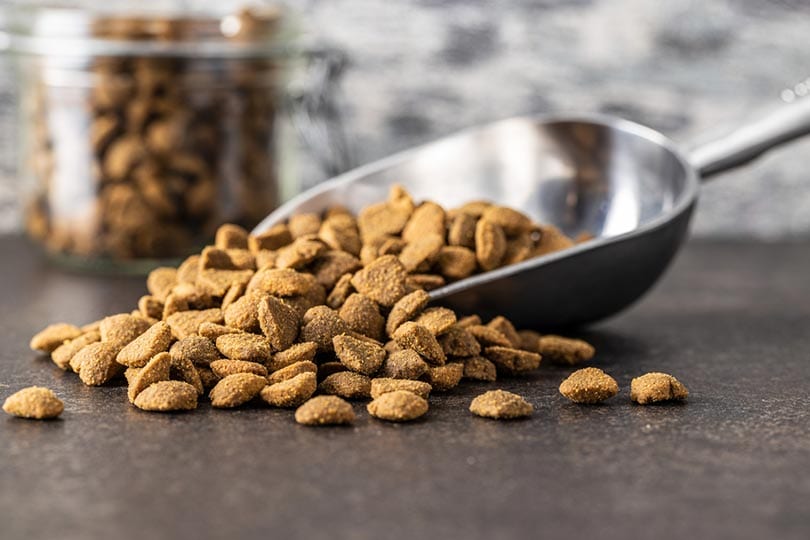 Conclusion
It may take a bit of time, but you can figure out how many calories your dog is eating each day by measuring out their food with a scale. By simply scooping food into a bowl, you aren't getting the same measurement each time. If you're interested in monitoring your dog's caloric intake to keep them at a healthy weight, using a scale is your best method to make sure your dog is getting the calories that they need. Excess food can lead to weight gain and obesity.
---
Featured Image Credit: nadisja, Shutterstock