Insect Based Cat Food – Is It Right for My Cat?
Have you heard the buzz? Insects are the protein of the future! At least, that's what some are saying about cat food. Interest in cricket protein, fly larvae, and other forms of insect protein in cat food has risen over the last few years because of its possibilities as an eco-friendly meat alternative. And it's not too surprising,
Why an Insect Diet?
Cats are obligate carnivores, meaning that they need to have animal protein in their diet to survive and be healthy. That's because they can't produce all the amino acids they need from plant protein—they get it from their prey instead. But that doesn't mean your cat needs to eat raw steak every day—in fact, insects are high in protein and generally match your cat's nutritional needs in a way that plant-based proteins don't.
This makes insect-based foods an attractive prospect for those who want to reduce dependence on the meat industry and reduce their environmental impact. Insects generally require less land and water than traditional meat sources like beef, chicken, or fish. In a future where these meat sources are expensive or less desirable, insect protein might be a sustainable way to meet our cats' needs. Insects might also add variety to your cat's diet. While live insects can be a little gross, processed insect-based kibble is virtually indistinguishable from traditional dry food.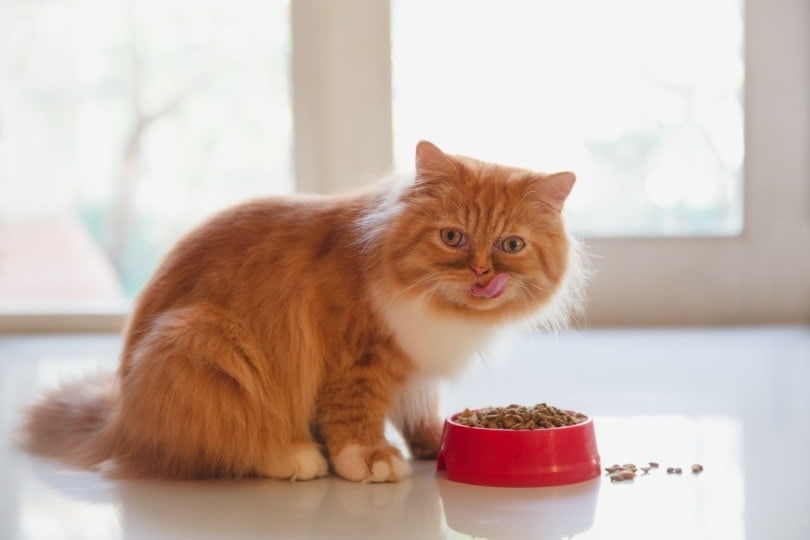 Insects and Protein Allergens
So far, the data doesn't show that insects are nutritionally superior to meat-based diets when it comes to cat food, but there is one place where insect diets might shine. The most common food allergies in cats are common protein sources such as chicken, beef, fish, and dairy. Allergy-prone cats already have many novel protein options available, but one more option can only widen the possibilities for cats who need special diets. Insect proteins are likely to be a good alternative protein source for these cats. It should be noted that cats that are allergic to shellfish may also be allergic to insect protein.
Drawbacks to Insects
Many pet owners have a gut aversion to feeding their pet bugs, which is why the demand for insect food has remained low over the years. But are there other reasons to hold off?
One of the biggest drawbacks of an insect-based diet is a lack of information. Although insect nutrition looks good on paper, there have been very few studies done on insect-based food. Some also question the current environmental need of insect products for pets. Many pet foods are already made with byproducts of human meat consumption, suggesting that the real impact of pet food on the environment is very low.
Finally, there is the cost to consider. The lower demand for insect foods will likely make the costs start high, putting insect diets out of the reach of many pet owners.
Can You Buy Insect-Based Cat Food Today?
In the US, pet food is regulated to ensure it is healthy and nutritious for your cat, including ingredients. Unfortunately, no insect types have been approved for cat food as of 2022. One insect type, black soldier fly larvae, was approved for dog food in 2021. This means that insect-based cat foods aren't commercially available in the US, although there are a few being sold in the UK and other countries around the world.
Although cat food is subject to this regulation, cat treats have much more leeway in the ingredients allowed. This means that cat treats that are insect based are available in the US, so you can give your cat a taste of cricket protein through a treat if you want to.
Last Thoughts
Insect diets are still a new idea, so there is still a way to go before you can fully try out an insect diet in the US. But introducing insects into your cat's diet through treats and other food sources might be a way for you to test the waters and see how your cat reacts. You should not attempt to create an insect based diet at home. As demand grows for alternative proteins, insect diets might lead the way in pet food before long.
---
Featured Image Credit: Elizabett, Shutterstock