Is La Quinta Pet Friendly? 2023 Update & Facts
As a pet owner, when you go on vacation or need to handle business, you will need to hire a pet sitter, take the pet to a reputable and reliable care facility, or leave the pet with a friend or family member.
However, plenty of people want to travel with their beloved pets, and you should be able to bring your cat or dog along with you when traveling—at least some of the time. Luckily, hotel chains like La Quinta do allow pets to stay along with their owners at most of their locations. There are a few restrictions and stipulations to consider, though, and these are regulated depending on the location, so things can get confusing when booking a La Quinta room as a pet owner.
Hopefully, the following guide will help make the process easier and less stressful for you.
La Quinta by Wyndham Properties Welcomes Pets at Most Locations
If you're looking to travel with your cat or dog, chances are that La Quinta by Wyndham can help accommodate your needs. Most locations do accept pets, but there are always rules and stipulations that must be understood, agreed to, and followed as a guest.
For example, it's your responsibility to make sure your pet does not become a nuisance to other guests in any way. You'll also need to ensure that your pet does not endanger any other guests or employees on the property. Here are a few other things to keep in mind:
Only cats and dogs are allowed to stay at La Quinta by Wyndham properties.
No more than two pets are admissible in any single room that is reserved at any location.
Some La Quinta properties have a weight limit for animals, especially dogs.
It's important to let the front desk know of your pet's presence when checking in.
Some properties require a pet fee of $25 a night per pet, not to exceed $75 during a given stay.
Service animals are not subject to pet fees.
No pets are allowed in the breakfast areas, the swimming pool areas, or the fitness centers.
Housekeeping cannot commence when a pet is in the room. You'll have to schedule services while you're out for a walk or sightseeing with your pet somewhere.
The hotel management reserves the right to turn away or expel a pet that they deem to be a nuisance or threat to other hotel guests.
Some properties designate certain rooms (like those on the first floor) for pet owners. Therefore, you may not be able to request a specific room if you're bringing a dog or cat with you.
Damages and/or excess cleaning requirements will be charged as appropriate to the pet owner upon checkout.
Some locations have more restrictions than those listed here. Things are not universal among all La Quinta properties when it comes to pets.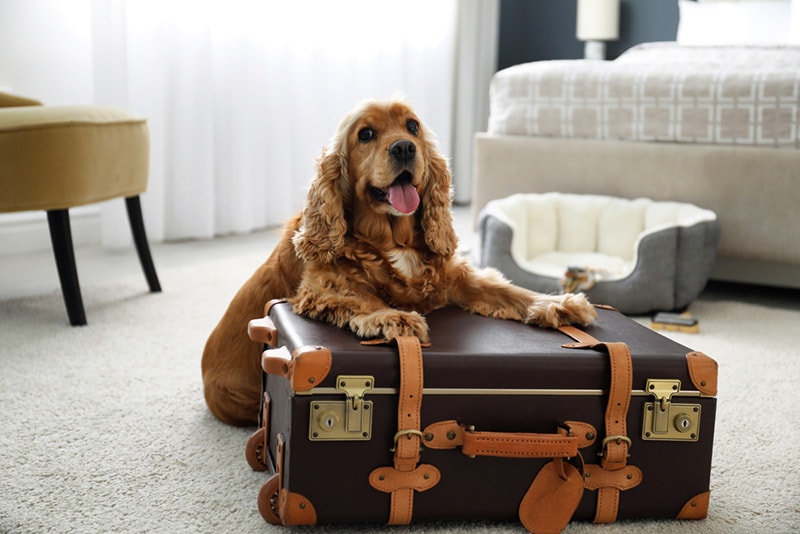 Call Before Making a Reservation
Even if you feel that you can comply with all the guidelines listed here, it is important to note that not all La Quinta locations welcome pets. Ones that don't include those in Brooklyn, Cancun, Dallas, Medellin, and Monterrey. That said, most La Quinta properties do welcome pets in various ways. Some only adhere to the listed guidelines, but others vary when it comes to things like:
Pet fee cost
Pet-restricted areas
"Leave alone" policies
Cleaning deposit fee
This is not an exhaustive list of policies, and any and all might vary from one La Quinta to another. So, no matter your circumstances, it is a good idea to call and verify the terms of bringing your pet along when staying at any location before you make reservations. This can save you a great deal of time and trouble.
Can You Leave Your Pet Alone in a La Quinta Hotel?
The answer to this question depends on your pet. If they are used to traveling and/or staying alone, they may not make any noises or disturbances if you leave the room for breakfast or an afternoon of sightseeing. If your pet is not used to traveling or being alone, you can't know how they would react if you left them in the room alone.
At home, try leaving the room that your dog is in and hiding for at least half an hour to see what happens and get an idea of whether your pet will become a nuisance if you leave the house without them. If you know that your pet has separation anxiety or you aren't sure how they react when you're away and you don't have time to investigate, it's never a good idea to leave them alone in a strange hotel room.
If you can leave your pet alone without consequence, that's awesome! If you're unsure or you know that you can't, you can still travel with your pet and have fun. Consider a daycare for a few hours, head to places where your pet can accompany you, or find a local pet walker.
You can use a variety of these options to create a fun and safe experience for you, your pet, and everyone else you're spending time with while away from home.
Final Comments
Most of the properties of La Quinta by Wyndham welcome pets, but many have their own rules and regulations to follow. They may also have different pet fee requirements. Therefore, it's a good idea to contact the location where you want to stay when planning to bring a pet along, to determine whether you can comply with restrictions and rules before making any financial commitments.
---