Is There Pet Sitter's Insurance? Everything You Need to Know!
Working with animals is a great career path and can make for a rewarding side hustle, too. As any self-employed person can tell you, however, owning a business comes with a level of risk. Your goal as a business owner should be to mitigate this risk by investing in insurance.
Yes, there is pet sitters insurance. Pet sitters have two jobs: keeping the pets they care for healthy and ensuring their clients' homes remain protected and safe. One of the ways you can show potential clients you're serious about the health of their pets and the safety of their property is by being bonded and investing in pet-sitters insurance.
Keep reading to learn the ins and outs of pet-sitters insurance to decide if it's right for your business.
What Is Pet Sitter's Insurance?
Pet-sitting insurance provides financial protection if an accident occurs while you're watching your client's pets. You will be responsible for any damage, theft, or accidents when you're watching your client's pets. These financial responsibilities can include medical claims, vet bills, or expenses associated with any damages or theft on your client's property.
Even the best-behaved pets can have streaks of unpredictability at times. Unpredictable behavior may come out in full force when animals are put into situations outside the norm, such as not having a stranger in their home without their owners around.
Insurance not only provides peace of mind for you but also for any employees you may have and your clients, too.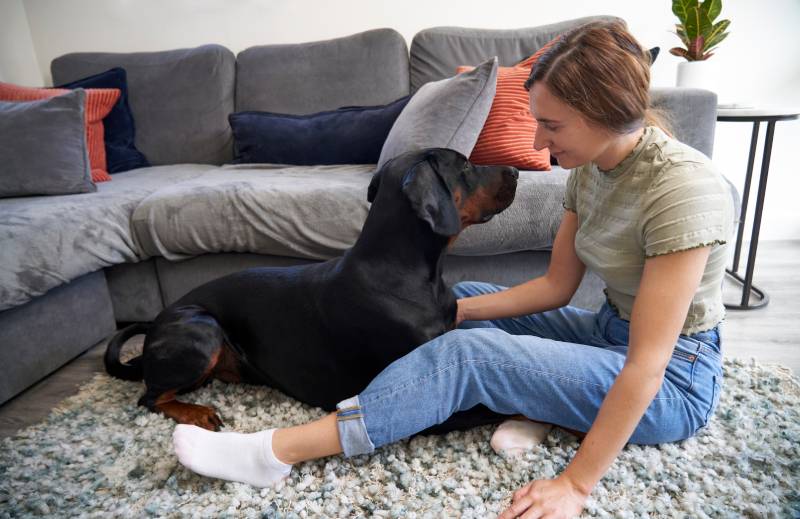 What Kind of Coverage Is Necessary for a Pet-Sitting Business?
When you operate a pet-centric business, there are a few types of commercial insurance you might consider.
General liability insurance will protect you if you cause harm to someone or their property while you're pet-sitting. This would come in handy if your client's dog were to bite someone while you're taking it for a walk. The insurance will cover any related legal expenditures and pay what you owe to the victim.
Animal bailee insurance provides protection in the event of injury, death, or damages caused by an animal you're caring for. For example, if a dog you're pet-sitting sneaks out as you enter its home and is struck by a vehicle, you will be responsible for paying its veterinary bills.
Commercial property insurance is worth considering if you use a commercial space to operate your pet-sitting business. It will provide coverage if something occurs at your business property. For example, if you own a boarding facility destroyed by a fire, your insurance will pay to replace any equipment you may have lost.
What Is Bonding?
Bonding protects your business from theft or disappearance of your client's personal property. Being bonded will provide your clients with compensation for property damage or theft. It will also protect your client if you steal something from them.
Being bonded shows your clients that you are trustworthy and won't abuse your access to their homes.

How Much Does Pet-Sitting Insurance Cost?
The price of pet-sitting insurance will vary from policy to policy. Several factors affect the cost of your insurance, including the following:
How much coverage you need
What types of animals you work with (e.g., some breeds, like Pitbulls, may mean you pay more)
Your experience level
How much work you do
Where you live
If you work alone or have employees
Your claims history
The most comprehensive policies combined with bonding can run up to $600 per year. Basic policies can be found for as little as $150 per year.
Final Thoughts
While pet-sitting insurance isn't necessary, we recommend you invest in it. As a pet sitter, you're providing a valuable service to your clients. They are quite literally putting their beloved pets' lives into your hands, so your only focus should be on keeping their animals happy and healthy. Insurance could provide you with the peace of mind that you'll be covered financially if anything were to occur while your client's pets and home are on your watch.
---
Featured Image Credit: Tatyana Vyc, Shutterstock