250+ Amazing Names for Miniature American Shepherds

The Miniature American Shepherd is a relatively new breed that is still gaining popularity. Though they are not yet as well-known as some of the other herding breeds, these dogs are just as intelligent and hardworking. Originating in the United States, the Miniature American Shepherd was bred to be a smaller version of the Australian Shepherd. They were specifically bred to be companions and working dogs, and they excel at both tasks. Miniature American Shepherds are highly intelligent and easily trained. They are natural herders and love to work, but they are also great family dogs as they bond closely with their owners and make loyal, loving companions.
If you're on the hunt for a Miniature American Shepherd to bring home, you might be wondering what to name your new furry friend once you have them ensconced in the family abode. Luckily, we've got you covered. Here are some amazing names for Miniature American Shepherds that are sure to make your pup stand out from the pack. From classic names to unique choices to humorous ones, there's a little something for everyone. So, sit back, relax, and get ready to meet—and name—your new best friend.

How to Name Your Miniature American Shepherd
There are a few things to consider when naming your Miniature American Shepherd. You will love their loyalty and intelligence and as a result, you will want to ensure that you give them a name that reflects both their unique personality and independence. We wish you the best of luck with your naming journey. If you are having trouble narrowing down your choices, use the following guidelines:
Think about the breed. First and foremost, you want to choose a name that is appropriate for the breed of dog you are getting. For example, a Miniature American Shepherd would probably not suit the name "Midnight" since they don't come in all black.
Consider your dog's personality and whether the name fits them. It's fun to choose a name that highlights a certain aspect of their personality.
To avoid confusing your Mini, make sure the name you choose is not already in use. You can use a name search tool to find a name that isn't already being used by another dog or cat in your area.
Consider how you would feel if you yelled this name at the park, talked to a neighbor about it, or explained it to a veterinarian. Choose a name you are proud of. If you feel embarrassed or odd about it, it is not the best name for your dog! Make sure it is something you can be proud of, and you will be eager to share it with everyone you encounter.
Instead of using a complicated or witty name, try finding a short, simple nickname you can use every day instead.

Dog Names for Female Miniature American Shepherds
When it comes to naming your new female Miniature American Shepherd, you have to consider her personality. Is she a dominant dog with a strong personality? Or is she a softer dog with a gentle persona? Whichever way you go, make sure you choose a name that suits your new furry friend and one that she will respond to easily. After all, she'll be living with her name for the rest of her life!
Annie
Athena
Baby
Bella
Belle
Cassie
Cleo
Daisy
Diana
Dora
Duchess
Emma
Emmie
Fancy
Flor
Hazel
Heidi
Juju
Juno
Lily
Lucy
Maddy
Mango
Mila
Mocha
Molly
Munchkin
Muffin
Nicky
Nike
Olive
Princess
Queenie
Reese
Rina
Rosie
Ruby
Stella
Taylor
Tink
Trixie
Zoe

Dog Names for Male Miniature American Shepherds
Priority should be given to considering the meaning and appropriateness of your name for a male dog. It is important to consider many factors when naming a male, such as the character of the name, the sound of the name, and the culture where you live. Make sure the name you choose is both masculine and unique. A name like Sam might be popular among male Miniature American Shepherds, but it may not be particularly interesting or memorable.
Archie
Arnie
Baron
Beaker
Benny
Benji
Binky
Bonsai
Bubba
Cameron
Charlie
Cubby
Duke
Dino
Elmo
Freddy
George
Gizmo
Gus
Harry
Henry
Iggy
Lucky
Merlin
Milo
Murphy
Nico
Oscar
Pint
Pip
Prince
Ryder
Sam
Sawyer
Slim
Teddy
Tucker

Funny Miniature American Shepherd Dog Names
There is something endearing about Miniature American Shepherds, perhaps because of their diminutive stature, inquisitive nature, and boundless energy. Due to their liveliness and sense of wonder, they provide their owners with continuous entertainment. Here are some amusing Miniature American Shepherd names for those with silly floofy friends.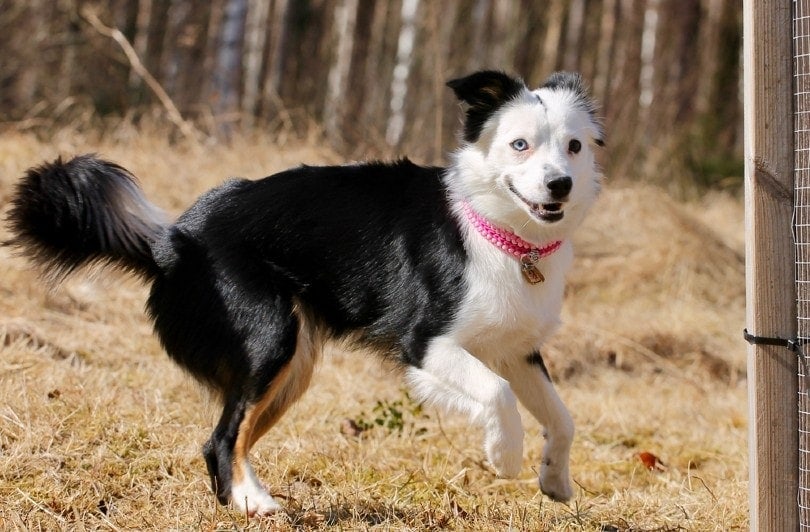 Bacon
Bigly
Boomer
Bugsy
Chaos
Chunk
Cuddles
Doge
Fluffy
Froggy
Goliath
Gollum
Homer
Hulk
Hustler
Jumbo
Nippy
Max
Mischief
Moose
Mouse
Nessie
Pumba
Rex
Shorty
Snippy
Spud
Splodge
Sumo
Thor
Tiny
Tizzy
Toot
Waldo
Wags
Weenie
Yoda

Shepherding Dog Names
Known for being very energetic, the Miniature American Shepherd keeps their owners on their toes and continues to play long after other breeds are worn out. As herding is a big part of the nature of this breed, perhaps a farming name would be appropriate. Whether your dog herds sheep on the range or butterflies in your backyard, you can choose an active name without hesitation!
Apollo
Arrow
Bandit
Bolt
Bullet
Chase
Dash
Hunter
Jett
Rocket
Sassy
Scooter
Shep
Sonic
Sparky
Spear
Swift
Tanky
Tracker
Turbo
Venus
Whip
Xena
Zoom

Dog Names That Celebrate a Fluffy Patched Coat
Consider their iconic long-haired coat as a source of inspiration when choosing a name for your Miniature American Shepherd. With patches of color scattered throughout most of its thick snowy coat, this breed is visually appealing and easily distinguishable from other small dogs. To celebrate this uniqueness, choose one of these names.
Ander
Arizona
Aspen
Autumn
Badger
Bagel
Bahama
Bambi
Baylor
Bean
Bear
Beau
Bikini
Bimini
Biscuit
Bramble
Brandy
Brewster
Brownie
Buck
Butters
Cappuccino
Carob
Cashew
Chai
Champagne
Checkers
Cheddar
Chevy
Chewy
Chocolate
Cider
Cinnamon
Cloudy
Coco
Cookie
Curry
Daffodil
Digger
Donut
Dunkin
Dusty
Echo
Ember
Fawn
Forest
Foxy
Fudge
Gidget
Ginger
Ginger
Goldie
Gouda
Graham
Guinness
Henna
Honey
Java
Juno
Kahlua
Kona
Latte
Maple
Mocha
Mochi
Mojave
Moose
Myrtle
Nacho
Nestle
Noodles
Nutmeg
Nutmeg
Oakley
Oatmeal
Pancake
Patch
Peaches
Peanut
Pebbles
Penny
Pepper
Pretzel
Pumpkin
Rosemary
Rusty
Sable
Saffron
Sahara
Sandy
Savannah
Sedona
Sky
Skylar
Snickers
Spot
Summer
Sundance
Sunkist
Sunny
Syrup
Taffy
Tawny
Teak
Thistle
Toast
Toffee
Tootsie
Truffles
Twix
Tybee
Umber
Vero
Waffles
Winnie
Wookie

Conclusion
In conclusion, the Miniature American Shepherd has a number of great names that are perfectly suited to it. You should make sure that you choose a name that you feel is the best suited for the individual personality of your dog. No matter what name you choose to give them, Minis are sure to bring joy and companionship into your life. We wish you many years of happiness together!
---
Featured Image Credit: OlgaOvcharenko, Shutterstock