100+ Police Dog Names: Popular, Strong, Dutiful & Powerful Ideas

Some of the most iconic breeds are recruited into the police force and are integral parts of our justice system. They help keep us safe, sniff out the bad guys, and help conduct major search parties. They are structured, obedient, and trained to serve and protect. A few of the breeds we most commonly see in the force are German Shepherds, various hound dogs, and occasionally Doberman Pinschers and Rottweilers. 
However, you don't need to have a specific breed to find a suitable police name for your pup. They could carry all of these traits and, although they may not be integral to your community's justice system, they are an integral part of your family. These names are inspired by retired police dogs, pups still doing police work, and all other brave pooches alike. 

Female Police Dog Names
Glory 

Brooklyn

Justice

Rogue

Olympia

Sable

Agent

Noble

Mercy

Echo 

Joplin

Liberty

Elektra

Raven

Mystique

Rookie

Katniss

Alaska

Sheba

Faith

Honor

Avalanche
Male Police Dog Names 
Trooper

Sarge

Deputy

Cheif

Buddy

Sargent

Baton

Prowl

Officer

Partner

Colonel

Donut

Major

Lieutenant

Coop

Popo

Fuzz

Odin

Ranger
Tough Police Dog Names 
If you are searching for a police name for your pup, you likely are hoping for a name that's strong and brave. Your pup may be the smallest of breeds or the gentlest of giants, but they could also possess the qualities of a tough police dog! Check out our favorites below:
Krypto

Pistol

Xena

Mod

Bruin

Vixen

Bomber

Enforcer

Bones

Diesel

Bullet

Columbo

Dagger

Riggs

Vice

Hulk

Gunner

Bane

Horatio

Magnum

Thor

Axel

Harley

Serpico

Boss

Fang

Bolt

Goliath

Zipper

Slugger

Charger

Spike

Colt

Phantom

Ace

Five-O

Baton

Scout
German Shepherd Police Dog Names
German Shepherds are likely the most common breed that we'll see trained and recruited into the police force. They are work dogs naturally and are descendants of wolves. Their determination and focus make them ideal candidates for this type of work. We have gathered the best German Shepherd dog names influenced by those who have served in the force!
Crash

Hunter

Tibbs

Rocky

Starsky

Moose

Bruise

Newton

Protector

Benson

Kenobi

Callahan

Norris

Tango

Standby

Holster

Gator

Seagal

Ceaser

Inspector

Jinx

Hawkeye

Finn

Rex

Hutch

Tito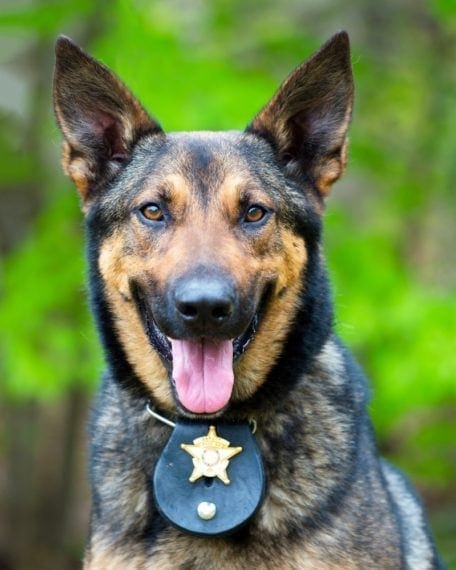 Famous Police Dogs 
We have selected only a few of the many notable police dogs to highlight, although there is an endless number of brave pooches who have risked their lives in the line of duty, many who have sadly lost their lives, who deserve recognition. 
Bruno
This brave dog was regretfully injured and later lost his life to a bullet wound while chasing a suspect. His handler, to this day, says his sacrifice is the reason he and his officers on the case are alive today.
Koton
Koton started with real-life police work but transitioned into Hollywood for the 1989 movie K-9 where he was depicted as a narcotic sniffing police pup. After the release of the film, he returned to his police roots, where he sadly lost his life searching for a suspect who murdered a police officer.
Apollo
This high decorated German shepherd worked the traumatic events that took place as a result of the September 11th attacks. He was one of the first dogs to be thoroughly trained in hunt and rescue missions. So, it was here that his talents and skills truly shined. 
Rin Tin Tin 
Rin Tin Tin was a pup discovered in an abandoned kennel in France and was brought to the States and found himself adopted a K9 trainer who later prepared him for police work. Once retiring from the force, Rin Tin Tin becomes a show dog, which leads him to Hollywood. He starred in 27 films and received the most votes for Best Actor in the Acadamy Awards in 1929. 

Finding the Right Police Name for Your Dog
We hope that this list of the best police dog names helps you find the perfect name for your new patrol pup. Whether you choose a tough, serious, or silly name, your dog is sure to appreciate its dignified origin. 
If these names are not quite right, try one of our other lists of great dog names:
---