100+ Hebrew and Jewish Dog Names: Ideas for Pure & Wise Dogs
A name says a lot about your pet. They are a reflection of you, and their name should be special and sometimes may even be very personal to you.  If you love the Jewish culture or the sound of spoken Hebrew, can't get enough of Barbara Streisand, or simply appreciate the biblical references – your pup will thrive with a name from this list! 
We have some traditions options for those wanting to keep their pets name authentic, Hebrew names with meaning for unique pets, biblical suggestions for those faithful animals, and lastly notable Jewish Celebrity names for a cool pop culture reference. 

Hebrew Female Dog Names
Roni 

Kyla 

Alona

Reena

Dara

Binha 

Aliza

Eden

Ulla

Eva

Liora

Shoshana

Ira

Chiuta 

Alma

Zisel

Kayla

Bosma

Meira

Ketzia

Hila

Eleora

Yardena

Judith 

Edna 

Joan
Hebrew Male Dog Names 
Hagar

Asher

Ruben

Simon

Jaron

Benjamin

Rishon

Ethan

Noah

Ezra

Ari

Ziv

Zayit 

Jesse

Elliot

Gil

Jed

Mendel

Amit

Joshua

Jonas

Sivan 

Abel

Abraham

Zach

Samael

Moses 
Hebrew Meaningful Dog Names
Choosing a name with a bit of mystery behind it is a great idea for a pet name. You can choose to share the meaning with others, or keep it just between you and your pup!
Nes (Miracle)

Tzevi (Gazelle)

Uphaz (Gold)

Kalev (Dog)

Moche (Our Teacher)

Paroh (Great House)

Lemek (Powerful)

Nissa (To Test)

Yalla (Hurry)

Balagan (Mess)

Dodi (Beloved)

Achala (Great)

Achi (My Brother)

Pili (Miraculous)

Gala (Wave)

Hadar (Honor)

Liba (Heart)

Elazar (God)

Flint (Shotgun)

Vered (Rose)

Gad (Troop)

Meydad (Love)

Iyra (Watchful)

Ittay (Neighboring)

Baraq (Flash of Lightning)

Doran (Gift)

Chayim (Life)

Qayin (Possession)

Yoqtan (Small)

Shlomo (Peaceable)

Yithrow (Abundance)

Ori (My Light)
Biblical Hebrew and Jewish Dog Names
Biblical references can be incredibly meaningful to some people. If your pet is just as important as your faith, you may want to choose something from our list below. You might also appreciate these names if your pup is the center of your world. 
Angel 

Barnabas 

Atarah 

John

Elijah 

Jethro

Moses

Judas

Gideon 

Jezebel

Silas

Zacharias

Salome

Milcah

Huldah

Soloman

Adam 

Sarai

Matthew

Sherah

Ezekiel

Apphia 

Luke

Eve 

Jesus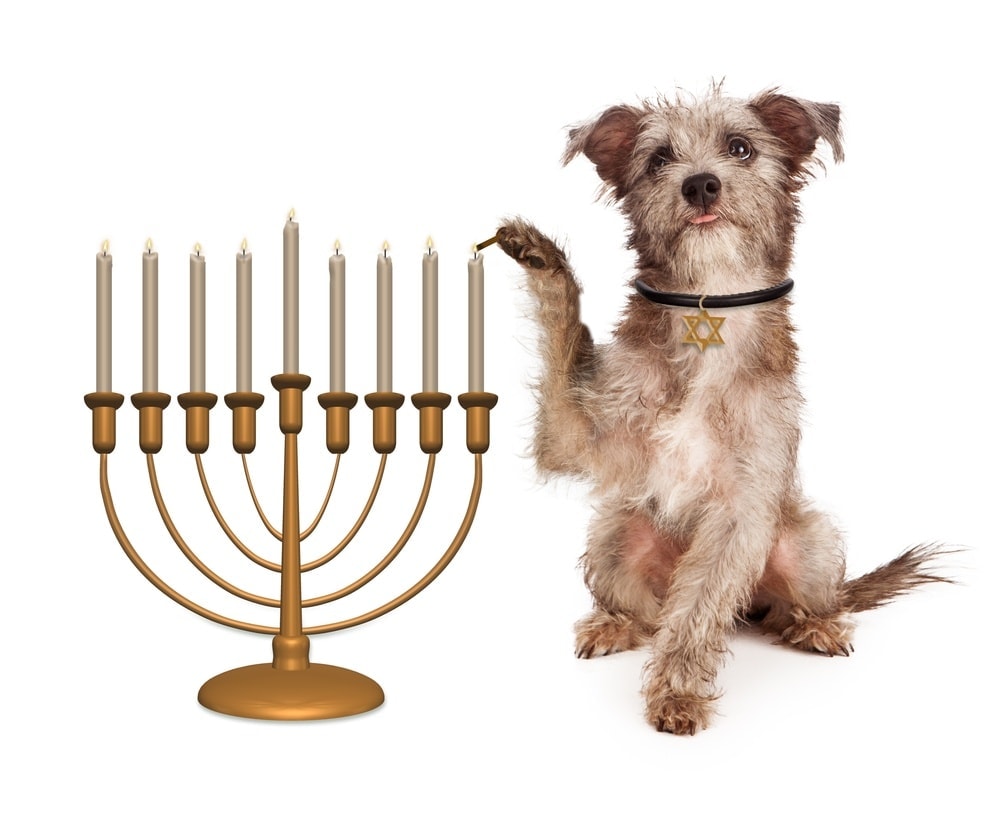 Celebrity Jewish Names For Dogs
If you are looking for a Jewish celebrity name for your pooch alongside the likes of Barbara Streisand, this is the list for you! Actors, actresses, musicians, and fictional characters that have Jewish heritage or still practice the religion today.
Zac Efron

Rachel Bilson

Elizabeth Taylor

Arquette (David or Patricia)

Isla Fischer

Daniel Radcliffe

Sacha Baron Cohen

Goldie Hawn

Dil Pickles (Rug Rats)

Howie Mandel

Ashley Tisdale

Sarah Jessica Parker

Sean Pean

Dr. Zoidberg (Futurama)

Selma Blair

Krusty (Simpsons)

Adam Brody

Amy Schumer

Mila Kunis

James Franco

Harrison Ford

Fran Drescher

Jake Gyllenhaal

Gal Gadot

Allison Brie

Finding the Right Hebrew or Jewish Name for Your Dog
Adopting a new puppy is exciting, and we want you to be just as enthusiastic about choosing the perfect name. Referencing Jewish culture, or a traditional language such as Hebrew, you would be giving your pup something both meaningful and unique! You may have found something quirky in choosing a name like Nissa or Zayit, or liked a famous name such as Efron! Either way, we hope you had fun exploring our list of Hebrew and Jewish-inspired names while searching for a one that best suits your new pup!
If you are still on the hunt, you may have better luck with one of our other dog name posts linked below: 
---
Feature Image Credit: Alan Budman, Shutterstock