Primal Dog Food Review 2023: Recalls, Pros & Cons
Review Summary
Our Final Verdict
We give Primal dog food a rating of 4.9 out of 5 stars.
Almost every dog owner strives to provide their beloved friend with the best nutrition to help them grow and develop throughout their life. However, with so many available options, it can be hard to decide which brand is the most suitable choice for your dog. Many recipes from different brands don't provide great nutrients as they contain many filler products.
Still, there are dog food brands that strive to provide dogs with raw food made of natural ingredients, and Primal is one of those brands.
Primal is a US-based company that creates dog food that consists of raw food and bones, and it started as the founder's way to help his dog Luna who was suffering from renal failure. Since then, this brand has tried to provide the best food options for canines, combining valuable nutrients with high-quality ingredients. They have various available recipes designed to keep your dog's diet as natural as possible.
This company is among the top-rated dog foods for many dog parents, so we want to provide more insight about them. Keep reading to learn more about this popular pet food brand.
Click to skip ahead:

At a Glance: The Best Primal Dog Food Recipes
Primal dog food has various recipes, and below are five of their popular food options.
Rating
Image
Product
Details

Our Favorite

Primal Nuggets Beef Formula Dog Food

No additives or fillers
Natural protein sources
High levels of protein and fat
Check Price

Primal Nuggets Lamb Formula Dog Food

Natural protein sources
High protein and fat levels
Antibiotic and steroid-free
Check Price

Primal Nuggets Chicken Formula Dog Food

A lot of calcium
No fillers and artificial dyes
Organic, natural ingredients
Check Price

Primal Nuggets Turkey & Sardine Formula Dog Food

Made with antibiotic-free turkey
Incorporates certified organic produce
Optimum levels of amino acids
Check Price

Primal Nuggets Duck Formula Dog Food

Freeze-dried form that's fast and easy to serve
Made with hormone-free duck
Incorporates certified organic produce
Check Price
Primal Dog Food Reviewed
This section will give an in-depth overview of this pet food brand. Before using this brand for your canine, you need to understand its history, production, and ingredients.  That way, you can determine if the brand is worthy of your time and if it's something you'd consider for your furry friend.
Who makes Primal and where is it produced?
Primal is an American brand founded in 2001 in San Francisco, California. The founder, Matt Koss, primarily developed the raw recipes for his dog, Luna, who suffered from renal failure. As the food positively impacted her, he decided to take the next step and offer this type of nutrition to other pet owners.
The company makes all the formulas in Fairfield, California, and offers various dog food recipes, mainly with freeze-dried, raw, and fresh ingredients. They are all about BARF (Bones and Raw Food/Biologically Appropriate Raw Food) because they believe canines thrive on diets similar to what they would experience in the wild.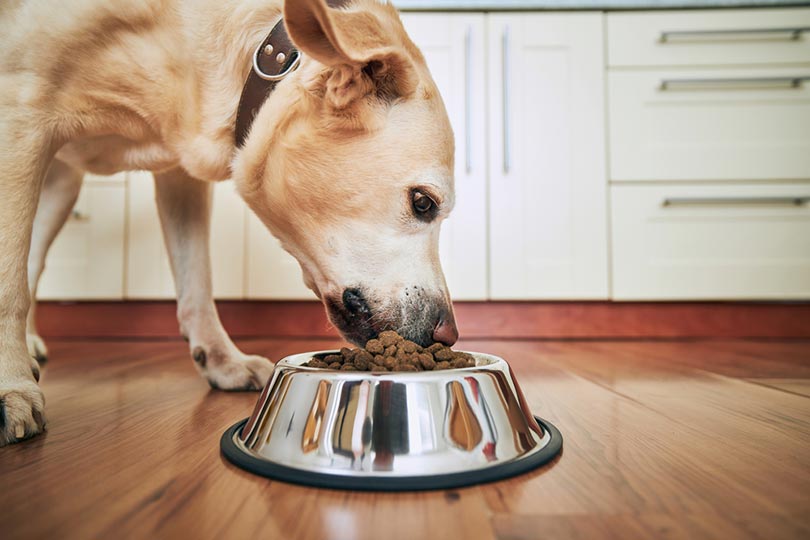 Which type of dog is Primal best suited for?
Primal dog food provides recipes for all dog breeds throughout their life stages, so it's suitable for all types of canines. If you want to switch your dog's diet to a more natural option, this raw diet might be a good option for your pup.
Which type of dog might do better with a different brand?
When it comes to Primal dog food, it's suitable for all dogs in all of their life stages. However, the food has high levels of protein and fat, which might not work for some dogs. It's best to know an approximate nutritive value your canine needs to know if such a diet would work for them.
Also, dogs with allergies or food sensitivities may do better with a specifically formulated recipe1.
Discussion of the Primary Ingredients (Good and Bad)
According to the Primal pet food website, they use human-grade ingredients that are steroid and antibiotic-free. They also add vitamins to ensure your dog gets all the vital nutrients and minerals for proper development. They supposedly source ingredients from vendors that give their livestock a 100% vegetarian diet, while fish in their recipes is wild-caught.
As all their recipes are BAFR-based, they don't contain rice, gluten, wheat, or any filler products.
Some of their most popular recipes include ingredients such as:
Beef hearts
Beef livers
Chicken
Chicken livers
Duck
Duck livers
Organic vegetables
All protein sources are high-quality and natural, which is something every dog parent should value. You can find other important notes about their recipes below.
Steroid-Free and Antibiotic-Free
All Primal dog food recipes use fresh meat; every recipe is steroid-free and antibiotic-free, which is essential for your dog.
Foods that contain steroids and antibiotics can lead to several issues, including:
Increased hunger, which can lead to obesity2
Muscle weakness
Thin coat
Thin skin
High-Pressure Processing
When using foods with raw ingredients, there's always a doubt about whether the food is entirely safe, as raw food can contain bacteria. However, Primal dog food uses high-pressure processing to target salmonella and other pathogens that can harm your canine. As high-pressure processing doesn't use irradiation or heat, raw products remain raw but should be bacteria-free.
Primal dog food mainly uses this process in high-risk foods such as turkey, chicken, quail, and duck recipes.
No Artificial Dyes
While many dog food brands use artificial dyes in their recipes to enhance their food's color and visual appeal, that's not the case with Primal dog food. This is important as artificial dyes can harm your canine, so you should avoid any brand that contains them in their recipes. Primal strives to use all-natural ingredients and avoid anything artificial, so all its food options are free of artificial dyes.

A Quick Look at Primal Dog Food
Mimics a dog's natural diet in the wilderness
Uses human-grade ingredients
Steroid-free and antibiotic-free
Various available recipes
Higher price
High levels of protein and fat, which doesn't work for all dogs
Recall History
One of the best ways to see if a dog food brand adheres to high-quality standards and provides quality is to review its recall history. A recall doesn't necessarily mean that the brand is bad or has a low-quality product, as accidents can always happen. However, sometimes recalls can occur due to severe issues, which is why it's helpful to know these details.
So far, Primal dog food had only one recall for their raw frozen primal patties. Primal voluntarily recalled the beef formula due to possible contamination with Listeria monocytogenes. As Listeria can cause severe health problems, a single lot of this product was removed from the market.
The company states they haven't received any reports or complaints since the recall, however, the Primal brand strives to prevent such problems from occurring again. All their foods go through various check-ups before they release the food on the market.

Reviews of the 3 Best Primal Dog Food Recipes
Primal dog food has various recipes, but the ones you can see below stand out the most among customers.  Our honest review of them will showcase why these recipes are so popular among dog parents.
1.

Primal Freeze-Dried Nuggets Beef Formula Raw Dog Food
The Primal Freeze-Dried Nuggets Beef Formula Raw Dog Food consists of fresh, organic ingredients with enough nutrients to get your dog through the day. It doesn't contain any filler ingredients, all protein sources are natural, and there are various sources of vitamins due to multiple veggies in the recipe. This formula consists of 40% protein and 43% fat.
The main ingredients of this recipe are:
Beef hearts and livers
Grounded beef bones
Organic carrots, squash, kale, broccoli
It also has other nutritious vegetables as well as excellent minerals and vitamins such as zinc sulfate and vitamin E. As the ingredients are fresh, you cannot store this formula for an extended period, so it's best to use it within 5 days after opening.
High levels of protein and fat
Natural protein sources
No additives or fillers
Various sources of vitamins
You can't store it for an extended period
---
2.

Primal Freeze-Dried Nuggets Lamb Formula Raw Dog Food
The Primal Freeze-Dried Nuggets Lamb Formula Raw Dog Food is another excellent formula with steroid and antibiotic-free ingredients. The recipe consists of 43% protein and 41% fat to keep your canine strong through their daily activities. Like other Primal recipes, this one doesn't contain filler products or artificial dyes.
The main ingredients of this recipe are:
Lamb hearts and livers
Ground lamb bones
Organic squash, broccoli, carrots
It also contains a perfect balance of healthy fatty acids, vitamins, and minerals that will boost your dog's development. Because of the way the recipe is packaged, you can quickly serve this healthy recipe to your canine.
Antibiotic and steroid-free
Natural protein sources
No additives and filler products
High protein and fat levels
Easy to serve
---
3.

Primal Freeze-Dried Nuggets Chicken Formula Raw Dog Food
The Primal Freeze-Dried Nuggets Chicken Formula Raw Dog Food with fresh chicken and exceptional levels of essential fatty and amino acids. Due to the raw chicken and chicken bones, this recipe contains a lot of calcium to keep your dog's bones and teeth healthy. This is one of their formulas that has the highest protein level at 51%, while it has lower levels of fat at 29%.
The main ingredients of this recipe are:
Chicken with ground bones
Chicken liver
Organic kale, carrots, apples
This recipe contains an optimal level of fatty and amino acids, vitamins, enzymes, and minerals your dog needs throughout its life. Also, it is easy to serve; all you need to do is pour water over the nuggets.
High protein levels
Organic, natural ingredients
A lot of calcium
No fillers and artificial dyes
Easy to serve

What Other Users Are Saying
Before purchasing any product, it's always a good idea to check out what other consumers have to say about it, as that will allow you to gain an opinion from someone with first-hand experience. That also counts for dog food, so you can search the internet for different opinions about this company and their dog food.
We wanted to provide some insight into other people's opinions. Most of them are positive, showing that Primal is a trustworthy brand. You can see some popular opinions of Primal dog food below.
Dog Food Advisor – "Primal Raw Frozen Formulas is a grain-free raw dog food using an abundance of named meats and organs as its dominant source of animal protein, thus earning the brand 5 stars."
Dog Food Network "The Primal dog food range of products has received the USDA and AAFCO certification/approval and is considered one of the safest, freshest, and completely chemical-free products on the market."
Amazon – As dog parents, we always double-check with Amazon reviews from buyers before we buy something. You can read these by clicking here.

Conclusion
Overall, we can say that Primal is an exceptional dog food brand that offers various healthy, natural recipes you can feed your dog. By looking at their ingredient list, you can see that they put in a lot of effort to provide the best food sources for all the canines who consume their recipes. They avoid fillers, artificial dyes, and animal-by products. Instead, they use 100% human-grade ingredients that are antibiotic- and steroid-free ingredients, which is not so common among other dog food brands. That's why we believe this is one of the best dog food brands you can find on the market.
---