6 Best Human-Grade Dog Food Brands in 2023 — Reviews & Top Picks

You love your dog and want the best for them. That's why you spend so much time and effort trying to find the best food on the market to give them.
Unfortunately, though, many dog foods — even some of the higher-end ones — are filled with low-grade ingredients like animal by-products, which somehow manage to be less appetizing in practice than they sound in theory.
That's why there's been a push in recent years to feed human-grade ingredients to dogs. The foods in this list are all made with ingredients that could be found in the foods that you eat, so you know that your pooch will get the best meals possible.
Of course, just because you can eat it, that doesn't mean that you should, so don't crowd your pup at their plate.

A Quick Comparison of Our Favorites in 2023
Rating
Image
Product
Details

Best Overall

The Farmer's Dog Human-grade Fresh Dog Food

Top-quality ingredients
For all life stages
No artificial preservatives, flavors, or colors
Click to Save 50%

+ Get Free Shipping!

Best Value

Caru Daily Dish Grain-Free Wet Dog Food

Good value for the price
Excellent source of moisture
Extremely convenient
Check Price

Best for Puppies

Annamaet Original Puppy Food

Good variety of amino acids
Gentle on digestive tracts
High in omega fatty acids
Check Price

Spot Farms Human-Grade Dog Food

Makes four times its original weight
Has plenty of quality ingredients
Moderately-priced option
Check Price

The Honest Kitchen Whole Grain Dog Food

Uses only organic ingredients
Food is all recognizable in mix
Easily digestible grains
Click to Save 30%

Use code HEPPER30
The 6 Best Human-Grade Dog Food Brands
1.

The Farmer's Dog Fresh Human Grade Dog Food – Best Overall
Our top overall choice for the best human-grade dog food is The Farmer's Dog Fresh dog food. Pet meal delivery services are extremely popular, and The Farmer's Dog is, in our opinion, the overall best human-grade dog food brand out there. You get four protein options: chicken, beef, turkey, or pork, and you can choose one option or a variety pack. The ingredients of this human-grade food are of the highest quality and were designed by a vet nutritionist.
The food contains no artificial fillers or preservatives, meaning you don't have to worry about your pet having a reaction or the food negatively affecting their health.
This food is a bit more expensive than most commercial food you'll find on grocery store shelves but is well worth the price for the quality and will likely save you a lot in healthcare bills later down the track. Unfortunately, it does require freezer space and can defrost and go bad during transit if you are not home to receive the package.
All in all, however, this is our pick for the best human-grade dog food available this year.
Four protein options
Ingredients are restaurant quality
Contains no fillers or preservatives
Vet nutritionist-approved
Requires space in the freezer
Expensive
---
2.

Caru Daily Dish Grain-Free Wet Dog Food — Best Value
Most human-grade dog foods come dehydrated. Caru Daily Dish, on the other hand, is a canned wet food, making it both convenient and healthy.
It's full of water and beef broth, so it's excellent for dogs that struggle to get enough moisture in their diets. As a result, the overall protein levels are low at just 5%; you'll likely want to pair this with a high-protein kibble.
Even if you have to buy a second food to mix with this, it will still likely be cheaper than many of the other options on this list. In fact, it's our pick for the best human-grade dog food brand for the money.
The fruits and vegetables inside are top-notch, with ingredients like pumpkin, chickpeas, and apples. Your pooch should get a nice nutritional variety from the foods inside.
You'll also find important nutrients added in, like taurine. Taurine is essential for heart health, and your dog can't make it on their own. Despite this, many foods don't include it, so it's nice to find one that does.
Don't expect to be able to spot any of those ingredients in the can, though. The food looks like an odd mush, and you can't recognize any actual food inside. Most dogs don't seem to mind, though.
If you want an easy way to transition to human-grade foods, Caru Daily Dish is about as simple as it gets, which is why it ranks second on this list.
Good value for the price
Excellent source of moisture
Includes important nutrients like taurine
Extremely convenient
Low in protein
Comes in an unattractive mush
---
3.

Annamaet Original Puppy Dry Dog Food — Best for Puppies
It's always a good idea to start a new puppy off with the best diet possible, and Annamaet Original can help you do just that.
It's a gentle formula, as it's loaded with ingredients like brown rice, rolled oats, and millet. Since many pups experience digestive issues in the first few months of their life, giving them something easy on their digestive tracts is a good idea.
There's a variety of protein in here, and the overall levels are on the higher end of average at 26%. You'll find chicken meal, fish meal, and chicken fat inside; the meals give a nice variety of amino acids, whereas the chicken fat will give your pup plenty of important omega fatty acids.
There are "superfoods" cranberries and blueberries, which should give your pooch plenty of important antioxidants. There are also chicory root and beet pulp for fiber, which should help your dog stay regular.
It is high in salt, though, and we'd prefer it if there was lean chicken to go along with the meals. Also, the kibble is quite large, which can be hard for little pups to chew.
Overall, Annamaet Original is the best food for puppies that we've found, and it's one of the best human-grade options on the market, regardless of age group. Still, it's not quite enough to overcome the foods in the top two spots.
Protein levels are at higher end of average
High in omega fatty acids and other antioxidants
Good variety of amino acids
Gentle on digestive tracts
High in salt
Lacks lean cuts of meat
Large kibble is hard for small dogs to chew
---
4.

Spot Farms Human-Grade Grain-Free Dog Food
Spot Farms offers an excellent human-grade food that's similar to its more popular counterpart, Honest Kitchen. It's not quite on the same level, though.
It's a moderately-priced option, and the food goes even farther when you realize that each box makes four times its original size when rehydrated. It's an inexpensive way to dip your toes into the human-grade dog food world.
The food certainly doesn't lack for quality ingredients, as it boasts apples, blueberries, spinach, and sweet potatoes. You'll also find fish oil and flaxseed for omega fatty acids.
Potatoes are the second ingredient, though. They're limited, nutritionally speaking, and they can cause digestive issues in some pups.
It's also fairly messy to mix, and the result has a consistency like dry oatmeal — or sawdust, if you're not feeling especially generous. Don't be surprised if your dog turns their nose up at it.
We think that Spot Farms shows promise, but it needs to make a few important changes if it wants to compete for the top spot.
Makes four times its original weight when rehydrated
Has plenty of quality ingredients
Moderately-priced option
Potatoes are the second ingredient
Messy to prepare
Consistency may put dogs off
---
5.

The Honest Kitchen Whole Grain Dehydrated Dog Food
The Honest Kitchen is one of the biggest names in human-grade dog foods and for good reason: Its foods are extremely high in quality.
The ingredients are all organic, from the free-range chicken to the organic barley and flaxseed. That gives you the peace of mind that comes from knowing that you're not pumping your dog full of unnecessary chemicals, hormones, or pesticides.
You'll find a wide assortment of fruits and veggies in each box, including carrots, bananas, kelp, potatoes, and celery. Best of all, each of those items is recognizable in the mix, so you know that you're giving your pup actual food instead of questionable mishmash.
The grains are all easily digestible as well, making this an excellent choice for dogs with sensitive stomachs. It does have potatoes, though, and they can give some dogs gas.
The free-range chicken is the first ingredient, but the overall protein levels aren't anything to write home about at just 24.5%. That's square in the "average" range for a food like this, but given everything else that The Honest Kitchen has going for it, we didn't see the need to penalize it too harshly.
Uses only organic ingredients
Food is all recognizable in mix
High-quality fruits and veggies, like carrots and bananas
Free-range chicken is first ingredient
Easily-digestible grains
Average amount of protein
Potatoes can cause gas in some dogs
---
6.

Lotus Oven-Baked Small Bites Adult Dry Dog Food
Lotus Oven-Baked Small Bites are the most traditional food on this list, as it comes in regular kibble form. It's a good choice for people who aren't ready to mix their own dog food, but it's still closer to a generic kibble than a high-end food.
It has a good mix of meats inside, including chicken, chicken liver, and sardines. Unfortunately, though, it also relies heavily on pea protein, which dogs don't process as well as they do proteins from meat sources.
Despite the added boost, the protein is on the lower end of average at 24%. It only has 3% fiber too, which is disappointing.
It doesn't skimp on the omega fatty acids, though, as it has olive oil, salmon oil, and the sardines, all of which provide a substantial boost of important antioxidants. We also like the fact that they included probiotics in the formula, as that should improve your mutt's digestive health.
The kibble itself is extremely small, so while that may be okay for toy breeds, it could serve as a choking hazard to anything larger than a Shih Tzu.
Lotus Oven-Baked Small Bites is a good food, but it's not quite ready to be mentioned in the same breath as the other human-grade options ranked above it.
Good variety of meats inside
Packed with omega fatty acids
Ideal for toy breeds
May pose choking hazard to larger dogs
Uses hard-to-process plant proteins
Overall protein level is on lower end of average
Limited fiber content

Buyer's Guide: Choosing the Best Human Grade Dog Food
Human-grade dog food is a relatively new movement, so you can be forgiven for not knowing much about it. It's also understandable if you dismiss it as just another fad; however, we feel there are important reasons that this trend might be here to stay.
In this guide, we'll walk you through everything you need to know about human-grade dog food, including how to determine whether it's a good choice for your pup.
What Does "Human-Grade" Mean, Anyway?
"Human-grade" is a term that's only used to describe pet foods. Until recently, the term was largely a marketing ploy, as there wasn't a legal definition of what constituted human-grade food for animals. That all changed a few years ago, however.
Today, to be considered human-grade, a pet food (and all the ingredients inside it) has to be stored, handled, processed, and transported in a manner that complies with existing regulations for human foods. Basically, the food has to be treated as if it were going to be consumed by people, with all the relevant regulations that accompany such a process.
This filters out a large amount of low-grade meat, as well as certain fillers, chemicals, and additives. It ensures that every morsel in your dog's bowl is something you'd at least consider eating yourself — and usually means that the ingredients on the label are readily identifiable as foods.
Is Human-Grade Dog Food Inherently Better Than Non-Human-Grade Food?
That depends on the other food.
In our opinion, it's always better to use quality ingredients rather than cheap, low-grade substitutes. You would likely be shocked if you saw what "animal by-products" actually are, so it's understandable that you don't want your dog eating them. Using human-grade ingredients immediately sets a high floor for the food's quality.
However, there is no guarantee that a human-grade food will actually be healthy for your dog. All the label means is that the ingredients inside the bag are suitable for human consumption; that doesn't mean those ingredients will give your dog all the nutrients that they need, however.
Also, in many cases, the term has no real meaning. For example, most chicken inside pet food is made from the same birds that end up in our grocery stores; it's just that part of the animal goes to the butcher and the other part goes to the dog food-processing plant. Once it reaches the dog food factory, though, it's no longer considered human-grade, even if the quality hasn't changed in any way.
So, while using human-grade standards can help filter out low-quality ingredients, you'll still need to read the label to ensure that the human-grade kibble you picked up is actually healthy for your pooch, though.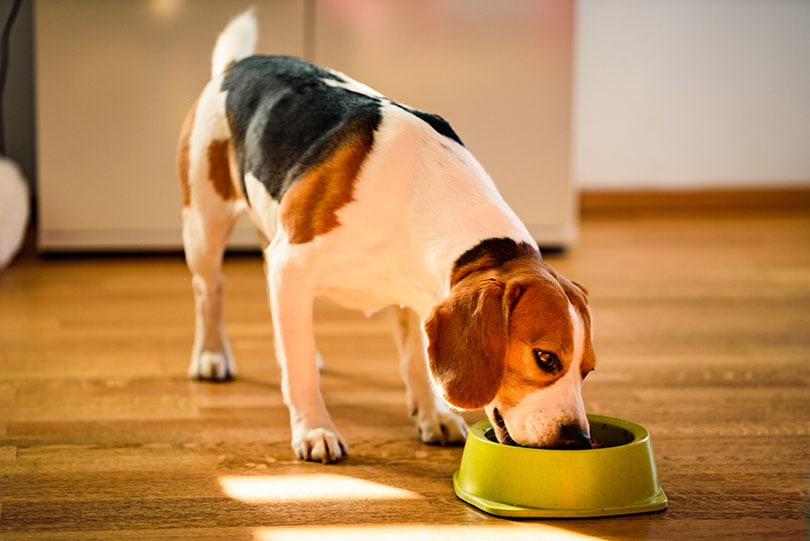 Is Human-Grade Food Safer Than Other Types of Food?
Not necessarily. There's nothing about human-grade food that naturally sets it above other types of foods, and there have been human-grade food recalls for issues like salmonella in the past.
At the end of the day, it comes down to the manufacturer and its practices. If it's strict about quality control, then its food should be safe for your dog to eat, regardless of whether it uses human-grade ingredients or not.
On the other hand, a manufacturer that plays fast and loose with safety protocols is more likely to produce dangerous food, even if that food is human-grade, organic, raw, or anything else.
As with anything, finding a good human-grade dog food is about identifying companies that you can trust and rewarding them with your business. The label itself won't protect you or your dog from anything.
Is Human-Grade Food More Expensive?
Most of the dog food that's labeled human-grade is on the pricier end of the spectrum, yes.
That's partially because it's a great way to immediately isolate pet owners who are willing to pay a premium for high-end food. In that sense, the term is as much a marketing gimmick as anything else, especially if the overall food quality is low.
However, there are reasonably-priced human-grade options out there. You're unlikely to find a truly bargain-basement human-grade food, but there's no reason that you can't find one in your price range if you look hard enough.
Also, it's worth noting that some of the extremely expensive human-grade dog foods really are worth the extra cost. They use better ingredients, have a more well-rounded nutritional profile, and offer all sorts of important benefits for your dog. Those benefits are in addition to the human-grade label, though, not because of it.
Are All Human-Grade Foods Organic?
No, although it is more common to find an organic human-grade food than it is an organic regular kibble.
This all goes back to the fact that manufacturers use the human-grade label to identify consumers who are willing to spend more on their dog's food. Once they know that you're willing to pay whatever it takes to keep your pup healthy, they don't have a reason to keep costs down on their end.
This means they can start adding all sorts of features and benefits to set themselves apart from the competition, with organic ingredients being one of them. It makes the food more expensive to produce, but they can make up the difference when they sell it to discriminating dog owners.
None of this is said to disparage human-grade dog foods or the owners who buy it. Just know that you'll often find yourself in rarefied air when you let dog food manufacturers know that you're willing to open up your pocketbook to buy the best possible food for your dog.
You might also like: Best Organic Dog Foods – Reviews & Top Picks
Is Human-Grade the Same as Raw?
No. A raw food diet is based around the idea of feeding your dog the exact diet that they'd eat if they were still wild and had to hunt for their dinner. It often involves crunching on raw, meaty animal bones.
Most raw diets are prepared by the dog owner themselves rather than bought at a pet food store. They usually involve fresh cuts of meat — including organ meat — and bones from the local butcher shop.
Since those raw meats are bought from stores that cater to humans, they would likely qualify as human-grade. However, people mean different things when they use the two terms, and they're rarely used interchangeably.
Why Is So Much Human-Grade Dog Food Dehydrated?
Many human-grade dog food manufacturers use extremely fresh ingredients. These fresh ingredients need to last for months on the shelf at the pet store, however, so they can't just be kept in their natural state.
The usual solution is to dehydrate or freeze them. This allows them to stay fresh and palatable for months at a time while still being easy to prepare once you get them home.
However, that also means that human-grade dog food often looks nothing like the kibble that you've seen your whole life. You may be taken off-guard when you first open up the box — and your dog might not know what to think of it either. There's sometimes a transition period for everyone involved when switching to a human-grade food.
Which Is Better — Frozen or Dehydrated?
There's not much of a difference, at least nutritionally speaking. It all comes down to your needs.
If you want something easily portable, dehydrated will be much better. It's hard to travel far with a frozen dog food unless you also want to lug around a bulky ice chest, so dehydrated options are better for owners who are often on the go.
It also depends on whether you'd like to sacrifice storage space in your freezer or somewhere else, like a cabinet or countertop. Again, this is entirely up to you, as one isn't better than another.
See also: Best Dehydrated Dog Foods – Reviews & Top Picks
Does Human-Grade Food Require Special Prep?
Yes, but it's minimal.
In the case of dehydrated foods, you'll need to rehydrate them. This simply means adding water and stirring. You'll have to wait a minute or two for the food to "fluff up," but as long as you can operate a faucet, you can prepare dehydrated dog food.
Frozen food may or may not need special prep; read the label to see what the manufacturer recommends. The most that you should expect to have to do is wait a few minutes for it to thaw, though.
My Dog Won't Eat This Food. Is There Anything I Can Do?
Many dogs — especially older ones — aren't quite sure what to make of human-grade food, especially if it's been dehydrated. After all, it probably doesn't look or smell like what they're used to eating.
One simple way to boost the food's attractiveness is to mix it with warm water instead of cold. Not only does this warm the food up, but it also causes it to release its natural odors. This might be all it takes to convince your dog to give it a try.
If that doesn't work, try mixing sodium-free chicken broth in the food instead. Most dogs love the stuff, so it should be all the encouragement that your pup needs to chow down.
If you're transitioning from regular kibble, go ahead and mix the old stuff in with the new food for the first few weeks (you should do this, anyway, to reduce the risk of an upset stomach). This can help remind your dog of what they're expected to do when you set their food bowl down.
Ultimately, though, some dogs just refuse to eat certain foods. If that's the case with your mutt, there's not much you can do but try a different food.
Can I Make Human-Grade Dog Food Myself?
Sure. Again, all the term means is that the ingredients are suitable for human consumption, so if you're using stuff found in your own kitchen or bought from the local grocery store, it should be human-grade by default.
That doesn't mean it'll be healthier for your dog, though. Dogs actually need a complex balance of nutrients from both plant and animal sources, and it's easy to accidentally give your dog a nutritional deficiency while cooking for them.
As a result, if you plan on serving as your pooch's head chef, you should run your diet plan past the dog's vet first. They can help you identify any blind spots in your meal plan and ensure that your dog gets all the vitamins and minerals that they need to stay healthy and happy.
If My Dog's Food Is Human-Grade, Does That Mean I Can Eat It?
It's likely completely safe for human consumption, but we wouldn't recommend it.
Many dog foods are bland compared to human foods, as spices tend to upset canine tummies. Also, there are a variety of ingredients that dogs love that are likely to turn their owners' stomachs.
But if you're feeling hungry and your dog is willing to share, go for it.

Conclusion
The Farmer's Dog Fresh dog food only uses human-grade ingredients in their food. As a result, it's one of the healthiest foods that you can feed your dog.
If you want something a little less pricey, though, give Caru Daily Dish a shot. It's a canned wet food, so it's extremely convenient, but it's also loaded with high-quality meat, fruits, and veggies.
Switching your dog to a human-grade diet is a fantastic way to boost their overall health while still feeding them a food they'll love. We hope that our reviews have made the buying process easier for you, so you can order your pup's next food with confidence.
That said, if you listen to your dog, they'll likely remind you that whatever you're having for dinner is technically human-grade food.
---
Featured Image Credit: stockcreations, Shutterstock