PupBox Subscription Review 2023: Pros, Cons & Verdict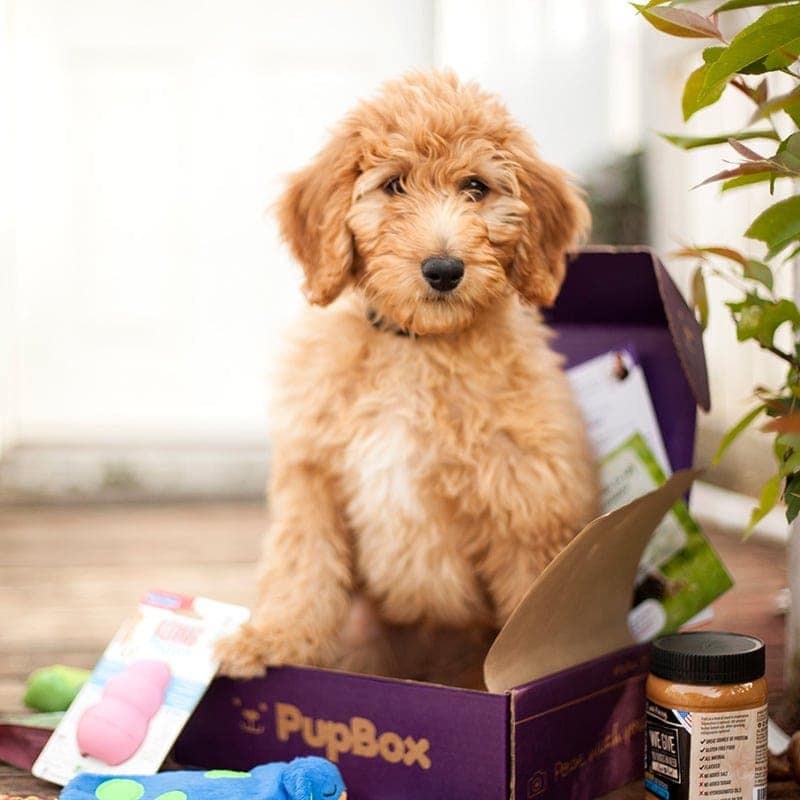 Our Final Verdict
We give PupBox a rating of 4.1 out of 5 stars.
Editor Rating: 4/5
Selection: 4/5
Quality: 4.5/5
Availability: 4/5
Price: 4/5
What Is PupBox? How Does It Work?
PupBox is a subscription service that sends you toys, treats, and other goodies for your dog every month. You sign up and give them your credit card information, and every month, you'll get a new PupBox in the mail.
You start by filling out a questionnaire about your dog, including their age, breed, likes and dislikes, etc. The manufacturer uses this to customize a box especially for your dog, although every shipment includes at least one toy, treats or chews, a training aid, and an accessory of some sort.
The service is geared toward people who want to spoil their dogs, as well as those who can't go to the pet store as often as they'd like to get gear for their pups.
As you might expect, though, the company charges a premium for the convenience, and you'll likely end up paying more for the stuff than you would if you bought it all individually. Also, you'll likely get a few things that you wouldn't have bought yourself, which can be both a good and bad thing.
The company actually started on the popular TV show "Shark Tank," although they've since been bought by Petco. PupBox is one of the most popular dog subscription boxes in the world today, although there's little that differentiates them from the others besides their powerful corporate backers.
How to Sign Up for PupBox
Signing up for PupBox is simple. All you have to do is visit their website, where you'll be prompted to fill in basic information about your dog. The questions include the dog's size, gender, and coat length and are designed to allow PupBox to provide you with the most relevant items possible.
When you're done filling out their questionnaire, you'll give them your credit card information and choose your plan. They have different plans, from month-to-month to yearly options, with the longer subscriptions being cheaper.

PupBox — A Quick Look
Good assortment of items in each box
Training guides included in each shipment
Price is reasonable
Care is given to accommodate allergies
All items sourced from the U.S.A. or Canada
Geared more toward puppies than adult dogs
Subscriptions automatically renew
May be more expensive than buying items yourself
You likely won't need all the things they send
Does little to distinguish itself from similar services
PupBox Pricing
PupBox's prices are reasonable, with the most expensive subscription clocking in at around $40 or so. It offers discounts if you sign up for longer subscriptions, so you can likely knock off $10 that price with a lengthier commitment.
PupBox is one of the more expensive subscription services, but not so much that it's a dealbreaker.
The company claims that you'll save money compared to buying all the items in the box individually; while that may be true, you might not want to buy every item in the box if you were shopping on your own. As such, it's a difficult claim to judge with any objectivity.
What to Expect From PupBox
Every month, you'll receive a box full of goodies. The items inside each box were supposedly chosen specifically for your dog (although it's more likely that the PupBox team just groups each dog into different categories than individually curates each shipment).
The boxes are designed for a single dog, although obviously, that dog can share with siblings. You can't add a second dog to the subscription, though; if you want each pup to get their own box, they each need their own subscription (and there are no discounts for multiple pets).
Your card will be charged on the same day every month until your subscription ends (this day will be the day that you signed up). Also, it's important to realize that once your subscription is over, it will automatically renew for the same duration unless you take steps to cancel it.
So, if you originally signed up for a year-long subscription, you'll be automatically re-enrolled for another year once the subscription ends. This can come as a harsh surprise to people who forget to cut off their subscriptions, so don't let it slip your mind.
PupBox Contents
PupBox includes different items in each shipment, but they all fall into the same basic categories:
Toys
Treats and/or chews
Training aids
Accessories like grooming products or cleaning essentials
The boxes are designed to "grow" with your dog, so if you start when your pooch is a puppy, each box will reflect a different stage of their development.
For example, when your dog is at an age where they're expected to be teething, the PupBox will be loaded with chew toys and the like. This age-specificity stops when the dog reaches adulthood, though.
PupBox Uses the Information That You Give Them to Pack Your Boxes
The survey you fill out before you sign up isn't just for show — the PupBox team actually uses that information to put your shipment together.
That means they will avoid putting in certain treats if your dog has an allergy or they will give your pup tougher toys if they're a breed known to be a power chewer. The boxes aren't quite bespoke, but it's nice to know that someone over there is paying attention.
There's an Emphasis on Education as Much as Entertainment
Some of the items in each box are purely meant for fun, like the treats and some of the toys.
Others are designed to help you train your dog (especially if they're puppies). You might get an educational toy like a puzzle, or you might get a clicker and a treat bag for obedience work.
You're not on your own with all this either. Each box includes an insert meant to help you train your dog using positive reinforcement techniques. It's like having your own personal dog trainer who shows up once a month bearing gifts.
PupBox Tries to Use Only the Best Ingredients Possible
It would be a stretch to call the food items inside each box "healthy," but we can definitely say that they're not as bad for your pup as they could be.
There will never be any rawhides in any package, as those are heavily treated with chemicals and can pose a choking hazard. Likewise, if your dog has a food allergy, care will be taken to respect it. All the food items are made in the U.S.A. or Canada.
Of course, at the end of the day, the treats are still treats. They're going to be fattening for your pup, and don't expect them to have only organic ingredients or free-range meat or anything like that. You'll find fillers, preservatives, and animal by-products in them, but there shouldn't be anything more nefarious than that inside.
You Can't Customize Your PupBoxes
PupBox will replace any items that are defective or don't meet your standards, and you can ask them not to give you certain items moving forward. However, if you want the ability to pick out what your dog gets each month, you won't find it here.
You can't change the composition of your boxes either. If you want more toys or fewer treats or something, you're out of luck. You get what they give you and hopefully, your dog likes it.
They do have an online store where you can purchase items that were previously featured in PupBoxes, so if there's something that your dog especially loved, you can give it to them again.
Is PupBox a Good Value?
This is a tricky question to answer. It all depends on what you value and how willing you are to shop for your dog yourself.
The service is undoubtedly convenient, and if you have no idea what to buy for a dog (especially a growing puppy), it takes the guesswork out of everything. You can also rest assured that the toys and treats are suitable and relatively healthy for your pooch.
However, when you let someone else shop for your dog, their choices will be imperfect at best. It's unavoidable — after all, they don't know what your dog likes or dislikes.
If you were to take the money that you would spend on a PupBox and walk into a pet store with it, you'd likely end up with very different purchases than what PupBox gives you. Then again, if you're too busy to go to a pet store, PupBox can be a lifesaver.
Make sure you're committed before you sign up, though. If you want out of your contract, they'll charge you the remaining balance, which often comes as an unpleasant surprise to people.

FAQ
Is it easy to cancel the PupBox subscription?
Yes. All you have to do is go to your account settings on their website and click the "cancel my subscription" button. You can also contact them directly if you feel more comfortable doing that.
How does PupBox compare to other dog subscription boxes?
It's a bit pricier than many other options, and PupBox is much more geared toward puppies than other services. Past that, though, there's not much that distinguishes it from the competition. It shares many of the same strengths and weaknesses of other subscription services.
Are their toys durable?
Relatively speaking. They're not designed for super chewers, although PupBox will provide tougher toys if you tell them that you have a Pit Bull or another heavy-chewing breed. Their toys are similar to the middle-of-the-road options that you'd find at a pet store.
What the Users Say
PupBox is one of the more popular dog subscription websites on the internet, so there's a fair amount of user feedback to wade through. The results are fairly predictable: People love the convenience but hate the commitment.
Reviews of the quality of the items (or more specifically, the toys) are mixed. Many people say that they're wonderful, while others say that their dog made short work of everything in the box. You know your dog — if they shred anything they come in contact with, the toys from PupBox likely won't stand much of a chance against them.
Their training aids generally get more favorable reviews. If you're extremely experienced with dog training, some of the information may be old hat, but for everyone else, it should come in handy.
Most of all, people love that their dog will have fresh toys and treats to enjoy every month. It's a great way to spoil your best friend, and it requires almost no effort on your part.
However, people hate the fact that the subscription automatically renews and that they can't get out of their subscription early. This is truly a commitment, so don't sign up unless you're sure that you want to be in it for the long haul.

Conclusion
If you want to spoil your dog every month (but don't want to go through the hassle of actually shopping for them), then PupBox is a convenient solution to your problem. For a fee, you'll get a box every month that's full of treats, toys, and training aids.
It's not perfect, however. There's not much leeway for customization, and getting out of your contract (or not getting roped into a new one) can be a pain.
At the end of the day, PupBox is a fun way to show your dog that you care.
---
Featured Image Credit: Kochmarjova, Shutterstock