5 Puppy Deposit Contract Templates (PDF) + Guide in 2023

Deciding to bring a puppy into your home is full of all sorts of joy. Along with that joy, though, comes the learning process of how to purchase a quality pup. Legitimate breeders with a fantastic reputation might have a few more extensive hoops to jump through, but the product is much more rewarding.
After all, with good breeders comes the assurance that your puppy is healthy, loved, and well-socialized. If you have ever heard of the puppy contract, you might wonder what it's all about. Or, if you're a breeder, you might want to consider deposit contracts when you place your puppies. Let's go over the importance of contracts and how they protect puppies in the long run.

The Importance of Using a Contract for a Deposit on a Puppy
Putting a deposit down on a puppy has benefits for both the buyer and the seller. Even though it might seem like a lot to dish out at once without genuinely knowing the pup, it ensures the buyer is serious and should bring peace of mind knowing that the puppy is well cared for.
Signing a Contract 
If you are putting down a large chunk of money on a puppy that you may or may not have met, it might seem a little scary. After all, how do you know you're compatible with a puppy, and is the deposit away to scam you out of your hard-earned cash?
This practice is actually widespread to protect the buyer and the breeder and secure the puppy that you want the most. If you're worried about putting down a deposit before you meet the puppies, many breeders will work with you so that you can view them beforehand.
Offering the Contract
There's no denying that breeders adore their puppies. The love of the particular breed is likely the main reason why people get into the business in the first place.
The last thing that a breeder wants is one of their beloved puppies to enter a home where they're not wanted, as they know the dangers of shelters and continuous rehoming. A deposit contract verify that the buyer is serious, so you don't have to worry about backing out or falling through.
What Questions Should You Ask Before Committing to a Deposit?
To protect your purchase and ensure you were getting a quality puppy, you were going to have plenty of questions of your own. Some really great ones to start with are:
What are the parent's temperaments like? Knowing each of the parents' behaviors gives you an excellent indication of what you can expect for your full-grown dog. If there are existing behavioral problems or certain tendencies, you can know that ahead of time.
Have the puppies had any previous vetting or shots? Most reputable breeders make sure to have all of the puppy's vet checked with their first round of shots before they go to their new homes. You need to know if this has already happened before when you take your dog to the vet for the first time.
How large will the puppy get once it is fully grown? You can have a pretty good idea about how big your dog will get based on the breed itself. But if you know both parents' weight, you can get a particular average on what to expect with your individual pup.
Are there any known health issues in the bloodline? Health issues might side-blinded you as well as create expenses down the line. Knowing if there are any genetic health issues in the bloodline will help you better prepare for the future.
What type of puppy food will they be on when they begin to eat solids? Transitioning food is important, especially when it comes to a puppy's sensitive gut. If you plan on changing their food, it's essential to know what food they are currently on so that you can begin the process slowly. Or, you can always keep them on the same food throughout their puppy years.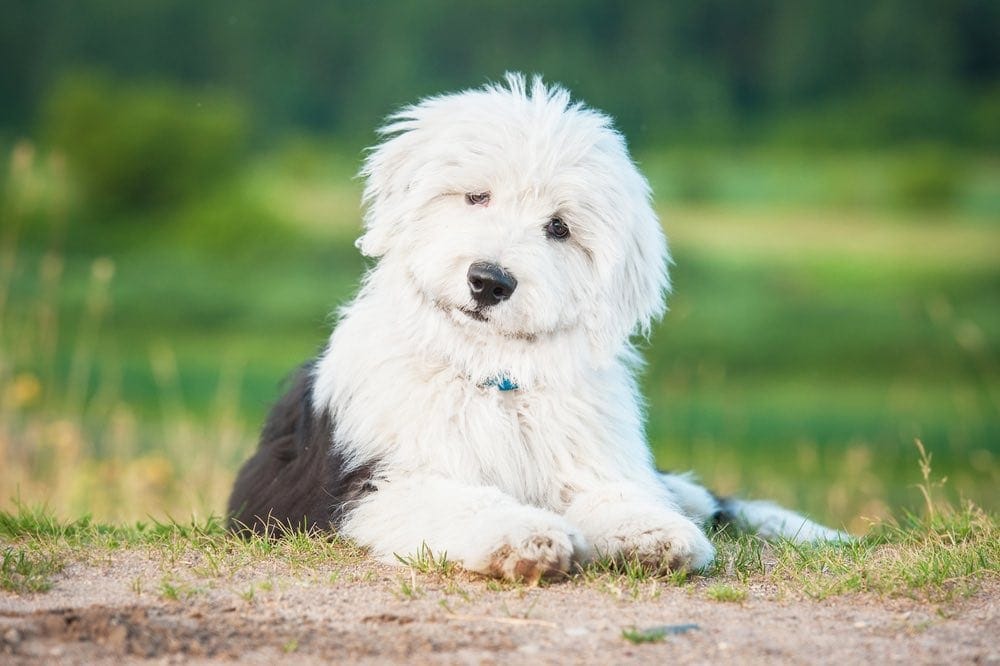 The 5+ Puppy Deposit Contract Templates
Here are a few fantastic puppy deposit templates. If you are a seller, you can use these templates and tailor them to fit your needs. If you're a buyer, this can give you a good indication of what you can expect when you sign for your dog.
1.

Eforms Dog (Puppy) Deposit Receipt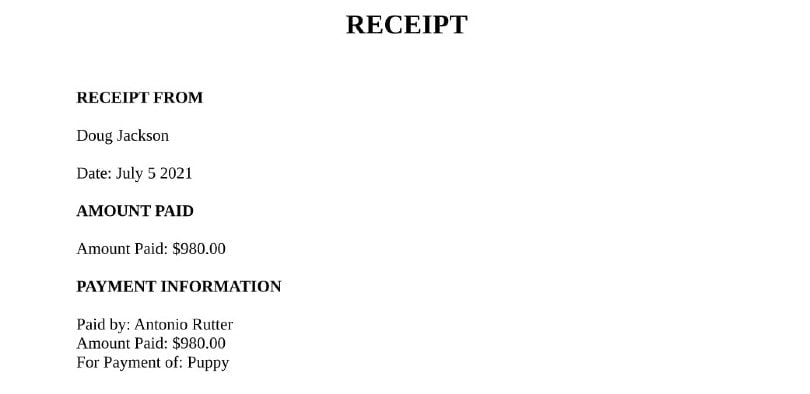 The Eforms Dog (Puppy) Deposit Receipt is a versatile choice. You can put the buyer's name and information at the top. Then, there is a spot to put the puppy's information specifically, such as the gender or markings—as well as total cost.
You can add how the person paid, whether it be check, cash, or another method. That allows you to place how many days the deposit is held and whether it is refundable or non-refundable. It has a spot for the seller to place their signature and information at the bottom.
This template is thorough but simple, allowing you to select from a variety of different options.
---
2.

Receipt Template Puppy Deposit Receipt
The Receipt Template Puppy Deposit Receipt is an outline for a non-refundable puppy deposit. You can download the template and tailor it to fit your needs. It allows you a space to put how much the deposit is, the puppy's information, and how many days the buyer has to pay the full balance.
Both the buyer and seller sign and print their names at the bottom.
It's a straightforward form for breeders who require non-refundable deposits only for their puppies.
---
3.

Online Invoice Dog (Puppy) Deposit Receipt Template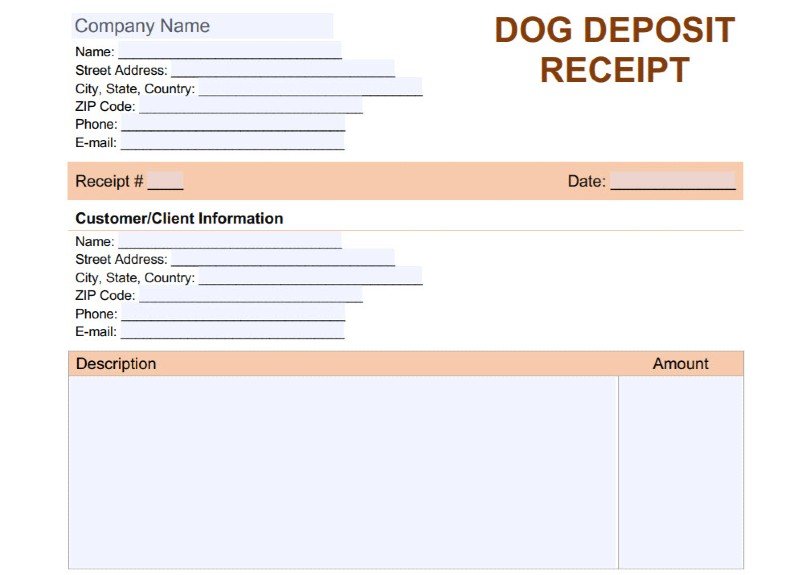 The Online Invoice Dog (Puppy) Deposit Receipt Template allows you to tailor all of your required information personally. At the top, it has all of the breeder's personal information for the business. There is a place to put the receipt number and date. Next, you have the customer's information portion.
There's an entire box where the seller can add the puppy's description as well as the cost. At the bottom, you can fill in the deposit amount and payment method. There is a spot where the customer can sign at the very bottom. You can use this as an online form or a downloadable printable copy.
---
4.

Bill of Sale / Sales Contract for Dog or Puppy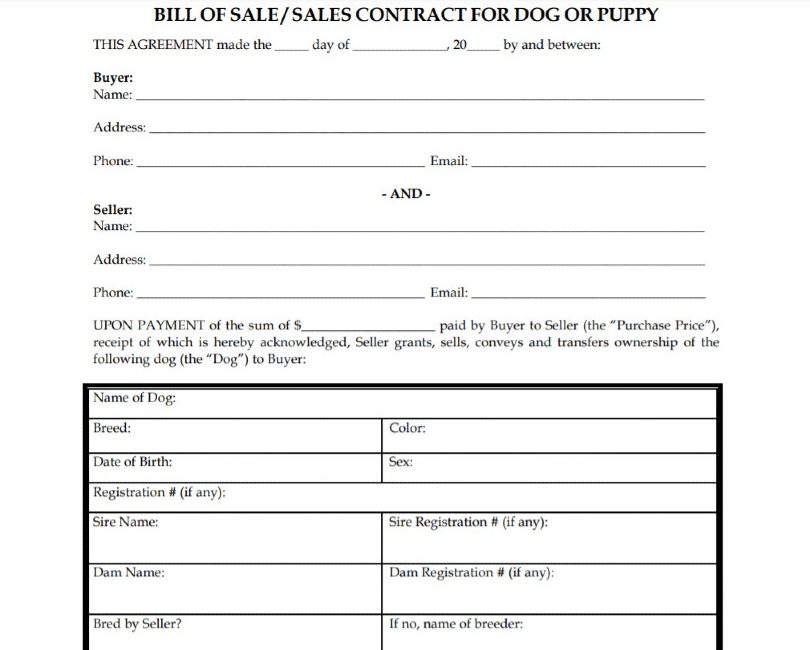 The Bill of Sale / Sales Contract for Dog or Puppy is a highly customizable template for your purchase. It has both the buyer and seller's information at the top portion of the receipt. In the middle, it has all of the puppy's information and the sire and dame registration.
The bottom portion has a complete list of terms and conditions if you want to get extremely specific with purchase. This template offers a comprehensive agreement that solidifies the buyer and seller's relationship, extensively explaining both party's responsibilities.
If you require being more thorough, this is a perfect option.
---
5.

Word Templates Online Dog/Puppy Bill of Sale Form (Free)
On the Word Templates Online Dog/Puppy Bill of Sale Form (Free) page, you can select from pages of downloadable pet deposit forms. You can scour the entire site looking for a deposit page that replicates what you're looking for.
You can choose a template that is as simple or complex as you choose. There are also options to customize your own template completely. So, if none of the others on our list sufficed, browsing through this list of forms will allow you to get the best option for your circumstances.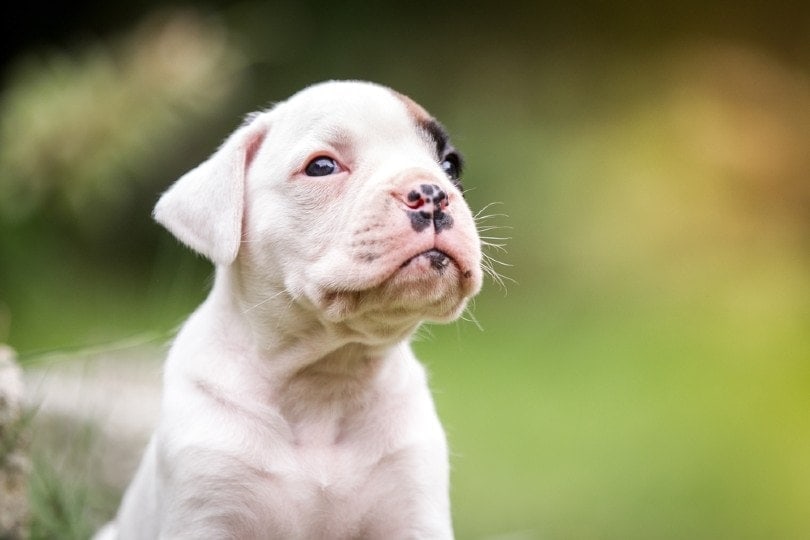 Why Do Breeders Often Ask for Non-Refundable Deposits?
When breeders are placing puppies into their forever homes, they want to make sure that the buyer is committed and serious about the puppy. To prevent the possibility of wasting time, many require a non-refundable deposit.
This lets the breeder know that you are 100% serious about the purchase, which prevents the puppy from finding their home with another family that could be on the search.
What Else to Expect from a Responsible Breeder
Much like many other products, the better something is, the more it costs. Many people don't understand the expense that comes with breeding these beautiful animals. Some breeds will be more expensive to maintain than others.
For instance, French bulldogs and English bulldogs often require C-sections to deliver their puppy successfully. In contrast, many other breeds can have puppies with little to no complications. Dogs are sometimes more expensive due to the medical processes involved in bringing them into the world.
How to Prepare After Signing Your Deposit But Before Bringing Your Puppy Home
Once you submit the deposit payment, you can start preparing your home for your puppy's arrival. You will have a few weeks before they arrive, so you get to make a few changes around your home to accommodate the dog better.
This is both an exciting and stressful time, as you're trying to make sure you have all your ducks in a row before bringing your little guy or gal home.
Make sure you have all the necessary supplies.
Choose your veterinarian.
Decide where you're going to take your dog to go to the bathroom.
Make sure you have security for your puppy.
Take your existing dogs for a meeting greet.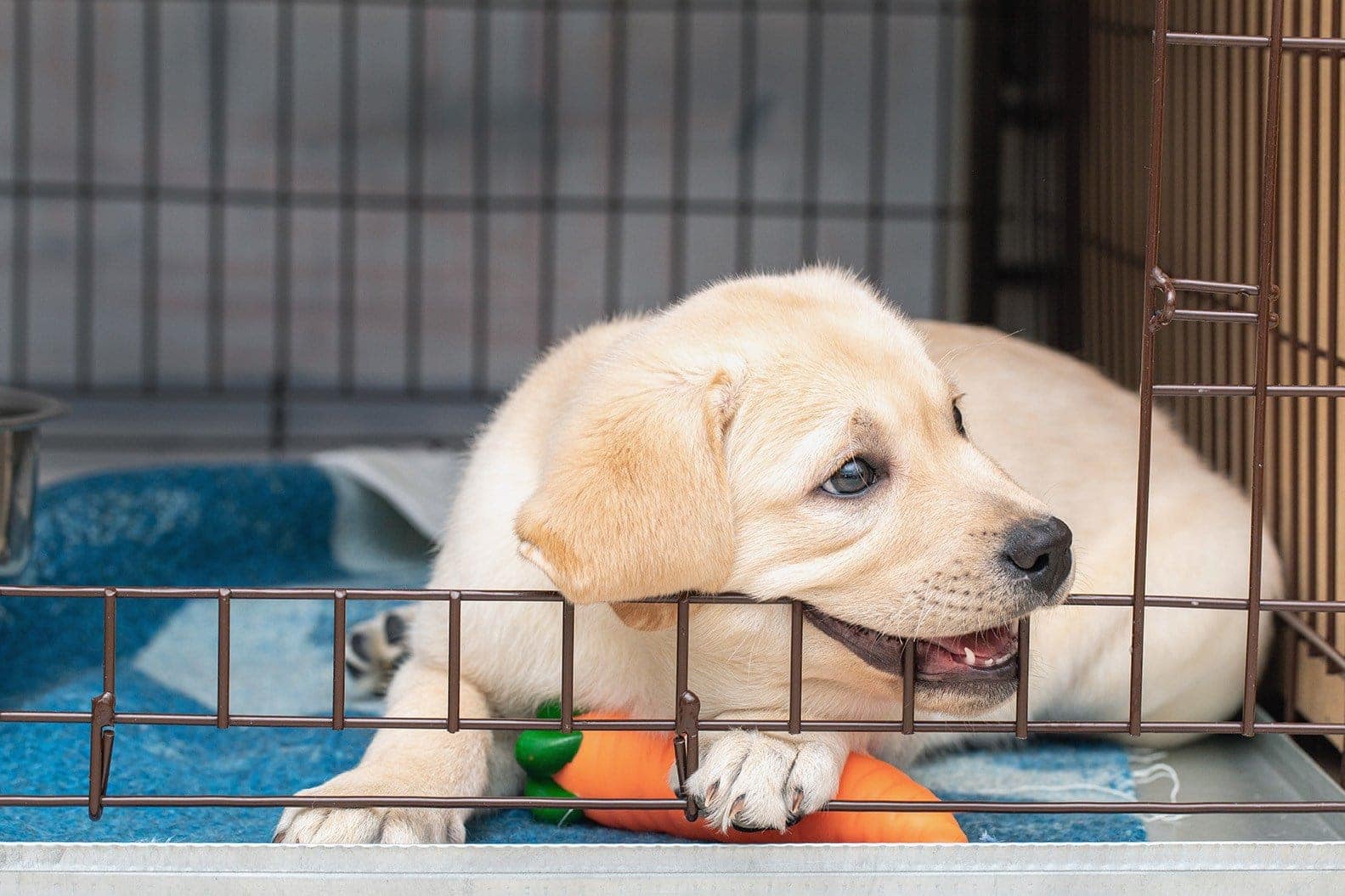 Conclusion: Puppy Deposit Contract Templates
Offering or signing a puppy deposit contract is an excellent way for both parties to ensure that they are making the right choice. For the seller, it gives security for puppy placement. For the buyer, it secures the puppy that you want to make sure that you're getting what you pay for.
Breeders and buyers will benefit significantly from this contract.
Related Reads:
---
Featured Image Credit: Ilona Krijgsman, Pixabay