4 Dog Walking Contract Templates (PDF) in 2023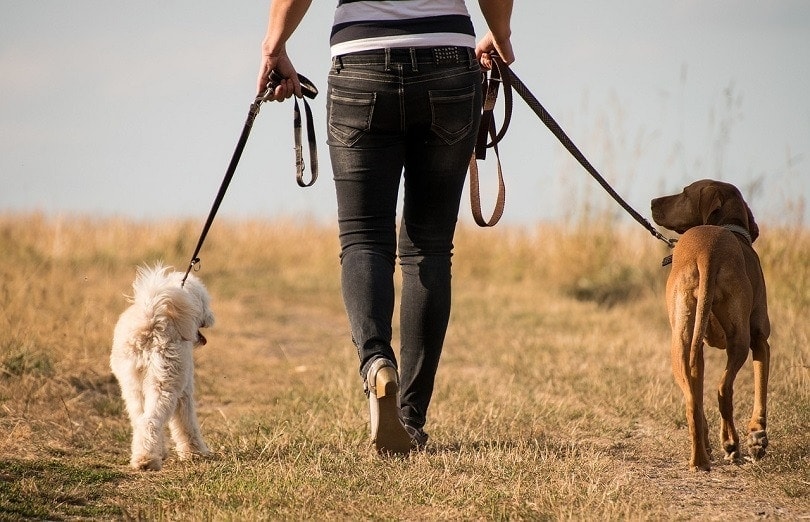 Dog walking is a booming business. It's estimated that there are over 15,000 professional dog walkers in the United States as of 2020, and that number is expected to grow in the years to come.
It's not hard to see why this career is so popular. Becoming a dog walker allows you to set your own schedule while earning money spending time with adorable puppies — what's not to love?
On the other side of the equation, dog owners are always in need of someone they can trust to look after their beloved pets. A good dog walker is worth their weight in gold.
However, sometimes, things go wrong — or maybe you just want peace of mind in case something goes wrong. That's why it's always smart to have a dog walking contract agreed upon and signed before Fido goes on their first walk. It's the best way to protect both the walker and owner from legal trouble down the line.
We go over everything that should be covered in a dog walking contract, so both parties can feel good about the arrangement.

Why Should I Use a Contract for Dog Walking?
The fact of the matter is that dogs are special animals. They have tremendous sentimental (and therefore, monetary) value, but they can also cause damage to property and people. When dogs get lost or stolen or cause havoc, someone has to be held legally responsible.
If you wait until after the fact to determine who is responsible for what, there's a good chance that whatever solution you come up with will be unsatisfactory for everyone involved. What's more, an innocent party may end up on the hook for most of the damages.
Dog walkers should want contracts because they'll spell out what, exactly, the walker is responsible for. If they provide things like training, feeding, playtime, etc., that needs to be explicitly stated in the contract. This allows everyone to know what's expected from each session.
Owners, on the other hand, should want to know what the walker will be doing with their pup, as well as what their recourse is if they don't. It should also spell out who's responsible if the dog gets lost or stolen.
There's also the elephant in the room: What if the dog attacks someone, like the dog walker or a stranger? Who's responsible for that?
The answer is something that should be agreed upon in writing before the dog-walking services begin.
Most Important Aspects to Include in Your Dog Walking Contract
Every dog walking contract may be a little bit different, depending on the specifics of the animal and walker involved.
However, there are a few things that should always be in a dog walking contract
Services and Rates: All parties should be agreed on what duties the dog walker will perform and at what prices. A dog walker may also want to list any potential add-on services that are available, as well as what they cost. This way, the walker doesn't get stuck doing a bunch of chores that they never agreed to, while the owner has a clear idea of what's being done on their dog's behalf and how much it costs.
Terms of Service: Is this going to be an ongoing arrangement, or is there a set end date? Can either side sever the contract at any time? This should also spell out exactly which dogs the services will apply to, in the case of a multi-pet home.
Emergency Protocol: What should the dog walker do if the animal gets sick or injured in their care? Do they have the authority to authorize any medical treatment necessary, regardless of price? Who pays for the treatment and how do you determine price? All of this should be covered in the contract.
Cancellation Policies: If the owner doesn't need their dog walked, how much advance notice is required? Is there a fee if said notice isn't given? Does the walker have the right to cancel services in case of personal emergency, inclement weather, etc.? If so, how will they make up the lost session to the owner?
Liability: This is the biggie. It determines who's legally responsible in case things go wrong. Many dog walkers include a release of liability clause in their contracts so they're not responsible for the dog's misbehavior. This release of liability may not cover incidents that are a direct result of the walker's negligence, however.
Medical History: Most walkers will want detailed health records for the dogs they're assuming control over, especially if that dog has medical conditions. This can be useful in case of emergency, as the walker will know how to deal with that dog's specific issues, as well as fill in the vet on all the necessary details.
Other Terms and Conditions: Most walkers will want to specify how they provide their services, such as what kind of leash and collar are used, what training methods (if any) will be applied, and so on. This allows the owner to determine if you're a good fit from a philosophical perspective, while also ensuring that there aren't any nasty surprises later on.

Here Are 4 Dog Walking Contract Templates
1.

Free Dog Walking Contract Template from PandaDoc.com
This template is fairly barebones and straightforward, but it covers all the most important bases. Things like terms of service, duration of contract, and indemnification are all spelled out so there's no confusion. It may not cover every possible situation under the sun, but if short and sweet is what you're after, it's a good choice.
---
2.

Free Dog Walking Contract from Rocket Lawyer
If you want something a little more specific, this template from Rocket Lawyer lets you fill in personal information about your business and services, helping you customize it to your liking. It's not quite as comprehensive as consulting an actual attorney, but it's close — and it's cheaper and easier too.
---
3.

Free Dog Walking Agreement from LegalZoom
Anyone who wants to create an individual contract for every one of their clients should consider this option from LegalZoom. The site boasts an easy-to-use template that allows you to fill in all the pertinent information, and then it will spit out the legally binding document. It's quick, easy, and personalized, which is all you can really ask for.
---
4.

Free Dog Walking Contract Template from AtYourBusiness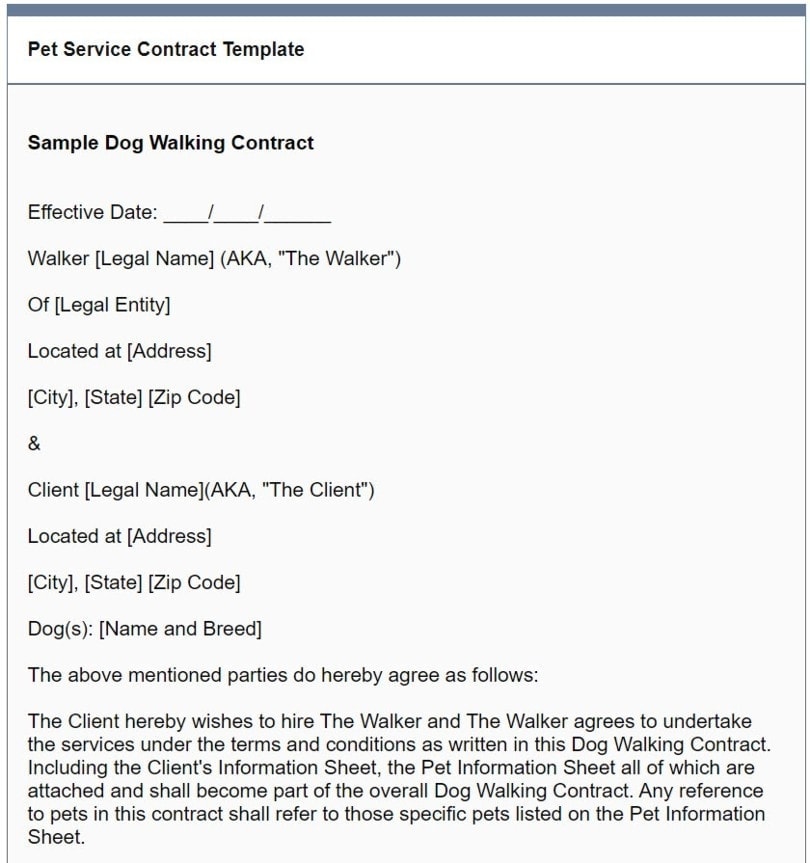 There's no fuss or muss with this contract from AtYourBusiness. It's short and to the point and covers the broadest terms possible. There aren't any customization options, though, so if this cookie-cutter doc doesn't work for you, you should look elsewhere. It may be perfect for anyone doing business with friends and family, though.

What Other Information Should a Dog Walker Be Provided?
There's no set answer to this question; the best rule of thumb we can provide is that you should tell your dog walker whatever you want them to know.
If they're going to be spending time with your dog inside your house, they should have a general lay of the land, as well as an idea of what they're allowed to use and what's off-limits.
The location of the dog's food, treats, and medicine should be given to the walker, as well as instructions for each. You can also tell them your dog's favorite toys and games, as well as what kind of toys your pooch isn't allowed to play with.
Contact information for neighbors or local friends and family should be shared, just in case there's an emergency and the owner can't make it back quickly. You should also let your neighbors know that your dog walker will be entering your house regularly, just so the cops aren't called (introducing the walker to your neighbors is an even better idea).
You should also let your dog walker know what vet you use, as well as any emergency backups in case your primary provider isn't available. Likewise, your vet should be aware that there's the possibility that someone other than you could rush your dog in to see them.

What About Key Handling, House Rules, and Cancellations?
These are all things that should be expressly mentioned in the contract. Let's go into more detail.
Key Handling: The terms under which the key to your home will be transferred to the walker and back again should be clearly spelled out. This could mean specifying a hiding place or using a key lock with a combination. There should also be language in the contract describing what will happen if either party fails to hold up their end of the bargain — that is, if the owner forgets to leave a key or the walker loses the one provided.
House Rules: This should be as specific as possible if the walker will be in your house for any length of time. They need to know what areas of the house they're allowed in, what items they're allowed to use (or food they're allowed to consume), whether they need to take their shoes off before entering, etc. If this isn't explicitly spelled out ahead of time, don't be surprised if your walker unknowingly violates your "common sense" rules.
Cancellations: Cancellations will occur every now and then. Both parties should have a clear idea of what will happen when they do, such as how far in advance notice needs to be given, whether charges will apply, whether a substitute walker will be provided, etc. You don't want to have to hash all of this out at the last minute in the middle of an emergency.
Do I Need Special Insurance to Be a Dog Walker or Use One?
It's not legally required in order to do the job, but it's a good idea regardless. Ultimately, though, it will depend on your employment status.
If you're working for a dog walking agency and you get a W2, then you don't need any sort of insurance. Your employer should have you covered — and if they don't, they'll be the ones legally responsible, not you.
However, if you own your own dog walking business or work as an independent contractor, then you'll want to buy general liability insurance. It will protect you in case something happens during a walk, regardless of whether it was your fault or not.
Certain agencies have special types of liability insurance specifically for dog walkers. These may be worth looking into, but most general liability policies should cover the basics.

Conclusion: Dog Walking Contract Template
Becoming a dog walker — or hiring one — can be a surprisingly complicated endeavor, legally speaking. While a handshake agreement may be all that's necessary if nothing ever goes wrong, chances are that sooner or later, something bad will happen during a walk.
That's why a dog walking contract is so important. It allows all parties involved to feel protected against the unexpected, so they can worry less about any legal ramifications to their actions and focus more on what's truly important: that adorable pooch at the end of the leash.
Related Read:
---