PuzzlePaws Cat Toy Review 2023 – Pros, Cons, & Verdict


Review Summary
| | |
| --- | --- |
|  Editor Rating:  | 4.0/5 |
|  Build Quality: | 4.0/5 |
|  Features:  | 3.0/5 |
|  Price:  | 4.5/5 |
If you're looking for an interactive cat toy that can keep your cat entertained for hours, look no further than PuzzlePaws! While it's not the most groundbreaking product, it's a durable interactive cat toy at a great price. This is a treat-dispensing style toy that will keep your cat entertained as they work the treats out. Even better is that PuzzlePaws is a company that prioritizes quality over quantity, and it supports cat shelters with a portion of their proceeds. When you buy from PuzzlePaws, you're supporting a small business and various shelters. But how does this toy work, is it a good deal, and should you order one? We break down everything that you need to know about this interactive toy here.
PuzzlePaws — A Quick Look
Affordably priced
Intellectually stimulating
Durable design
Great price
Treat design keeps many cats interested
Easy for your cat to master
Cats can get bored with it
Too many treats can overfeed your cat
Specifications
| | |
| --- | --- |
|  Company: | PuzzlePaws |
|  Weight:  | 30 grams |
|  Size:  | 5.5 cm |
|  Colors: | Blue, pink, purple, green, and orange |
It Is Easy to Clean
With some cat toys, you only get so long until you need to replace them because they get filthy. That's the real beauty of PuzzlePaws. It's a complicated enough design to keep the treats from spilling out but simple enough that you can easily clean every nook and cranny. This means the PuzzlePaws can last as long as you need it to. For such an affordably priced cat toy that's a pretty big deal!
This Interactive Toy Keeps Your Cat Moving
Some cats will lounge around all day if you let them. While having a lazy day every now and again isn't that big of a deal, your cat needs a certain amount of activity to stay healthy. With PuzzlePaws, they get that activity, and you don't even need to force them to do it! Simply fill up the treat ball, and the rest is up to them.
The Company Supports Cat Rescues
What's better than giving your cat an interactive toy that they love? Ensuring that other cats get the same opportunity! That's exactly what you get with PuzzlePaws. A portion of every purchase goes to support cat rescues. It's a product that your cat will love, and you'll feel good about buying it. It's a true win-win.
There Are No Indentations for Opening
It's not a huge deal, but if you're struggling to open the PuzzlePaws to add treats and clean it, you're not the only one who has had problems. It's tight enough that it won't come open when your cat's bopping it around, but this can make it challenging to open yourself. There are no indentations for your fingers and nothing to help you out. It's a small thing, but it's something that PuzzlePaws could improve on.
FAQ
Are They Shipping Out PuzzlePaws Now?
Yes! While PuzzlePaws was in the developmental stage for a while, if you place your order now, they should send your cat toy right away!
Do You Get Discounts If You Buy In Bulk?
When you purchase in bulk with PuzzlePaws, you save money. For instance, a single PuzzlePaws costs £7. But when you buy two, that price drops to £13; for three, it's £19; four toys cost £25; and five toys cost £31. The more you buy, the more merch you get! When you purchase a five-pack, you also get two kitty keychains, a kitty café magnet, and a set of kitty ears!
How Long Do They Last?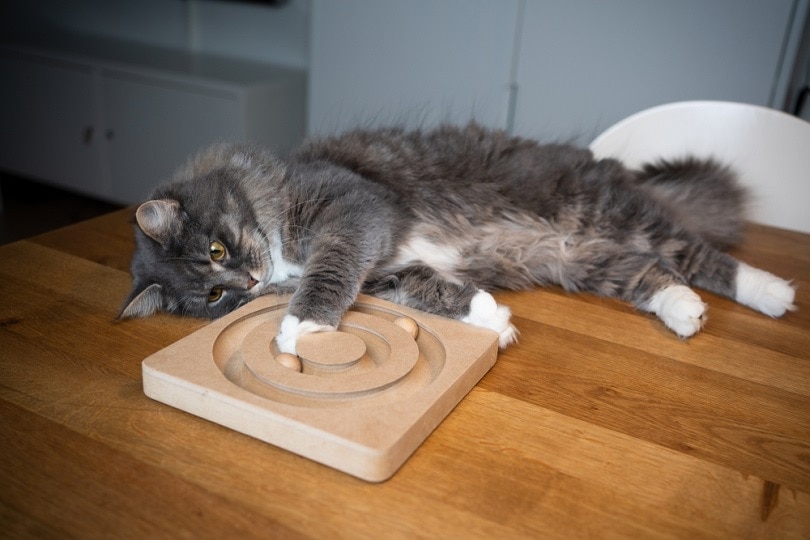 It's an extremely durable product, and if you care for it properly, there's no reason that it can't last 10 years or so. That said, if you have a cat that's constantly throwing it down the stairs or off other high objects, it might not last as long.
How Many PuzzlePaws Can I Buy?
Just because it's a project on Kickstarter doesn't mean you can't order as many as you'd like. If you're looking to stock up for your local shelter or to just get one for your kitty, order as many as you need!
What the Users Say
While it's great to hear about everything that PuzzlePaws claims to do for your cat, the true test is what the consumers think. We tracked down a few of the reviews and highlighted their findings here. In short, customers love PuzzlePaws. They report that the balls are extremely durable and long-lasting. They do note that some cats can get the treats out a bit too easily. Also, not all treats fit in as well as others. Taller treats struggle to come out of the toys, but the balls seem to work with common treat options like Temptations.
Conclusion
Don't overthink it. Give your cat a chance with the PuzzlePaws, and they'll appreciate it! While it might not seem like the most groundbreaking cat toy out there, it's a product that works well for an even better price. As demand goes up, you can expect the price to go up too! So, all you need to do is figure out what color you want and put in an order. Just don't wait too long!