12 Best Cat Toys – 2023 Reviews & Top Picks
Cats are inquisitive, playful creatures that need to be mentally engaged and entertained if you want them to live healthy, long lives. Plus, doing so will help to alleviate boredom, and when your cat is bored, it can easily start tearing up the house with those destructive claws and teeth. But nowadays, keeping your cat entertained is easier than ever before, thanks to the many toys on the market.
Some of these toys are electronic and can provide engagement beyond that of an inanimate toy. Others can hold treats or catnip to drive your cat crazy or make it work to earn its prize. Whichever you and your cat prefer, you're sure to find a great option on this list. We've even written up short reviews comparing each of these cat toys to help simplify the decision for you.
A Quick Comparison of Our Favorites – 2023 Update
Rating
Image
Product
Details

Best Overall

Hepper Catnip Stick Toy

100% organic catnip
Double bagged for durability
Soft pastel colors to choose from
Check Price

Best Value

Frisco Bird Feather Teaser Cat Toy

Dirt-cheap pricing
Great way to provide exercise
Spiked with Canadian catnip
Check Price

Premium Choice

Frisco Tracks Butterfly Cat Toy

Keeps your cat mentally stimulated
Provides multiple ways to play
Non-skid bottom
Check Price

Frisco Colorful Springs Cat Toy

10 springs for at minimal cost
Very affordably priced
Provides exercise and mental stimulation
Check Price

Hepper Fish Bone Cat Toy

Catnip
No fish smell
Natural cotton and linen
Check Price
The 12 Best Cat Toys
1.

Hepper Catnip Stick Toy – Best Overall
| | |
| --- | --- |
| Requires Human Input: | No |
| Holds Catnip or a Treat: | Yes |
| Material: | Linen, organic catnip |
If your cat is crazy for catnip, it will love the Hepper Catnip Stick Toy! Cat owners know how much their feline friend loves to sleep, but you can provide them with endless entertainment with a simple and effective toy to punch in a few extra hours of exercise.
The Hepper Catnip Stick Toy is double-bagged, so your cat can go nuts without destroying it in a few hours. It contains only 100% organic catnip and provides plenty of stimulation to cats affected by the herb. This toy is available in soft pastel colors, so you can choose one or two to compliment your home's aesthetic or coordinate the colors according to your cat's gender.
This cat toy will be a long-lasting favorite, so you can save on buying flimsy toys that are destroyed in seconds or swallowed by the furniture, never to be found again. A simple wipe will keep it clean, but it's not refillable.
100% organic catnip
Double bagged for durability
Soft pastel colors to choose from
Easy to clean
---
| | |
| --- | --- |
| Requires Human Input: | Yes |
| Holds Catnip or a Treat: | Yes |
| Material: | Polyester and feathers |
The Frisco Bird Teaser with feathers is proof that toys your cat will love don't have to cost a fortune. In fact, they hardly have to cost anything, as this toy is dirt-cheap. It's basically a little furry creature attached to a string at the end of a wand. You hold the wand and bounce the toy around, enticing your cat to pounce and play. It's a simple way to interact with your cat and give it some great exercise.
You'll have to be careful when using this toy because the string tends to tangle rather easily. But the wand is long enough to allow for vigorous play without any chance of being bitten. Your cat can get plenty of exercise, and you don't have to do much work to make that happen.
This toy is spiked with Canadian catnip to ensure your cat will be attracted. It's a simple device, but very effective, and at this price, it's really hard to beat. Overall, we believe it's one of the best cat toys for the money, and it has earned our recommendation for the best value cat toy.
Dirt-cheap pricing
Great way to provide exercise for your cat
It's spiked with Canadian catnip
Long wand prevents you from getting bitten
The string tangles easily
---
3.

Frisco Cat Tracks Butterfly Cat Toy – Premium Choice
| | |
| --- | --- |
| Requires Human Input: | No |
| Holds Catnip or a Treat: | No |
| Material: | Plastic |
Getting your cat to play with toys is about mental stimulation and engagement as much as it is about physical activity. With the Frisco Cat Tracks Butterfly cat toy, you can easily provide both for your feline, and it takes no input from you. This three-tiered toy provides several different ways for your cat to play, ensuring that boredom will be staved off for quite some time.
On the downside, this toy is a bit pricier than many alternatives. It's also loaded with premium features, such as the butterfly on top that jumps around and goads your cat into pouncing. The bottom is also non-skid to prevent it from sliding around on hard floors. In the end, we think it's worth the slightly higher cost since it's capable of keeping cats entertained for extended periods of time.
Keeps your cat engaged without your input
Provides multiple ways to play
Non-skid bottom to prevent sliding
Keeps your cat mentally stimulated
It's more expensive than other cat toys
---
4.

Frisco Colorful Springs Cat Toy
| | |
| --- | --- |
| Requires Human Input: | No |
| Holds Catnip or a Treat: | No |
| Material: | Plastic |
These colorful plastic springs from Frisco almost seem too simple to provide as much entertainment for your cat as they do. When your cat starts to mess with them, they'll go bouncing all over, keeping your cat endlessly engaged. Unfortunately, many of them will end up getting lodged into tight spaces and under your furniture, so expect to spend quite a bit of time fishing plastic springs out of various nooks and crannies in your home!
One great thing about these springs is how affordable they are. For just a few bucks, you'll get 10 springs, so even if a few get lost in your home, there should be plenty to keep your cat entertained. Not only will your cat be mentally stimulated while playing with these springs, but it will also get plenty of physical activity chasing around the springs as they scatter!
You get 10 springs for at minimal cost
Very affordably priced
Provides exercise and mental stimulation
Springs will often get stuck in various places
---
5.

Hepper Fish Bone Cat Toy 
| | |
| --- | --- |
| Requires Human Input: | No |
| Holds Catnip or a Treat: | Yes |
| Material: | Linen,  cotton, polyester |
If there's one thing that cats are sure to love, it's fish. Unfortunately for us and our houses, fish can be incredibly smelly. The Hepper Fish Bone Cat Toy takes this downside away and enables our cats to play with fish without unpleasant and lingering odors. The design of this cat toy has a humorous fishbone shape and catnip to entice your cat to play.
This toy is handmade with non-toxic and soft materials to ensure your cat's playtime is safe. The natural cotton and linen materials are combined with polyester for extra durability during rough play sessions. Plus, there are no hard eyes or additions that could potentially fall off and harm your cat.
Due to the catnip scent of this product, washing is not recommended because it may remove the enticing smell. As a result, it can be difficult to keep this toy clean, especially if it ends up being knocked under furniture. There's also no way to replace the catnip if the scent wears off.
Catnip
Handmade
Natural cotton and linen
No fish smell
Not washable
There's no way to replace catnip
---
6.

Yeowww! Catnip Yellow Banana Cat Toy
| | |
| --- | --- |
| Requires Human Input: | No |
| Holds Catnip or a Treat: | Yes |
| Material: | Cotton twill |
Yeowww! Catnip Yellow Banana comes pre-stuffed with 100% organic catnip to entice your cat. Your cat will probably be excited to play with the toy before you even get it unpacked!
This toy is crafted from durable cotton twill that's safe for cats and durable enough not to be destroyed by sharp claws and teeth. There are no fillers or plastic used in its construction, and the only colorings used are made from soy and natural vegetables.
It's hard to imagine any feline not falling in love with this banana catnip toy. More than likely, your cat will become highly possessive of it, showing serious displeasure if you attempt to move it or touch it. Aside from the addiction factor, there's not much to dislike about this toy. It comes ready to play with right out of the box, so no input is needed from you. Just give it to your cat and let the entertainment begin.
Contains no fillers or plastic
Crafted from durable cotton twill
Only natural vegetable and soy-based coloring used
Your cat may become highly possessive of its banana!
---
7.

Ethical Pet Laser Exerciser Cat Toy
| | |
| --- | --- |
| Requires Human Input: | Yes |
| Holds Catnip or a Treat: | No |
| Material: | Metal |
Everyone knows that cats love to chase around laser pointers. Unfortunately, many laser pointers are actually dangerous and can even cause blindness if pointed into the eye. The Ethical Pet Laser Exerciser emits safe white and red lights so you can have all the fun of watching your cat chase a red dot without any chance of causing harm. It's an easy way for you to stay engaged with your cat, but you can do it from the comfort of your favorite chair.
We found that this laser falls short in two key areas. It's not built very well, so many of them appear to fall apart when you attempt to change the batteries. Also, it seems that these lasers have a very short usable lifespan before they cease working. Thankfully, they're very cheaply priced, so it's not a major loss when this happens, though it's still disappointing.
Provides engagement for user and pet alike
Emits safe white and red lights
Sub-par construction
Short laser lifespan
---
8.

SmartyKat Hot Pursuit Electronic Motion Cat Toy
| | |
| --- | --- |
| Requires Human Input: | Yes |
| Holds Catnip or a Treat: | No |
| Material: | Plastic |
The SmartyKat Hot Pursuit Electronic Concealed Motion cat toy is a great concept with poor execution that prevents it from working as well as it could. It's an electronic cat toy that spins a furry mouse-like item around a circle, which will motivate your cat to pounce on it. A small motor in the middle of the device moves the mouse, while a pad covers the motor. But the pad is too big and prevents the mouse from sticking out far enough for your cat to catch.
For the price, there are many cat toys you could get instead, but we like the idea of an automated toy that makes your cat feel like it's hunting. This one even offers multiple speeds to vary up the way your cat can play. If it performed a bit better, this product would probably be near the top of our list, but sub-par performance prevents it from climbing out of the bottom half.
Electronic mouse toy moves on its own
Multiple speeds
Keeps your cat engaged and entertained
Pricier than alternatives
The fur toy never quite makes it out of the fabric circle
---
9.

Frisco Refillable Brown Squirrel Catnip Cat Toy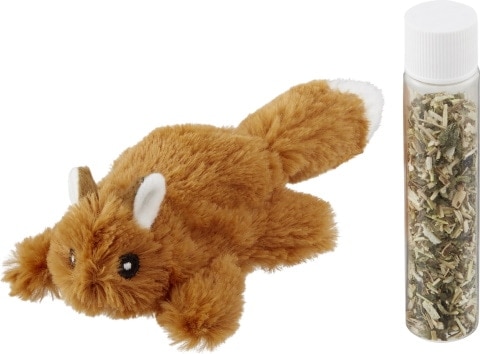 | | |
| --- | --- |
| Requires Human Input: | No |
| Holds Catnip or a Treat: | Yes |
| Material: | Polyester |
It's generally a good bit that any toy filled with catnip will attract your cat. This brown squirrel toy from Frisco features a refillable cylinder for holding catnip. It's a great idea, but many cats are able to get this cylinder out and open it, which results in a rather sizable mess.
This toy turns out to be much smaller than it appears in pictures, though it's still big enough for most cats to play with. Catnip already fills the cylinder inside the toy, so you won't need to purchase any separately. If the cover of the toy gets too dirty from rough play, it's machine washable, so you can keep it looking good as long as it survives your cat's claws.
Can be easily refilled
Machine washable
Catnip included with the toy
The toy is much smaller than anticipated
Some cats can open the catnip and make a mess
---
10.

Frisco Moppy Balls Cat Toy
| | |
| --- | --- |
| Requires Human Input: | No |
| Holds Catnip or a Treat: | Yes |
| Material: | Polyester |
Frisco Moppy Balls are as simple as cat toys come. They're just little floppy balls made out of soft material. While some cats might be attracted to such a toy, there's not enough here to stimulate many felines. Still, it's an affordable toy that can be easily tossed and pounced on, allowing you to play with your cat or for it to play solo when you're busy.
Unfortunately, it feels like an opportunity was missed since these balls don't have a compartment for holding catnip. That would help with the toy's main problem, which is that it doesn't hold cats' attention for very long.
Floppy texture entices play
Ideal for interactive or solo play
Balls don't seem to hold cats' interest for long
Many cats are uninterested in this toy
---
11.

Catit Senses Motion Illuminated Cat Toy Balls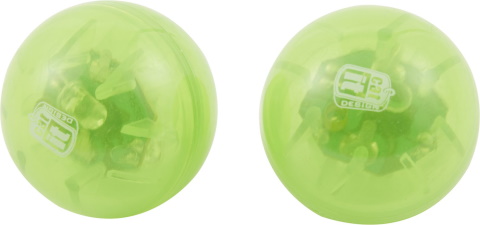 | | |
| --- | --- |
| Requires Human Input: | No |
| Holds Catnip or a Treat: | No |
| Material: | Polyester |
Balls with motion-activated lights seem like they'd be a big hit with cats, and the idea is certainly a sound one. When these balls move, they light up, and the flashing lights will rile your cat up for playtime. Well, that's how they should work, but the lights aren't sensitive enough, so the balls have to be hit pretty hard for the lights to activate.
Still, these balls roll easily, so once your cat starts playing with them, they'll likely travel all over. Soon, the batteries will start to die, as the battery life of this toy is rather dismal. That's when you'll notice the biggest drawback of this toy; you can't replace the batteries! Instead, you'll have to replace the entire toy, which seems like a major design flaw.
The balls contain motion-activated lights
Smooth surfaces let the balls roll easily
Batteries can't be replaced
Limited lifespan
The lights aren't sensitive enough
---
12.

Hexbug Mouse Robotic Cat Toy
| | |
| --- | --- |
| Requires Human Input: | Yes |
| Holds Catnip or a Treat: | No |
| Material: | Plastic, rubber |
Here's another toy that seems great in concept but doesn't quite work out the way we hoped. An automated robotic mouse sounds like the perfect toy for a cat. This one is a bit too fragile though, and parts such as the ears and tails will break off with only mild play. But the lifelike movements it uses are almost guaranteed to get your cat to pounce. You can even choose between different play modes to figure out which one your cat prefers.
But this is another toy with horrendous battery life. After what feels like just a few minutes of play, the batteries will need to be replaced. And don't expect this toy to work on the carpet. It won't roll on anything but hard, smooth floors, so it's not going to work in many homes. Altogether, it's a toy we'd skip since there are so many better alternatives to choose from.
Uses lifelike movements to entice your cat
Has multiple play modes to choose between
Tail is too easy to bite off
Batteries die very quickly
Only works on smooth, hard floors
Buyer's Guide: Selecting The Best Cat Toy
We know that trying to pick a toy to please and entertain your cat can turn out to be more difficult than you might initially anticipate. That's why we put together this short buyer's guide. It's written for the person that's looking to narrow down the choices by figuring out exactly what they're looking for. After reading the buyer's guide, you should be prepared to make a more informed decision about which toy will be a good fit for your feline.
Two Main Types of Cat Toys
While cat toys come in many designs, shapes, colors, and styles, they can really be boiled down to two main groups. Each group serves a different purpose, but neither is better. In fact, it's generally best to have toys that fit into each of these groups.
Solo Toys
Solo toys are toys that your cat can play with on its own. These toys don't require any input from you. They include stuffed toys that contain catnip, automated or electronic toys that move on their own, and toys that move after your cat touches them.
Interactive Toys
Interactive toys allow you to play with your cat. Such toys include stuffed animals attached to a wand by string or a laser pointer. You can use these toys to interact with your cat, enticing it to bite, pounce, and play.
Things to Look for in a Cat Toy
It can be hard to compare cat toys since each toy is unique. We've found that there are a few main traits you'll need to consider most if you want to ensure you get a toy that will provide your cat with all the benefits you're hoping for.
Is Your Cat Interested?
At the end of the day, the most important thing is that your cat is interested in the toys you provide. If you give your cat toys it doesn't want, then it won't use them. Granted, it's difficult to know what toys your cat will like before offering them to it. But you can use your knowledge of past toys and how your cat has reacted to them to help fuel your decision.
Does it Provide Mental Stimulation?
It's good for your cat to play, but the best toys help your cat take playtime even further, keeping them mentally engaged and stimulated. This will help your cat to remain healthy while expending any excess energy that could manifest in unwanted behaviors if not given an outlet.
How Long Can It Keep Your Cat Engaged?
Some toys might initially attract your cat but fail to keep its attention for any length of time. A good toy will be able to entertain your cat for extended periods.
Does it Hold Catnip?
Toys that hold catnip tend to be favorites of most felines. It's no secret that most cats love catnip, and toys that are stuffed with catnip can easily entice most cats into playing. Many toys will come stuffed with catnip, but others will feature areas where catnip can be hidden, allowing you to replace the catnip as needed for maximum effectiveness.
Conclusion
You might think it's hard to go wrong when picking a toy for your cat, but if you pick the wrong one, you'll soon find out that your cat has no problem letting you know. Luckily, our reviews should help you pick a perfect toy for your pet. Our favorite is the Hepper Stick Cat Toy, which has an enticing toy shape and catnip to entice your cat to play. We also like the Frisco Bird Teaser cat toy that's dead-cheap and provides plenty of engagement and exercise for your cat thanks to a feather-covered toy that's loaded with catnip to attract your cat.
See also:
---
Featured Image Credit: Chewy