Ragdoll Kittens For Sale in Massachusetts: Breeders List 2023
At Hepper, we advocate for adopting before shopping, but we understand there are many reasons for seeking a breeder, so we encourage it to be done the right way. We've put the top-recommended breeders here for you to get in touch with and ask all the right questions. We have not personally investigated each breeder ourselves. Learn more about our position and the questions you should ask before selecting a breeder here.
Living in Massachusetts has the benefit of living close to multiple states, which means you have lots of great options for finding a Ragdoll kitten. However, there are multiple reliable, responsible Ragdoll breeders within Massachusetts. You can find a healthy Ragdoll kitten within the state, and you have the luxury of choosing between multiple catteries. Here are the best Ragdoll breeders in Massachusetts.
5 Ragdoll Kittens Breeders in Massachusetts
1.

Cuddle Rags Cattery
New Bedford, Massachusetts
Cuddle Rags Cattery breeds multiple color varieties of Ragdolls, providing a great selection of appearances in their kittens. They have bred Ragdolls for over 10 years and raise all kittens in the home with their other cats and dogs. All breeding cats are health tested for Hypertrophic Cardiomyopathy and NPSVI, and all kittens are health checked by a veterinarian before going to new homes.
---
2.

Willetteragdol
Willetteragdol cattery breeds health-tested cats for healthy kittens. All kittens see a veterinarian before going to their new home and the parents are all tested for genetic diseases like HCM and PKD. Kittens are spayed/neutered before going to new homes and this breeder requires adoptees to keep their Ragdoll indoors and not declaw the cat. This cattery often has a long wait list for kittens, but according to their reviews, they're worth the wait, and the wait also gives you plenty of time to prepare your home for your new kitten. Willetteragdol cattery is also on TICA's Outstanding Cattery list.
---
3.

Willow Tree Rags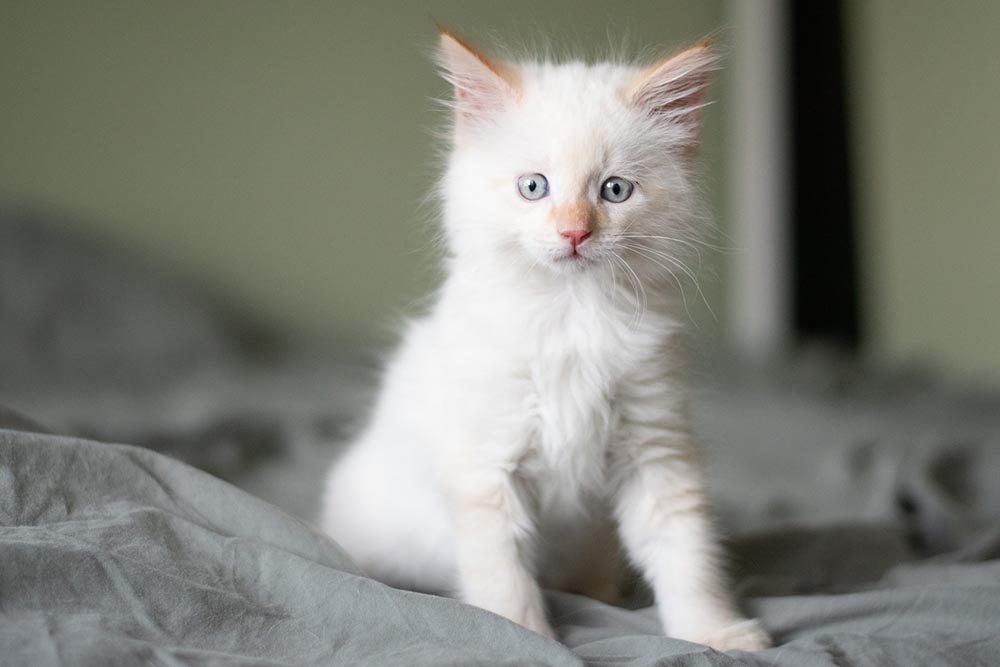 Willow Tree Rags has been breeding healthy Ragdolls since 2002. They have been responsible for breeding regional show winners, grand champions, and supreme grand champions, and the cattery owner has been an elected TICA Breed Committee Member and RFCI Northeast Regional Director. All cats are raised underfoot in the home, ensuring all kittens are well-socialized before going to new homes. All breeding cats are health tested for DCM and are bred to produce breed standard kittens.
You might also be interested in: Ragdoll Cat vs. Maine Coon: Which Breed Suits You?
---
4.

Rhetorical Ragdolls
Rhetorical Ragdolls raises all kittens underfoot in the home, so they are well socialized to people, cats, and dogs. All breeding cats are health tested for HCM and kittens are sold with a health guarantee. They have been breeding high-quality Ragdolls since 2006, and they offer door-to-door delivery locally and will ship kittens via courier across the country.
---
5.

Lottarags
Lottarags have bred five regional show winners, four national breed winners, and a supreme grand champion. They breed to the Ragdoll breed standard and the owner is an experienced registered nurse, so she works to keep everything clean and hygienic to ensure her cats and kittens stay healthy. Breeding cats are health tested and kittens are examined by a vet before going to their new homes.
You might also be interested in: 
---
Featured Image Credit: dezy, Shutterstock