169 Red Dog Names: Fiery Ideas for Ginger Pups
Welcoming a new pet into your family is an exciting and joyous occasion, and naming them is part of the fun. But what if your new pet has a vibrant and fiery coat of red? You might want a name that captures their unique personality and stunning appearance. Whether you have a feisty Irish Setter, a lively Vizsla, or any other breed with a striking red coat, keep reading as we list several of the best names to help inspire you!

Tips for Naming Your Pet
Ginger dogs have a distinct and eye-catching coat color, so think about the shade of red and any unique markings that they may have.
Observe your dog's behavior, energy level, and temperament, and choose a name that reflects their personality.
Some breeds may have specific traits or origins that can inspire a name. For example, Irish Setters have a rich history in Ireland, so a name like Finnegan or Saoirse might be suitable.
Ginger dogs often evoke images of warmth and natural beauty. Consider names inspired by natural elements that can capture the essence of their vibrant coat color.
Look for famous redheads in movies, TV shows, and books or even historical figures.
Choose a name that is simple to pronounce and easy for your dog to recognize. Avoid names that sound similar to common commands or that can be easily confused with other words.
Once you have a few name options, try calling out each name and see how your dog responds. They may naturally gravitate toward a particular name, which can help make your choice easier.
Naming your dog is a significant decision, so don't rush it. Take your time to explore different options, gather ideas, and try them out before settling on one.

Dog Names Based on Color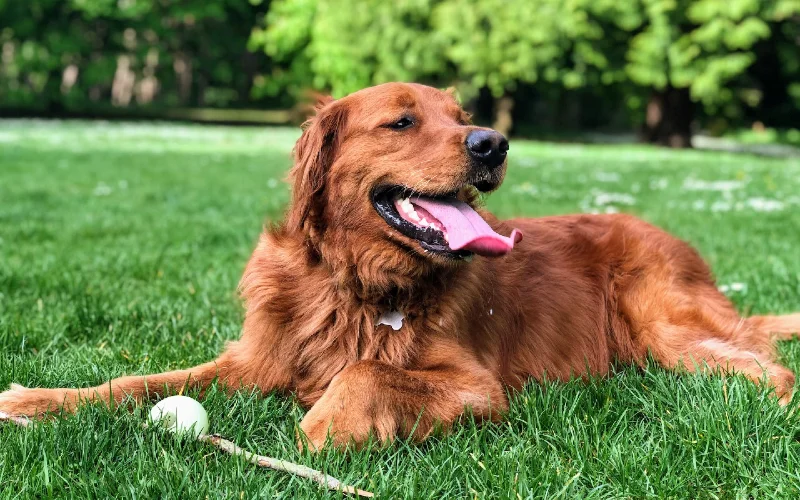 A common way to name a new dog is to base it on their color. Here are several names that work well to describe a red puppy:
Amber
Auburn
Blush
Burgundy
Crimson
Fuchsia
Goldie
Hazel
Red
Rouge
Rusty
Magenta
Maroon
Scarlet

Red Female Dog Names
While many dog names are gender-neutral, you might want a more masculine or feminine name. Here is a list of names that seem to suit female red dogs better:
Ariel
Akari
Barbera
Blush
Brandy
Carmine
Chimney
Fiona
Frizzle
Glinda
Jean
Lady
Lucy
Maraschino
Merida
Merlot
Molly
Penny
Raggedy Ann
Redina
Red Rover
Roxy
Ruby Rose
Salsa
Sangria
Shiraz
Spice Girl
Terra
Valentina
Wilma

Red Male Dog Names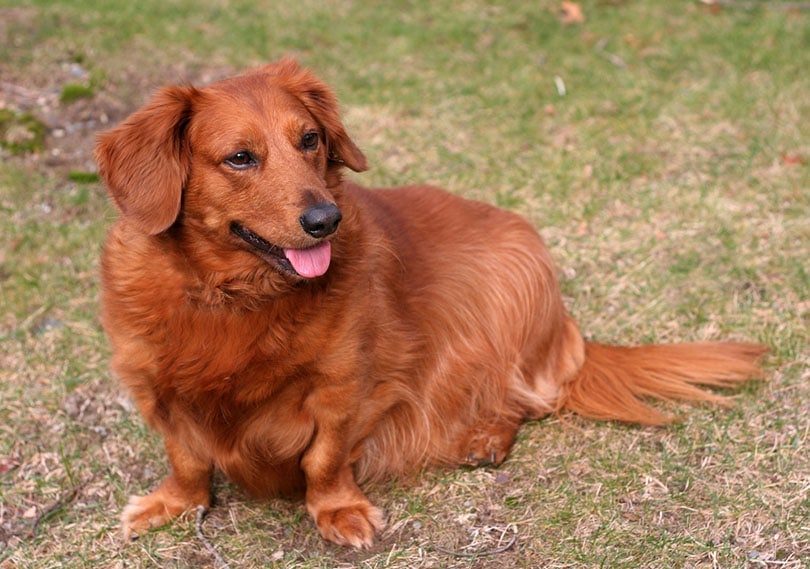 Here is a list of names that would suit a male red dog perfectly:
Brick
Carrot Top
Chili
Chucky
Clifford
Deadpool
Derry
Elmo
Finnegan
Flynn
Heinz
Hot Rod
Ketchup
Laser
Lava
Marinara
Mars
Nacho
Pinot
Redford
Ronan
Rooibos
Rudy
Russet
Thor
Twizzler
Vermillion
Weasley

Orange & Ginger Dog Names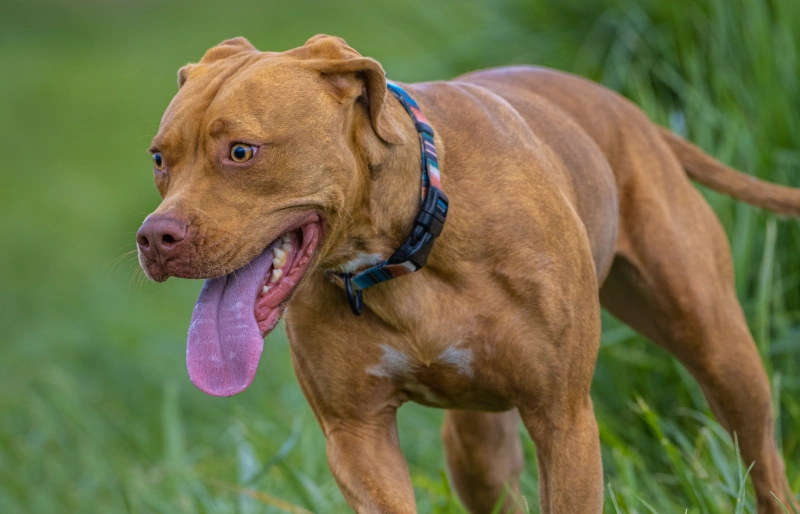 If your dog is more of an orange or ginger color than a deep red or rust, one of the following names might be a good choice:
Alani
Butterscotch
Caramel
Chester
Chuck Norris
Custard
Henna
Hibiscus
OJ
Saffron
Tang

Multi-tonal Red Dog Names
If your new pet is multicolored or has different shades of red, the names on this list might suit your pet perfectly:
Apollo
Blotchy
Brighton
Fennec
Freckles
Keegan
Malbec
Medley
Mosaic
Patchwork
Rory
Rover
Speckle
Splatter
Spotty
Vermillion

Feisty Red Dog Names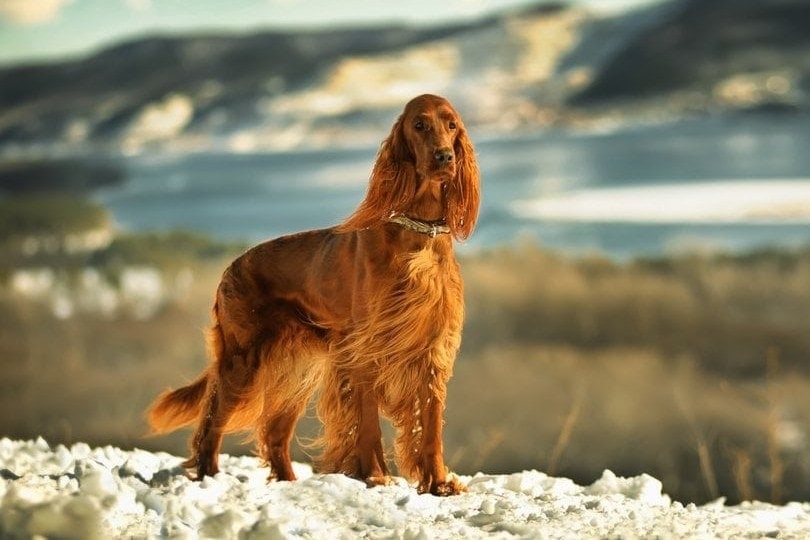 We've all known a few dogs that can be extra feisty, especially small ones! If you have one such pet, the following names will likely suit them and let strangers know what to expect:
Bandit
Blaze
Candle
Dynamite
Ember
Fire Breath
Firecracker
Foxy
Fuego
Flamer
Inferno
Jinx
Loki
Lucifer
Phoenix
Sass
Siren
Spark
Viper
Vixen
Volcano
Vulcan

Natural Dog Names
If you like names that take after elements in nature, check out the following list. These are perfect for all red-coated pets and will suit various personalities.
Apple
Autumn
Beets
Bloom
Cardinal
Carrot
Cayenne
Cheeto
Cherry
Chestnut
Cider
Cinnamon
Clay
Clementine
Copper
Eclipse
Finch
Garfield
Garnet
Ginger
Harvest
Honey
Lobster
Mahogany
Mandarin
Maple
Marigold
Mustard
Paprika
Pepper
Pepperoni
Poinsettia
Poppy
Pumpkin
Quartz
Radish
Rosebud
Rosie
Rowan
Ruby
Strawberry
Sunrise
Sunset
Tomato
Topaz
Turmeric
Watermelon
Yam

Summary
There is no shortage of great names for a red dog, and you can likely find even more if you keep digging. Our favorites include Rusty, Brandy, Bandit, Blaze, Rudy, Sass, and Cheeto. Remember to be patient, and watch your pet carefully to get an idea of what name would suit them best. Test it out a few times to see if it sounds right and if your pet likes it before you commit to it.
You Might Also Enjoy:
---