220 Amazing Names for Soft-Coated Wheaten Terriers
The Soft Coated Wheaten Terrier is an exuberant dog that is not your typical pet dog, but that doesn't mean they make bad pets. They have grooming needs that the average dog owner isn't up for, and they aren't overly easy to find.
These friendly and loyal pups seem to have all the best of the terrier traits, although they also have a stubborn streak that will keep you humble. Their wavy, wheaten-colored coat is an unequivocal trait of the breed, although there are some coat texture differences between Irish-bred and American-bred dogs.
No matter the coat, your new Soft Coated Wheaten needs an amazing name that captures the breed and their personality.

How to Name Your Soft-Coated Wheaten Terrier
We all know that it can be overwhelming to choose a name for a dog, and sometimes you choose a name that you end up unhappy with later down the road.
While dogs can relearn their names, it's ideal to pick one name and stick to it. To pick the right name, you can start by collecting names and words that you like, and then start narrowing them down based on your dog's personality, temperament, and looks.
Even if it doesn't seem like a normal name, write it down and see how it fits. You might be surprised what words can make excellent names for dogs.

Top 10 Male Soft-Coated Wheaten Terrier Dog Names
Charlie
Max
Oliver
Rocky
Teddy
Milo
Cooper
Buddy
Jack
Bentley
Top 10 Female Soft-Coated Wheaten Terrier Dog Names
Bella
Lucy
Molly
Daisy
Sophie
Chloe
Lola
Maggie
Sadie
Penny

Descriptive Dog Names
Hairy/Harry
Fluffy
Silky/Silk
Goofy
Speedy
Racer
Runner
Fuzzy
Happy
Clumsy
Wheatie
Socks
Spicy
Pearl
Pudge
Roly-Poly
Stocky
Sweetie
Lucky
Chewie
Bear
Pokey
Sleepy
Nutty
Snoop/Snoopy
Scout
Stinky
Rush
Rough
Boomer
Singer
Velvet
Chiffon
Fierce
Lady
Brushy
Canvas
Loyal
Walker
Hunter
Snowy
Smoky
Hazy
Ghost
Sneaky
Squeaky/Squeaker
Stubborn
Speaker
Treble
Trouble

Irish & Gaelic Dog Names
Finn
Finnegan
Rosie
Fiona
Avalon
Keegan
Quinn
Winnie
Blair
Sloane
Ronan
Riley
Adair
Cody
Aidan
Darren
Oscar
Logan
Annabelle
Brody
Braeden
Colin
Connor
Balor
Shay
Galway
Colm/Collum
Tiernan
Niall
Aisling – "ashleen"
Nuala – "noo-la"
Sorcha – "sur-ka"
Siobhan – "sair-sha"
Niamh – "neeve"
Eibhlín – "Eileen"
Máiréad – "mi-rade"
Dearbháil – "dear-mid"
Caoimhe – "kee-va"
Bríghid – "brigid"
Conchobhar – "connor"
Pádrick – "paah-rick"
Oisín – "osh-een"
Eoghan – "oh-an"
Breandán – "Brendan"
Árdghal – "ar-dal"
Odhran – "or-in"
Rian – "ree-an"
Aodh – "Aidan"
Cillian – "kill-ee-an"
Donnacha – "done-acka"

Unique Dog Names
Irish
Celtic
Jasper
Winston
Scarlet
Clover
Violet
Viola
Ansel
Atticus
Georgia
Diego
Graffiti
Leo
Mona
Pawblo
Ochre
Muse
Frida
Frenchie
Vincent
Topaz
Diamond
Teal
Armani
Valentino
Brooke
Brent
Willow
Breezy
Raven
Watson
Oakley
Ariel
Hobbes
Nala
Cuzco
Casper
Ghost
Banjo
Layla
Bowie
Waylon
Buck
Cricket
Goose
Bug
Grizz/Grizzly
Yeti
Griff

Food Dog Names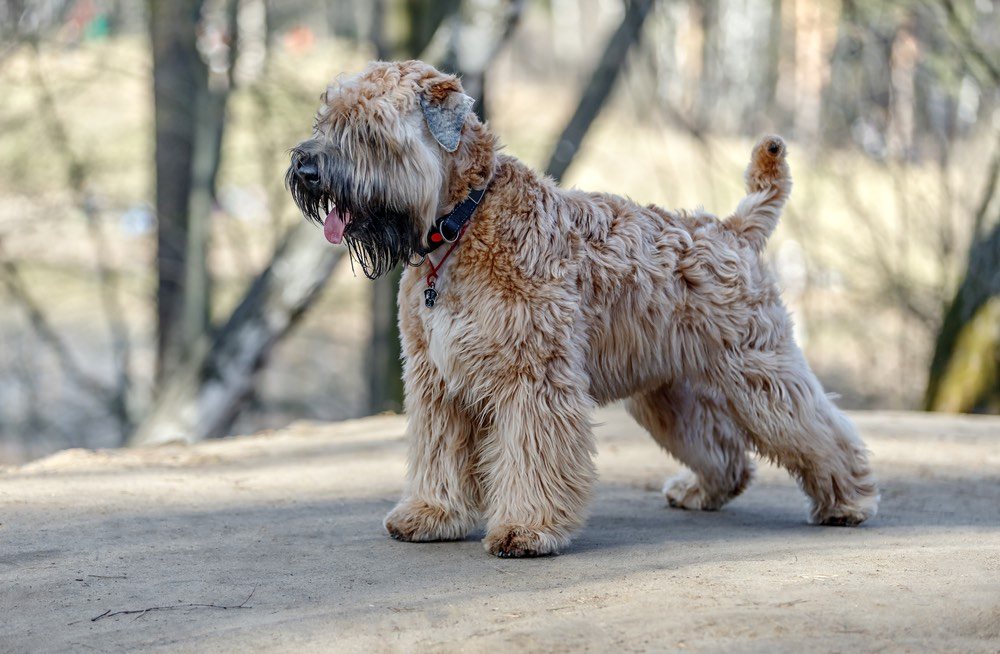 Cinnamon
Nutmeg
Spice
Ginger
Sage
Cocoa
Bacon
Ham
Meatball
Bones
Mochi
Tofu
Jellybean
Butterscotch
Bean
Lemon
Apple
Peach/Peaches
Marshmallow
Oatmeal
Coffee
Pancake
Waffles
Milkshake
Toffee
Fudge
Falafel
Quinoa
Mashed Potato
Soda
Crackers
Noodles
Pudding
Snack
Nacho
Cabbage
Rice
White Bread
Bangers and Mash
Shepherd's Pie
Irish Stew
Champ
Chowder
Fish Pie
Colcannon
Boxty
Barmbrack
Scone
Coddle
Corned Beef

Conclusion
When it comes down to it, you can't sweat things too much when it comes to naming your dog. This should be a fun experience, so make sure you and whoever is helping you name your new pup have fun together with your pup.
You want your dog's name to bring up happy and positive thoughts, so don't get hung up on any stress surrounding naming your Soft Coated Wheaten. The right name will feel perfect once you try it with your dog.
---
Featured Image Credit: Audrius Vizbaras, Pixabay