10 Tuft + Paw Cat Furniture Alternatives (2022): Which Is Better?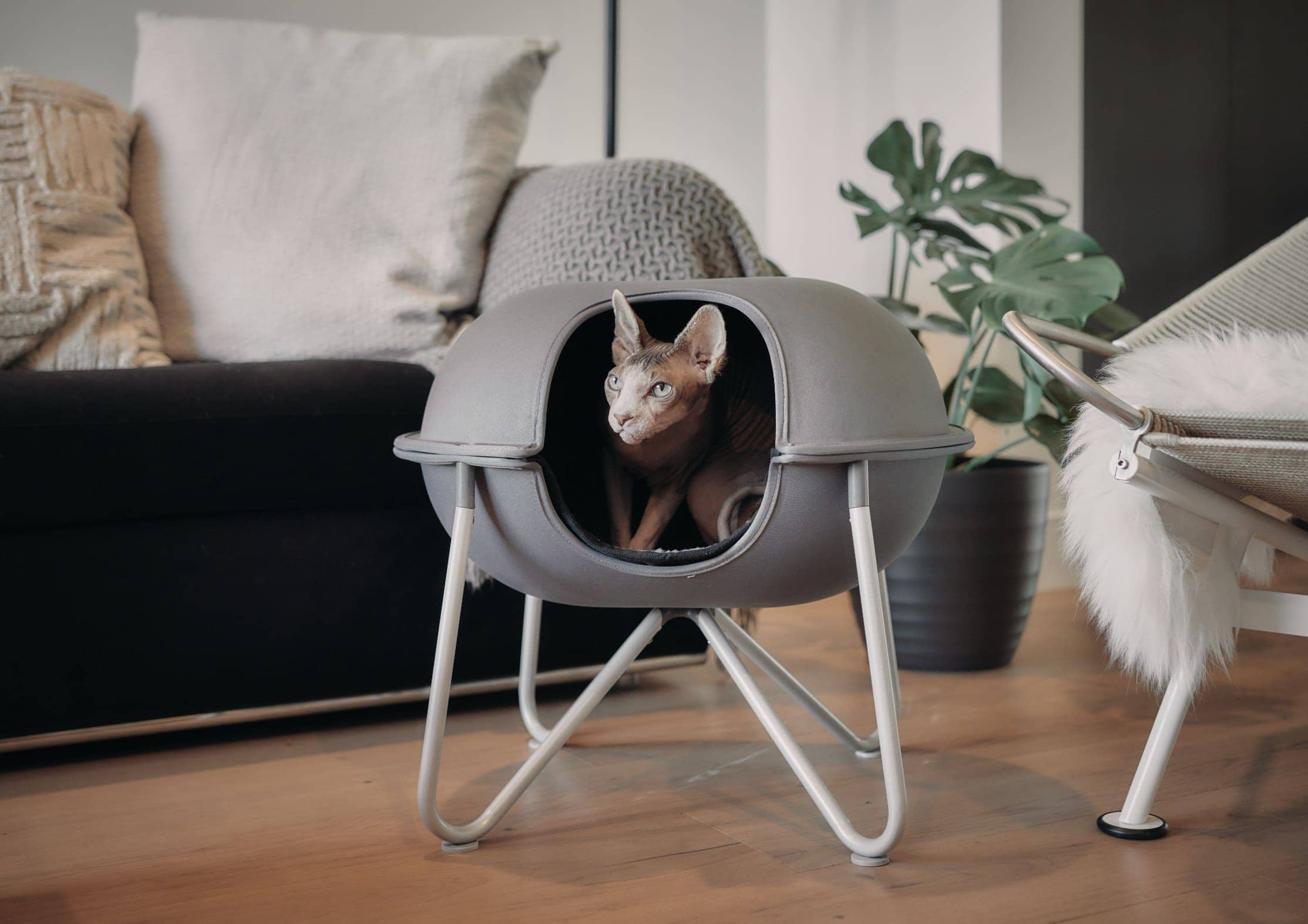 The best cat furniture nurtures a cat's instincts while serving as protection for your furniture and other household items. It is a necessity in any cat lover's home. Not only is it a great way to give your beloved kitty a luxurious place to nap their day away, but it's also a great way to keep them entertained.
We take pride in our homes and our home décor, so it's natural to want your kitty's furniture to complement the overall look, rather than stand out or even look somewhat out of place with the rest of your things.
If you are in search of great quality cat furniture that features a modern, minimalist style but are looking for some alternatives to the Tuft + Paw brand, you've come to the right place. We've taken to the reviews and come up with a list of the top 10 Tuft + Paw Cat Furniture alternatives.
A Quick Look at Our Favorites
Rating
Image
Product
Details

Hepper Nest Bed

Simple, stylish design
Comes in a variety of color choices
Machine washable interior bed liner

Two By Two The ElmJute Cat Scratching Post

Inexpensive
Stylish and sturdy
Comes with additional toys built-in

Hepper Pod Bed

Machine washable liner for easy cleaning
Soft, comfortable, sturdy, and spacious inside
Stylish, modern design with two color choices
The 10 Tuft + Paw Cat Furniture Alternatives
1.

Hepper Nest Bed vs. Tuft + Paw Nuzzle
Our favorite alternative overall goes to the Hepper Nest Bed. This unique and stylish cat bed is in the shape of a bowl and has an interior bed liner that is made of comfy, cozy sherpa fleece that is super easy to remove and wash when the time comes. The material of the bowl is constructed of flexible molded foam with fabric laminated on the sides.
The wide lip of this bed doubles as a comfy headrest. This bed comes in four stylish color choices, including grey, herringbone, orange, and white, making it easy to blend into your home décor. This bed is ideal for cats and even small dogs up to 17 pounds, though some up to 20 pounds have been able to use it comfortably.
The interior bed liner is machine washable on a cold, gentle cycle and can even be placed in the dryer in a low-temperature setting. The molded portion of the bed must be spot cleaned and air-dried.  Overall, this unique, modern-looking cat bed from Hepper is comparable to the Nuzzle from Tuft + Paw and comes at a very reasonable price making it our preferred choice!
You might have guessed, this is our own product – but we love it so much we just have to share it, and hope you get to own one too!
---
2.

Two By Two The ElmJute Cat Scratching Post vs. Tuft + Paw Zip
If you are looking to get the most value for your money while keeping your cat's claws far from your furniture, look no further than the Two By Two The Elm 19.7-in Jute Cat Scratching Post. This scratching post looks simple and stylish similar to Tuft + Paws' Zip Scratching Post.
This scratching post comes at a low price but is very sturdy at 6.1 pounds and holds up great against those claws. It looks great and doesn't take up too much space. This particular product is recommended for cats up to 12 pounds. Another perk is how easy it is to assemble so you don't have to worry about taking too much time out of your day to get it put together.
This scratching post may be a bit smaller than some cat owners prefer, but this is a great choice for those wanting to save some money and also provide a stylish scratching outlet and play area for their cat, and as much as we love the design of Tuft + Paws Zip, we have to choose Two By Two as our choice between the two!
---
3.

Hepper Pod Bed vs. Tuft + Paw Stellar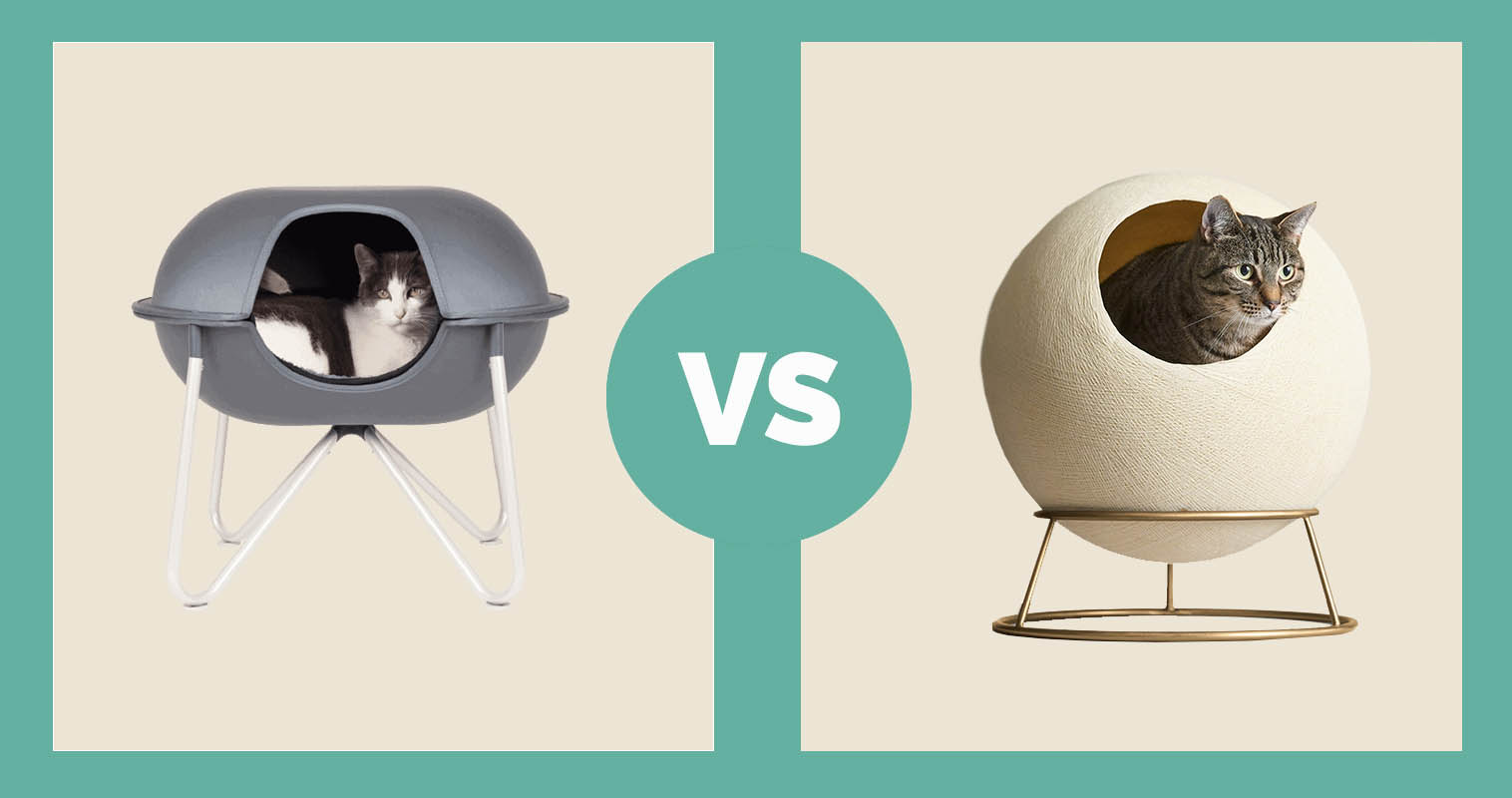 The Hepper Pod Cat Bed gets our pick for a premium choice cat bed and for good reason. This unique pod is spacious and provides your kitty the privacy they desire.  It sits raised off the floor on four sturdy legs with non-slip rubber pads, giving your cat a perfect view of its surroundings.
Its modern, sleek design with a futuristic vibe will look good anywhere in the home and it comes in two stylish color choices, gray and herringbone.  The soft, fuzzy fleece lining is not only super comfortable but is also machine washable to make it much more convenient for you. The bed's bowl is made of flexible molded foam with fabric laminated on the sides and can be spot cleaned.
There is some assembly required but the directions are super simple, the assembly is easy and will only take a couple of minutes. The Hepper Pod Bed does come with a heavier price tag, but in comparison to the Tuft+Paw Stellar, you'll save yourself quite a bit.
You might have guessed, this is our own product – but we love it so much we just have to share it, and hope you get to own one too!
---
4.

Hepper Hi-Lo Scratcher vs. Tuft + Paw Tab
If you need a great scratching post for your kitten, try the Hepper Hi-Lo scratcher. This unique and stylish scratching post is ideal for kittens and cats of all sizes, especially those that take scratching to a new level.  Does your cat love cardboard? Well, this scratcher is made of just that, plus it's extra thick and built to last. You can conveniently place it in 5 different positions to extend its usability while giving your cat some extra enrichment.
The silver metal legs come with anti-slip grips on the corners and they can be positioned in front, in back, or even removed. It's simple and easy to clean, all you have to do is wipe it down. You wouldn't imagine a cardboard scratcher could be so sleek and modern, but this one is designed specifically with style and simplicity in mind.
If you prefer scratching posts made with rough fabric or sisal, this may not be the scratcher for you.
You might have guessed, this is our own product – but we love it so much we just have to share it, and hope you get to own one too!
---
5.

7 Ruby Road Cat Hammock Wall Mounted Cat Shelf vs. Tuft & Paw Cloud Nine
7 Ruby Road Cat Hammock is a great choice for those with cats that are climbers and those that need to save some space. The features a padded cotton canvas cushion that is both washable and replaceable. This wall-mounted hammock set is a great alternative to the Tuft + Paw Cloud Nine Window Hammock.
There are two wall-mountable climbing steps included with the hammock. They are covered in jute rope to ensure they are easy to grip. The hammock is 21 inches by 18.5 inches, so your cat can move around comfortably and stretch out.  Many owners gave glowing reviews about how sturdy this product is and that it was super easy to assemble.
---
6.

The Refined Feline Lotus Branch vs. Tuft + Paw Vista
If you are looking for a product that is similar to the Tuft + Paw Vista, The Refined Feline Lotus Branch is a lower-cost option that gets great reviews from consumers. It's still not an inexpensive piece of cat furniture but you will certainly save some money.
This super-stylish wall-mounted shelf comes in 4 modern color choices to fit perfectly with any other home décor. It is made of solid wood and pent ply with carpet on top. The good news? The carpet is replaceable so even if it were to get stained or destroyed in some way, you don't have to replace the entire shelf.
There is plenty of room on this shelf for stretching out and perching and your cat will likely enjoy having the ability to climb up the wall. It's a great way to save floor space while giving your cat a cozy resting spot.  Cat owners rave about this wall shelf and the convenience it provides. It's a bit lengthy at 61 inches but if you have wall space, it makes a great investment.
---
7.

Catry 29.7-in Modern Jute Cat Tree & Condo vs Tuft + Paw Grove
The Catry 29.7-in Modern Jute Cat Tree and Condo is a great stylish choice for any home that is looking for an alternative to Tuft + Paws' Grove Cat Tower. It has a condo for sleep time privacy, two different platforms for perching or lounging, a scratching post, and it even comes with a toy mouse. It features removable pads, making cleaning quick and easy.
Thanks to the size and construction, this cat tree/condo combination does not take up too much space in the home but its modern style makes it look great. This is a durable product that holds up well, per the reviews and it is recommended for cats up to 15 pounds.
---
8.

BODISEINT Modern Soft Plush Round Pet Bed vs. Tuft + Paw Nuzzle
PUFF COMPARISON If you're looking for a well-reviewed comparison to the Nuzzle from Tuft + Paw, check out the BODISIENT Modern Soft Plush Round Pet Bed on Amazon. This fluffy bed just oozes comfort. It is donut-shaped and covered in soft, comfy faux fur.
This bed is designed for cats and even small dogs up to 25 pounds and comes in 6 different color choices, making it ideal if you are looking for a cat bed that fits the aesthetic of your home.  The bed is filled with recycled polyester fiber and the fleecy fabric will help them remain cozy and warm during the winter months.
The bottom of this bed is non-skid and water-resistant and non-skid to keep in place on hard surfaces.  The biggest problem encountered among cat owners is that they felt it was a bit floppier than expected and it's not an easy product to wash and dry, unlike the description. Something to keep in mind if you opt for this bed, unlike Tuft + Paws' Nuzzle which is machine washable.
---
9.

Frisco Floor to Ceiling Cat Tower vs. Tuft + Paw Frond
If you're looking for a cat tower that stretches from the floor to the ceiling and will provide your cat a place to climb, scratch, stretch out, relax, and play, the Frisco 3 Level Floor to Ceiling Heavy Duty Cat Tower comes highly recommended. This tower is great for both single and multiple cat homes. Although Tuft + Paw doesn't have anything currently that stretches floor to ceiling we find the design and functionality to of the Frisco to be comparable to Tuft + Paws' Frond Cat Tree.
This tower features three tiers and a sisal-wrapped post to help prevent your cat from destroying your household furniture. It is durable and sturdy and comes with bed perch for those cat naps. It secures to the ceiling using a tension rod. Cat owners love that it is a sizable tower that does not take up a lot of space in the home.
---
10.

Sam's Pets Sheree 17-in Cat Tree vs. Tuft + Paw Sprout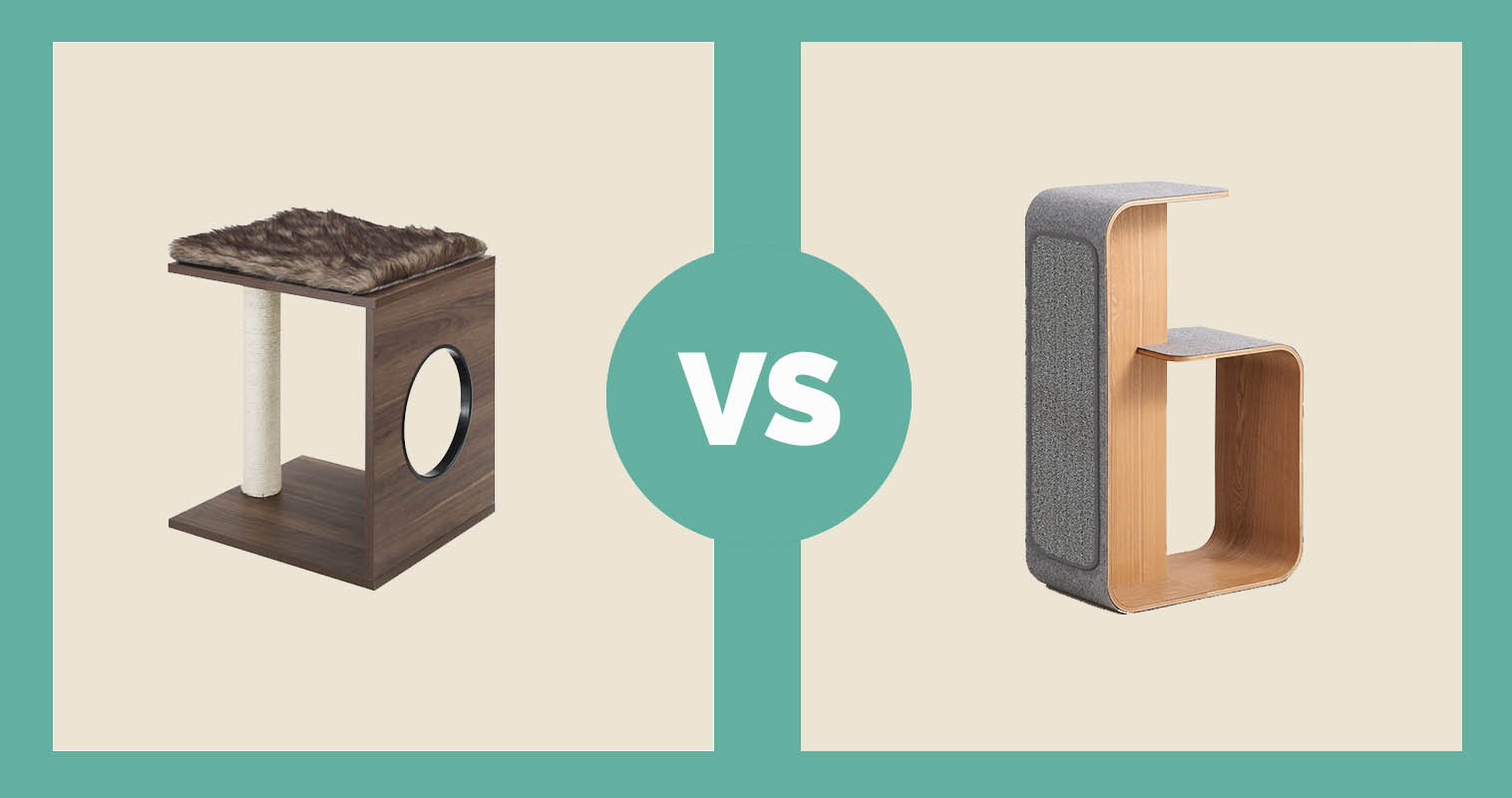 Sam's Pets Sheree 17-inch Cat Tree is a stylish, modern-looking cat tree that is perfect for single cat households. The built-in sisal post is in place to keep those claws away from your furniture and fabrics, and the top of the tree has a comfy, polyester cushion that's perfect for lounging, and the perfect alternative to Tuft + Paws Sprout Cat Tree
This cat tree is sturdy, well-constructed, and very easy to assemble. It comes in three different shades of brown and will complement the home rather than being an eyesore. The size makes it perfect for a single cat but may not be ideal if you have multiple cats unless you plan on purchasing more than one.
Buyer's Guide
You don't have to opt for the pricey options from the Tuft + Paw brand to get quality cat furniture. As you can see, many other options on the market are stylish, modern, and budget-friendly. Below we'll take a look at the different types of cat furniture and some things you should consider before making your final decision.
Types of Cat Furniture
Cat condo
Cat tree
Cat bed
Cat hammock
Scratching post
Cat stairs
Wall or window shelves
Things to Consider Before You Buy
Available Space
Keep your available space in mind when looking at cat furniture. If you have limited room, you need to make sure the furniture will fit well into the space that you have. Cat furniture comes in a variety of sizes, that even goes for trees and condos. Make sure you get an idea of what kind of space you have and then check the measurements of the furniture that catches your eye.
Cost
Keep your budget in mind when going on a hunt for cat furniture. Some brands and products can come at a hefty price that isn't suitable for every wallet. That doesn't mean you want to opt for the lowest cost option either, for the sake of quality. Get a feel for your style, what kind of furniture you're looking for, and the price range you need to stay in. You're sure to find something that works for you.
Quality
Regardless of your money situation, you want to choose cat furniture that is of good quality. You never want to skimp out on quality for a super cheap option, as this tends to backfire. If you're on a budget, you want to keep your eye out for furniture choices that are reasonably priced but sturdily built and made of good-quality material that will last a long time. If budget is of no concern, you still want to check in to the product reviews to ensure you're getting a high-quality piece of furniture. Higher cost doesn't always mean it's built to last.
Your Needs
Is your cat scratching up surfaces in your home and do you need a reliable outlet for their behavior? Then you're going to want a piece of furniture that features a scratching post. If your cat needs a comfy bed of its own, then a cat bed or a condo should be considered. If you have a climber, you may need some wall shelves to add to your home. Prioritize your needs when shopping around and ensure you're getting something that will make both you and your kitty's life a little easier.
Conclusion
The Hepper Nest Bed makes for a comfortable, simple, and stylish cat bed that comes complete with the perfect place for your kitty to rest its head. Not only is this bed priced more generously than some other brands, but it also comes in a variety of colors to match your style.
Two By Two The Elm Jute Cat Scratching Post is a great option for those on a strict budget that want to get great value for the money. This stylish little scratching post also comes with some enriching toys built right in.
The Hepper Pod Bed is a modern and almost futuristic-looking cozy cat bed that stands on 4 legs and provides your kitty a cozy, private place to spend their day snoozing.
The reviews of these products speak for themselves, regardless of what furniture options you choose, your kitty is sure to be happy!