10 Best Raw Dog Foods in the UK – 2023 Reviews & Top Picks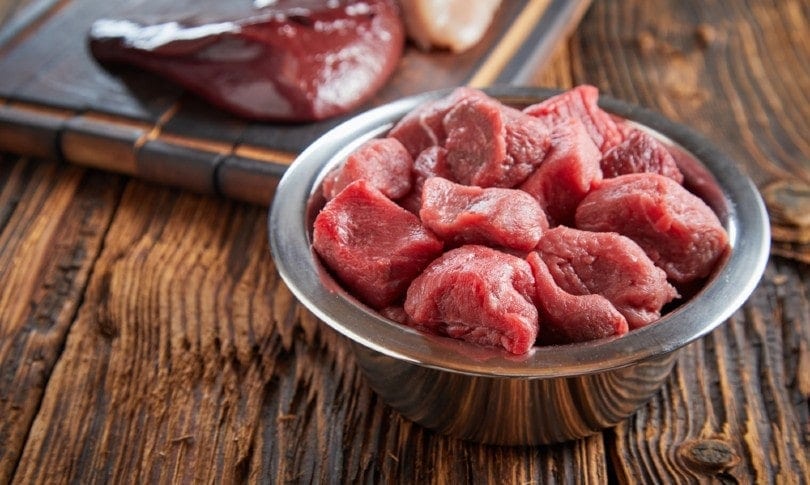 The primary benefit of feeding a raw food diet to your dog is that you can control and monitor every ingredient. This enables you to eliminate artificial and controversial ingredients. It also means that you can choose the meat protein or proteins, as well as any additional ingredients. However, the biggest obstacle to feeding a raw diet is the lack of convenience.
Even if you get everything ready a week in advance, it still requires a lot of food preparation to get everything ready. If you also have to search for appropriate, high-quality ingredients, no matter how much you want to give your dog the best, a raw diet can be prohibitive. Because the premise of a raw diet is that you choose raw ingredients yourself, it is also quite difficult to find too many companies that manufacture this type of food, making your search even more difficult.
Read on for reviews of the best raw dog foods in the UK.

A Quick Comparison of Our Favourites (2023 Update)
Rating
Image
Product
Details

Best Overall

Nutriment Enhanced Adult Working Dogs Raw Food

85% meat
14% protein
Complete balanced meal
Check Price

Best Value

4PawsRaw Variety Pack

Cheap price
Well portioned and labelled block
Check Price

Premium Choice

Cotswold Raw Active 80 20 Mince

Complete meal
Made with 80% meat
Uses locally sourced British meat
Check Price

Best for Puppies

Nutriment Enhanced Raw Diet Working Puppy Raw Food

Ideal for puppies
Made with 90% meat
Check Price

Nature's Variety Adult Freeze Dried Meat Chunks

Made from pure meat
Freeze dried for convenience
Can be used as a topper or a treat
Check Price
The 10 Best Raw Dog Foods in the UK
1.

Nutriment Enhanced Adult Working Dogs Raw Food – Best Overall
| | |
| --- | --- |
| Food type: | Complete frozen meal |
| Life stage: | Adult |
| Pack size: | 10 |
It is actually quite difficult to find complete raw food. After all, a lot of owners choose a raw diet so that they can control exactly what ingredients go into dog food and they will use human-grade food ingredients.
Nutriment Enhanced Adult Working Dogs Raw Food affords you and your dog the benefits of a raw food diet but with the practicality of frozen food. Simply remove the tray from the freezer and defrost it, and it's ready to serve. The ingredients include 85% meat and animal ingredients, including offal and bone. They also include species-appropriate and biologically beneficial vegetables, and superfoods to ensure that your dog gets its full requirements of vitamins and minerals.
The food is well priced, especially for raw food, but a multipack takes up a lot of room and does leave you with a lot of waste plastic to dispose of. If you're looking for a convenient and stress-free way of feeding a raw food diet to your dog.
14% protein
Complete balanced meal
85% meat
Takes up a lot of room
Comes in a lot of plastic packaging
---
2.

4PawsRaw Variety Pack Raw Dog Food – Best Value
| | |
| --- | --- |
| Food type: | Complete frozen meal |
| Life stage: | Adult |
| Pack size: | 20 |
The 80/10/10 BARF ratio requires feeding 80% meat, 10% bone, and 10% kidney and liver, with 0% vegetables. The 4PawsRaw mince packs that are included in this variety pack meet this ratio and ensure that you can offer a fully balanced meal to your dog. Some owners do incorporate a small amount of vegetables into their raw diet, usually around 5% of the total meal weight, but not all owners do this.
This multipack contains a selection of chicken, beef, beef and tripe, chicken and tripe, lamb and chicken, and chicken and liver. Unfortunately, you can't choose the contents of the pack but each one is conveniently packaged in cubes, and each cube is weighed and labelled, making it easy to manage. The packaging does lack some of the gloss of better-known brands, but the price is reasonable and the food is high quality.
Cheap price
Well-portioned and labelled block
Can't choose flavours
Requires a lot of freezer space
---
3.

Cotswold Raw Active 80/20 Mince Raw Dog Food – Premium Choice
| | |
| --- | --- |
| Food type: | Complete frozen meal |
| Life stage: | Adult |
| Pack size: | 8 |
Cotswold Raw Active 80/20 Mince is a complete meal that consists of 80% raw meat and bone with 20% vegetables. This food does contain more vegetables than most raw complete meals, but the British-sourced meat still makes up the vast majority of the ingredients.
It is completely free of artificial ingredients, which is one of the main reasons that owners choose a raw diet. However, it is expensive, primarily thanks to the sourcing of local meat, and it can be quite fiddly because the frozen packs are 1kg each so you will have to store some leftovers in the fridge for the next day. There is a good selection of flavours available, all of which have the same 80/20 ratio of meat to carbs.
It is worth noting, however, that most have additional meat content. The chicken mince also includes beef heart and beef liver. The additional meat is not inherently bad but if your dog suffers any food intolerances, you should double-check the ingredients first.
Complete meal
Made with 80% meat
Uses locally sourced British meat
Expensive
More vegetables than most complete raw meals
Fiddly packaging
---
4.

Nutriment Enhanced Raw Diet Raw Puppy Food – Best for Puppies
| | |
| --- | --- |
| Food type: | Complete frozen meal |
| Life stage: | Puppies |
| Pack size: | 10 |
Nutriment Enhanced Raw Diet Working Puppy Raw Food is a frozen complete meal solution for puppies aged up to about 6 months. Once your dog reaches this stage, it can move on to adult formula raw food recipes.
The Nutriment Puppy has more meat and fewer vegetables than the adult food, with 90% and 10% respectively. This gives your puppy more protein, which comes from British sources, and fewer carbs, making it better suited to the dietary requirements of young and growing puppies. Made up of 12.6% protein, Nutriment is an expensive raw food solution, but the ingredients are good quality, and the complete meals offer good ratios. Although this food does have higher meat content than the adult equivalent, it is still heavy on vegetables for a raw food diet.
Made with 90% meat
Ideal for puppies
Expensive
Only suitable up to 6 months
---
5.

Nature's Variety Adult Freeze Dried Raw Meat Chunks
| | |
| --- | --- |
| Food type: | Meal topper |
| Life stage: | Adult |
| Pack size: | 5 |
Nature's Variety Adult Freeze Dried Meat Chunks are made from 100% chicken which is cut into chunks and then slowly frozen. The freezing process means that the food retains its nutritional benefits while making it possible to store the chunks longer than you can fresh meat. The food is not a complete meal, but it can be used as a meal topper to liven up dry kibble or other boring food. Alternatively, the chunks are a convenient size to act as a healthy and natural treat or training aid.
Although it is not strictly a raw food, Nature's Variety Adult Freeze Dried Meat Chunks is all meat and it can be combined with a vegetable and herb mix or put on top of dry kibble. It is expensive as a food topper, although the chunks can be crumbled down so that you don't need to use many.
Can be used as a topper or a treat
Made from pure meat
Freeze-dried for convenience
Expensive
Not a complete meal
---
6.

Wilsons Steak & Kidney Premium Frozen Raw Dog Food
| | |
| --- | --- |
| Food type: | Complete frozen meal |
| Life stage: | Adult |
| Pack size: | 24 |
Wilsons Steak & Kidney Premium Raw Frozen Dog Food is made up of 70% meat, 10% bone, 10% offal, and 10% vegetables.
It is a frozen complete meal so does need defrosting before serving, but once defrosted it will last for four days, so if you don't use a full pack, you can put it away until the next day. Unlike a lot of tray-style raw food meals, Wilsons delivers its food in eco-friendly trays, which means that they can be easily recycled. No unrecyclable plastic trays. The food is also moderately well priced, contains mannan-oligo-saccharide probiotics, and has a 15% protein ratio.
There are quite a few additional ingredients, used to offer all the essential vitamins and minerals your dog needs, but those ingredients are natural and are not dangerous. It is also grain-free.
Eco-friendly trays
Contains probiotics and prebiotics
Lasts four days once defrosted
Quite a list of ingredients
---
7.

AniForte BARF Raw Dog Food Mix
| | |
| --- | --- |
| Food type: | Complementary |
| Life stage: | Adult |
| Pack size: | 1 |
AniForte BARF Dog Food Mix is a fruit and vegetable mix containing carrots, peas, and alfalfa pellets, as well as other ingredients. The supplement needs to be mixed 20 minutes before combining with meat, and AniForte recommends a ratio of 67% meat and 33% flakes for adults, 75%/25% for puppies, and 45%/55% for senior dogs, but you can work to your own ratios to ensure that you feed your dog the diet you want.
Picky dogs will avoid the flakes and many hardliner raw feeding proponents will argue that vegetables are unnecessary and that dried, rather than fresh vegetables, are certainly not an essential part of a dog's diet. However, it is natural, it does offer vitamins and minerals that are essential for your dog, and it is a more convenient alternative to regularly buying and chopping fresh vegetables to make up for any needed nutrients.
Contains supplementary vitamins and minerals
Easy to prepare
Not very appealing looking
Not necessary in a well-balanced raw diet
---
8.

Bella & Duke Raw Dog Food
| | |
| --- | --- |
| Food type: | Complete frozen meal |
| Life stage: | Adult |
| Pack size: | 8 |
Bella & Duke Working Dog Raw Food is made up of 85% meat, bones, and organs, with the remainder of the ingredients being vegetables, herbs, and superfoods to hit all the recommended daily vitamin and mineral requirements. This multipack, which is on the higher end of the price scale, contains a selection of different flavours, including turkey, beef, lamb, and fish flavours. You cannot select the flavours that are included, which means that you must hope that your dog will like them all. The exact ingredients differ according to the flavour, but also the time of year. Because the food is fresh when frozen, it includes seasonal vegetables. Bella & Duke's Working Dog Raw Food contains 14.3% protein and a decent 2.2% fibre, but it is expensive, and you can't control the flavours that are delivered.
Complete meal
3% protein
2% fibre
Expensive
No choice of flavour
---
9.

AniForte BARF Raw Supplement
| | |
| --- | --- |
| Food type: | Vitamin supplement |
| Life stage: | Adult |
| Pack size: | 1 |
AniForte BARF Complete For Dogs is a vitamin and mineral supplement that has been specifically designed to complement a raw food diet and to ensure that your dog has all of its nutritional requirements met.
The supplement is made from natural ingredients including seaweed, brewers' yeast, and eggshell powder. It also contains herbs to meet macronutrient requirements. The powder can be added to and mixed into meat. It does not contain calcium or omega-3, but this is done because these nutrients are present in different meats so may not be required for your dog. For example, if you are mixing the supplement powder with salmon or other fish, your dog should be getting its recommended daily omega-3 intake. Adding to beef or minced beef means that the food should have more than enough calcium.
The powder isn't especially appealing, and because the supplement is lacking in calcium, omega-3, and even taurine, it is not as complete as the name suggests and you will have the extra expense of buying ingredients like salmon oil or beef bones.
Contains vitamins and minerals lacking in a BARF diet
Made from natural ingredients
No calcium, omega 3, or taurine
Powdered form isn't palatable
---
10.

Pets Purest Natural Sprats Air Dried Raw Dog Food
| | |
| --- | --- |
| Food type: | Treat |
| Life stage: | Adult |
| Pack size: | 1 |
Pets Purest Natural Sprats are air-dried sprats that are then put in an airtight bag and shipped. They are natural and they do not contain any additional ingredients: they are 100% fish. Because the treats only contain fish, they are naturally grain, gluten, and lactose-free. They are meant as a treat and are not strictly part of a raw feeding diet, but they do make a healthy and nutritional treat, offering a means of delivering omega-3 into your dog's diet, too.
They do smell quite strong, and a sprat won't go far with medium to large dogs while feeding a fistful at a time means that the cost quickly adds up. To prevent upset stomachs and gastrointestinal complaints, you should start feeding one or two at a time. If it does not cause vomiting or diarrhoea, increase the amount you give.
Healthy treats for dogs and cats
100% fish
Grain, gluten, lactose-free
They won't last long with big dogs
Smell strongly of fish

Buyer's Guide: How to Choose the Best Raw Dog Food in the UK
Raw food is a somewhat controversial topic. On the one hand, opponents claim that pathogens, which are more readily found in raw food than in cooked food, can lead to illness and death in animals. Opponents also cite the increased risk of dental injury.
On the other hand, proponents say that a raw diet improves coat health and improves the consistency, regularity, and even the smell of stools. They say that it also decreases the risks of contracting conditions including diabetes, cancer, and other diseases.
Even proponents of the raw diet admit that it takes more effort to feed their dogs a nutritionally complete diet. This is where frozen raw food is useful. It enables you to feed a raw diet without having to research vitamin and mineral requirements or prepare the food every day. Buying in bulk, once you've tested a food, helps keep the cost down, too.
Read on for more information on the raw food diet, and to determine whether it is right for you and your dog.
What Is a Raw Food Diet?
The aim of feeding a raw food diet is to try and mimic what a dog would eat in the wild. Although dogs are carnivores, they behave like omnivores. They hunt and eat animals, including the organs and even the bones, and they will eat some, albeit only relatively small amounts, of vegetables.
Feeding a raw diet at home means feeding your dog a diet that is high in meat content. It should also contain bones, organs, and some blood of the animal. Typically, these ingredients are ground up and combined with some amount of vegetables and herbs before being turned into mince or chunks and frozen. The food is then shipped to the customer who stores it in their own fridge and defrosts the amount they use each day.
Is A Raw Diet Better for Dogs?
There are two schools of thought regarding whether a raw diet is better or worse for dogs. Pathogens and bacteria are more prevalent in raw meat and raw food and while freezing does kill some of the bacteria, but not all, and it doesn't kill all pathogens.
However, there are many owners that attest to the feeding of a raw diet as having helped improve the coat, general health, and even the behaviour and energy of their pets.
If you do feed a raw diet, you need to ensure that you get the food from reputable brands that are meticulous about the way they handle, store, and treat the food before it is sent to you.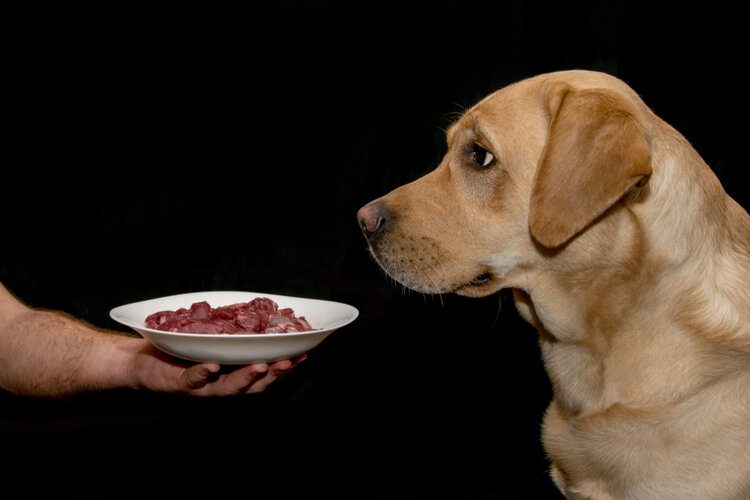 The Drawbacks of a Raw Food Diet
The potential health risks of a raw food diet aside, there are other obstacles that prevent some owners from making the switch. Researching, buying, planning, measuring, storing, and serving the food takes time.
You need to make sure that you meet your dog's nutritional requirements or risk them getting sick or becoming malnourished. Researching the right levels of amino acids can be challenging, because there is a lot of conflicting information about it, and determining the appropriate number of macronutrients is painstaking.
Preparation requires meticulous cleanliness and food handling. This minimizes the risk of your dog getting ill, but it also prevents the cross-contamination of human foods that can make you and your family ill.
You must ensure good quality ingredients. This not only means buying fresh meat or meat that has been properly prepared for storage and transport, but it also means checking the consistency of the ingredients. Not everybody has easy access to farm shops for local produce.
The Benefits of Frozen Raw Food Meals
Frozen raw food meals combat many of the drawbacks of raw food:
They're easier to prepare than butchering and serving meat and preparing fresh vegetables. And they include organs and other parts of the animal that you might not be able to get hold of. Although you should check nutritional requirements are met, they take a lot of the measuring and the uncertainty out of feeding a raw diet.
Frozen food keeps longer than fresh meat. Companies use polystyrene boxes or dry ice to ensure that the food remains frozen during delivery, and as long as you take it in and put the food in the freezer within a few hours of delivery, it will still be safe for canine consumption. Once frozen, the ingredients will keep for several months or as long as a year, and once defrosted, any unused portion of the food can be refrigerated and kept for between 2 and 4 days.
Prepared meals are less messy than a home-prepared raw meal. You won't be clearing up bits of meat.
Difference Between Complete and Complementary Foods
If you have decided to feed a raw frozen diet, you will see two primary types of meal:
Complete meals usually include 80% meat, 10% organs and bone, and 10% vegetables. The vegetables are included to ensure that you are offering a nutritionally complete meal that includes all the vitamins, minerals, and other ingredients that your dog needs to stay healthy. They have been certified as nutritionally complete and you don't need to add anything or incorporate any other type of food.
Complementary foods can take one of two forms. Complementary meat products are usually 100% meat and may or may not include organs and bones. These should be added to the top of existing food, for example, to dry kibble, and will make the meal more enticing while offering some high-quality meat protein. Another type of complementary food is more of a vegetable supplement: this is added to meat and serves to include vitamins and minerals that are otherwise difficult to attain from a purely meat-based diet.
In either case, complementary foods are not meant to form an entire diet and need to be combined with other ingredients or foods to meet your dog's requirements.
What Do You Do with Frozen Raw Dog Food?
Although the exact process of storing and serving a frozen raw meal differs according to the manufacturer and the specific meal, the general principle is the same. Once you take delivery of the food, it should be stored in the freezer. It will need defrosting, usually for up to 24 hours at room temperature, before feeding. Once the packet is defrosted and open, it or a portion of it can be stored in the fridge where it will keep for up to three or four days. Other than that, the food is given the same way as any other dog food: in a bowl and according to the weight, age, and activity levels of your dog.

Conclusion
It is important that we provide our dogs with the best possible diet. A raw diet consists of feeding fresh and raw ingredients, including meat and usually some vegetable ingredients. A raw diet has supporters and critics, but if your biggest obstacle to feeding this diet to your dog is one of convenience, frozen raw meals offer a convenient and simpler solution. We have included reviews of ten of the best raw dog foods in the UK, as well as a basic guide to raw feeding, in the hope that you can find the ideal feeding solution.
The Nutriment Enhanced Adult Working Dogs Raw Food is a complete balanced meal that is made up of 85% meat and organs and is the best raw food we found. 4PawsRaw's locally sourced ingredients and lower prices make it a great choice for the price.
You might also be interested in:
---