11 Facts and Statistics on Becoming a Veterinarian in the UK (Updated in 2023)
Note: This article's statistics come from third-party sources and do not represent the opinions of this website.
With 17.4 million UK households owning at least one pet, there is a huge need for adequate vet care to look after the growing pet population. Microchipping, vaccinating, and neutering are some of the most common procedures that vets carry out on a daily basis, and they're essential for keeping your pet safe and healthy. However, vets also have to deal with diseases, injuries, and broken bones, which require a lot of experience and expertise.
Becoming a vet isn't a career choice for everyone because it takes a lot of determination and many years to achieve. However, if you're passionate about improving the lives of pets and animals in general, keep reading to discover what it takes to become a vet in the UK.
We've organized these statistics into the following categories:
The 11 Facts and Statistics on Becoming a Veterinarian in the UK

Things To Know Before Becoming Qualified as a Veterinarian
1.

It takes 4–6 years to become a professionally qualified veterinary surgeon.
(UCAS)
Full-time students take a minimum of 5 years to complete their veterinary degree, while part-time students will take much longer. Students also wanting to earn a bachelor's degree will graduate in 6 years.
If a student already has a degree in a subject that relates to veterinary science, they can apply for a 4-year veterinary degree course instead.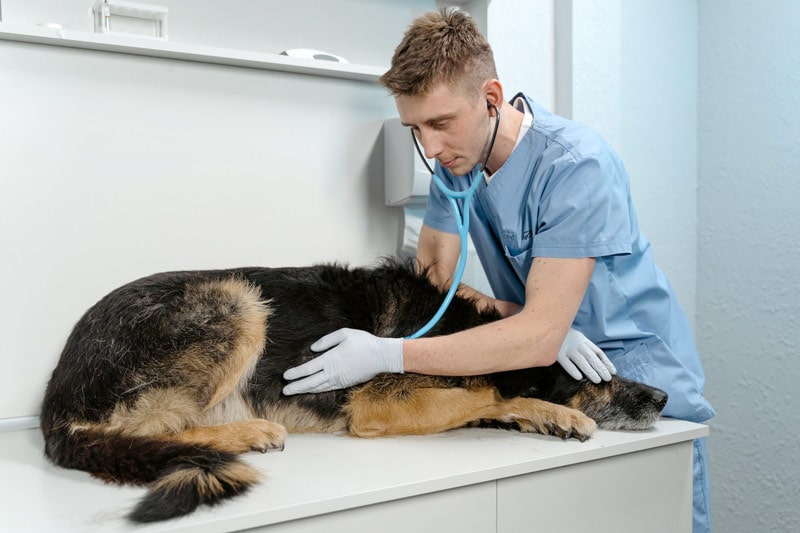 ---
2.

There are 11 vet schools in the UK.
(BVA 1)
To become a registered veterinarian, you'll first have to complete a university course and get a degree that is approved by the Royal College of Veterinary Surgeons. However, getting accepted into a university to study for this degree isn't guaranteed. Your grades will have to meet their academic requirement, you'll need volunteering experience at a veterinary practice, and you'll have to do interviews and screening tests as part of the selection process.
Thankfully, there are 11 vet schools in the UK that you can choose from, so you can apply to the ones that you like most. Visit each university's website to know what you can expect from them during the application process, if you meet their requirements, and what life as a student at that university will be like.
---
3.

18% of students doing a veterinary degree in the UK are international students.
(UCAS)
UK universities welcome both UK candidates and international candidates into their veterinary courses. While 82% of students doing a veterinary degree through these universities are from the UK, 18% are from other countries.
International candidates aren't assessed any differently from UK candidates, and there is no limit on how many international students are welcome in the program, making the course available to all applicants.
---
4.

98% of students doing a veterinary degree in the UK are full-time students.
(UCAS)
A veterinary degree is a tough course that takes at least 5 years to complete, which is why most students studying this course are full-time, and only 2% are part-time students.
The Reality of Completing a Veterinary Degree Through University
5.

64% of students pay for their tuition fees via a loan.
(BVA 2)
Regardless of what a student is studying at university, they usually have to face high tuition fees. To study a veterinary degree through a university can cost over £30,000 when considering all the factors involved, such as accommodation, tuition, books, etc. Although some families try to cover their child's tuition fees, 64% of students have to pay for it with a loan.
A large number of students feel as though they're not able to stay on top of their expenses and have turned to part-time work to help cover their living expenses.
---
6.

78% of students feel that their university is adequately preparing them for their future careers.
(BVA 2)
The good news is that most students that are studying to become a veterinarian feel as though their university has prepared them for their careers. This means that the universities have been successful in their goal of equipping students with the knowledge, experience, and confidence they need as graduates.
However, some students say that their university could better prepare them by providing more practical experiences, opportunities to specialize, and offering a few extra modules.
---
7.

90% of 5th-year veterinary students intend to go into practice once they've graduated.
(BVA 2)
Most students that have spent the last 4–6 years completing a veterinary degree are ready to see their efforts pay off as they enter into practice. However, 10% of surveyed veterinary students don't intend on going into practice once they're done due to a number of different personal reasons.
Of that 90%, 49% of 5th-year students intend to work in a small animal practice, and 8% intend to work with large animals.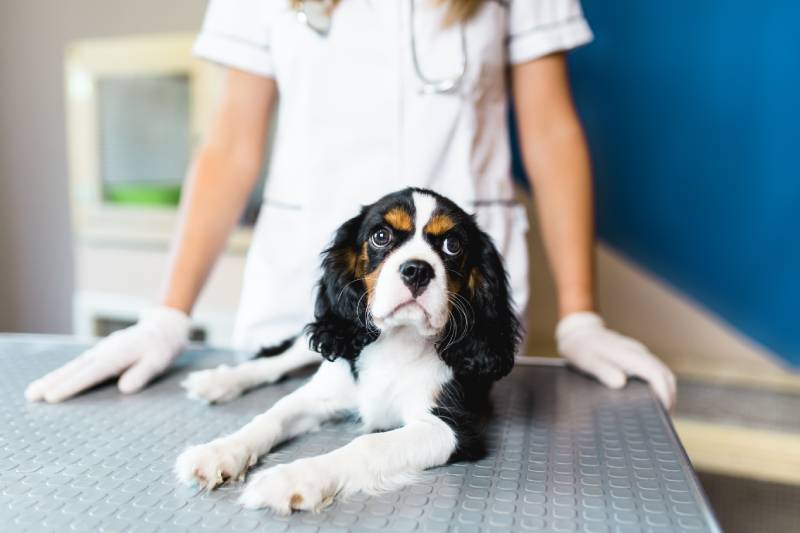 What To Expect as a Veterinarian in the UK
8.

There are around 25,400 veterinarians in the UK.
(Statista) 
25,400 people in the UK are self-employed or employed veterinarians, with most veterinarians working in full-time practice. As high as this number is, it's dropped by 3,100 veterinarians compared to the year before. This could be due to the recent impact of Brexit and the Coronavirus pandemic the UK, along with the rest of the world, had to endure.
---
9.

An experienced veterinarian can expect a salary of around £50,000 per year.
(National Careers)
The average annual salary for full-time employees in the UK is around £33,000. Due to their many years of study, the weight of responsibility, experience, and qualification, veterinarians earn above-average salaries. Many veterinarians fresh out of university are paid around £30,000 annually, but experienced veterinarians can expect to be paid around £50,000 per year.
---
10.

It takes around 1.87 months to find work after qualifying as a veterinarian.
(RCVS)
There has been a rise in pet ownership since the global pandemic, as many individuals isolated from people and turned to pets for comfort. Most responsible pet owners have great concern for their pet's well-being and are diligent with check-ups and preventive care.
With a greater number of pets comes a greater need for veterinarians. There also isn't an incredibly high number of students graduating with a veterinarian degree every year. On average, it takes only around 2 weeks for a qualified veterinarian to find employment in the UK.
---
11.

23% of surveyed veterinarians in the UK would choose a different profession if they could start their career over again.
(RCVS)
Many animal lovers study to become veterinarians and find great fulfillment in the work that they do. However, not all veterinarians feel the same way, and some regret their career choice. In fact, 23% of surveyed veterinarians would choose a different career choice for their lives if they could start over again.
Frequently Asked Questions About Becoming a Veterinarian in the UK
Do veterinarians ever stop studying?
No, veterinarians never stop studying. Veterinarian medicine and practice are continuously changing as new developments are discovered and improved. Due to this and the need to continuously improve their skills and knowledge, all practising veterinarians must complete 35 hours per year of Continuing Professional Development (CPD).
(RCVS)
What are some of the skills needed to be a veterinarian?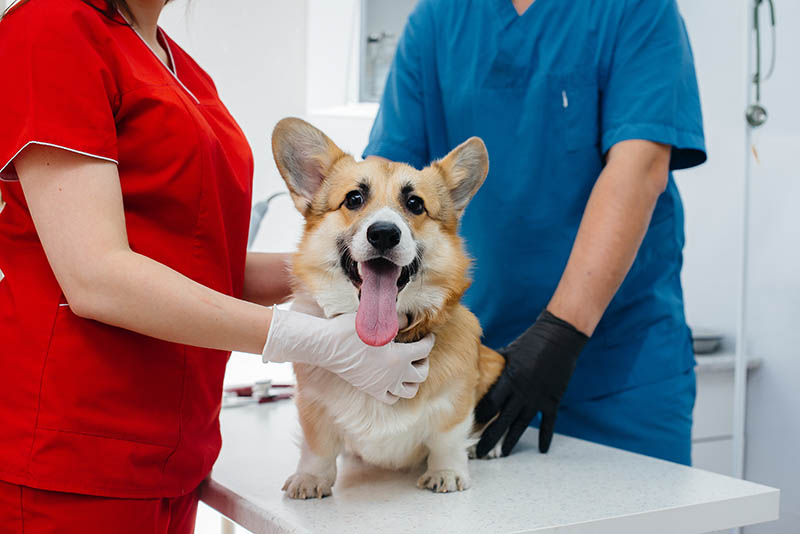 You won't only have to be academically strong to become a veterinarian. People in this field work with customers and staff every day and will need excellent communication skills, customer service skills, patience, and the ability to remain calm. They'll need to have steady hands, knowledge of biology, animal medicine, and dentistry, as well as good judgment and the ability to pay attention to details. If they don't, they won't make good surgeons.
(National Careers)
What universities offer veterinary medicine courses?
There are 11 universities in the UK that offer veterinary medicine courses:
University of Cambridge
University of London
University of Liverpool
University of Bristol
University of Glasgow
University of Edinburgh
University of Nottingham
Harper and Keele Veterinary School
University of Surrey
The Aberystwyth School of Veterinary Science
University of Central Lancashire
(BVA 1)
Conclusion
Becoming a veterinarian in the UK requires determination, hard work, and sacrifice. Students that have been successfully accepted into the university they've applied to will have to study for a minimum of 4 years. Many students go into debt to cover their tuition fees and living expenses and often seek out part-time work.
However, once students graduate from their course, they are likely to find employment quickly and receive a good salary. More importantly, most veterinarians find fulfillment in their careers and would choose it again if they had to start their careers over.
---
Featured Image Credit: Elnur, Shutterstock