100+ Aggressive Dog Names: Ideas for Fierce & Combative Dogs

Unfortunately, not all puppies happen to be full of love and happiness all of the time. Occasionally their feisty and likely unwelcomed side is exposed. However, aggression among dogs can mean a few different things—which we dive into below.
So when it comes time to naming your fierce new friend, you'll likely want a name that's just as bold and tough as they are. Selecting a name that's soft and adorable, like Fluffy or Grover, just won't do! We have some of the toughest names suitable for any pup with an attitude. Below are our favorites for females and males, and scary or intimidating, fierce and protective suggestions for the various degrees of aggression in our pups.

Aggressive Female Dog Names
Huntress
Leia
Hera
Storm
Rowan
Sloane
Justice
Mansa
Briar
Kitana
Ursa
Rebel
Harley
Ivy
Cruella
Milan
Tundra
Astra
Male Aggressive Dog Names 
Jinx
Griffin
Heath
Kaiser
Crunch
Gunner
Zane
Hades
Diesel
Jax
Brute
Chompers
Crusher
Rowdy
Lex
Hulk
Macgyver
Crash
Darth
Vicious Dog Names 
Often aggression is a result of a terrified puppy—they are uncomfortable in their surroundings, possibly overwhelmed or worried. We might even be frightened of them ourselves sometimes so you might be interested in a name that reflects that scary side. If so, read on to find our top suggestions:
Rogue
Danger
Fury
Brutus
Sneer
Chaos
Savage
Shredder
Goblin
Rage
Rambo
Wrath
Mutant
Lucifer
Manic
Haunt
Mafia
Hellion
Banshee
Destroyer
Fang
Vandal
Stong
Knuckles
Butch
Attila
Venom
Ammo
Diablo
Fury
Thrasher
Demon
Bullet
Felony
Beast
Nipper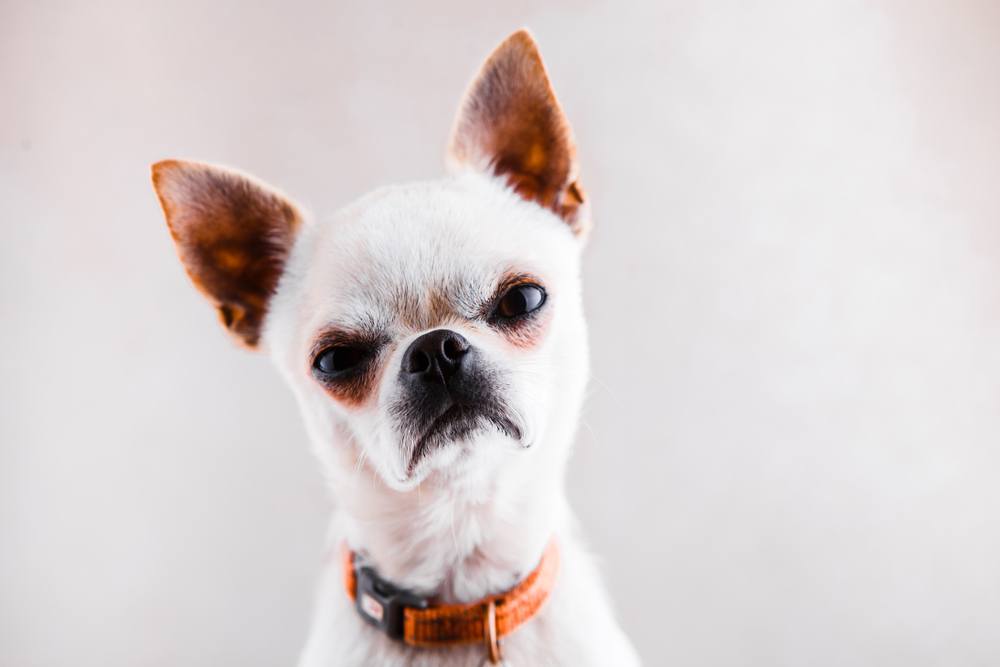 Fierce Dog Names
If you have a fierce dog, you likely have one with a fairly strong personality. They may not be "aggressive" so to speak, but they definitely do not back down and are full of sass and confidence. If you are looking for a name to back up that 'tude—this is the spot for you!
Ares
Tank
Vixen
Pandora
Medusa
Diva
Viper
Trinity
Sultan
Valor
Sassy
Denali
Sarge
Magnum
Trigger
Protective Dog Names
Loyal and devoted companions are truly special. These dogs love unconditionally and are willing to protect their owners against all odds. Quick to voice their opinion when they feel a threat coming on and ready to defend their owners—which, at times, might come across as aggressive. Regardless, it's done out of the goodness of their hearts. Here are the top picks for protective dog names:
Boss
Elektra
Bouncer
Titan
Fender
Vixen
Jedi
Xena
Cheif
Zorro
Knight
Brawn
Mystique
Shield
Warden
Trooper
Goliath
Olympia
Spartan
Gamora
 Noble

Finding the Right Aggressive Name for Your Dog
As we noted, there are a few different variations of aggression that your pooch may have. If you are hoping to soften your pup up a bit, time, attention and a whole lot of love and training will absolutely get them there. Don't give up and keep at it!
We hope that you have found some clarity once reading through our list of the best names for attitude-toting dogs and that you were able to pick the perfect match for your frisky friend. With a few serious, simple, and even a touch clever, we are sure that we have a name that caters to every sassy dog!
If you weren't able to find one you loved, below we have noted a few other name links you can check for additional inspiration:
---
Feature Image Credit: Shutterstock, alexei_tm