100+ Bernese Mountain Dog Names: Ideas for Swiss Guard Dogs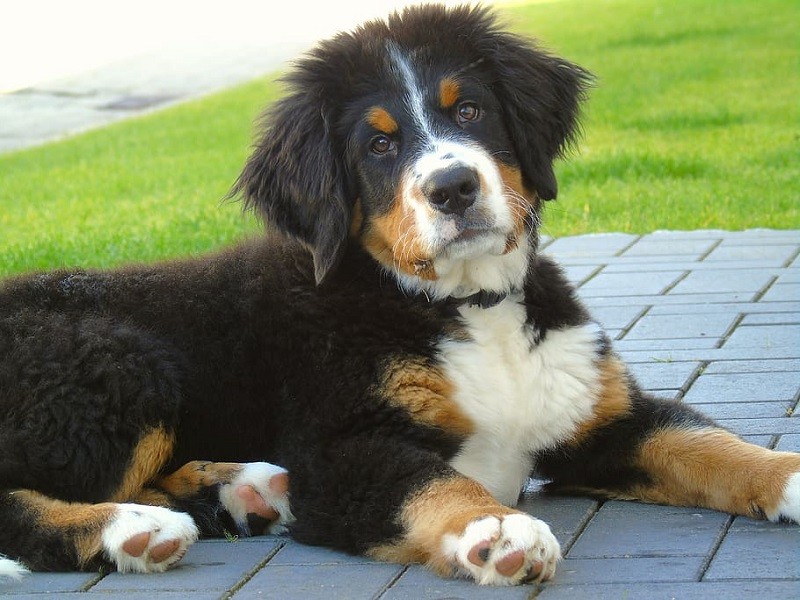 Bernese Mountain Dogs are a relatively large and loyal breed. Also known for being quite the guard dogs, they are great companions for people who live in the country or colder temperatures. This breed is considered a working dog and built with power, strength, and an incredible work ethic. In addition to their kind and affectionate temperament, they are an attractive breed. Their thick tri-colored coat includes an impressive combination of black, white, and rust.
Selecting a name that compliments these gentle giants should be a fun and exciting part of adopting a new dog! With so many endless possibilities, we have taken out the guesswork, and created the ultimate list of names geared just for the Bernese Mountain Dog! Below we have noted the top picks for females and males, a few Swiss options and their meanings, and ideas for large and guard dogs! 

Female Bernese Mountain Dog Names 
Heidi 

Willow 

Giada

Lucy 

Ingrid 

Olive

Ruby

Luna 

Verena 

Elena 

Ellie

Freya 

Oakland

Molly

Geneva 

Stella 

Harley 
Male Bernese Mountain Dog Names 
Brenner 

Charlie 

Wrigley 

Buddy

Cervin 

Hans 

Hannibal 

Murphy 

Yves

Hank

Wilhelm

Bernie 

Remy

Louie

Gus 

Luther 

Finn

Boone

Tucker 

Gerber

Teddy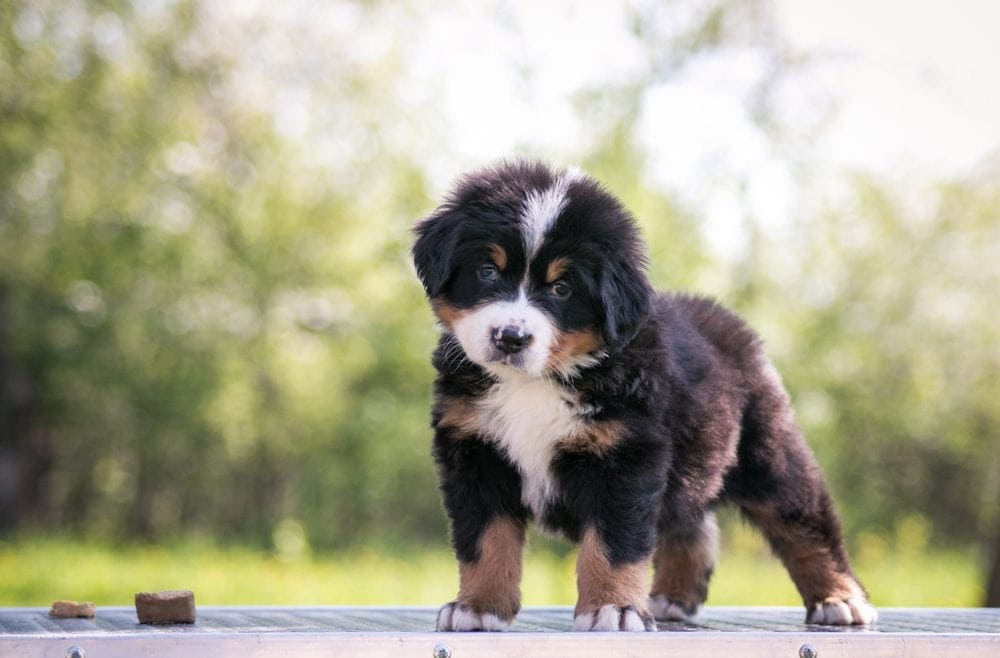 Swiss Dog Names for a Bernese Mountain Dog
This unique and adorable breed originated from the Swiss Alps, so a name that pays homage to their origin is a pretty sweet idea. Bernese Mountain Dogs, also known as the Berner Sennenhund in their native land, first began their work as cattle dogs on dairy ranches that resulted in some of the most decadent exports – chocolate and cheese! if you are looking for a name as rich as these delicious treats – this is the list for you! 
Häsli (Term of Endearment)

Elvin (Elf)

Valai (Land of Mystery)

Olov (Heir)

Minka (Strong)

Nils (Victory)

Bleume (Flower)

Basil (City in Switzerland)

Znüni (Mid Morning Snack – what pup doesn't enjoy snack time?!)

Müsli (Pet Name People use for Eachother)

Schatzi (Little Treasure)

Hingis (Loyal & Alert)

Tova (Peace)

Bewundere (To Admire)

Weiss (White in German)

Kafi (Coffee)

Guido (God is Gracious)

Pelle (Stone)

Didier (Clumsy)

Floke (Guardian)

Brüele (To Cry)

Zurich (City in Switzerland)

Adolphus (Noble Wolf)

Buschi (Baby)

Bärli (Giant Bear)
Big Dog Names for a Bernese Mountain Dog
As we mentioned, the Bernese Mountain Dog is powerful and brisk – with the skill and focus to get the job done. Their stature is complimentary to their work ethic and has helped confirm their spot as a truly incredible breed. Although it may be a bit obvious, we happen to think a name that pays tribute to their sizeable build is a great idea! 
Moose 

Aspen

Arya

Goliath 

Grande 

Bear 

Athena 

Sully 

Axel 

Andress

Maximus 

Kong 

Kona

Attila 

Zeke

Bruce 

Dakota

Thor

Everest

Duke 

Zeus 

Guinness 
Guard Dog Names for a Bernese Mountain Dog
These working chameleons, so to speak, also found jobs in keeping a close watch over the farmyards to ensure the cattle remained safe! The Bernese Mountain Dogs are attentive with great attention to detail, which is the reason they are excellent guard dogs. These traits can be seen among owners who find these pooches are loving watchdogs prepared to keep a close eye on their families! A strong patrol name may just be the type of name your new pup deserves!
Scout 

Zuma

Magnum / Magna

Maverick 

Thora

Sniper

Ammo

Ares

Bruiser 

Sarjeant

Zelda

Cadet

Brutus

Major

Saber

Rogue

Rambo
Intelligent Dog Names for a Bernese Mountain Dog
As you might have already guessed, the Bernese Mountain dog is also quite intelligent. In fact, they are easy to train, receptive to commands once established, and will allow to you be the alpha! Here we have listed the most popular names for the Bernese Mountain dogs that are sure to salute their intelligence!
Darwin 

Scholar

Atom 

Newton

Genius

Apls

Beaker 

Holmes

Whiz

Neutron

Gracie

Watson

Urkel

Franklin 

Da Vinci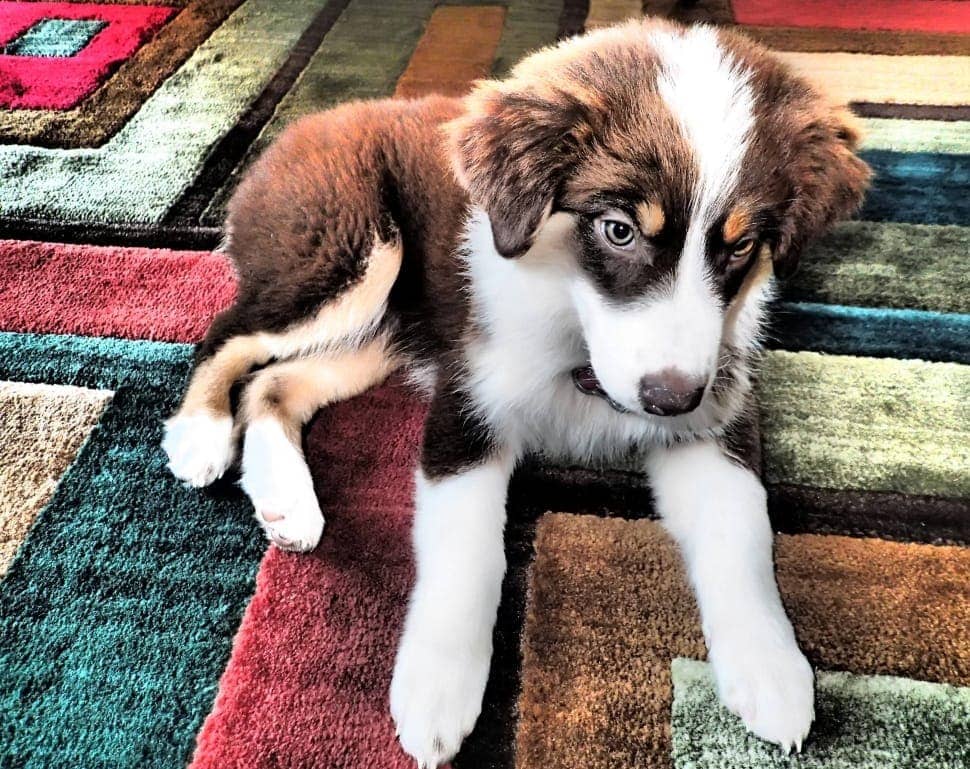 Black, White, and Rust Color Dog Names for a Bernese Mountain Dog
Each Bernese Mountain Dog is painted with a tonal coat of the darkest of blacks, purest of whites and a few tufts of a deep rust color. A name that represents their beautiful thick and silky coat may just be the most simple, yet adorable idea!
Domino

Silhouette

Voodoo

Dusk

Harlequin

Azure

Terra

Scraps

Patches

Tuxedo

Pyro

Raven

Mash

Merlot

Jester

Stone

Chowder

Sable

Spade

Blizzard

Finding the Right Name for Your Bernese Mountain Dog
There are many exciting things to consider when adopting a new pup and you shouldn't be clouded by having to tirelessly search for the perfect name. Our one-stop-shop for Bernese Mountain Dog names is hopefully the only place you needed to find that perfect match. 
Pairing your dog with a historic Swiss name, or perhaps one that attributes their size, ability, brains, or even their fur color, are all great options. We are sure that there is one fitting for every Berner Sennenhund – young and old! 
However, if your search continues, you may find additional inspiration in one of the posts we have listed below: 
---
Feature Image Credit: Pxfuel