Are Panama City, FL Beaches Dog-Friendly? What to Know Before You Go!
Panama City Beach, Florida, lies along the Gulf Coast and is a popular place for spring breakers and vacationers seeking to soak up the sun. This beach stretches 27 miles and offers soft white sand with beautiful scenery. Some people call this fabulous area home, and many of those people are dog owners. Even if you're visiting with your canine kiddo, you may wonder if Panama City Beach is dog-friendly. If so, you've come to the right place!
Panama City beaches are dog-friendly, and in this article, we'll go over the specific areas you can take your pooch, along with dog parks that are fun, exciting, and worth visiting. So, strap on your dog's harness, and let's get started!

Are Panama City, Florida Beaches Dog-Friendly?
The answer to this question is yes, Panama City Beach is dog-friendly, and the area overall is a dog-friendly community. However, only a certain 400-foot section along the 27-mile stretch of beach is dog-friendly, and that is the Dog Beach at Pier Park.
This dog beach is open 24 hours and is free. The only slight downfall is your dog is required to be on-leash, but your canine pal can enjoy the sand and get into the water. Ensure you follow the signage, stay within the designated areas, and bring waste bags to clean up after your pooch.
Specific rules apply while visiting this dog beach, such as only dogs 4 months and up can attend, and all dogs must wear ID tags and be up to date on all vaccinations. No more than three dogs per person are allowed, which is more than other dog beaches. Also, this dog beach is considered one of the best dog-friendly beaches in the U.S. The area has plenty of dog-friendly restaurants nearby, so be sure to grab some lunch after a fun beach outing with your doggie.
There are no shaded areas on this beach, and it can get crowded on the weekends. Be sure to bring water for your dog and be prepared for the crowds if you go on a weekend. A beach umbrella is also a good idea to bring along to give your doggie some shade.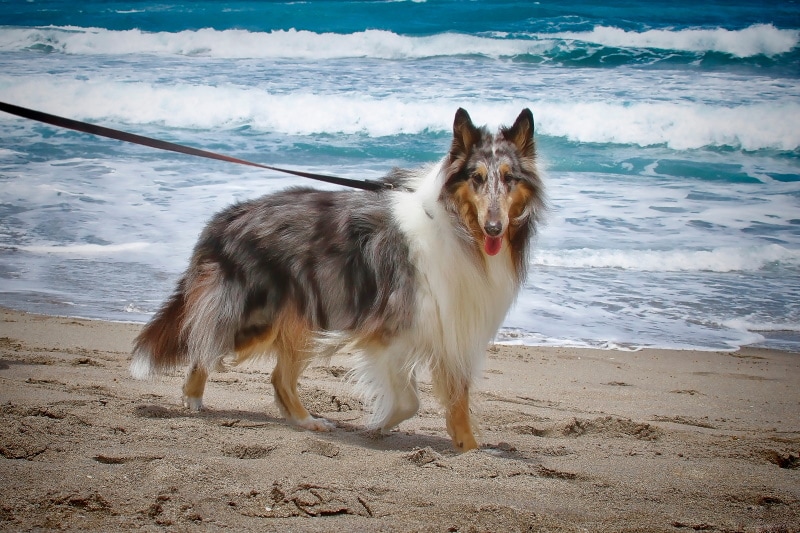 What Parks in Panama City are Dog-Friendly?
If you want an area other than the beach to take your dog, you can opt for a dog-friendly park, and Panama City has several to choose from. Let's take a look.
Conservation Park
Conservation Park is open from dawn to dusk seven days a week. Dogs must be kept on a leash at all times and are limited to two dogs per person.
Wildlife is abundant throughout this park, so be sure to bring your binoculars. This park offers 24 miles of trails and over mile-long boardwalks that twist through 2,900 acres.
There are 12 trails to choose from, including Gayle's Trails, a popular paved trail for bicyclists. Restrooms and picnic tables are available, and don't forget to pick up after your pooch.
Frank Brown Park
Frank Brown Park offers a fenced-in off-leash area for dogs to romp and play. Apart from the designated dog park, this park has over 200 acres dedicated to outdoor recreation, such as tennis courts, softball/baseball fields, an indoor gym, fishing, and more.
Al Helms Dog Park
Al Helms Dog Park is an off-leash dog park with three sections dedicated to our canine pals: one for large dogs over 30 pounds, one for small dogs under 30 pounds, and one for shy dogs. Admission is free, and it's open from sunrise to sunset.
This park has grassy areas for your dog to roam, and they provide doggie waste bags. Water, picnic areas, and a few trees for shade are also available.
Camp Helen State Park
Camp Helen State Park offers 3.2 miles of marked trails you can walk with your dog. Dogs must remain on a 6-foot leash at all times and are not permitted on the beach. However, service dogs are permitted in all areas of the park.
It's open from 8:00 a.m. to sunset, and there is a $4 parking fee. This park has many amenities and things to do, such as fishing, swimming, and hiking.

Final Thoughts
As you can see, many parks and a 400-foot section of Panama City Beach is dog-friendly, leaving you with plenty of options to take your dog out for a fun day outdoors.
Always ensure you bring waste bags and pick up after your dog. Bring water for your pooch, and check to see if any rules have changed before you head out to any beach or park. But most of all, have a fun day with your dog!
See also: 10 Amazing Off-Leash Dog Parks in Kansas City, MO
---
Featured Image Credit: julian zapata, Pixabay