100+ Australian Shepherd Names: Ideas for Sporty & Energetic Aussies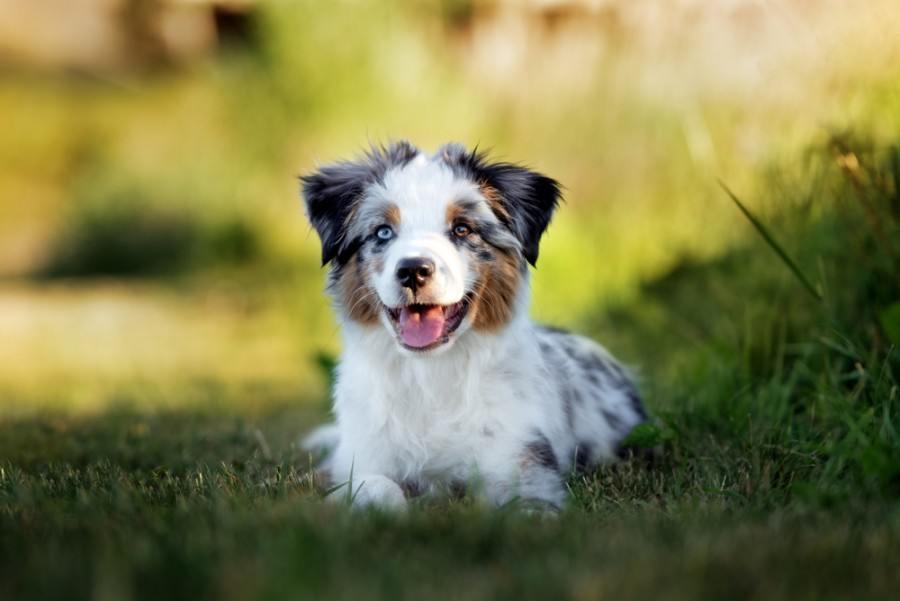 Funny enough the Australian Shepherd, otherwise known as the Aussie, is not an Australian breed at all! This dog has a Western United States heritage. Despite their complete lack of Outback roots, they do happen to have a very easy going and laid back personality. The Australian Shepherd is energized, loving, and a wonderful companion for families. Their instinctual nature makes them splendid herders, whether it be sheep or children, no job is to big! Additionally, they are great sport dogs – agility and dock diving are a few of the events they thrive in. 
The Aussie is blessed with a stunning coat, often blue or red merle, meaning they are dotted with patches of color throughout their usually white based coat, and a piercing set of eyes – some times even miss-matched. If you've adopted a pup from this beautiful breed, you are in for a life full of adventures! Now to find an Australian Shepherd name – below we have listed the most popular Australian Shepherd names for female and males, mini shepherd and puppy names, ironic Australian Shepherd names, a few badass and unique suggestions, and finally, Australian Shepherd names that complement their lovely merle coats! 

Female Australian Shepherd Names
Paisley 

Ivy 

Mila 

Maya 

Nola 

Layla 

Penny 

Hazel 

Mika 

Thena 

Sage 

Nova 

Bella 

Daisy 

Birdie 

Dixie 
Male Australian Shepherd Names
Mac 

Rocky 

Leo 

Scout 

Copper 

Benji 

Mash 

Odin 

Juno 

Bodey 

Sulley 

Hank 

Pinto 

Dante 

Sawyer 

Miles 

Griffin 

Felix 

Harvey 

Australian Shepherd Puppy Names
Of course, your Aussie puppy won't be a baby forever but their sweet demeanor and bubbly personality will show that you can be young at heart forever. One of these Australian Shepherd names is sure to grow with your pup and make a lasting impression on whomever they meet! 
Molly 

Roscoe 

Buddy 

Annie 

Piper

Winnie 

Bingo 

Finn 

Teddy 

Willow 

Lucy 

Luna

Jasper 

Gus 

Benji Archie 

Ariel 

Maggie 

Moxie 

Cleo 

Ellie 

Gracie 
Australian Names for your Australian Shepherd
The Australian Shepherd received its Aussie name reference as it resembled a breed originating from the Outback dating as far as the 1800s. The breed itself in fact originated in the Western United States! Despite the lack of Australian heritage, it still might be a fun idea to give your new pup a name inspired by this intriguing country. 
Bondi 

Aussie 

Barbie 

Melbourne 

Crikey

Irwin

Dingo 

Brisbane 

Arvo 

Joey 

Koala 

Taz

Orchy 

Dundee

Sydney 

Mandu 

Kiwi 

Tillie 

Perth 

Ozzie 

Mate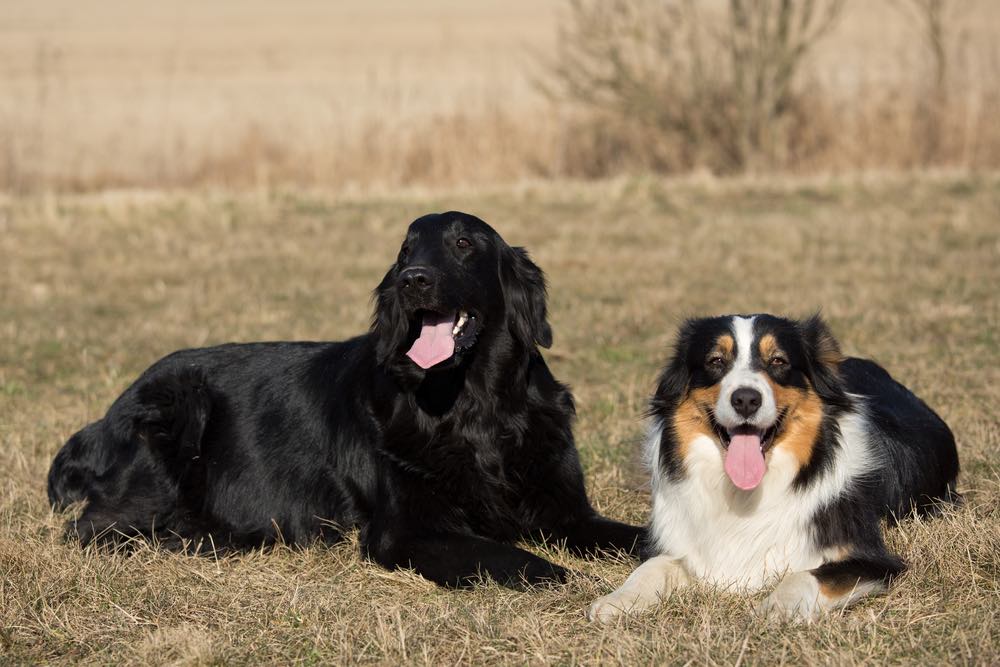 Mini Australian Shepherd Dog Names
The Mini Australian Shepherd is a separate breed all on its own that shares the same features, personality, and coat colors, only they are mini! With the same fun-loving and energetic traits, these little pups are great for someone who may not have the space to host a full-size dog! 
Peanut 

Chip 

Buttons 

Chewy 

Goose 

Basil 

Romeo

Josie 

Moose

Flick 

Bean 

Smalls 

Watson 

Karma 

Ella 

Gigi 

Pino 

Ruby 

Alfie 

Maisy

Reese 

Odie 

Mabel 
Badass Australian Shepherd Dog Names
The Australian Shepherd is known for its upbeat and cheerful attitude, so why choose a tough name? Well, Australian Shepherds are determined and motivated. They make competitive herding and sporting dogs, and truly excel in any activity they set their mind to. Truthfully, one doesn't get more badass than that! 
Brutus 

Axel 

Xena 

Electra 

Danger 

Rebel 

Gunner 

Tonka 

Zeus 

Vixen 

Sarge 

Gamora 

Pyro

Joplin 

Harlow 

Diesel 

Power 

Nitro 

Viper 

Jinx 

Tank

Ammo 

Bones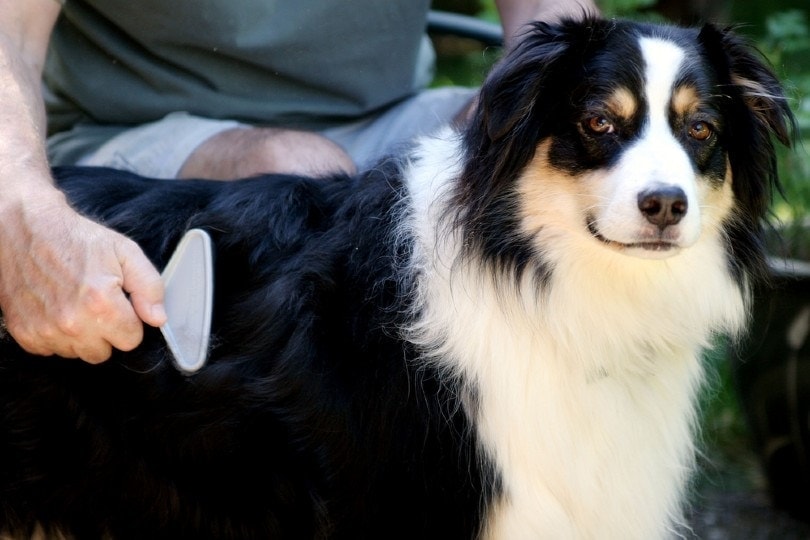 Blue Merle & Red Merle Australian Shepherd Names
Common coat colors among this breed include the gorgeous merled pattern in blue or red or a stunning combination of both. Pair this pooch with a set of striking light blue eyes and you'll have one show-stopping pup! 
Comet 

Ashton

Cherry  

Pebbles 

Giada 

Foggy 

Esme 

Dottie 

Rush 

Fox 

Pretzel 

Cosmo 

Blu 

Merle 

Dusty 

Opal

Glory

Ginger 

Spot 

Pepper 

Afina 

Mottle 
See Also:
Unique Australian Shepherd Dog Names
When it comes to naming an Australian Shepherd, one size fits all may not be the ideal option for everyone. Your Aussie is a true individual and name so unlike any other pup you've met might be the perfect match for your little beaut! 
Avalon 

Orion 

Sumo 

Jobie 

Fletcher 

Dino 

Xander 

Sepia 

Umber 

Ursa

Puck 

Lars 

Vanta 

Ritz 

Finding the Right Name for Your Australian Shepherd
Adopting a new puppy is wildly exciting and choosing an Australian Shepherd name should be a fun addition to the process! Sometimes this step is overwhelming as the options are seemingly endless. Here we have a few tips sure to help you narrow down your search. 
Names that end with vowels are easier for dogs to learn.

Names like Lucky, Fido, and Bella got their names on the top of the popular list for more than one reason. Dogs can distinguish frequencies ranges higher (and better) than we can (have you heard of the dog whistle?), so having the vowel ending adds an intonation that makes it very easy to hear and understand for your pup. That's not to say it's the only way, but it will give your puppy a bit of a leg-up in his puppy training.

One to two syllable names are easier to say.

Really long names are a pain, especially during training, so just keep that in mind if you find one you love. A little "Queen Elizabeth the 3rd" may be the fitting name for your regal pup, but using that as her proper name and calling her Lizzie will probably serve you and her much better. 

Avoid offensive or negatively connotated words for names

. Would you be comfortable telling your vet or your neighbor your dog's name? How about calling your dog's name at the dog park. Even words that may be funny, like "Fart Nugget" can be a bit on the tricky side for a proper name for your pet. Leave those for the cutesy nicknames and pick something you'll be proud to share so your pup can wear it with pride too.

Do your best to avoid names that may be confused with commands.

Imagine your little puppy learning to "sit" or "stay," but their name is "Kit" or "Ray." While the names are cute and we aren't saying you can't pick them, just keep in mind that learning the commands that sound similar will be a little trickier at first, so have a bit more patience if you're set on the name. 
With these tips, you are sure to find an Australian Shepherd name you will absolutely adore. However, if none of these suggestions jumped out at you, take a peek at one of our other sites linked below: 
---
Feature Image Credit: otsphoto, Shutterstock