Bea-Tzu (Beagle & Shih-Tzu Mix): Info, Pictures, Facts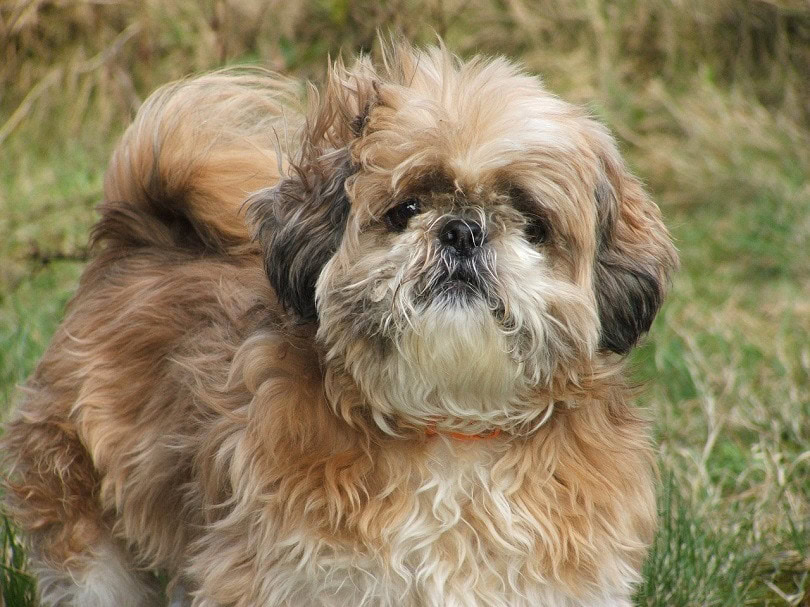 | | |
| --- | --- |
| Height: | 11 – 15 inches |
| Weight: | 15 – 23 pounds |
| Lifespan: | 10 – 15 years |
| Colors: | White, Cream, Brown, Gray, Black, Black and Tan, Tricolor |
| Suitable for: | Families with children living in apartments |
| Temperament: | Intelligent, Affectionate, Active, Protective, Playful, Loyal, Stubborn |
The Bea-Tzu is a small, intelligent dog that is a crossbreed of the Beagle and the Shih Tzu. They are loving, loyal and very bright dogs that make excellent companions due to their amiable and playful personalities.
They are fairly active dogs and will do just as well in a small house with a yard or in an apartment. They make excellent watchdogs, but they are not aggressive, which makes them excellent pets for children.
The Beagle Shih Tzu mix is a small to medium-sized dog with short legs and a large head in comparison to the body. With a shorter muzzle than the beagle, large and floppy ears and a curved, fluffy tail, the Bea-Tzu is a unique and adorable dog that makes an excellent family pet.

Bea-Tzu Puppies
The Bea-Tzu has been described as a high-energy dog that enjoys spending time playing with their owners. They create strong bonds and are very loyal to their human companions. Early socialization and training are essential for your dog to get along with other pets but be wary of their stubborn temperament. Learn what type of training works best for them and have a disciplined and regular training routine with your pup.
Bea-Tzus tend to be generally healthy. Other than the possibility of developing the conditions prone to the breeds of the Beagle and Shih Tzu, the Bea-Tzu is otherwise free from most of the health problems found in purebreds.
3 Little-Known Facts About the Bea-Tzu
1.

The Bea-Tzu gets its good-natured personality from the Beagle and its feistiness from its Shih Tzu side.
They are very sweet-natured dogs that love to cuddle and make excellent companion dogs but are also devoted and ardent protectors making for excellent watchdogs.
---
2.

The Shih Tzu is known for its stubbornness which makes training the Bea-Tzu more of a challenge.
They are stubborn, which makes training a little more complicated, but they are also intelligent enough to grasp the purpose of training itself.
---
3.

The Bea-Tzu believes they are part of your pack.
They prefer to spend all of their time with their family so ensuring they are not left alone for long periods will give you a happy and well-adjusted dog.

Temperament & Intelligence of the Bea-Tzu

🧠
Are These Dogs Good for Families?

🏡
The Bea-Tzu is an excellent dog for families, particularly families with children of any age. They are loyal and protective but without any serious aggression issues. They are relatively active and are very playful and love to spend time with their families either indoors or outdoors.
Does This Breed Get Along with Other Pets?

🐶 😽
The Bea-Tzu does interact well with other pets, particularly if they are socialized early in life. They have a very good-natured personality, and due to their lack of aggression and their playful nature, they would do very well in a home with other pets.

Things to Know When Owning a Bea-Tzu:
Food & Diet Requirements

🦴
As a small to medium-sized dog, the Bea-Tzu should be fed according to the size of the dog. In general, following the dietary requirements of a small, active dog would work for a Bea-Tzu. How much is fed to the Bea-Tzu depends on the dog and its eating habits. If the dog tends to overeat, the food should be limited to twice a day with 8 – 12 hours between feedings.
Keep an eye on the dog's weight and talk to the vet if there are any concerns around weight gain or any other health issue. Small dogs tend to suffer from dental problems; therefore, hard kibble would be one way of avoiding this potential future concern.
Exercise

🐕
The Bea-Tzu is very high-energy but is a moderately active dog that loves to play; therefore, one long, daily walk and visits to the park would be ideal. Giving them time to run in the park and play with other dogs will help them to burn off any excess energy and provide them with time to socialize. The exercise requirements for the Bea-Tzu do not differ radically from most other small to medium-sized dogs. Just ensure if you have a yard, that it is fully fenced to allow your dog the opportunity to run around safely.
Training

🦮
Training can be a problem with most Bea-Tzu because they are prone to stubbornness. Training a stubborn dog can be accomplished with a firm hand, patience, and positive reinforcement. Your Bea-Tzu will not respond well to punishment and scolding due to their intelligence and sensitivity and could develop behavioral issues as they grow into adulthood.
Grooming ✂️
Thanks to the Shih-Tzu and Beagle heritage, the coat of the Bea-Tzu tends to be soft, straight and silky. They don't shed a great deal but still require grooming several times a week. Daily brushing will help to keep the coat free of mats, with particular care on the face where the hair is longer.
Because the Bea-Tzu has floppy ears, particular attention should be paid to ear cleaning. The Bea-Tzu should only be bathed when necessary with a mild shampoo. If you are not comfortable with nail trimming or cutting the hair on the face of your dog, a visit to a professional groomer every 1 – 2 months will be necessary.
Health and Conditions

❤️
Being familiar with the parent breeds of your Bea-Tzu can assist you in understanding the health of your crossbreed dog.
Male vs Female
As with any breed, there are specific differences between male and female puppies. Females tend to be a little lighter and smaller.
Then there are the general differences such as whether or not you want to use your dog for breeding purposes or if you want to get it spayed or neutered. If you decide not to spay or neuter your pet, the female will go into "heat", and the male might become more excited and dominant.
Other than the biological behaviors, the differences between the males and the females are primarily based on how they were raised and socialized as puppies.

Final Thoughts:
The Bea-Tzu will make a wonderful addition to any family living either in a house or apartment. They are playful, curious, energetic, affectionate, intelligent and loyal and also happen to be minimal shedders with much less grooming required compared to their Shih Tzu parents.
They make good watchdogs, but their lack of aggression towards strangers makes it safe for them to be around young children as well as other pets.
Finding a breeder of the Bea-Tzu could be accomplished by talking to breeders of Beagles and Shih Tzus. They might be able to provide a recommendation or speaking to local and national dog clubs and attending dog shows could provide you with some leads. Even posting online in social media might eventually find you a Bea-Tzu breeder.
A little detective work is worth it if it lands you with a Bea-Tzu puppy. If you're looking for a dog with a fantastic personality to spend time playing and cuddling with, then look no further than the adorable Bea-Tzu.
---
Featured image credit: 12122, Pixabay