8 Best Artificial Turfs for Dogs in 2023 – Reviews & Top Picks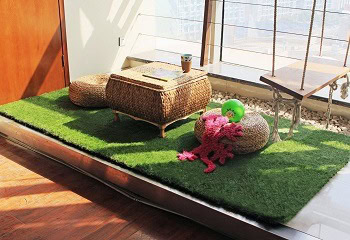 If you are considering purchasing artificial turf for your dog's use, then you will want to read through this reviews list. More and more people are finding that their dogs prefer to use artificial grass over puppy pads, and some owners like to offer an area outside where their dogs can do their business without getting muddy or covered in grass that is then tracked indoors.
Whatever your reason for wanting a turf, this guide highlights eight of the best artificial turfs. We discuss the pros and cons of each so you can make an informed decision about the best one to buy that fits your expectations and budget. The buyer's guide offers considerations to keep in mind as you search for the ideal turf.

A Quick Comparison of Our Favorites in 2023:
Rating
Image
Product
Details

Best Overall

SavvyGrow

Realistic appearing
2 inches high
Non-toxic
Check Price

Best Value

STARROAD-TIM

Affordable
Non-toxic
Flame resistant
Check Price

Premium Choice

PET GROW

High-quality
Fade resistant
Easy to clean
Check Price

SunVilla SV1-1

Thick and tall
UV and fire resistant
Non-toxic
Check Price

Pet Zen

Soft and lofty
Drainage holes
Durable
Check Price
The 8 Best Artificial Turfs & Grasses for Dogs
1.

SavvyGrow Artificial Grass — Best Overall
This artificial turf by SavvyGrow is realistic looking because it has four natural grass tones weaved within it. The turf is 1.2 inches high, so it offers a natural lushness that your dog will appreciate. The backing is a non-slip rubber that stays in place wherever you decide to lay it.
We like that it is non-toxic, waterproof, and UV and fire resistant. This size is 3.3 x 5 feet, which covers 16.5 square feet. You can cut it to any size and shape, and there are drain holes throughout the turf that allow the pet urine to seep through. Cleaning it is not a hard task because you can easily rinse it off with the hose.
On the downside, the SavvyGrow becomes hot when in the direct sun, so it is ideal to keep it in a shady location. However, it comes with a 100% satisfaction guarantee to return if you aren't satisfied with this turf. All in all, this is the best fake grass for dogs we have reviewed this year.
Realistic appearing
Four natural grass tones
2 inches high
Non-slip rubber backing
Non-toxic
Waterproof and UV resistant
Drain holes
Cut to shape easily
Easy to clean
100% satisfaction guarantee
Hot to touch in direct sun
---
2.

STARROAD-TIM Artificial Grass Rug Turf for Dogs — Best Value
The best artificial turf for dogs for the money is the Starroad-Tim because it is an affordable fake grass option for those with puppies and small dogs, which is why it sits at the second spot on our list. It is an ideal size for potty training and for an apartment balcony. The turf is non-toxic and flame-retardant, so everyone can remain safe. To clean, rinse with soap and water. It has drainage holes to allow urine to seep through. If you use it indoors, place puppy pads underneath to catch the urine; otherwise, if it is used outside, it can drain directly onto the ground underneath.
Its thickness is 1.18 inches, and it has a lofty feel that is soft for your dogs to lounge on if they choose. On the downside, the artificial grass isn't durable enough to hold up to dogs who like to dig or scratch, but it comes with a 100% guarantee, so you can return it if you aren't completely happy with your purchase.
Affordable
Ideal for small dogs
Non-toxic
Flame resistant
Easy to clean
Drainage holes
Soft
100% guarantee
Not ideal for dogs who scratch or dig
---
3.

PET GROW Dog Synthetic Grass Rug Turf — Premium Choice

For a large piece of turf, the Pet Grow is 4 x 13 feet or 52 square feet, and the company offers many other sizes. It is a pricey product, which is why it's number three on our list. However, it has many features that make it a high-quality option. It is environmentally friendly and safe for pets and children, with a pile height of 1.37 inches to make it more grass-like when walking on it.
The synthetic grass yarn has four color tones that resist fading and high temperatures. The rubber backing is grid-like to offer a high amount of drainage from urine or water to seep from the top to the ground underneath.
Wash it with water or sweep it to remove dust and dirt — this artificial grass can be used indoors if you wish. It comes with a 10-year warranty and a 30-day return policy.
Large size
High-quality
Environmentally friendly
Safe for pets and kids
Four color tones
Fade resistant
Grid-style rubber backing
Easy to clean
---
4.

SunVilla Turf Artificial Lawn Grass

The SunVilla makes a slightly different turf grass in that they use green straight yarn with a classic C-shape and yellow curved yarn to produce a real grass-like appearance. It is 1 3/8 inches tall with a grid-style rubber back that allows liquids to seep through. It can be used inside or outside and is non-toxic, UV resistant, and fire resistant.
This fake grass is easy to clean, and some individuals have reported that it does well over the winter months too. You can pick from many different sizes to fit your area, and you can even purchase a sample piece to view before buying a large section. On the downside, it tends to stay flattened wherever you tread, but it will fluff back up with a rake. We like that it comes with a 10-year warranty and 30-day return policy.
Thick and tall
Real grass appearance
Grid-style rubber back
Non-toxic
UV and fire resistant
Easy to clean
10-year warranty
---
5.

Pet Zen Garden Synthetic Turf

The Pet Zen Garden has the appearance and texture of real grass. It is a light fescue tone with four colors, and the blades are approximately 1.7 inches long. What makes this look more lifelike is that the turf isn't all the same length, and it is thick and lofty.
The blades are UV and weather resistant with a rubber backing that has drainage holes — it is also lead free. We found that it can be trimmed to size easily, though it is a pricey turf product for the size you do receive. Cleaning is not a concern, but some have mentioned that the artificial grass is odorous when exposed to the hot sun. However, it is a durable product and can withstand wear and tear from your pets.
Light fescue color
Tall blades
Soft and lofty
Easy to clean
Drainage holes
UV and weather resistant
Durable
Pricey
Odor if in the hot sun
---
6.

GOLDEN MOON Artificial Grass Turf Tile

This turf offered by Golden Moon is an interlocking system that allows you to easily customize the size. It comes with six pieces that are 1-foot square so you can make a 2 x 6-foot area for your dog. This is a great option for smaller dogs and puppies because it is pricey if you want to build a large piece.
The synthetic grass is 1.5 inches high and weather and flame resistant. It has drainage holes on the bottom side, but you will want to place these over something with adequate drainage if it is in contact with moisture, or else this turf will begin to smell. We like that the turf has color variations to make it appear to look like real grass.
On the downside, this fake grass is difficult for some pieces to snap together, but once you practice, it becomes easier.
Interlocking system
Good for small dogs
5 inches high
Weather and flame resistant
Drainage holes
Color variations
Learning curve
Odorous if not enough drainage
---
7.

GL Artificial Turf Grass Lawn

The GL artificial turf is an affordable option that features grass that is UV proof, weather resistant, non-toxic, and environmentally friendly. It has a rubber backing with drainage holes, so any moisture will seep through easily.
It is soft but not as lofty as other artificial turfs because it is only 0.39 inches high. It has the appearance of artificial turf but doesn't show treat marks and is easier to clean with a broom for a quick brush-off. You can cut the turf to fit your desired size, and it's lightweight so you can easily move it from place to place without much effort.
Affordable
UV and weather resistant
Non-toxic
Rubber backing
Drain holes
Doesn't show tread marks
Easy to clean and sweep
Can cut to fit
Lightweight
Not as lofty
More artificial appearance
---
8.

Downtown Pet Supply Artificial Grass Turf

Our final review is the Downtown Pet Supply artificial turf that comes as a pet potty system. You receive the grass and a drawer to place the turf in for easy cleanup — it measures 20 x 25 inches. It is an ideal system for those who live in an apartment or for small dogs and puppies. Another positive is that it's lightweight and portable.
After using it for some time, you will not notice any odors because the grass is treated with an anti-microbial, and the urine seeps through the openings in the backing and collects in the tray. If you don't keep the tray clean, of course, you will notice an odor, but it is easy to clean and maintain. We noticed that the artificial grass becomes hot in the direct sun, however, and the grass isn't as durable as other synthetic turfs.
Ideal for small dogs
Portable
Turf and tray
Easy to clean
Anti-microbial treated
Lightweight
Hot in direct sun
Durability

Buyer's Guide – Choosing the Best Artificial Grass for Dogs
With many products on the market, it can be tough to pick out the best artificial turf for your dog. This buyer's guide goes over considerations to keep in mind when making your final decision on which artificial grass to buy.
Maintenance
You won't have to water and mow your artificial turf, but you will have to clean it regularly. You will experience higher maintenance requirements if you have to use the turf indoors because you also have to clean underneath the turf. If it is on the ground outdoors, you won't have to worry about urine seepage as much. Think about how easy it will be to clean, such as whether you can hose it off or sweep it. The taller turf is nice because it feels more like grass, which your dog will love, but compared to shorter turf, it is more difficult to clean.
Safety
Providing artificial grass that is safe for your pets may be of utmost concern for you. Lead is one of the biggest concerns of manufactured grass. It should also be free of other toxic chemicals so it is a safe place for your pet, especially since many dogs like to use their section of turf as a place to rest and lounge. A non-toxic turf is important if you have a dog who likes to eat the "grass."

Price
The consensus is that artificial turf is pricey, and the larger the piece, the more money you will have to pay. But the investment can be worth it if you need a space for your dog to do their business. Higher-quality turfs will last for many years and can withstand wear and tear from your dog, so it is worth spending a little more at the beginning for greater longevity. However, if you are on a budget, you will have to decide what price range is ideal for you.
Size
If you want a space to potty train your puppy, then you won't need a large turf. Most people don't have the room in their house for a huge piece of artificial grass. Larger dogs will need a bigger area, and you may want something that can be placed outside for them to use if you have the space.
Durability
If you are going to spend money on artificial turf, it is ideal to purchase a durable one. If you have a dog who likes to scratch or dig, you will be hard-pressed to find a piece of turf that can withstand these types of aggressive habits. However, there are some available that are more durable than others because high-quality materials are used in the manufacturing process.

Conclusion
We know that finding a good artificial turf can be a difficult and frustrating process. There are many available on the market, and it can be overwhelming to decide where to start. Our reviews list of the top eight turfs can help with your decision-making process.
Our top pick is the SavvyGrow artificial grass that has a natural-looking lushness that resists wear and fading over time and reminds us that fake grass doesn't have to look fake. The STARROAD-TIM is an affordable option for those looking for turf that is the perfect size for small dogs or puppies being potty-trained. If the price isn't a concern, the PET GROW is a large piece of high-quality turf that is easy to maintain and will last for many years.
After you have thought about the considerations featured in the buyer's guide, we hope that you are now equipped with the knowledge to find an artificial turf that fits your dog and your lifestyle perfectly.