6 Best Brushes for Beagles in 2023 – Reviews & Top Picks
Beagles are great pets and love to play outside, which inevitably results in finding the muddiest play area. They also shed regularly and are high-shedders once per year in the spring. It is important to provide regular brushing for your Beagle to keep their coat shiny and healthy.
This article showcases six of the best brushes for Beagles to help you narrow down your search for the ideal brush. It can be difficult to decide on a brush that is high quality and performs well too. Our reviews list gives you details about each brush, including the pros and cons, so you can decide what is right for you and your dog. Be sure to also check out the buyer's guide for considerations to keep in mind when making your final decision.
---
A Quick Comparison of Our Favorites in 2023
Rating
Image
Product
Details

Best Overall

Safari Small

Ideal for short-haired dogs
Ergonomic handle
Comfortable
Check Price

Best Value

JW Pet

Two-sided
Good quality
Affordable
Check Price

Premium Choice

Oster Combo

Double-sided
High quality
Removes tangles
Check Price

BV Pet Grooming

Firm bristles
Rounded pins
Non-slip grip
Check Price

Conair PRODog Boar

Boar's hair bristles
Ideal for bath time
High quality
Check Price
The 6 Best Dog Brushes for Beagles
1.

Safari Bristle Dog Brush — Best Overall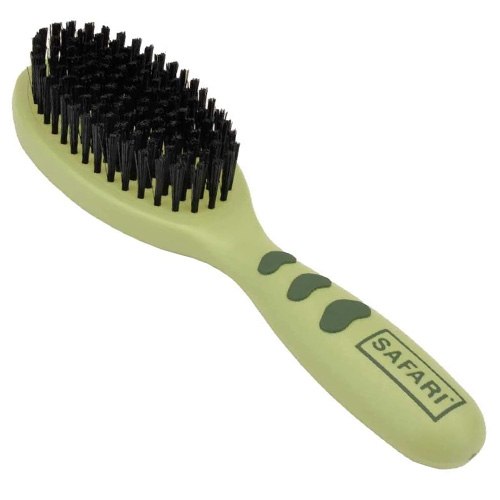 The Safari is an ideal bristle brush to remove loose hair and debris to keep your Beagle's coat soft and shiny. When you brush with long strokes in the direction of the hair growth, oils are distributed that help keep the hair healthy. The ergonomic handle is comfortable to hold and easy to grip, while the synthetic bristles are firm enough to smooth the coat and grab excess hair, but not cause any discomfort to your pet.
Your Beagle will love the massage that this brush provides when you are grooming them, as it is made specifically for short-haired dogs. It does a great job of grabbing hair, but one downside is that the brush is difficult to clean if you don't remove the hair from the bristles frequently. To solve this, run a comb through the bristles regularly to prevent hair from building up. On the upside, this brush is affordable and well-made, so you know it will last for many years.
Ideal for short-haired dogs
Keeps coat soft and shiny
Ergonomic handle
Comfortable to use
Easy to grip
Firm bristles
Comfortable for dog
Affordable
Can be difficult to clean
---
2.

JW Pet Double-Sided Beagle Brush — Best Value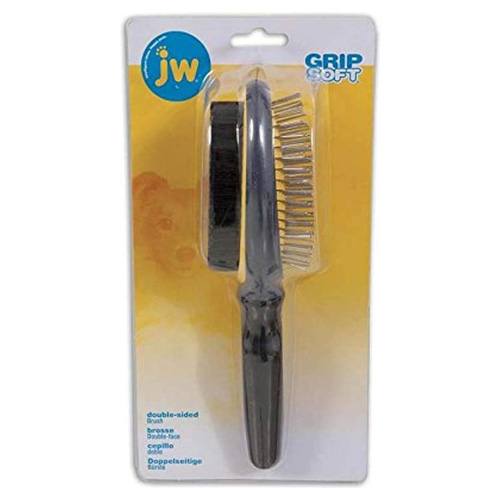 The JW Pet is the best brush for Beagles for the money because it is a double-sided brush at an affordable price. It features a pin brush on one side and a bristle brush on the other. The handle is non-slip and somewhat ergonomic, though it is not as comfortable to hold as other brushes, which is why it did not reach the number-one spot on our list.
Start with the pin side to remove tangles, and then move onto the bristle side to smooth the hair and bring forth the shine in your dog's coat. The overall quality of the brush is great because of the secure pins and bristles, so you know it will last for many years. It is easy to clean, especially if you remove the hair regularly. The head is not too large, so you can easily brush the underbelly and legs of your dog.
Affordable
Two-sided
Ergonomic handle
Good quality
Easy to clean
Great size
Handle is not as comfortable
---
3.

Oster Combo Brush — Premium Choice
Another double-sided brush on our reviews list is the Oster. It is a pricier product, which is why it sits at the number-three spot on the review list, but once you see how well the brush is made, it makes sense that it is priced higher than other brushes. The pin side works well at removing tangles and loosening the dead undercoat, while the bristle side grabs loose hair and smooths the coat for a shiny finish.
The bristles are firm enough to grab the hair effectively without being uncomfortable to your dog. The round-tip pins are also comfortable, and the soft backing helps them flex and move with the contours of the body. We like the ergonomic handle that is comfortable to hold, and the coating keeps it non-slip, so you can use it even if your hand is wet. Even though it is a larger brush, it is lightweight and small enough to effectively comb all areas of your Beagle.
Double-sided
High quality
Removes tangles
Smooths coat
Comfortable for dog
Ergonomic handle
Non-slip grip
Lightweight
---
4.

BV 2-IN-1 Dog Brush
The BV Dog Brush is ideal for short-haired breeds such as the Beagle. The short, firm bristles do well at removing loose hair and dirt while not being too firm to cause discomfort to your pet when you are grooming. The pins have rounded tips, so they are comfortable and provide a massage-like experience that your Beagle will love. The pin side does a good job of removing tangles and matted dirt to help keep your dog's coat looking its best.
We like that this brush comes with a one-year guarantee and is offered at an affordable price. The handle is ergonomically designed with a non-slip rubber grip. However, the brush head is quite large, so it can be difficult to groom in tight spaces such as between the legs and underbelly. The eyelet on the end of the handle is a nice feature that allows you to hang it when not in use.
Affordable
Ideal for short-hair breeds
Double-sided
Firm bristles
Rounded pins
Non-slip grip
Ergonomic handle
One-year guarantee
Comfortable for your pet
Eyelet on the end of the handle
---
5.

Conair PRODog Boar Bristle Dog Brush
This bristle brush from Conair is made from boar's hair, so it has a softer feel that provides added comfort for dogs who don't enjoy being brushed. The design allows it to emulate you petting your dog — it even has a plastic handle that fits in the palm of your hand. Some may find this style uncomfortable to hold in the beginning, especially if you aren't used to this design and if you have larger hands.
It is a great size for a Beagle because it isn't too large, nor too small. However, if you use it to massage the shampoo into your dog's coat, water seeps into the interior of the handle and takes a long time to dry out. The bristles do a good job of grabbing hold of loose hair, but since they aren't as firm, they don't reach into the undercoat to loosen dead hair. Overall, though, the quality of this brush is good; the bristles don't fall out, and it is easy to clean.
Boar's hair bristles
Emulates petting your dog
Fits in the palm of your hand
Small for hard-to-reach areas
Ideal for bathtime
Comfortable to hold
High quality
Easy to clean
Not ideal for large hands
Water seeps into the handle
---
6.

Hertzko Bristle Brush
This bristle brush by Hertzko offers many great features that can help you remove loose hair, dander, and dirt trapped on your pet's topcoat. The brush is larger than some, but many will like this because it is easy to grasp and maneuver. However, it is somewhat difficult to use on smaller breeds such as the Beagle.
If you have a dog who doesn't like to be groomed, this brush is ideal because of the softer bristles. On the downside, the bristles aren't firm enough to get into the undercoat to remove dead hair. You will find that after brushing the topcoat, oils are released when brushing, which leaves a healthy shine on the coat. The ergonomic handle has a rubber-coated non-slip grip that is comfortable and designed to prevent hand and wrist strain.
Removes topcoat dirt and hair
Easy to grasp and maneuver
Soft, comfortable bristles
Leaves a healthy shine
Non-slip grip
Grip prevents wrist and hand strain
Large in size
Does not remove undercoat hair
---
Buyer's Guide: Choosing the Best Dog Brush for Beagles
Since Beagles have short fur, the best brushes are those that remove hair and keep their coat soft and shiny. There are a few features to keep in mind when choosing a brush for your Beagle, and this buyer's guide will help you figure out what to look for when making a decision. There are also tips and tricks on how to achieve the best results when brushing your Beagle.
Beagle Grooming Considerations
Type of Brush
There are two popular choices for brushes that work well on Beagles: the pin brush and the bristle brush. Each one performs a different task and has advantages and disadvantages.
Pin brush: These are a popular choice because they do a great job of massaging the skin and grabbing dead undercoat hair. The pins on the head are rounded, so they aren't uncomfortable for your dog, though overly sensitive dogs may still find these pins too harsh. The pins are flexible and come in different lengths and sizes of heads. These brushes are good at detangling and removing caked-on dirt.
Bristle brush: This type of brush is a must-have for Beagle owners because it is designed to not only remove loose hair but also stimulate the release of oils that coat the hair to keep it healthy and allow it to grow. Many people will start with a pin brush to loosen the hair and dirt, and then finish with the bristle brush because it does a good job of grabbing loose hairs. The bristles are usually synthetic, but you can find some that are made of boar's hair, which is softer and a good option for dogs who are sensitive to grooming.
Design
The design is important because you want a brush that is easy to use and is the ideal size for your dog. Since Beagles are a smaller breed, you don't want an overly large brush because it will be difficult to reach in between the legs and underbelly. However, you don't want it so small that you can't hold onto it effectively if you have larger hands.
You can find brushes with long handles or that feature a palm handle. The long-handled brushes should be ergonomically designed with a non-grip slip to help you hold onto it even when your hand is wet — for example, when you want to use the brush when bathing your dog.
Two-sided brushes are a nice feature because you receive a pin and a bristle brush in one. These brushes will be larger and heavier in size, but most people find they aren't too cumbersome. Think about what is comfortable for you, such as if you have smaller hands; you may prefer a smaller, lightweight brush that you can hold easily in your palm.
Price
You will find a range of prices for brushes, and you can find high-quality ones that are still affordable. Try to find a brush that is in your price range but will also last for many years. If you choose a lower-quality product, you may save money in the beginning, but if it begins to fall apart within a month or two, then you end up having to spend more to purchase a new brush.
Tips for Brushing Your Beagle
Brush at least once per week; increase to two to three times per week during shedding season in the spring.
To achieve better results, use the brush when bathing your Beagle to loosen dead hair.
Know how much and what type of stimulation your Beagle can handle, and buy a brush that is comfortable for your dog.
Usually, there is no reason to brush your dog more than twice per week.
Take your time when brushing; make it a relaxing experience for your Beagle so they associate brushing as a positive experience.

Final Verdict
There are many brushes available on the market today, so we know how frustrating it can be to find the perfect one for you and your dog. This review list was developed to help ease some of the pain of finding an ideal brush.
Our top pick is the Safari bristle brush with the comfortable handle and small head with bristles that are just the right firmness to be comfortable yet remove loose hair. The best value is the JW Pet double-side brush because it is an affordable option to receive two brushes in one. If the price isn't an issue, then the Oster brush is a great choice because it is a high-quality double-sided brush that removes tangles and grabs loose hair on your dog's body.
We hope our review list helps you discern which brush is ideal for your situation. You want a brush that is comfortable for your dog and for you to use so it is a positive experience on both sides. There will be many brushing sessions throughout the life of your Beagle, so it is important to find a brush that can last many years and do a good job.
---
Featured Image Credit: Pexels