11 Best Carpet Cleaners for Dog Urine – 2023 Reviews & Top Picks

Dogs are fantastic companions, but nothing can ruin the carpets in your home faster than bringing a puppy home. It seems like they never tire of finding new and inventive ways of soiling your floors.
Many of the pet-based carpet cleaners on the market do little to remove the stains Fido creates —and some can make the problem even worse!
In the reviews below, we share the products we feel are the best pet urine carpet cleaners, with a special emphasis on removing urine odors, so that you can buy a cleaner that will actually work rather than one that will just highlight your dog's favorite targets.
---
A Quick Comparison of Our Favorites in 2023
Rating
Image
Product
Details

Best Overall

Hepper Advanced Bio-Enzyme Pet Stain & Odor Eliminator Spray

Neutral scent
Multi-surface
100% satisfaction guarantee
Check Price

Best Value

Simple Solution

Convenient 3-in-1 spray nozzle
Foam feature is excellent
Fairly inexpensive
Check Price

Premium Choice

Bubbas

Extremely powerful
Good for set-in stains
Works on all types of upholstery
Check Price

Sunny & Honey

Works on all surfaces
Safe for use around kids
Good for crates and bedding
Check Price

Rocco & Roxie

Completely eliminates stains
Eliminates odors too
Works on all manner of stains
Check Price
The 11 Best Carpet Cleaners for Dog Urine
1.

Hepper Advanced Bio-Enzyme Pet Stain & Odor Eliminator Spray – Best Overall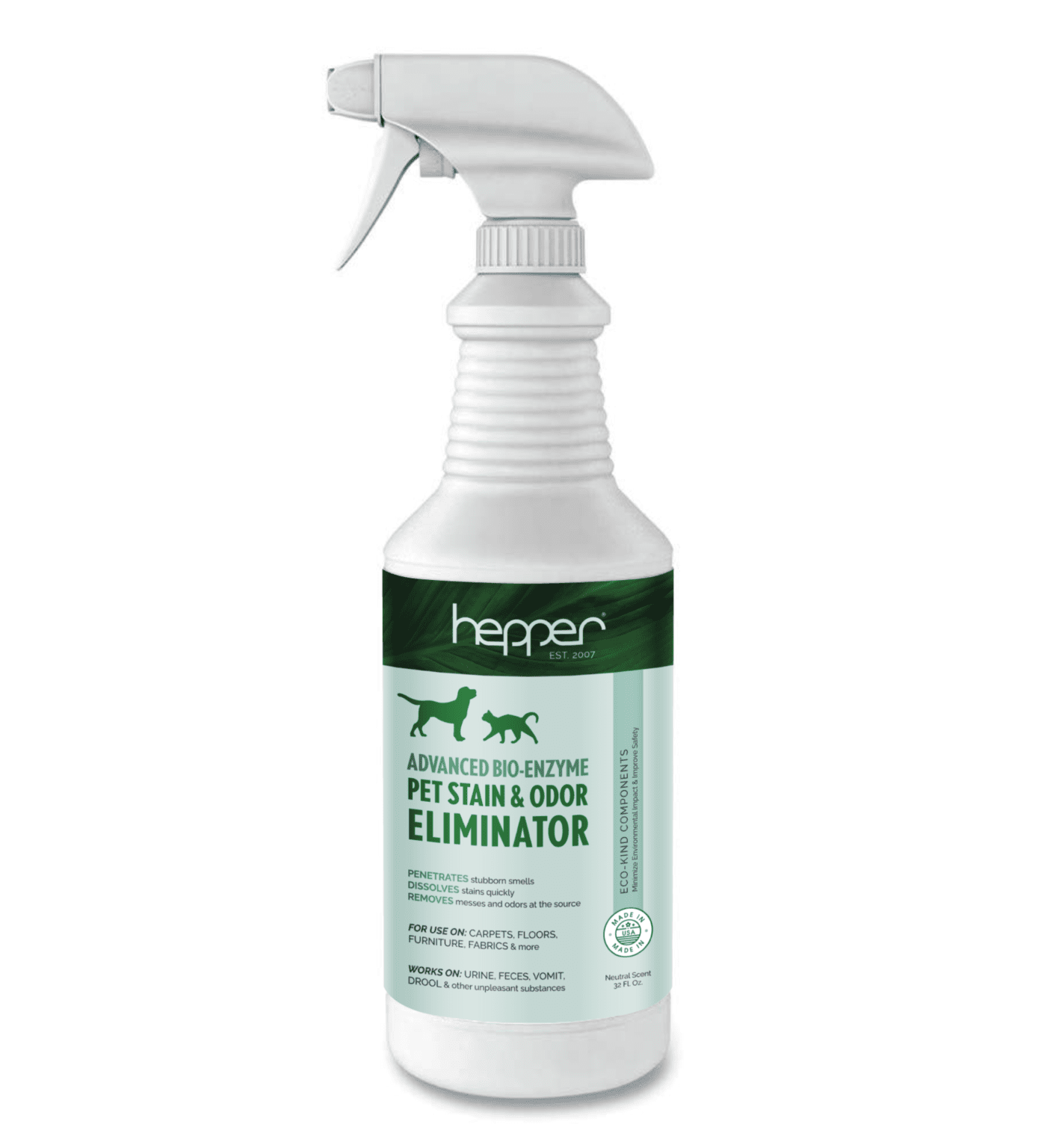 One of the best parts of dog ownership is their love and companionship. One of the worst is the occasional indoor accident, but these do happen. It's important to get it cleaned up quickly so it doesn't potentially stain your carpets or floors and to prevent your dog from peeing there again.
This is where Hepper's Advanced Bio-Enzyme Pet Stain & Odor Eliminator Spray can help you out! It is effective on any bodily fluids that need eliminating, including drool, vomit, poop, or urine. It works by binding and lifting the stain and accompanying odor and permanently removing them. This way, your pup won't be drawn back to the same spot repeatedly.
It works on all surfaces, like carpets, floors, fabrics, and furniture, and has a neutral scent, so there are no harsh or cloying artificial fragrances. It comes in a nicely sized 32 ounces, so it should last you a while. Plus, Hepper offers a 100% satisfaction guarantee where it will refund your money if you're not happy with the product.
Finally, many other similar products on the market require water mixed in with the solution, but Hepper's Bio-Enzyme Spray does not. You just need to give it a good shake, and you can start spraying and get cleaning.
There aren't any major cons with this spray. You'll just need to do the usual spot testing on your carpet to ensure that it won't alter the color. You also need to be careful about storing it properly, so it doesn't lose its effectiveness, and keeping it out of the reach of children.
Regardless, it's still an easy choice to top our list of best carpet cleaners for dog pee.
Binds, lifts, and removes odors and stains
Works on floors, carpets, fabrics, and furniture
100% satisfaction guarantee
Doesn't need water: Just shake and spray
Neutral smell, so no harsh artificial fragrances
You might have guessed, this is our own product – but we love it so much we just have to share it, and hope you get to own one too!
---
2.

Simple Solution Enzymatic Carpet Cleaner – Best Value
It may not seem like a big deal, but the 3-in-1 multifunctional sprayer on the Simple Solution Enzymatic comes in handy. You can create a direct spray for targeted use, a mist to cover a wide area, or a foam to really scrub out stubborn stains.
The foam is what's so appealing here, as most other bottles just offer jets or mist. But pet stains are messy, and tend to spread and sink deep into your carpet; having the foam option really digs deep into the fibers and cleans everything out.
That's especially important for removing odors — and since your pup's sense of smell is so much more powerful than yours, you need to get all the odor molecules out to prevent a repeat engagement.
Despite all that, this is one of the cheaper cleaners on the market, which is why it's our pick for best carpet cleaner for dog urine for the money.
There are some negatives to be aware of. The sprayer tends to leak, especially when switching between modes, and it's not completely effective on ancient stains. That's a lot to ask from a cleaner at this price point, though.
Overall, Simply Solution Enzymatic is one of the best cleaners around, and certainly one of the best values.
Convenient 3-in-1 spray nozzle
Foam feature is excellent
Digs deep to remove odors
Fairly inexpensive
Bottle occasionally leaks while spraying
Not ideal for old stains
---
3.

Bubba's Super Steamer Carpet Cleaner – Premium Choice
If you've ever lived in the country, then you know that when you're really up a creek, you want to call a guy named Bubba. Bubba's Shampoo is as good as getting a visit from the man himself, although it may be overkill for everyday stains.
The idea is to use Bubba's when the other cleaners have failed you, or when you need to give your entire carpet a reset. It's a serious deep cleaning, and as such, it's a bit of a time- and effort-commitment. You'll also need to have a steam cleaner or shampooer on hand.
However, there's nothing better for stains that you thought you'd never get out. You can use it on just about any upholstery, too, including your couch and curtains.
It's a little on the pricey side, but that evens out given how concentrated it is. One bottle should last for quite a long time.
There's nothing we've found that works as well as Bubba's Shampoo, but given the effort it requires, you're probably better off trying one of the options ranked above it first before calling out the big guns.
Extremely powerful
Good for set-in stains
Works on all types of upholstery
One bottle lasts a long time
Requires lots of time, effort, and some special equipment
On the pricey side
---
4.

Sunny & Honey Enzyme Cleaner
Sunny & Honey is a true multi-surface cleaner, as it doesn't just work on fabric. You can also use it on tile, leather, countertops, and more (though if your dog is peeing on your counters, you may need to call a trainer — or an exorcist).
Since it uses enzymes instead of harsh chemicals, it's safe to use around kids and pets — and the company doesn't test their products on animals and donates money to animal shelters, both of which are good for your conscience.
It's designed to be safe because it's intended for indoor use; it's a great way to clean up a crate or some bedding, for example. But be sure to open a window before you start spraying because the smell is overpowering.
You also need to let it sit for a long time (up to an hour), depending on the severity of the stain. This gives your pet plenty of time to re-mark the spot, and you plenty of time to get distracted and forget to go back to scrub it.
We're big fans of Sunny & Honey, and its 4th-place finish here is less an indictment of the product itself and more a reflection of how good the ones ranked above it truly are.
Works on all surfaces
Safe for use around kids and pets
Company is socially-conscious
Good for cleaning up crates and bedding
Smell is overpowering
Takes a long time to work
---
5.

Rocco & Roxie Stain Remover 
Rocco & Roxie contains a special enzymatic bacteria that breaks down all parts of the urine, so not only is the stain removed, but the odor goes with it. That way, there are no traces of the accident left behind.
It doesn't just work on pee, either. It also neutralizes poop, vomit, and hairballs, so regardless of what your pet can conjure up from inside her body, the spray should be able to handle it.
It works on just about any surface that can be stained as well. You can clean carpet, bedding, upholstery — anything your pooch might get the urge to defile.
There's one big downside to it, however. The spray smells terrible. You may think that you were better off dealing with the urine odor after spraying it on your carpet. The good news is that the spray's odor wears off quickly, so you'll soon be left with a clean (and clean-smelling) rug.
It would be nice if Rocco & Roxie could make their cleaner smell pretty, but we'll settle for it working as well as it does.
Completely eliminates stains
Eliminates odors too
Works on all manner of stains
Can be used on just about any surface
---
6.

Woolite 2834 Pet Stain Remover
Woolite Pet Stain Remover is one of the best all-around carpet cleaners you'll find anywhere. It can tackle all manners of blemishes, from urine and vomit to tracked-in dirt.
It smells good, and it actually helps remove urine odors, rather than simply masking them. If your dog likes to keep revisiting the same spots, this can finally help break him of the habit.
It's equally adept at cleaning couches and other upholstery as it is carpet, so you can keep your furniture smelling and looking as fresh as your rugs and carpet.
We only had a few issues with this cleaner. It is unlikely to fully remove a stain from white carpet, so you may need something stronger in that case (then again, you may want to change from a white carpet entirely if you have a dog on it). Also, regardless of your carpet's color, you'll probably need to reapply it several times for best results.
Still, Woolite Pet Stain Remover does more than enough to warrant inclusion on this list, and it's nearly as good as the selections above it. While we'd recommend those first, we don't think you'll regret buying this spray, either.
Works well on all kinds of stains
Smells good
Breaks down urine odors instead of just masking them
Performs equally well on upholstery
Not ideal for use on white carpets
Requires several applications for best results
---
7.

Amaziing Solutions Professional Enzyme Carpet Cleaner
This option from Amaziing Solutions prides itself on not having a foul odor, and while that's accurate, the smell it does have may be too faint to prevent your dog from revisiting the same spot again and again.
Whether that happens largely depends on the severity of the smell. This stuff is good for light-to-medium issues, but heavy or deeply-set odors are likely to prove too much for it to overcome.
For cosmetic issues, though, it's hard to beat. It's great at removing stains of all kinds. Granted, that's of limited value if your dog keeps refreshing the stain for you.
The liquid itself is very sudsy, and it's hard to get it all out. Just when you think you've gotten it all, you'll make one more pass and see some film reappear. While the thoroughness it requires helps to break up blemishes, you'll probably be wondering if it's the spray or your elbow grease that's doing the trick.
Amaziing Solutions is a good-but-not-great cleaner that's worth keeping around if you want to try something that won't stink up your whole house, but if you want something that's guaranteed to work, you'll need to keep looking.
Faint odor
Good for light-to-medium issues
Great at removing stains
May not fully remove pee smell
Requires lots of elbow grease
Spray is very sudsy
---
8.

BISSELL 2216 Febreeze Carpet Cleaner Shampoo
Like Bubba's Shampoo, BISSELL Febreze Cleaner is designed for use in steamers or shampooers, so don't expect just to buy the bottle and be good to go. It's also good for whole-house jobs, but it's not quite as effective as Bubba's.
The Febreze is the real star here; if all you're concerned about is making your house smell good, this is the cleaner to buy.
The problem is, the Febreze merely masks the odor instead of destroying it, so after a while, the smell will return. It's also unlikely that your pup will ever stop smelling it, which means he may contribute to the problem in the meantime.
The formula includes Scotchgard to protect against future stains and seems to be fairly effective in that regard. However, given that you're likely buying it because of existing stains, that might not help you much.
In our opinion, your best bet is to spot-clean your carpet with one of our higher-rated options, then go over the whole thing with the BISSELL Febreze Cleaner. But, you may be able to get the same results by foregoing the BISSELL and just lighting a candle.
Smells fantastic
Has Scotchgard to protect against future stains
Pairs well with spot-cleaners
Only masks urine odors
May allow repeat offenses
Requires a steamer or shampooer
Related: Bissell Pet Urine Eliminator Review
---
9.

Hoover Paws & Claws Deep Cleaning Carpet Shampoo
It may not be completely fair of us to rank Hoover Paws & Claws this far down, because it clearly states that it works best when paired with a spot cleaner.
However, we think a carpet shampoo should be able to handle basic odors like dog urine, and this one is already expensive enough on its own, so expecting you to buy another product seems excessive.
Like the BISSELL shampoo, this stuff has Scotchgard in it, so it can help limit the impact of future messes. Again, though, that doesn't help you with issues in the here-and-now.
The cleaner doesn't have much of an odor, although it does smell faintly of mothballs. While it does diminish the smell of urine, chances are it won't eliminate it completely, so you'll be left with an odd urine-and-mothball combination after you're done.
Hoover Paws & Claws has a few positives to it, but ultimately the negatives outweigh them to the point that it can't rise higher than the bottom half of this list.
Scotchgard protects fabric
Faint smell
Needs to be paired with another cleaner
On the expensive side
Creates odd mothball-and-urine smell when done
---
10.

ANGRY ORANGE Enzyme Stain Cleaner
ANGRY ORANGE has a powerful fruit smell that can cover up the odor of dog urine, but you may not want your house to smell like a citrus grove.
The smell lingers, too, so it's important that you like it because you're going to be stuck with it for a while. Your dog likely won't be a fan, either, but that may mean he'll start avoiding problem areas.
Of all the common pet bodily-fluid stains, dog urine is the one it handles the least capably. It works pretty well on vomit, but you'll have to work incredibly hard to get a pee stain out.
Also, the spray itself can stain certain fabrics, so be sure to spot-test it before applying it all over the place. The last thing you want is for the pee stain to be the most attractive part of the floor.
While ANGRY ORANGE certainly does a good job of masking urine odor, in the end, its overwhelming citrus scent may make you, well, angry.
Can mask urine odors
Works well on vomit stains
Overpowering citrus smell
Does little to remove urine stains
May discolor certain fabrics
Dogs seem to dislike odor as well
---
11.

Resolve Pet High Traffic Carpet Foam
Each order of Resolve Pet High Traffic Foam comes with four aerosol cans of the stuff, and all you have to do is apply a layer of it to the target area and scrub.
Sorry, by saying "all you have to do," we implied that it wouldn't take much work. The fact is, you'll be doing a lot of scrubbing if you want to remove anything older than a few minutes from your carpet. It seems like this product derives most of its power from your efforts, not from its formula.
Once you start scrubbing, all sorts of things will come up — dirt, hair, last week's lasagna, etc. This may make you feel productive, but all it seems to do is give you more of a mess to clean up, as the stain will likely still be there after it dries.
It does little to stop odors, either. It lays a faint chemical smell over the top of them, but that's probably not what you had in mind.
You certainly get plenty of product with each order of Resolve Pet High Traffic Foam, but given how much work it creates for you, that might not be a good thing.
Lots of product in each order
Requires lots of elbow grease
Does little to remove stains
Creates a big mess
Creates a chemical smell on top of odor
---
Conclusion
The enzymes in Hepper's Advanced Bio-Enzyme Pet Stain & Odor Eliminator Spray eat away at the urine in your carpet, completely breaking down and removing it. Better yet, the spray works on all surfaces, so there's no place in your home that you'll have to sacrifice to your pooch's target practice.
Simple Solution Enzymatic also breaks down stains and odors well, and it does so at a reasonable price. Best of all, it has a foam setting that lets you really dig into large, deeply-set stains.
The only thing more frustrating than realizing that your dog peed on the floor again is realizing that your carpet cleaner can't do anything about it. With the help of these reviews, you shouldn't have that problem ever again, as these cleaners can finally eliminate the issue at its source, ensuring that both your carpet and your nose are protected from future assaults.