6 Best Cat Doors for Cold Weather – 2022 Reviews & Top Picks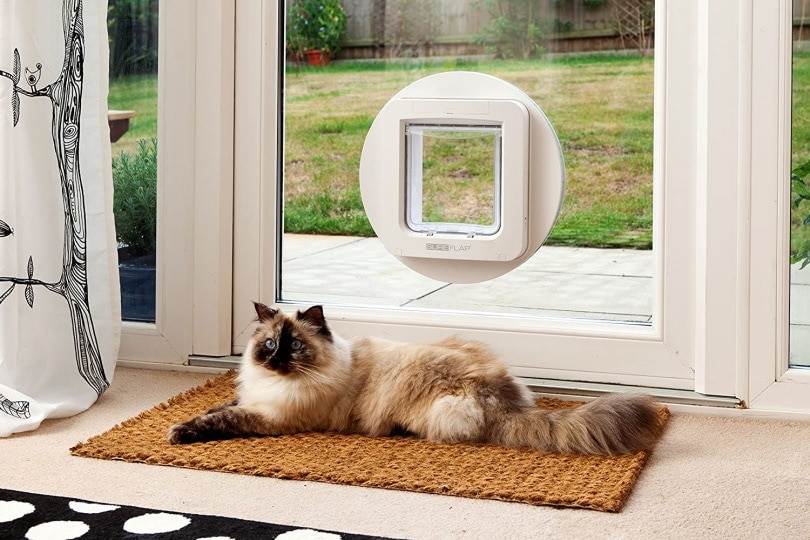 Having an indoor/outdoor cat means you spend plenty of time letting them in and out of the house. The easiest way to bypass this tedious task is by installing a cat door. However, not all of us are lucky enough to live in warm and sunny areas throughout most of the year. These reviews go over some of the best cat doors for cold weather that you can buy this year. Not only do they keep the cold air out of the house, but they also have some extra features that make them even more appealing.
A Quick Comparison of Our Favorites of 2022
Rating
Image
Product
Details

Best Overall

Cat Mate Locking Cat Flap

4-way lock
Sturdy
Affordable

Best Value

SureFlap Microchip Cat Door

4-way locking system
Programs 32 microchips
Can be left completely open

Premium Choice

Freedom Pet Pass Insulated Cat Door

Partners with energy star
100% weatherproof
High-quality construction

OWNPETS Pet Screen Door

Affordable
Cuts hole in screen instead of main door
Sturdy

PetSafe Pet Doors for Sliding Doors

Designed for sliding doors
Multiple sizes
The 6 Best Cat Doors for Cold Weather
1.

Cat Mate 4-Way Locking Cat Flap – Best Overall
| | |
| --- | --- |
| Size | 9.1 x 7.625 x 7.875 inches |
| Material | Plastic |
| Colors | White, brown |
We appreciate a product that is straightforward and gets the job done without too many extra gadgets. This cat flap made by Cat Mate is one of the best overall cat doors for cold weather. It features a 4-way lock system that restricts the movement of the cats who are constantly coming in and out. It has a magnetic closure that is sturdy and a brush strip that reduces drafts from the outdoors. It is also incredibly affordable and easy for most cats of any size to use. The downside to this flap is that it isn't 100% weatherproof and might not be suitable in regions with extra-snowy winters.
4-way lock
Sturdy
Suitable for most breeds
Affordable
Two color choices
---
2.

SureFlap Microchip Cat Door – Best Value
| | |
| --- | --- |
| Size | 8.69 x 6.5 x 6.75 inches |
| Material | Plastic |
| Colors | White, brown |
Those looking for the best cat flap for cold weather for the money should look no further. Even though this cat door is more expensive than the previous one, it has more modern features while still being a reasonable price. The SureFlap cat door allows you to program up to 32 pet microchips so that it only opens for those pets. It is extremely secure and reliable. It has a 4-way locking system as well as an option to leave the door completely open. The batteries are not included, but they typically last for up to one year. The door also isn't as large as some others and might not be suitable for larger cat breeds.
4-way locking system
Two color choices
Programs 32 microchips
Ability to leave door completely open
Battery-operated
Too small for large breeds
---
3.

Freedom Pet Pass Insulated Cat Door – Premium Choice
| | |
| --- | --- |
| Size | 13 x 1.75 x 17 inches |
| Material | N/A |
| Colors | White |
Freedom Pet Pass is expensive, but it is one of the only cat door brands that partners with Energy Star to provide the most efficient, weatherproof cat door possible. The design is airtight and valuable to those living in even the coldest regions. It has gone through various tests and has been proven to reduce air leaks and drafts while saving money on the heating bill.
Aside from the incredible construction, this is just a basic cat flap. There is a security panel but no option to lock cats out or keep them inside. It is best for those who want their cats to have total freedom.
Partners with energy star
100% weatherproof
High-quality construction
Sleek design
Two-way locking system
Expensive
---
4.

OWNPETS Pet Screen Door
| | |
| --- | --- |
| Size | 10 x 0.4 x 8 inches |
| Material | Plastic, screen |
| Colors | Black |
Even if you don't live in a northern part of the country, there are still places with cold winters, but not so cold that you can't still enjoy some fresh air in the house. This pet door made by OWNPETS is a good alternative for those who don't want to cut a hole directly into their front or side door. Instead, it goes into a screen door. The door has a basic lock with a magnetic closure that you have to toggle between the locked and unlocked positions. The design is a bit basic, but it is a good option for the warmer days of winter when you need to make your home feel less stuffy.
Affordable
Cuts hole in the screen instead of the main door
Sturdy
Limited security
Toggle lock
Not for extremely cold weather
---
5.

PetSafe Freedom Patio Pet Doors for Sliding Doors
| | |
| --- | --- |
| Size | 14.33 x 13.5 x 81 inches |
| Material | Aluminum, plastic |
| Colors | White |
It's surprising that there aren't more sliding glass pet door options because they are so common in today's households. This pet door by PetSafe fits directly inside your door frame, and the slider closes and opens against one side of it. There are several sizes ranging from small to extra-large with an extra-tall option. It is also made from heavy-duty materials like aluminum. Unfortunately, some reviews have stated that installation isn't the easiest with these types of doors. They are also pretty pricey for those on a budget.
Designed for sliding doors
Multiple sizes
Difficult installation
Pricey
---
6.

MAVRICFLEX Extreme Weather Pet Door
| | |
| --- | --- |
| Size | 11.8 x 1.6 x 11.3 inches |
| Material | Aluminum |
| Colors | White |
Having larger cats in the house means you must search for hours to find one that allows your cat to roam freely. This cat door was built for larger cats and dogs. However, it may be a little too big if you've got smaller breeds or kittens. The material is extra sturdy, though, and the door has a weatherproof and UV-resistant flap. It is moderately priced but doesn't have any special features such as programmable microchips or 4-way locks.
Weatherproof
Suitable for large cat breeds
No 4-way lock system
No microchip programming
Expensive for the features
Related Read: 10 Best Electronic And Automatic Cat Doors – Reviews & Top Picks
Buyer's Guid: Selecting the Best Cat Door for Cold Weather
How do you know what to look for if you've never bought a weatherproof cat flap before? Many people prefer to look for cat doors that fit at least a few of the things they're looking for.
Security
When buying a cat door, you don't want anything that is going to jeopardize the security of your home. Buy a door with a reliable lock system that prevents animals or humans from coming and going freely into your home.
Size
There's nothing worse than buying something for your pets only to have to return it the same day. Before you buy any cat doors, make sure that the opening is large enough for your pet to fit through. Larger cat breeds often have a hard time fitting through many popular cat doors on the market. Look for brands that offer multiple sizes.
Extra Features
It's nice when the cat door opens and closes without you having to train the cat to push it open. Most modern cat doors now come equipped with doors that open and close based on the microchip in your cat. It might take a little time for your cat to catch on, but over time they become accustomed to the door opening as they approach it. This also means that you can keep wild animals or even a specific feline out of the house whenever necessary.
Conclusion
Living in a place where the winters are consistently below freezing is a struggle. It's already cold enough outside, so the last thing you need is a cat door that lets all the heat out. These reviews have gone over some of the top reviews on the Internet and have determined that the best overall cat door for cold weather is the Cat Mate 4-way locking door. On the other hand, the best-valued door is the SureFlap microchip cat door. All these cat doors have unique features that may or may not work well for you based on your needs and where you live in the United States.