100+ Doberman Names: Strong, Fierce & Powerful Name Ideas

Congratulations on your new Doberman! But before you celebrate too hard, you need to find a suitable name for the latest addition to your family. The German breed is known to be tough and strong, but they are lovable and loyal too, and wear the name "man's best friend" well.
The name you choose should show strength, but you may want their kindness to be represented as well. We've put together a list of our favorite Doberman names for females and males, and then some tough names in case you're eager to showcase their fiercer side. Scroll down to get searching, and don't forget to have fun while you do! You only get to pick his name once. 

Female Doberman Names
Hazel
Zelda
Bambi
Dusky
Rogue
Sadie
Penny
Daisy
Griselda
Aria
Seraphina
Freyja
Vixen
Raven
Amethyst
Abby
Molly
Kota
Rebel
Lexie
Britta
Lady
Ursula
Valda
Stormy
Xena
Vixen
Athena
Trinity
Stella
Mina
Ember
Pearl
Bailey
Helga
Ginger
Katniss
Rosie
Roxy
Xena
Zoe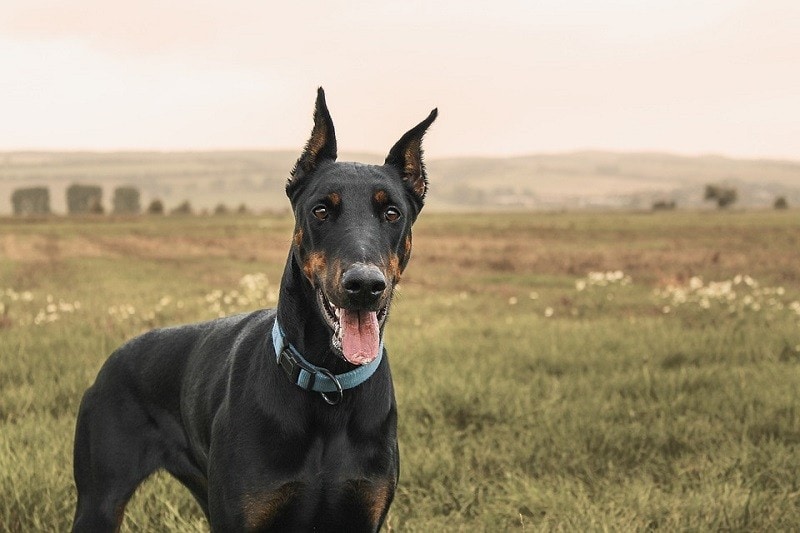 Male Doberman Names
Samson
Zeus
Roman
Draco
Buck
Riley
Neo
Atlas
Caesar
Ravi
Cerberus
Hansel
Apollo
Remus
Ezra
Ace
Dino
Viggo
Styx
Val
Dax
Dexter
Odin
Lotis
Chipper
Moose
Noah
Turbo
Ranger
Nike
Bruno
Pepper
Rocco
Bear
Otto
Jax
Kai
Midnight
Comet
Onyx
Flash
Shadow
Badass Doberman Pinscher Names
When many people think of Doberman's they think of guard dogs. There's a reason for it, they're excellent at it! If you plan to train your Doberman into the family protector, a name like "Fluffy" probably won't suit. You'll want something strong, tough, even badass. There are plenty of tough names out there but not all of them will describe your dog. Some express poise, some are rougher around the edges. Ultimately, you'll want to pick one that expresses all sides of your Doberman's personality with just one word. Check out our favorites below:
Axel
Dodger
Hunter
Ruger
Pistol
Bullet
T-Bone
Saber
Hercules
Maverick
Ryder
Gunner
Killer
Tank
Thor
Sniper
Bandit
Ninja
Capone
Rocky
Rambo
Magnum
Trigger
Rex

Image Credit: Zaranda, Shutterstock
German Doberman Names
As this breed originated from Germany, a cool idea for a name would be something inspired by the culture! With interesting hints at traditions, history, food, language, and even famous German people – we have something for every type od Doberman! Your German giant will be pleased with any of these Wunderbar suggestions.
Bruno (Brown)
Einstein (Genius)
Dieter (Ruler)
Pilsner (German Beer)
Klum (Supermodel)
Anka (Purse)
Mozart (Composer)
Goulash (German Soup)
Maus (Mouse)
Mischa (Like God)
Kolsch (German Ale)
Frankfurt (City In Germany)
Copernicus (Mathematician)
Klaus (People of Visory)
Dusseldorf (Business Center)
Fritzi (Peaceful Ruler)
Schatz (Treasure)
Wurst (German Sausage)
Prost (Cheers)
Heinrich (Home of the King)
Kaiser (Emporer)
Audi (German Car Company)
Berlin (Capital of Germany)
Schnitzel (German Food)
Liesel (Pledged to God)
Brunhilde (Armed for Battle)
Stein (Stone)

Finding the Right Name for Your Doberman Dog
Tough, strong, intelligent, loyal, and maybe a little fierce. Your Doberman may or may not be all of the above, but you can guarantee that one thing is for sure: they will be an integral part of your family. So, at the end of the day, you will be the best judge of what name is perfect for your faithful pooch. We hope that you were able to find a great match among our list of Doberman names. Maybe something of the German variety sparked your interest or you fell in love with a name that had a bit of a tougher meaning. 
Don't stress out too much over the decision, though. Whatever you decide, your Doberman will love. Just be sure the name is easy enough to say for every member of your family and isn't anything you would be embarrassed to say to your vet. You could also test out a few names on your new addition to see if they are interested in the way they sound. This could be an indicator of names they love and ones they wish to pass on.
We hope our list has given you the name you've been searching for. But, if you still haven't found what you are looking for, try one of our other lists. We've got plenty more where these came from.
---
Feature Image Credit: SasaStock, Shutterstock