10 Best Dog Beds for Hip Dysplasia in 2023 – Reviews & Top Picks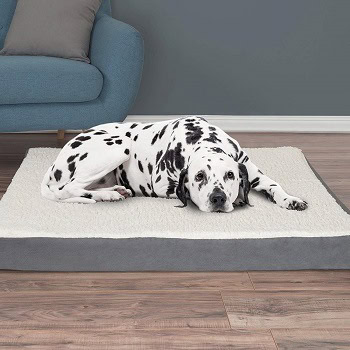 Whether it from be old age or misfortune, hip dysplasia is a reality that our pets may end up living with for some period of their lives. When this happens, it is up to us to make their lives as comfortable as possible, whether by helping them with mobility or just helping them sleep.
With these reviews, we'll focus on the sleep aspect and go over the best dog beds for dogs with hip dysplasia. We are happy to offer this resource to you, but we do recommend that you use this in conjunction with other research.
We also strongly advise that you consult a veterinarian when making your decision, as they will be the most knowledgeable on the subject. With that said, let's look at beds for dogs with hip dysplasia.

A Quick Glance at the Winners of 2023:
Rating
Image
Product
Details

Best Overall

KOPEKS Foam Dog Bed

Memory foam
3-inch pillow
Water-resistant cover
Check Price

Best Value

Petsbao Orthopedic Dog Bed

Classic dog bed design
Removable cover
Check Price

Premium Choice

Big Barker Pillow Top Dog Bed

Stays cool
Stays firm
Made in the U.S.A.
Check Price

Better World Pets Dog Bed

Shredded memory foam
Durable cover
Check Price

BarkBox Memory Foam Dog Bed

Choose your color
Free squeak toy
Check Price
The 10 Best Dog Beds for Hip Dysplasia:
1.

KOPEKS Foam Dog Bed – Best Overall
If memory foam is good for humans, then it has to be good for dogs, right? KOPEKS certainly thinks so, and with this bed, this company is doing its best to give your pup the nighttime sleep that they deserve. With 7 inches of memory foam, your dog will be enveloped in comfort. This bed comes with an outside cover that is water resistant in case your pal has any accidents while sleeping or otherwise. At the end of the bed, there is a bump that articulates itself as a pillow. The foam itself is hypo-allergenic.
While the specs are wonderful, what truly matters are the positive testimonials from people who have dogs suffering from dysplasia. Stories of dogs showing new life after receiving this bed are not uncommon. With this bed, your dog will be grateful and so will you.
Memory foam
3-inch pillow
Water-resistant cover
Revitalizing for dogs with dysplasia
Not all dogs will have the same positive experience
---
2.

Petsbao Orthopedic Dog Bed – Best Value
While our top pick looks more like a human bed, this dog bed looks exactly like what it is. Also made of "high density" memory foam, it is walled in with three padded cushions or pillows. The cover is water resistant and easy to clean. The dual zipper makes it simple to remove and put back on after washing.
One of the striking things about this bed is how quickly animals take to it. Many times, it seems like dogs need to feel a bed out for a while, to make sure that it is up to their standards. So many testimonials from people regarding this bed have had the opposite experience, where their pet will just walk over and plop right on down, without any fuss.
The only downside to this bed is that it's only good for dogs 70 pounds or less before it becomes too small. Even with that being the case, we think that this is the best dog bed for hip dysplasia for the money.
Classic dog bed design
Removable cover
For dogs 70 lbs. and under
---
3.

 Big Barker Pillow Top Dog Bed – Premium Choice
This bed is great for dogs with hip dysplasia, but it is also made to be around for the entirety of your dog's life. Made from therapeutic foam, this bed retains up to 90% of its shape even after 10 years of use. If not, the company promises to replace it for free. They also guarantee that the bed will stay cool even in the hot summer months.
The cover is removable and easy to wash. At the end of the bed, there's a little bump that acts as a pillow. This bed in made in Pennsylvania in the U.S.A. by a small family company.
There is no dog too big for these beds. You can order a small or a giant, but whatever size your dog is, they will find comfort on this bed. The 7" thickness gives this bed a hefty and comfortable feeling.
The only negative thing that this bed is not dig proof, especially from big dogs who really like digging. Fortunately, that is covered in the warranty, and the customer service staff for Big Barker is wonderful.
Stays cool
Stays firm
Made in the U.S.A.
---
4.

Better World Pets Dog Bed
This bed was made specifically for dogs with hip dysplasia. While other beds offer overall support, this bed aims to offer support right at the pressure points. This is a shredded memory foam bed, with the shreddings being tightly packed in. This offers wonderful softness without losing any of the support of memory foam.
The cover is a durable material, water resistant, and easily washed. With openings on two sides, this cover can be quickly removed and then thrown into the wash. The design of this bed is modern and minimal as well. As the bed is able to fit almost anywhere in the house, your dog can claim any room as theirs. Proceeds from the sale of this bed go to the Humane Society.
The only issue with the shredded memory foam is that sometimes it can lump up. Fortunately, Better World is a compassionate company, and it seems that if this is the case, they will gladly replace your bed with a bed that isn't lumpy.
Shredded memory foam
Durable cover
---
5.

BarkBox Memory Foam Dog Bed
If the bed itself wasn't enough, BarkBox will include a squeak toy with each bed just to show how much it loves dogs. How cute!
This bed is made out of a therapeutic gel memory foam, so it has a different feel than the other beds on this list so far. Still firm, this bed is supposed to have massaging qualities to it. The cover is much like those of other beds in that it is easily removed and washed.
This is a vacuum-packed bed. Once you unbox it, it could take up to 72 hours to fully expand. It also comes in a host of different colors!
We've heard rumors of dogs no longer sleeping on human beds in exchange for these beds. That means it is something special, and the customer service staff is widely regarded as world class. The only downside is that in terms of size, this bed caps out at around 60 pounds.
Bark Box also has a subscription service where you can get awesome dog gear sent directly to you – and right now, you can click here to get a free dog bed when you sign up for the Bark Box subscription! 
Choose your color
Free squeak toy
---
6.

The Dog's Bed Orthopedic Dog Bed
Made with 2 inches of memory foam and having a 4-inch base, this is a nice bed, though it's not quite as supportive as the others on this list. However, this bed is purported to not only be helpful for dogs with dysplasia but also to prevent dysplasia. This bed has the healing dog in mind as well — the material of the cover is meant to mitigate any blistering that could occur from laying around while recovering from surgery. The covers on this bed are also easy to remove and wash.
User reports note that this bed is may be softer than you would expect from a memory foam bed but that it is especially good for dogs with dysplasia. Dogs show a liking to the bed as well.
The only downside might be the cover. It's a fine cover, it just doesn't hold up to puppy nails very well, and you might notice holes in it as time goes on.
---
7.

Milliard Quilted Orthopedic Dog Bed
This is the first bed on our list not made out of memory foam. Instead, it is made out of egg crate luxe foam. To further aide in comfort, this bed has a cushioned top layer. With a non-slip bottom, you won't have to worry about your pup jumping on this and sliding around.
This bed is good, but maybe not for dogs with dysplasia. It fits into crates well and suits dogs of most sizes, but it just doesn't offer the support that less mobile older dogs need.
See the top: Orthopedic dog beds of the year!
---
8.

Go Pet Club Orthopedic Pet Bed
This 4-inch-thick memory foam bed comes with a suede cover that is removable and easy to wash. The design of this bed means you can put it anywhere in your house without worrying that it will be too much in the way. It may seem thinner than the others, but the dogs sure like it.
Sadly, this bed is not waterproof and can start molding pretty quickly.
---
9.

Memory Foam Dog Pet Bed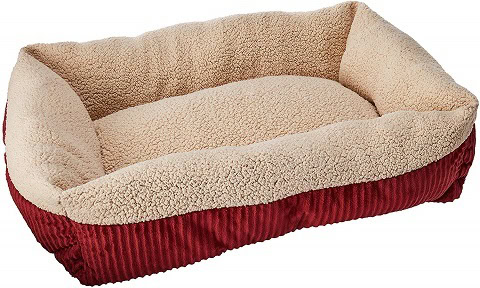 This bed doesn't come with anything but the bed. It is made by a company that specializes in getting memory foam to people who need it without anything fancy included.
This bed is not made for larger dogs nor can you buy different sizes. You will also need to buy a bed cover and a bed sheet.
On the positive side, this is memory foam and works the way that memory foam is supposed to — just don't expect much when the package arrives!
---
This is another memory foam bed similar to others on our list. It is a decent bed, but for the price, you can probably find something better. Our biggest concern is the cover, which doesn't hold up to even light scratching.
---
Buyer's Guide: How to Choose the Best Dog Beds for Hip Dysplasia
When it comes to buying the best dog beds for hip dysplasia or any dog struggling with mobility, the industry standard is memory foam. We also recommend it because it is able to support the most painful parts of your dog's body. Most of these beds are great, but there are a few specific features to look for.
Size
Not all memory foam dog beds cater to bigger dogs.
Shape
A few of these memory foam beds are shaped oddly, and you might have a hard time figuring out where to put them in your home. Others fit perfectly in dog crates.
Thickness
We tend to think that the thicker the better, but that's really up to your dog.
Warranty
We rarely hear of bad customer service teams when it comes to dog bed companies. Still, you'll want to make sure that your purchase is backed up with a warranty if something were to happen to your dog bed.

Final Verdict
With there being so many dog beds out there, we understand that it is tough to choose the right one. That's why we compiled these reviews, to be a resource for curious consumers like you. Whether you are hoping to do what you can to stave off dysplasia in your dog or are currently fighting against it, the companies making these beds clearly care about furry companions. So, whether you choose the bed from KOPEKS (our top pick) or from Petsbao (our value pick), we are confident that you are getting a product backed by a genuine concern for your animal's well-being.