11 Best Dog Bowls in 2023 – Reviews & Top Picks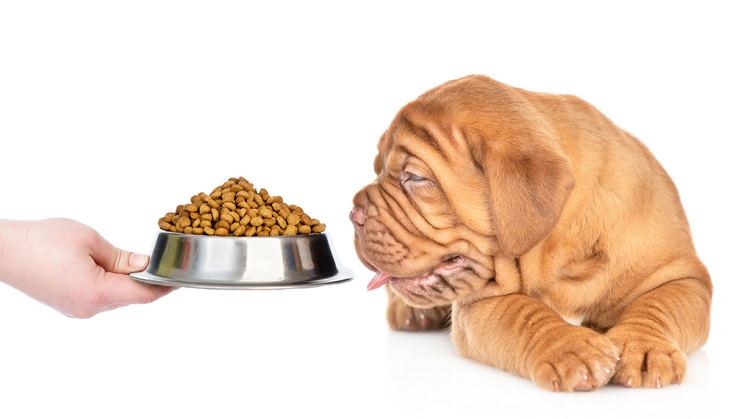 Most of us with dogs could set our watches by when our dogs start lining up for dinner. Choosing the best type of food for your pup is a big decision as a pet parent, but so is the bowl that we use for their food and water.
There are many different choices, from stainless steel to collapsible and from elevated to ceramic. If your dog tends to bolt down their food, you might even want to look at slow feeder bowls. Basically, what you thought might be a simple decision can end up becoming overwhelming.
Our reviews are designed to help you go right through the thousands of dog bowls out there, taking you to the options that we've selected as being the best for a range of different doggy needs.

A Quick Comparison of Our Favorites (2023 Update)
Rating
Image
Product
Details

Best Overall

Hepper NomNom Bowl

Spill-catching tray
Stainless steel bowl
Dishwasher safe
Check Price

Best Value

Mr. Peanut's Collapsible Bowl

Dishwasher safe
Collapsible for easy storage
Four bowls per pack
Check Price

Premium Choice

Outward Hound Fun Dog Bowl

Non-slip base
Dishwasher safe
BPA free
Check Price

Ethical Pet Stoneware Crock Dish

Four sizes available
Hard to knock over
Dishwasher safe
Check Price

MidWest Stainless Steel Dog Bowl

Available in three sizes
Easy to clean
Great value for money
Check Price
The 11 Best Dog Bowls
1.

  Hepper NomNom Bowl — Best Overall
It's not surprising that we think our Hepper NomNom Bowl is the best overall dog food bowl, and we think you'll be convinced too. The Nom Nom Bowl has two stainless steel food dishes set into a solid tray, making it perfect for holding food and water, wet and dry food, or just double the food. The tray has a wide lip that's perfect for catching spills, while the food bowls themselves are nice and shallow for easy eating. The stainless steel and sturdy plastic are also perfect for dogs that are rough on dishes. The bowl was made without any soft rubber, which can become a choking hazard for chewers. Each part is also dishwasher safe and easy to clean for a more sanitary feeding experience.
The only drawback to this bowl is that it currently only comes in one size, making it ideal for cats and smaller pooches but not so much for large dogs.
Spill-catching tray
Shallow bowl for easy eating
Stainless steel bowl
Dishwasher safe
---
2.

Mr. Peanut's Collapsible Dog Bowl — Best Value
If you're looking for the best dog bowls for the money, then the Mr. Peanut's Premium Collapsible Pet Bowls offer amazing value for money. You get four bowls for a bargain price, meaning you'll never be searching for a bowl come feed time. These collapsible bowls are made from premium quality silicone, so they're perfect for road trips or camping but are equally as useful around your home for everyday use.
These bowls are also BPA free and extremely easy to clean because you can just pop them into the dishwasher. When you're not using them, they fold up for easy storage. The non-slip base means these won't slide all over hard floors while your dog is eating. That said, larger breeds may tip them over because they are a little lightweight, which is the only reason that this missed out on the top spot on this list.
Dishwasher safe
Collapsible for easy storage
Four bowls per pack
BPA free
Lightweight and non-slip
May get knocked over by larger breeds
---
3.

Outward Hound Fun Feeder Dog Bowl — Premium Choice
If your dog bolts down their food, they can be at risk of getting bloat, especially if they're a deep-chested breed. Slow feeder bowls, like the Outward Hound Fun Feeder Interactive Dog Bowl, are great at increasing the amount of time that it takes for your dog to eat their dinner. The spiral pattern in the base of this bowl means your dog has to figure out how to get their food out slowly, rather than gobbling it down in 10 seconds flat.
Slow feeder bowls are great for preventing bloat, but they're also useful to help an overweight dog on a restricted diet feel more satisfied, as it takes them longer to eat their meals. The non-slip base means your dog won't be chasing this bowl around your floors either.
Non-slip base
Dishwasher safe
BPA free
Helps extend feeding time
Plastic can become scratched
---
4.

Ethical Pet Stoneware Crock Dog Dish
If you want to avoid plastic bowls but don't like the look of stainless steel, then a ceramic stoneware bowl is the perfect choice. This heavyweight bowl is finished with a high gloss glaze and comes in four different sizes, so you can pick the one that will best suit your dog's size. They are dishwasher safe, but just be careful handling them, as stoneware will break if dropped or handled roughly.
These bowls are difficult for your dog to knock over because they're so heavy, but you might want to use a non-slip mat to prevent scratches on your hard floors. These bowls aren't quite as deep as we'd like, so if you have multiple dogs or large breeds, you may find yourself needing to refill their water more often than usual.
Four sizes available
Hard to knock over
Dishwasher safe
High gloss finish
---
5.

MidWest Stainless Steel Dog Bowl
The MidWest Stainless Steel Snap'y Fit Dog Kennel Bowl is a great choice for most dogs. If you use a crate, then it can be frustrating to find your dog's bowls get knocked over. This stainless-steel bowl comes with a patented bracket that locks the bowl in place on the side of the crate. This elevates it from the ground, which prevents spillages, and you can customize the height that you place the bowl for optimum comfort for your dog.
Once you're home, you can also use these bowls as a regular feed or water bowl; just remove them from the brackets. The Snap'y Fit Dog Kennel Bowl is made from a rust-proof stainless steel that is super easy to clean and will last for years.
Available in three sizes
Easy to clean
Great value for money
Perfect for use in crates
Snapping in the bowls takes practice
---
6.

LovingPets Bella Bowls Dog Bowl
The Loving Pets Bella Bowls Pet Bowl is a great choice if you want a stainless-steel bowl with an interesting design on the outside. The stainless-steel inner is complemented by a colorful poly-resin exterior in a range of shades. The removable, non-slip base means you can use this bowl right on the floor. Simply remove the base when it's time to put this through the dishwasher.
Stainless steel is what most vets prefer for water and food bowls because it doesn't harbor bacteria like plastic can. These bowls are made from premium quality materials and will last for many years. You might find that the decal patterns on the outside of the bowls fade over time, but that doesn't affect their functionality.
Dishwasher safe
Non-skid base
Range of colors available
Choose from two sizes
Decals can fade over time
---
7.

Frisco Non-Skid Stainless Steel Dog Bowl
The Firsco Non-Skid Stainless Steel Bowl is a great budget choice. Available in four sizes to suit all dog breeds, this stainless-steel bowl has a wide non-slip base that not only prevents it from moving but also stops it from tipping over. Stainless steel is an excellent material for dog bowls because it's easy to clean and doesn't harbor bacteria.
Some stainless-steel dog bowls look functional but not much else. Thanks to the subtle embossed paw prints on the side of this bowl, it's also attractive to look at! This best dog food bowl can be placed in the dishwasher, although it's recommended to remove the non-slip base before you do this.
Dishwasher safe
Non-slip base
Embossed
Shallow
Non-slip base can come off too easily
---
8.

Park Life Designs Ceramic Dog Water Bowl
If you're looking for a classic ceramic bowl for your dog's water, then the Park Life Designs Classic Ceramic Dog Water Bowl is a great choice. This bowl is available in two sizes to suit all dog breeds. This bowl is made from a heavy ceramic that has been approved by the FDA. The shiny grey glaze makes it easy to clean, and you can even put it in the dishwasher to give it a deep clean.
This bowl is a little too shallow to hold much water, so if you have multiple dogs, large breeds, or a dog that drinks large amounts of water, then you might need to refill this more often. As with any ceramic, this can get chipped if not handled carefully, so make sure to check it regularly.
Made from FDA-approved ceramic
Heavyweight
Dishwasher safe
A little too shallow
Can get chipped
---
9.

Petmate Silicone Collapsible Travel Dog Bowl – Best Bowl for Small Dogs
The Petmate Silicone Round Collapsible Travel Pet Bowl is great for camping, road trips, or any type of travel. You can also use it at home as a regular bowl if you prefer! This is made from a non-porous silicone, so it can be used for both food and water. It can be folded flat for storage and used at full height or at half height if you want to give your dog a smaller portion than normal or prevent it from tipping over when traveling.
This bowl is expensive, and if you're using it for a larger breed of dog, you might find that it doesn't hold enough food for them to have a full meal.
Two colors available
Dishwasher safe
Can be used at half or full height
Expensive
Too small for large breeds
Can tip over
---
10.

Dexas Popware Double Elevated Dog Bowls – Best Bowl for Puppies
Elevated bowls are a great idea for larger breeds so they don't have to strain to reach their bowls on the floor. These bowls can be used at home or when traveling, as the stand collapses flat for easy storage. The bowls are removable from the stand and can be washed in the dishwasher.
While elevated feeders are best suited to large breeds, these bowls only hold 2.5 cups, which probably won't be large enough for a full meal. Smaller dogs will still appreciate the elevated feeding position, though. This also makes it the best bowl for puppies & small dogs. It is made from silicone and plastic, so a larger dog or an excitable small dog can tip this over quite easily.
Dishwasher safe
Elevated feeding position
Too light for larger breeds
Small bowl capacity
Expensive
---
11.

Petmate Ultra Dog Dish
If you're looking for a budget dog bowl for a short trip or temporary use, then the Petmate Ultra Pet Dish is what you need. This is extremely good value for money and is a no-frills basic bowl made from BPA-free plastic and can be popped in the dishwasher when it needs a clean.
This lightweight bowl is perfect for smaller breeds, but the capacity is just 1 cup, so this won't suit larger dogs. It's also lightweight and doesn't have a non-slip base. So, if your pup is super excited about their dinner, you might find that this slides across the floor!
Great value for money
Made in the U.S.A.
Plastic can scratch
Lightweight
Small capacity
Base is slippery

Buyer's Guide: How to Select the Best Dog Bowl
If you've got a dog, you need bowls for their food and water. Whether your pup eats in their crate or outside, there are plenty of different types and styles of bowls available in all kinds of materials. From stylish ceramic to functional stainless steel, what type is going to suit your dog best? Let's take a look at the features you should pay attention to when choosing the best type of dog bowl for your pup.
Material
Dog bowls can be made using a wide range of different materials, each with their own pros and cons. Whichever one you decide to go for, make sure it's made using a food-grade material. Some bowls are even approved by the FDA.
Stainless steel. This is the preferred material of many veterinarians and animal shelters. As long as you choose a high-quality stainless steel, it's rust-proof and dishwasher safe. It's also non-porous, so it doesn't harbor bacteria and is easy to keep clean. It's non-breakable and long lasting. In years past, stainless-steel bowls weren't that well suited for hard floors as they can slip unless you use a mat, but many stainless-steel bowls now come with non-slip bases to solve this issue.
This is non-porous and easy to clean. Unlike stainless steel, though, it can chip and break if not looked after carefully.
These bowls are cheap and available in many colors and styles. They're usually dishwasher safe. One reason plastic bowls are becoming less popular is that plastic is porous and can scratch. This means it can pick up bacteria more easily, so you need to be strict about cleaning these on a regular basis. Make sure you choose a BPA-free plastic.
This is a non-porous material that's easy to keep clean. Silicone bowls are usually collapsible, which makes them a great choice for taking on road trips. It's lightweight but can get knocked over by larger dogs.
Slow Feeder or Standard Bowl
Some dogs bolt down their food, and this can put them at risk of developing bloat or other dangerous digestive issues. Other dogs are overweight and seem to eat their small ration of food in no time at all. Slow feeder bowls are a great solution in both these scenarios.
Rather than just having a flat surface for your dog to eat off, slow feeder bowls have ridges or patterns that create smaller areas of food. Your dog has to work harder to get each piece of kibble out, with the result of a much slower rate of eating.
Slow feeders can also be a great enrichment activity for any dog! They come in a range of patterns, some of which are easier to use and others designed to be more challenging.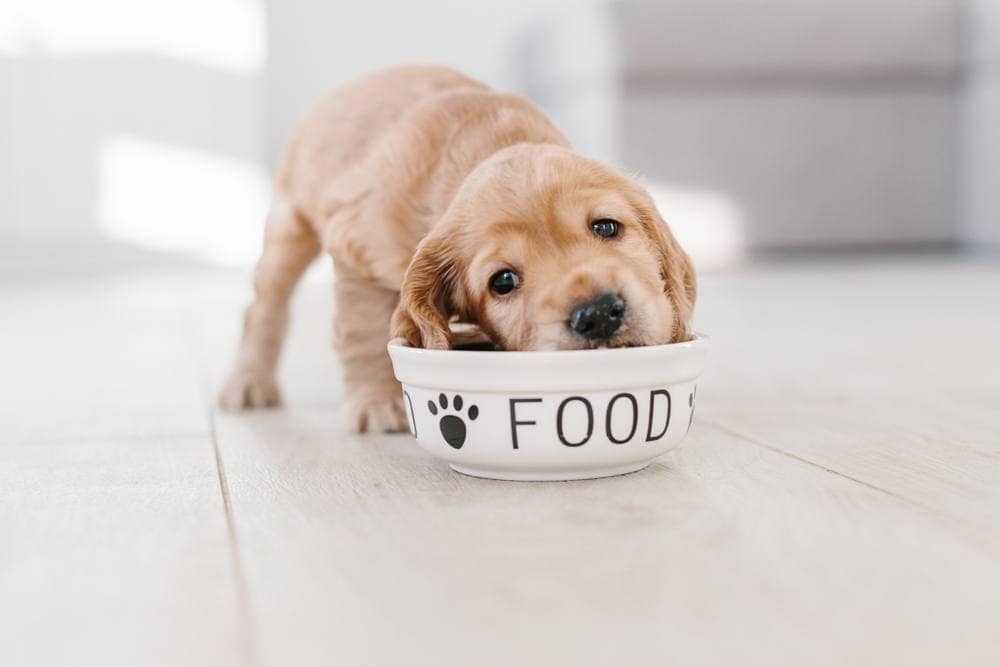 Elevated Platform
Larger dogs can benefit from eating their food from an elevated position, to prevent strain on their necks. You can buy a feed station with tailor-made bowls for food and water. Even some smaller dogs will find eating their food from an elevated position more comfortable, so it's worth experimenting with this.
Elevated feeders are sometimes adjustable for height or have specific heights designed for different sizes of dogs. Make sure you choose the right height for your pup. Many manufacturers will recommend which height of feeder will suit what type of breed. If you're not sure or the brand doesn't say, you can measure your dog's height at the shoulders. Subtract 6 inches from their height, and that's roughly the height of platform they'll need.
Bowl Size
If you have a large dog, they need a large bowl! It's always better to have a bowl with a larger capacity than your dog's usual ration of food, so you don't have to worry about the food spilling out as they eat it.
Make a note of how many cups that your dog's meal is, and choose a bowl that's roughly 1-2 cups larger in size.
Matching Food and Water Bowls
It can be nice to buy two bowls of the same size and style, so your dog has one for water and one for their food. Make sure any bowl you want to use for water is deep enough, as otherwise, you'll find yourself refilling it numerous times per day.
Conclusion: Dog Bowls
As a quick recap, we selected the Hepper NomNom Bowl as the best overall pick. This high-quality stainless-steel bowl comes with a spill-catching dish that allows you to keep messes off of your floor. It is dishwasher safe and offer shallow dishes to support slow and easy eating.
As the best value pick, Mr. Peanut's Premium Collapsible Pet Bowls offer amazing value for money. You get four bowls, all collapsible and made from a top-quality silicone. These are great for traveling or day hikes with your pup, but they're also super useful around the house.
Hopefully, you now know exactly what sort of bowl is going to suit you and your dog the best, and that our best dog food bowl list helped you out! While it's true that our dogs don't always care what they're eating out of (as long as they're getting fed!), as pet parents, there are definitely decisions for us to make that will help keep our pups happy and healthy.
---
Featured Image Credit: Ermolaev Alexander, Shutterstock