17 Best Vet-Recommended Dog Foods of 2023 – Reviews & Guide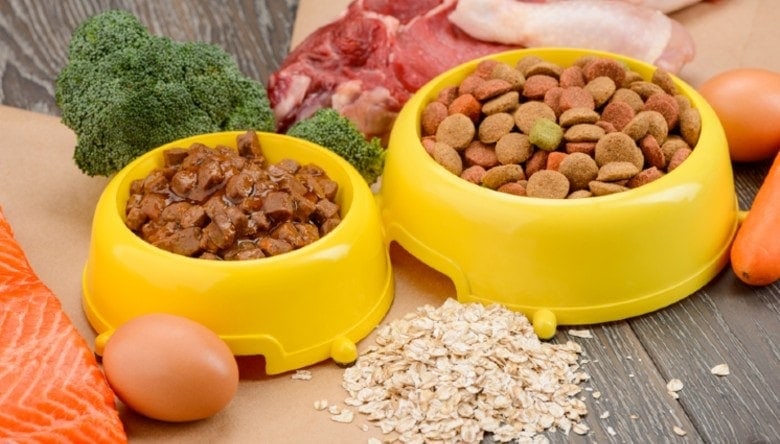 As a veterinarian, discussing diets is a huge part of my job, but people often like to say that vets don't get taught nutrition. You'll be pleased to hear this isn't true – I had about 75 hours of formal nutrition teaching at university, as well as the reading and continuing education I've undertaken since. In other words – I probably know more than Bobby Bloggs at the pet store, so it's worth hearing what I have to say about vet-recommended dog food brands.
In this article, I'm going to look at some dog food reviews and provide you with a list of best vet-recommended fresh dog foods, wet dog foods and dry dog foods as well as the best dog foods for other health & lifestyle needs. Finally, I'll discuss the veterinarian's approach to the review process in the Buyer's Guide.


Vet-Recommended Dog Foods

A Quick Comparison of Our Favorite Vet-Recommended Wet Dog Foods in 2023
The 7 Best Vet-Recommended Wet Dog Foods:
1.

The Farmer's Dog Fresh Dog Food – Best Fresh Food
Our best overall goes to The Farmer's Dog Fresh Dog Food. This human-grade fresh food is by far the best dog food that you can feed your dog, their recipes are formulated by veterinary nutritionists, and come with the AAFCO's stamp of approval. The Farmer's Dog is nutrient-rich, and its high moisture content adds to your dog's hydration levels for optimal health.
The Farmer's Dog is free from preservatives and low in byproducts such as AGE's (advanced glycation end-products) which have been linked to disease development and are found in many highly processed pet foods.
The Farmer's Dog has a variety of fresh food recipes such as chicken, turkey, pork, and beef all formulated with a species-appropriate macronutrient ratio. The protein comes from real meat, instead of commonly used meat meals.
The Farmer's Dog exceeds the industry standards established by AAFCO and it can be fed to dogs in all life stages. With recipes cooked in USDA-approved kitchens, pre-packed in ready-to-serve individual portions, and delivered right to your door we truly feel that The Farmer's Dog blends health and convenience which takes our spot in the best overall place.
---
2.

Purina Pro Plan Savor Adult Classic – Best Overall
The Savor Adult Classic range has real meat as the first ingredient, but also includes grain as an energy source. I also love the fact that this diet texture is ground, meaning that picky animals can't leave the bits they don't like and upset their dietary balance.
All in all, this is my pick for the best vet-recommended wet dog food of this year.
---
3.

Hill's Prescription Diet Metabolic – Best for Weight Loss
Of course, feeding the appropriate number of calories and reducing calories from treats is an important part of weight loss in pets, and talking to your veterinarian or vet tech about your pet's weight loss enables them to make you a custom calorie plan.
---
3.

Royal Canin Urinary SO – Best for Urinary Health
The only problem with this food is the calorie content. At 478 kcal/can, a 20-pound dog only gets a can a day. Luckily, Royal Canin make a moderate calorie version of this diet that is perfect for keeping your dog at a healthy weight whilst enabling them to feel full.
---
4.

Purina Pro Plan Focus Puppy Classic – Best for Weight Gain
However, I would caution that if you don't know the reason for your dog's weight loss, feeding them this food could potentially be harmful, as the high protein content may cause diarrhea or complicate renal failure. Instead, you should book a visit with your veterinarian to investigate further. And remember that over 50% of pets are obese – so if you aren't sure whether your pet's weight is normal or not, asking a vet for advice is a good idea.
---
5.

Hill's Prescription Diet i/d – Best for Sensitive Stomachs
If your dog does have a sensitive stomach, it has some great gut-saving benefits. This diet is high in soluble and insoluble fiber from mixed sources, which makes it ideal for gut health. This fiber can correct acute and chronic diarrhea by absorbing excess water and acting as a probiotic for the good gut bacteria. It also contains added B-vitamins to replenish those lost when an animal suffers diarrhea. Both the protein and fat are from easily digestible sources, allowing your dog to get the nutrients he needs, easily.
---
6.

Hill's Science Diet Puppy – Best for Puppies
Hill's also advise that this food is suitable for all breeds, which is great if you aren't sure what your mix is – although if you have a very large breed, I would look to a giant breed puppy food to avoid problems with growth. My only bugbear with this diet is that they don't offer more flavors, as I believe puppyhood is a time for exploring and trying new things.

A Quick Comparison of Our Favorite Vet-Recommended Dry Dog Foods in 2023
The 6 Best Vet-Recommended Dry Dog Foods:
1.

Purina Pro Plan Savor Adult – Best Overall
I love the fact that this food is designed for weight management. Most owners don't realize that their dogs are overweight – but with an estimated 50% of overweight dogs, there is a high chance your pooch needs to lose a few pounds. This formula has 25% less fat to reduce calories, and plenty of fiber to help your overweight dog feel fuller at mealtimes. The high-quality protein comes from chicken, and there's enough of it to keep your dog full and stop them from losing muscle when they lose weight.
Purina have also been really proactive with this diet, adding sources of glucosamine to protect your dog's joints and probiotics for healthy digestion.
All in all, this vet-recommended dry dog food diet is one of the best you can find, and the great news is that you can have veterinary-quality nutrition without the price tag!
---
2.

Hill's Prescription Diet Metabolic + Mobility – Best for Weight Loss
Hill's has now brought out this combination of their j/d (joint diet) and their metabolic (weight loss) diet. This is ideal, as obesity and arthritis often go hand in hand; and once you have an arthritic dog, getting enough exercise for them to lose weight can be tricky.
This diet contains high fiber to encourage your pet to feel fuller for longer. It also contains ingredients to boost your dog's metabolism and weight loss. The omega-3 fatty acids, glucosamine and chondroitin support joint health to protect your dog from the consequences of obesity, as well as help them exercise off their weight.
Lastly, I love that this food has very clear instructions for feeding amounts, with information for weight loss and maintenance once ideal weight has been reached. The feeding guide might look complicated, but it allows you to adjust your dog's diet to help them lose weight.
---
3.

Hill's Prescription Diet c/d – Best for Urinary Health
I find that Hill's foods are generally well-tolerated by pets, and although this looks 'boring' to our human eyes, dogs don't seem to mind! I would warn, though, that very small dogs may struggle with the kibble size. It's also worth bearing in mind that, due to its powerful effects, this product requires veterinary authorization. If your vet has not recommended a urinary diet for your dog, you should not feed this diet.
---
4.

Purina Pro Plan Sport – Best for Weight Gain
Please bear in mind that the reason for your dog's weight loss is important, and this diet may not be suitable for all dogs with weight loss. In addition, many dogs are overweight to the point that obesity has been normalized – so please check with a veterinarian whether they think your dog is underweight before trying to feed him up.
---
5.

Hill's Prescription Diet i/d – Best for Sensitive Stomachs
Whilst Hill's i/d is a bit more expensive than similar offerings from other brands, they have clinically proven that their diet can help to settle a digestive upset in as little as three days.  It's also suitable for puppies! The main problem with this diet is that you need veterinary authorization to buy it for your pet – however, it's easy to do and most vets will not hesitate to recommend Hill's i/d if you have a dog with a sensitive stomach.
---
6.

Purina Pro Plan Focus Puppy – Best for Puppies
Puppies need higher protein than adults, and more calcium – but not too much. Recently it's been discovered that DHA is also essential to puppy development. This product has several flavors in the range, but all boast extra DHA for brain and eye development, and balanced calcium and phosphorus to help your puppy's bones grow normally. As with all Purina Pro Plan formulas, this product is also high in protein for muscle development, and they've chosen high-quality protein sources. This diet is even baked into small pieces of kibble for little mouths.

The 4 Best Dog Foods for Other Health/Lifestyle Needs:
1.

Purina Pro Plan Savor Large Breed – Best for Larger or Active Dogs
---
2.

Purina Pro Plan Weight Management – Best for Apartment Breeds
My main worry with this diet is that, unlike Hill's and Royal Canin, it doesn't claim any dental benefits to help look after the teeth of your smaller-breed dogs. However, brushing your dog's teeth is more effective than a diet anyway, and the price makes it a clear winner for me!
Top Tip: To keep your dog mentally active when they live an apartment lifestyle, consider enrichment feeding using food toys and slow feeders.
---
3.

Purina Pro Plan Bright Mind – Best for Older Dogs
This diet contains high-quality protein to maintain muscle mass in senior dogs, as well as the joint-support ingredients glucosamine and EPA to keep your dog's joints young. Most importantly, the botanical oils have been shown to decrease signs of cognitive dysfunction in just 30 days. It also tends to be cheaper than the alternative diets by competitor brands! The only problem with this diet is that it can be a bit unpalatable for the pickiest dogs. If you have a picky dog, it would be worth getting a small bag or trying some from a friend before you commit.
---
4.

Hill's Prescription Diet t/d – Best for Dogs with Dental Disease
My favorite diet to help prevent dental disease is Hill's t/d. They've had the Purina Pro Plan seal of approval since 1998 – longer than any other diet on the market – and it's been shown to prevent both plaque buildup, and tartar. Not only are the kibbles designed to break and scrape the teeth clean, the fiber matrix works like a cleaning brush. Unlike many dental care options out there, this diet is complete and balanced and can be fed to your dog instead of their usual food – even if they've had dental extractions in the past.
Like many of the best diets from Hill's, this diet needs veterinary authorization. The great news is that it's not hard to get, and your vet will likely be more than happy that you're taking your dog's dental health so seriously!

Buyer's Guide: Choosing the Best Vet-Recommended Dog Food
What Sort of Food Is Best for My Dog?
Deciding what sort of dog food to feed your dog can be a difficult decision. First, you should consider their age – puppies should have puppy food, and adults should have adult food. Although not essential, switching to a senior diet as your dog ages will closer match their nutritional needs than an adult diet.
Next, you should consider their breed and size. Size-specific nutrition is more important than breed-specific nutrition. Very large and giant breeds can easily get congenital problems if they grow too fast – feeding a giant breed puppy food is highly recommended. They also age faster than mid-sized dogs, so switching to a senior diet will need to be done sooner.
Small dogs can struggle with large kibble, so if your dog is 15 pounds or less you might want to consider choosing a small breed food. They are also more prone to dental disease, so considering a food with dental care like the Hill's Science Diet Oral Care range is sensible.
Wet vs Dry
You can feed your dog either canned dog food or dry dog food, depending on your individual pet, their preferences, and their needs. It's a lot more common to feed dogs dry food because it's a lot cheaper – you aren't paying for water. And unlike cats, dogs can cope fine on a dry diet. I personally like to feed my dog dry food, but I keep some wet handy for when I want to stuff a food toy for her.
Food Brands to Avoid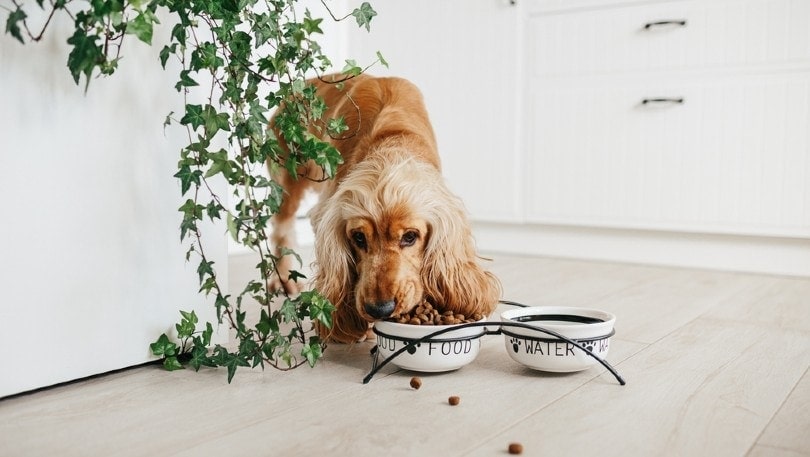 Try to choose brands that employ a veterinary nutritionist and do feeding trials on their foods. You should also be aware that 'boutique' brands have recently been implicated in a heart disease outbreak – whilst we aren't sure why these brands were over-represented, it seems clear that sticking to the well-known brands is a good idea for now.
Why Have You Chosen Foods from These Brands?
There is a lot of controversy over brands at the moment. Smaller start-up brands ploughed a lot of money into marketing that suggested their products were superior, and they were very persuasive.
However, vets are continuing to recommend brands that can answer the questions set by the World Small Animal Veterinary Association (WSAVA). These include whether they hire a veterinary nutritionist, and whether they test their diets clinically or just formulate them with a computer. The WSAVA guidelines can be found here. And the Pet Nutrition Alliance took it upon themselves to contact the food companies and ask some of these questions. The results can be found here.
As you can see, many companies refused to answer the questions or weren't able to discuss the results of their guaranteed analysis. Only four companies employ a full time American College of Veterinary Nutrition diplomat: Hill's, Royal Canin, Purina, and Mars.
Why Have You Not Included Grain-Free Foods?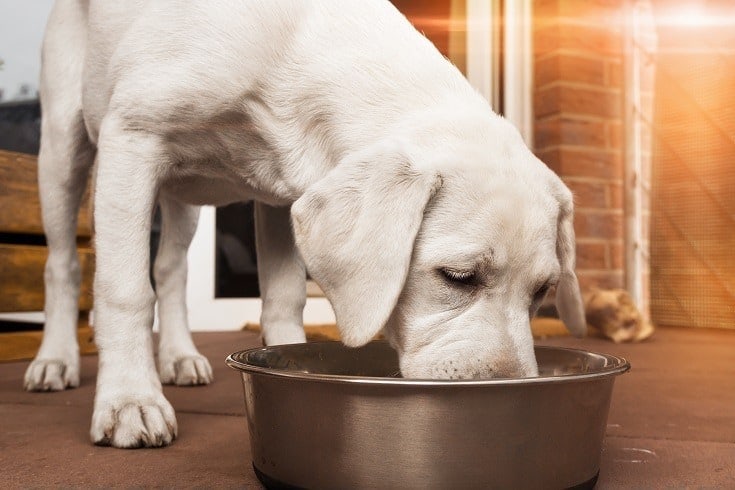 At the moment, grain-free foods are not being recommended by the majority of vets. This is for several reasons. Firstly, grain-free dog foods have been implicated in causing severe and fatal heart disease in dogs in the USA.
We don't yet know exactly what about the grain-free foods caused these problems, and other dietary factors were also noted, such as the high incidence of peas in these diets and the fact that many of them were small, 'boutique' diets or had 'exotic' meats. So, it might not be the grain-free nature of these foods, but until we know more it's safest to avoid them.
Secondly, the benefits of grain free foods have not been proven. People recommending them often refer to the biology and diet of dog's closest living relatives – the wolf – to explain that dogs shouldn't eat grain, but dogs are not wolves and have genes for the digestion of starch found in grains. In other words, grains can provide a useful energy source for dogs. And grain allergies are rare in dogs – most improvements in skin or diarrhea when switching to grain-free is actually because a different protein source has been used.
So, if grains can be digested, rarely cause reactions, and taking them away might be causing severe disease – it's not hard to see why I've only recommended grain-free diets.
What Are By-Products in Dog Food? Are They Bad?
When a pet food contains 'by-products', people often turn their nose up at it. But 'by-products' just means the bits of an animal that weren't going to be sold to the human food chain. This doesn't mean they're bad – in fact, many of these things are human delicacies in other countries, but our western tastes don't like them. By-products often contain organ meat, which is nutritionally better than muscle meat in many cases. Again, some clever marketing by some companies has turned 'by-products' into something bad – they themselves use by-products, but they give them different names such as 'heart' or 'liver'.
You may be thinking that knowing exactly what is in your pet's food is better, and avoiding the generic term 'by-products' means that your dog is less likely to be being fed hooves, hide trimmings, or whatever was left on the floor after the slaughterhouse finishes for the day. The good news is that 'by-products' is actually a legally-defined term, and it specifically excludes things like hair, hooves and intestinal contents – so don't believe everything you hear.
If you want to read more about by-products, there's a great blog about it over at Tufts.
Dog Food Ingredient Labels: What Should I Know?
When it comes to picking dog food, you don't have a lot to go on. Sure, you have online reviews, but actually, it's probably not surprising that most people judge their pet food by the label. Manufacturers know this and have been using it to sell their products. Take the ingredients list – many people think a protein source should be the first ingredient on the list, as this means there's lots of it. But there's no way to tell how good quality the protein is, so having more of it is not necessarily a good thing.
Another common thing to find on the ingredients list is some exciting-sounding fruits and vegetables. However, these are often in such tiny quantities that they're not really adding any nutrition – which means their only purpose is to make the product look better. After all, who doesn't want to think their dog is getting blueberries, goji berries, and green tea extract – it sounds delicious! It's easy to be taken in by a diet that claims to be more natural, has whole-prey or uses exotic vegetables, but try to remember that your dog needs nutrients, not ingredients.
For more information on dog food labels, what to avoid and what to look for, this blog from Tufts is a great resource.
How Much Food Should I Feed My Dog?
Feeding your dog the correct amount for their weight, body condition, activity level and life-stage is essential. Around 50% of dogs in the US are thought to be overweight or obese, and understanding canine nutrition is one of the most important ways we can reduce this. The problem is that every dog is slightly different, and there's no easy way to work out how much your dog should eat. That's why I generally recommend that pet parents ask for a weight consultation with their veterinary clinic. These are usually run free-of-charge by a vet tech, who will weigh your pet and feel them, explain their body condition (how much excess fat they have) and even calculate a calorie allowance. Alternatively, the Pet Nutrition Alliance has a great calculator you can use.
Don't forget that if you're feeding wet and dry food, the daily calorie allowance needs to be split between these. And any treats need to come out of the daily allowance, too.
Is It Ok to Mix Wet and Dry Dog Foods?
It's absolutely fine to mix wet and dry dog foods, whether by feeding them alternately, offering both, or mixing the two together. Just remember to make sure that both are complete and balanced, and that you make sure to account for both in your dog's calories. Feeding the amount of dry food the bag suggests but then feeding a bit of wet on top is one of the most common reasons for dogs to be overweight.
How Long Does Wet Dog Food Last if It's Not Opened?
Wet dog food in a can or pack normally has a life of a year, sometimes more. But this clock starts ticking as soon as the food is packaged, and it may be in storage for several months. All food will have a 'best before' or 'use by' date – check your tins or packs carefully to find it.
How Long Can Wet Food Remain in The Bowl?
Depending on the temperature in your house, your wet dog food shouldn't be left in the bowl for more than a few hours. Wet dog food is prone to spoiling quickly, and toxins created by bacteria or mold growing on the food can cause severe illness in dogs.
How Long Does Canned Food Last Once It's Open?
Canned food that is not immediately used should be covered and refrigerated. Silicone can covers are available to fit most sizes of cans. The food should be safe for 24-48 hours, and this will normally be advised on the side of the can.
What if My Dog Stops Eating a Certain Type of Food?
It's much less common for dogs to give up on their food than it is for cats, but it does sometimes happen. Small dogs, in particular, can be fussy and may self-regulate their food intake by picking at their meal throughout the day, or even leaving a meal overnight and coming back to it in the morning. It can be normal, but if this is unusual for your dog, it's probably worth offering them something else in the first instance – just to see if they're off all food, or just this one.
If they have a good appetite, but are just being fussy, I generally advise taking their food up for a few hours, then putting it down later. Most dogs will then eat it. Try not to get in the habit of giving your dog treats and human food if they don't eat their dinner, as they'll quickly learn to get picky with their food. If it is a hard food they suddenly don't want to eat, but wet food is fine, consider whether their teeth could be sore – your veterinarian will be able to take a look for you.
Conclusion
So that's it – that's what a vet thinks about dog diets. If you have a healthy adult dog, you can feed them wet food, dry food, or a mixture of both. When it comes to fresh dog food, The Farmer's Dog is our number one choice and for everything else, The Purina Pro Plan Savor Classic range is my go-to dog food, coming up in the top spots for both the wet and dry reviews. If your dog has a health condition, or is a giant breed or a small breed, there are lots of options for you.
Dog food is a minefield. Between the marketing companies, the online reviews, the Facebook groups, the news, and the opinions of family and friends, it can be very difficult to find the best dog food for your dog. I hope we've made it a little easier for you to decide what to feed your dog, but if you have any further questions, I urge you to contact your veterinary clinic, who will have someone qualified to advise you.
We truly hope that these dog food recommendations by a veterinarian help you find the right product for your dog!
Related read: TLC Dog Food Revie: Recalls, Pros & Cons
---
Featured Image Credit: Yuriy Golub, Shutterstock